PAYTM KYC (Know Your Customer) is a process of verifying the identity along with the address proof of the customers mentioned in the Aadhar card or Pan Card.
PAYTM being the leading online transaction platform provides its users a secured environment for all their actions and completing Paytm KYC ensures that there is no fraudulent case to safeguard our money from all kinds of criminal acts.
Furthermore, competing for KYC offers us exciting benefits like holding up to 1,00,000 money in the wallet, availing big discounts and cash backs, and a lot more.
KYC can be done online but it requires good Internet connectivity and knowledge about the further process so people generally opt for offline KYC at certified nearby KYC centers or doorstep services through KYC Agents provided by PAYTM for its users.
Becoming a KYC Agent provides the opportunity of earning extra income with full, part-time, or flexible working hours by registering yourself at the PAYTM official website.
It is because agents are required by more than half of the PAYTM customers due to busy schedules or difficulty in understanding the steps. To collect the documents and send them for verification without any hustle, people prefer KYC agents.
How to Become Paytm KYC Agent?
Have you ever thought about registering your shop as a KYC center and becoming a certified KYC agent??
If no! Think about it now !! You can earn extra commission as a part-time job !!
Just follow the simple process mentioned below–
Steps to Open Paytm KYC Centre or Become Paytm KYC Agent: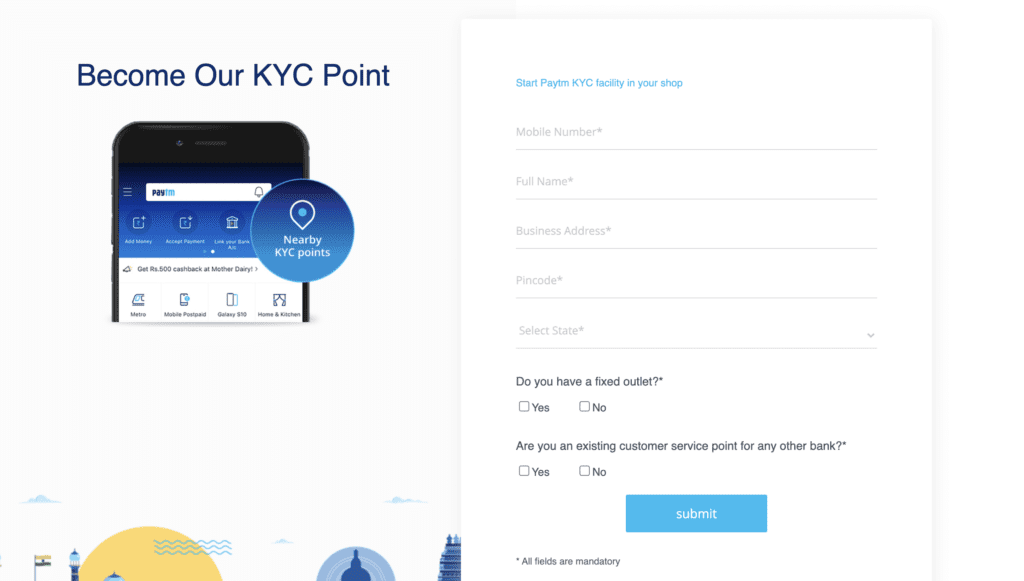 Step 3: Fill in the required personal details (Mobile No., Full Name, Business Address, PIN Code, State etc.)
Step 4: Tick in the appropriate check box.
Step 5: click on SUBMIT button
That's all!
Once you have completed the above steps, you will receive a message that one of the PAYTM employees will contact you shortly.
PAYTM will now contact you back via call for the form submitted by you to complete the basic formalities.
To verify your details to make your center an authorized KYC Point for users wanting to complete their KYC offline or by doorstep services and you will become a certified KYC Agent.
To Sum Up
Becoming a PAYTM KYC Agent will earn you extra income with no restricted working hours. Just fill in the form and you will be able to open up a PAYTM KYC Point at your shop.
For all the actions done through your KYC Point, you will earn your commission. Also, you can provide doorstep services to the customers for completing their KYC.
Recommended:
Paytm Postpaid: Activation Process, Features, Charges, Safe
How to Change Mobile Number in Paytm?
How To Download Paytm Statement?