Harshad Mehta was a stockbroker in India who became famous in 1992 for his Indian stock market scam. Apart from stockbroking, Harshad Mehta was an avid automobile enthusiast. When Harshad Mehta brought the Lexus LS 400 to India, it was a unicorn, as it was the country's only person who owned a Lexus LS 400.
Mehta was well-known for his extravagant tastes, having a palatial penthouse in South Mumbai and owning cars such as the Toyota Cera. In the 1990s, the average person could not have dreamed of purchasing such high-end automobiles.
Harshad Mehta Car Lexus Price
When Mehta already had 15-20 cars in his garage in the early 1990s, he probably didn't mind paying a whopping Rs 45 lakh for the Lexus LS 400. LS 400 were among the first premium luxury sedans to come standard with an automatic telescopic and tilt steering wheel as well as SRS airbags, electrically adjustable seat belts, and an electrochromic rearview mirror.
Harshad Mehta Lexus Model
Lexus LS 400 is a premier luxury sedan with 4000cc engine mated to a 4 speed automatic transmission. It took 8.5 seconds to accelerate from 0 to 100 kilometres per hour, with a top speed of 250 kilometres per hour.
Its cabin was quieter than the target BMW 735i and Mercedes-Benz 420 (W126), at 58 decibels, and it had a lower drag coefficient and a lower curb weight. When it was introduced in 1989, Lexus LS 400 won the car of the Year Japan award.
Harshad Mehta Car Collection
In the early 1990s, Harshad Mehta had a large collection of luxury and high-end cars. He owned 15-20 cars in his garage. Some of the cars owned by Harshad Mehta are as under
Lexus LS400
The first and most popular car is associated with Harshad Mehta. Mehta was the sole importer of the Lexus LS 400 in the country.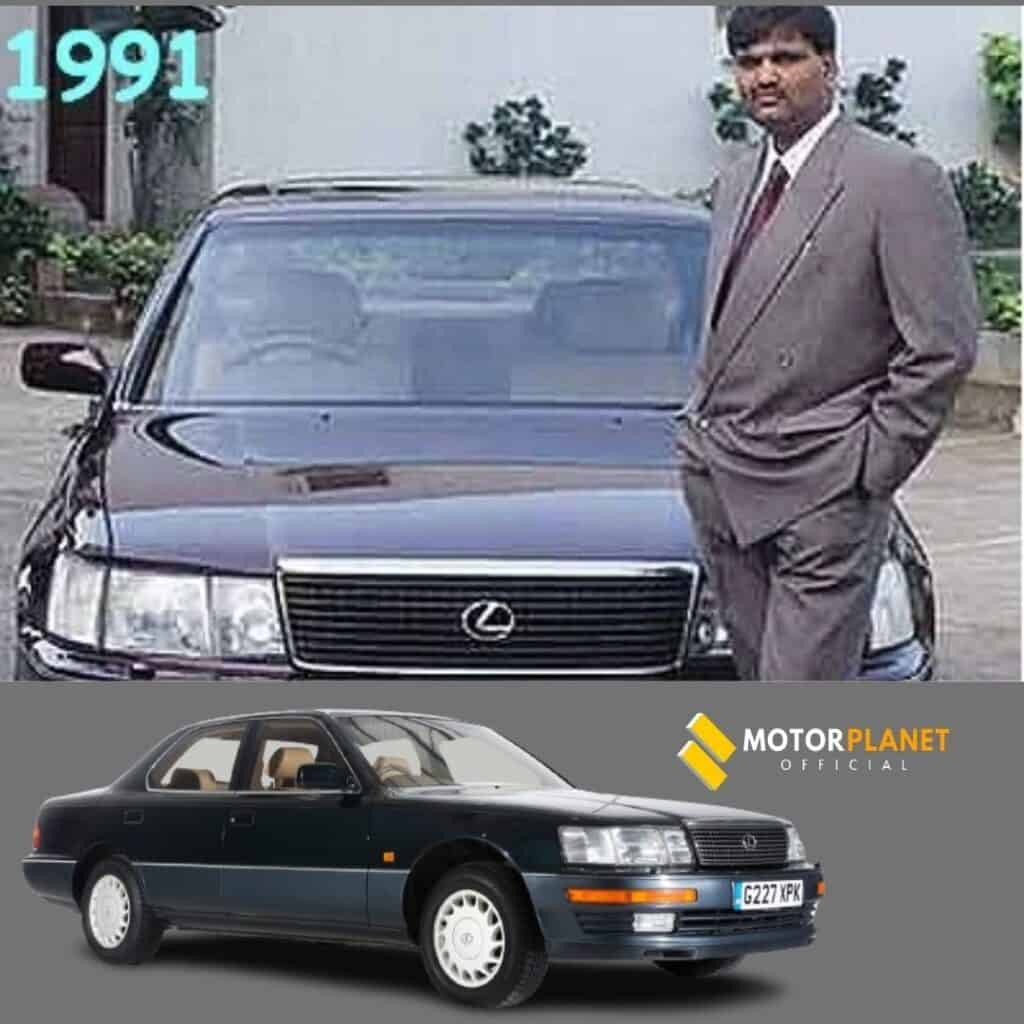 Contessa By Hindustan Motors
HM Contessa is the next vehicle in Harshad Mehta's garage. This was a very popular and well-made car during that era—all of the brute force, basic stance, and luxurious comfort in one place.
Harshad Mehta also has his brand in India, known for the Ambassador and India's indigenous muscle car, the Contessa. In 1990, Hindustan Motors priced at a whopping Rs 5.90 lakh.
Fiat Padmini
Harshad Mehta's garage also included a Fiat Padmini. Premier was the one who introduced one of the most popular family cars of all time, the Padmini. Premier Padmini was powered by a 1.1-litre four-cylinder petrol engine developed by Fiat that produced 47hp at 4,800rpm and 71Nm at 3,000rpm.
Hindustan Ambassador
Ambassador is also a part of the Harshad Mehta Car Collection. This is the most popular Car in India. Hindustan Ambassador requires no introduction in India. It was a 1.5-litre BMC B-series engine capable of producing 37hp. The car featured a 1.5-litre petrol engine that generated 50 hp and a peak torque of 100 Nm.
Accord Honda
After numerous Indian automobiles, we now have a few foreign-brand automobiles. Due to the absence of the plant in India at the time, Mehta almost certainly imported it.
As an avid car enthusiast, he is unconcerned about paying a premium for those. This vehicle is powered by a 2.2-litre inline four-cylinder engine that generates 125 horsepower.
Mercedes-Benz W126
Extremely popular during those years, the Mercedes Benz W126 was also a part of Harshad Mehta's Car Collection.
Not only was the Mercedes-Benz W126 a popular choice among oligarchs, world leaders, and celebrities, but it epitomized Mercedes-quest to build the best car in the world through innovation, technology, safety, and mechanical excellence, setting the bar for every other automaker to follow.
Harshad Mehta Lexus 1992
You've probably heard the quote before: "Sometimes the things you love the most turn out to be the most detrimental to your health." Harshad Mehta's Car played an important role in his downfall. Sucheta Dalal, a columnist for The Times of India at the time, noticed the LS 400 outside the State Bank of India's headquarters and wondered how a stockbroker could afford a car that had not yet been launched in India.
After discovering this, she launched an investigation, revealing how he swindled money through loopholes in Indian banking systems and used it to trade on the stock market.
Frequently Asked Questions
How Much Is Harshad Mehta's Lexus Car?
Mehta was well-known for his extravagant tastes, having a palatial penthouse in South Mumbai and already owning 15-20 cars in his garage, so it was unsurprising when he purchased the LS 400 in the early 1990s for an amount of Rs 45 lakh.

Is Lexus Manufactured In India?
Lexus India currently operates dealerships in three cities: Mumbai, Delhi, and Bengaluru. Lexus competes in India against Mercedes-Benz, Audi, BMW, and Jaguar.
Is Lexus Sold In Japan?
Lexus is sold in more than 70 countries and territories and is Japan's best-selling premium car brand. It is one of the top ten Japanese global brands in terms of market value. 
Recommended:
Jyoti Mehta: Wife of Harshad Mehta
Sucheta Dalal: Sources, Scams, Net Worth, Harshad Mehta
Ketan Parekh: Net Worth, Scam, Spouse, Harshad Mehta
Manu Manek: Black Cobra, Facts, Harshad Mehta, Ambani
Similar Posts: