Manu Manek is also known as the Black Cobra of the stock market.
Manu Manek is supposed to be born between 1948 to 1952.
He is a stockbroker and an entrepreneur by profession and was born in Kolkata.
The mysterious individual of Kolkata is famous for being called the "Black Cobra" because of the mystery associated with his appearance.
He coached Rakesh Jhunjhunwala and Radhakishan Damani, and he headed the bear cartel as well.
This means that he controlled all the activities that intended to manipulate the price of the stocks, so they could earn a lot of profits.
Very little is known about him on the web.
The most active period of Manu Manek was during the 80s, when he could bring the price of a share from INR 100 to INR 1 within a week.
It was possible at that time because the BSE administration had not evolved fully yet. 
Manu Manek – Biography
| | |
| --- | --- |
| Name | Manu Manek |
| Also Known As | Cobra of the Stock Market |
| Born | Between 1940 and 1950 |
| Place of Birth | Kolkata, India |
| Famous For | Exploits in the Stock Market, and also as a mentor to some of the top investors in India today |
Manu's Accuracy Inside And Outside Dalal Street
Manek is a unique character and an excellent administrator who is directed towards the motive of marketing.
Without Manek's effort, it was completely impossible to achieve the profits he had made.
Without getting into politics, Manek was famous for choosing random names and it was seen that those individuals were the ones who got chosen later.
His accuracy is worth his success.
Manu Manek Personal Life
About his early life, it is said that he was from a middle class family.
There is no information about his personal life or his family on the internet.
According to some media, Manu Manek has two kids with his wife.
He took up a job in the stock market, soon after completing his studies.
Manu Manek Early Days At Dalal Street
It is said that without Manek's gesture it was impossible for any stock to either rise or fall.
Back in the 1980s, there was nothing that occurred on Dalal Street and was not predicted by Manu Malik.
The networks with the office/broker were his subjects.
Everybody trusted the cobra and never doubted his capacity.
Once he got into the stock market and learnt the tricks of the trade, he got into a brokerage business.
People gave him the nickname – 'black cobra of the stock market' due to his accurate estimations and also the frauds and scams he pulled off.
He is also believed to be an important part of the scam Harshad Mehta pulled off in 1992.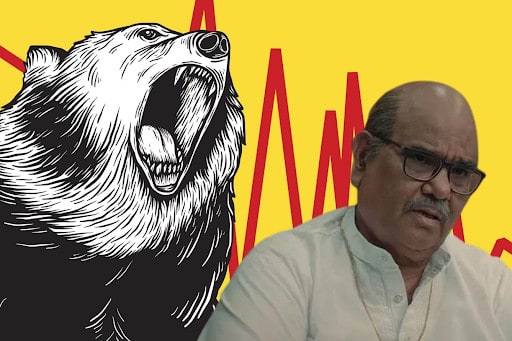 Source: tradebrains.in
Disclaimer: This is not the real picture of Manu Manek.
It's a still from Scam 1992.
Manu Manek In Scam 1992
According to the information available openly, few instances happened when Harshad Mehta crossed paths with Manu Manek.
In the stock market particularly, Manu Manek received a short position and Harshad Mehta received a long position.
While Harshad Mehta expanded his purchases, Manu Manek spread rumours that Harshad had lost more than INR 1 crore in the stock exchange.
It was done to degrade the credibility of Harshad Mehta.
But at the end, Harshad Mehta emerged victorious for pulling off his scam. 
Manu Manek Real Photo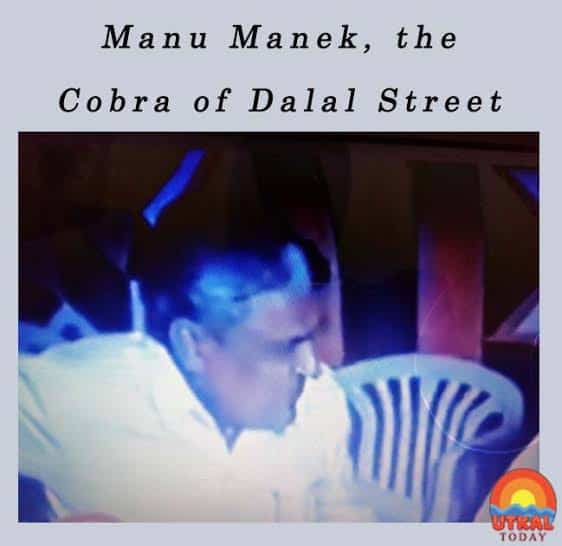 Manu Manek And Ambani
At the time when Manu Manek was strong, Reliance had just begun entering the stock market and it was a company that followed strong business fundamentals.
Manek tried to attack the companies during the 80s, but Dhirubhai Ambani, who respected his shareholders a lot, decided to take action.
From then on, Mukesh Ambani (son of Dhirbhai Ambani) along with Anand Jain took charge of Reliance.
The bear cartels began selling the shares that were provided to them.
In order to control the price and value of Reliance in the market, Anand Jain and other close confidants bought the Reliance shares that were sold.
This defeated the purpose of Manu Manek's plan and instead boosted the price of Reliance shares.
At some point, the bear cartels found themselves in trouble when they had to buy shares at a higher rate. 
The standoff was so intense that this forced the Bombay Stock Exchange to shut for some days.
Manek at this time, had to pour in more money but that increased his losses.
Finally, Manu Manek accepted defeat and he controlled his losses by providing the shares at a higher price to Anand Jain.
Some Facts About Manu Manek
Based on the information provided by some sources, Manu Manek used to enter the stock market when the price of a share had crescendoed.
Sorting the stocks for around two days, he made increments on selling pressure in the market.
Based on this thinking and logic, if the market expanded, the price of a stock would fall.
Manu Manek was strong in short selling of stocks.
Similar Posts: