After the advent of the Internet, the profile of many enterprises, the way they work and their system has completely changed.
The biggest boomers are the stock market and brokerage firms. It is impressive the way their working system has become more efficient over the years. Online stock trading has removed all geographical barriers.
Recall the old time when traders had to do lengthy paperwork and then send it to the BSE office for trading or investment in equities and mutual funds. 
For now, however, start with these 5 best stock market trading apps crucial considerations to help you determine which of the brokerage platforms we discuss below will be most beneficial to you.
How To Invest In The Indian Stock Market?
By following these simple instructions, you can start investing in the Indian stock exchange.
Choose your stockbroker.
Know your goal for the investment.
Open an investing account i.e. Demat and trading account.
Set a budget for your investment
Learn about stock market basics, variable online brokers also provide educational content for beginners.
Start investing.
How To Open A Demat Account?
A Demat account is an account that holds your equities, government securities, mutual funds in electronic form. It is a short form for dematerialization accounts.
Steps to open a Demat account.
Choose a Depository Participant (DP), DP is provided by your bank or stockbroker.
Apply for a Demat account and fill the opening form mandatory for a Demat account.
Fulfil KYC (Know Your Customer) process.
Go through the verification process
You will be provided with a BO ID number by your stockbroker.
The Top 5 Best Stock Market Trading Apps:
Zerodha
Angel Broking
Upstox Pro
ICICI Direct
Sharekhan
1. Zerodha
Zerodha is an Indian stockbroker firm and an electronic trading platform. Zerodha was founded on August 15, 2010. Zerodha is a leading fintech firm with a large user base of 50 lakh registered users.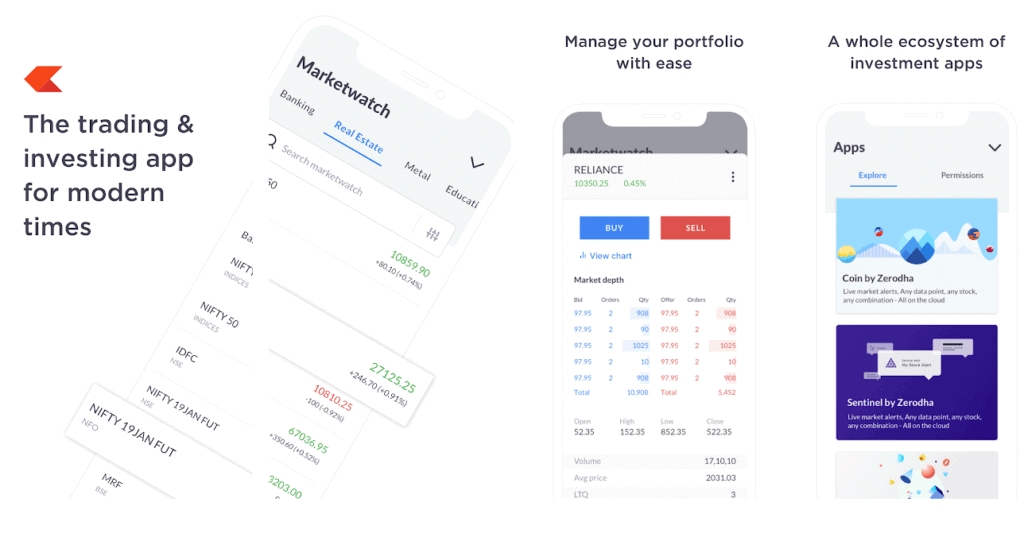 Features:
Zerodha is India's largest stockbroker in terms of users.
Zerodha is the most innovative trading platform and provides various services.
Zerodha is a zero-debt company.
They charge a low brokerage fee which is 0.03% per trade.
However, they charge comparatively high for Demat accounts opening which is Rs. 200, and for commodity accounts, Zerodha charges Rs. 100.
Zerodha is a self-clearing company broker. Zerodha does not demand any clearing charges from its users.
Other services provided by Zerodha are:
Kite by Zerodha is an online service provided by Zerodha that allows its users to do F&O trading.
Zerodha Varsity is an educational application by Zerodha for learning trading and investment.
Coin by Zerodha is another trading platform for investing in mutual funds.
Pulse by Zerodha is a news application that provides all the latest financial news.
In FYI 2020, its revenue was Rs. 1093.64 crores. Undoubtedly, Zerodha is one of the best Indian stock trading platforms.
2. Angel Broking
Angel Broking is an Indian stockbroker firm. Angel Broking was founded by Dinesh Thakkar in 1987. Angel Broking is one of the best players in both online and offline stock trading rings.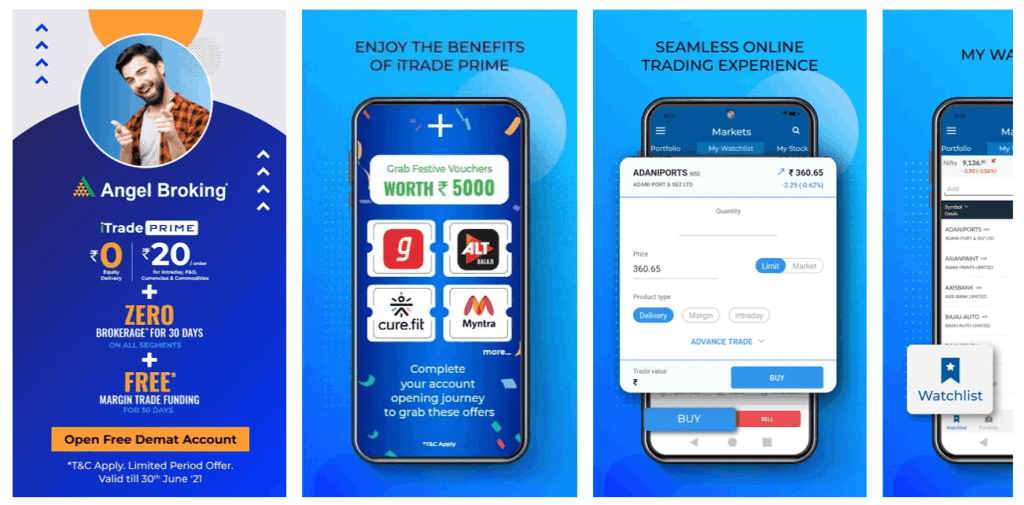 Features:
They provide services like stockbroker, equity, commodities trading, investment in mutual funds, life insurance, health insurance, and many more.
It is India's fourth-largest stockbroker in terms of active clients.
Angel Broking provides a free lifetime Demat account.
They offer a 20% discount on brokerage rates.
One of the key features of Angel Broking is " ARQ". ARQ is a Robo advisory platform launched by Angel Broking.
Angel Broking provides up to 40x leverage to its customers.
They charge nothing for equity delivery.
Other online services provided by Angel Broking are:
Angel Bee is an application that provides the best performing mutual funds and SIPs on a single screen.
Smart Buzz is a news application by Angel Broking that provides all the latest financial news.
Stock Market Courses by Smart Money is an educational application powered by Angel Broking.
Bee Expenses allows users to set budgets, analyze their spending, and smartly manage their money.
3. Upstox Pro
Upstox is an India-based investment firm. It was founded in 2010 by Ravi Kumar, Raghav Kumar, and Shrinivas Viswanath. Earlier, it was founded as RKSV securities but in 2012 they rebranded the group and named it Upstox. Many renowned investors have shown faith in this firm. In the coming years, Upstox may be the undisputed best stock trading platform in India.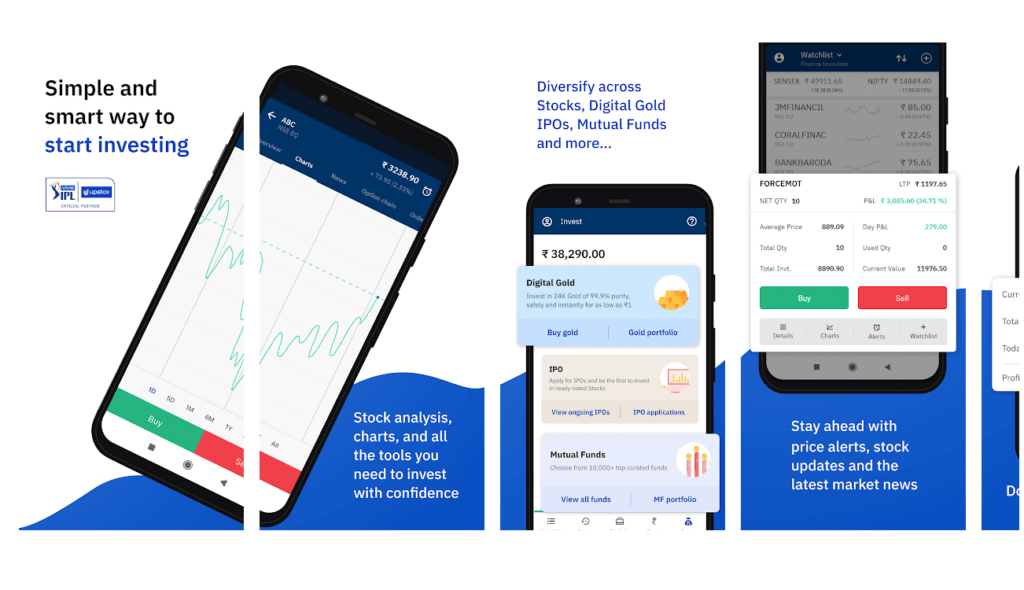 Features :
The company provides equity, commodities, and options trading on its trading platform.
The platform is feature-rich like in-depth charting, analysis trading, and many more.
Upstox is backed by Mr. Ratan Tata, who owns 1.33% stakes in the company.
Another key investor of the company is an American-based investment firm Tiger Global Management who owns 31.1% stakes in the company.
Upstox provides a free equity trading segment and free trading account.
Upstox provides a "Trailing stop-loss" option. If the user sets the stop-loss price, and when the price increases, it drags the stop-loss price with it. When the price hits the stop-loss price, it will automatically place a market order at that price.
They provide leverage up to 25x.
Upstox provides a 3-1 account for its users.
They charge zero brokerage fee for equity delivery, mutual funds, and digital gold.
Upstox also offers a different kind of service known as Upstox Developer Console, which helps users to build their own trading app.
4. Sharekhan
Sharekhan is one of the oldest and best stock trading platforms in India. It is also known as a brick-and-mortar firm. Sharekhan was founded in Feb 2000, by Shipar Morakia.
When E-trading was introduced in the stock exchange, sharekhan started an online retail brokerage firm.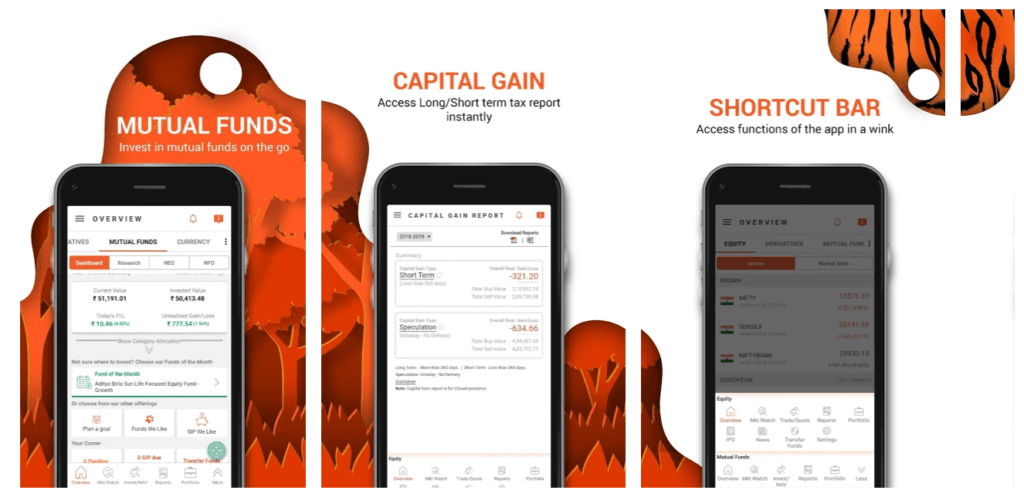 Features:
Sharekhan is a Fintech firm which is owned by the French banking group BNP Paribas.
It has a user base of almost 17 lakh registered users.
Sharekhan mobile app is available in Android, IOS, and web versions.
You can manage portfolios, trade shares, and can invest in mutual funds.
They also provide educational programs for beginner investors. Their courses are some of the best stock trading courses.
One of the best features of the Sharekhan App is the availability of in-depth charts, such as candlestick charts, moving average recent, and Renko charts.
The application also has an advance search option to search different stocks and mutual funds.
For traders who trade or invest in Options, the application also provides an "option chain feature".
Sharekhan users can easily invest in NSECURR, MCXCURR, and MCX as well as in mutual funds.
In March 2919, sharekhan reposted its net worth of Rs. 1673.20 crores.
5. ICICI Direct
ICICI Direct is India's one of the largest retail brokers. ICICI Direct is a part of the ICICI group which offers online trading and investments. It has a large user base of more than 50 lakh registered users.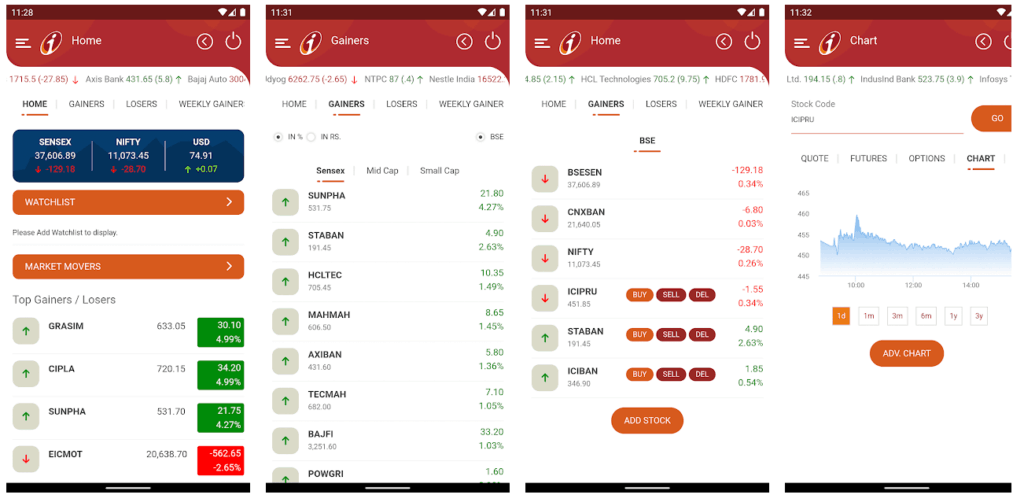 Features:
The company offers a large variety of services including equity, commodity trading, investments in mutual funds, IPOs, fixed deposits, and bonds too.
ICICI's other services include home loans, NCD, and many more.
It provides a 3-1 account that connects your banking, broking, and your Demat account.
It has a lite version of the website too, in case of low connections.
ICICI direct provides a personal relationship manager and local support.
ICICI group is known for its credibility, customer support, and world-class services. ICICI is the best and most reliable stock trading platform.
Also Read: Top 5 Best Cryptocurrency Apps in India
Comparison Of Top 5 Stock Market Trading Apps:
Comparing Stock Trading Platform based on their features:
| | | | | | | | |
| --- | --- | --- | --- | --- | --- | --- | --- |
| App Name | Exchange membership | Trading account opening charges | Demat account AMC charges | Minimum brokerage | Call and trade charges | 3-1 account | Charting |
| ICICI Direct | BSE, NSE | Rs.0 | Rs.300 | Rs.35 per trade | Rs. 50 per trade | Yes | Yes |
| Angel Broking | BSE, NSE, MCX, NCDEX | Rs.0 | Rs.450 | Equity Rs.20 and F&O Rs. 30 | Rs.20 per trade | No | Yes |
| Sharekhan | BSE, NSE, MCX | Rs.0 | Rs.400 | 5 paisa per share | Rs. 20 | No | Yes |
| Zerodha | NSE, BSE, MCX, NCDEX | Rs.200 | Rs.300 | 0.03% in intraday trading and F&O | Rs. 50 | No | Yes |
| Upstox | BSE, NSE, MCX | Rs.0 | Rs.300 | 0.05% | Rs. 20 per trade | No | Yes |
Pros And Cons Of Top 5 Stock Market Trading Apps:
| | | |
| --- | --- | --- |
| App Name | Pros | Cons |
| ICICI Direct | Provides 3-1 account service.Easy UI.Low bandwidth website available for poor internet connections. | Brokerage is high.Not suitable for trading penny stocks as brokerage is high.Minimum brokerage is high. |
| Angel Broking | Low brokerage fee.No charges for fund transfer.Full-service broker. | Doesn't offer a 3-1 account.Poor customer support.Mobile UI is complex. |
| Sharekhan | Convenient fund transfer processEasy user interfaceFeatures rich and fast performing application | Doesn't offer a 3-1 account service.Classic account users can trade commodities.Brokerage charges are higher. |
| Zerodha | Users can apply for new IPOs.It is a self-clearing broker.Charges only 0.03% per executed share. | Sometimes, Zerodha glitches during high trade time.Call and trade fee is comparatively high.No monthly unlimited trading plans. |
| Upstox | Trailing stop loss option is available.Interactive UI.Offers more than 1000 mutual funds. | Doesn't offer unlimited monthly trading plans.Does not provide stock recommendations.24/7 customer support is not available. |
Above all, Indian trading platforms are making the Indian stock market a unicorn industry. They have made stock trading very easy. Now anyone can increase their capital by investing their deposits anytime. Firms like Zerodha and Sharekhan are giving tough competition to the best trading platforms in the world.
Consider only the platform in which you get your best features and services. You can enhance your knowledge with the help of educational material available on these platforms.
Frequently Asked Questions
Can We Trade Without A Stockbroker?

No, we can not trade without a stockbroker. A stockbroker acts as a liaison between the depository participant (DP) and the client.

What Is Sensex?

Sensex includes the 30 largest and most actively traded stocks on BSE, giving a measure of India's economy.

What Is The Time For Trading In Indian Stock Market?

Indian Stock market's timings are 09:15 a.m. to 3:30 p.m. Between these timings, you can trade or invest in the stock market. 

Why Do We Need A Demat Account?

Demat account is an account that holds your equities, government securities, mutual funds in electronic form. In a savings account, you hold your deposited money, in a Demat account, you hold your equities.

What Are The Best Stock Market Trading Apps?

5 Best Stock Market Trading Apps:
1. Zerodha
2. Angel Broking 
3. Upstox Pro
4. ICICI Direct 
5. Sharekhan
Similar Posts: