It's everywhere! Whether you live in an urban, suburban, or rural region, one thing you will find in all these is ATMs (of course, the number of them may vary). Life would almost be unimaginable without ATMs. For every single penny, you wanted to withdraw from the bank, you would have to personally visit the bank, stand in long lines and get your money.
We all have used ATMs in our lives, at least once. But do you know the science behind how ATMs work? Keep reading this article to learn how to use an ATM.
What Is An ATM?
ATM means Automated Teller Machine. It does the task of the teller in the bank. The teller is responsible for collecting your withdrawal/deposit request and exchanging the money with you. Then they update the balance in your bank account.
This is the use of an ATM.
If you have a credit or a debit card, you will be able to do transactions in most ATMs. It eliminates the need for a physical banking representative, every time you want to take out your money or add to it.
But the services of an ATM are not just limited to ATM money withdrawal or deposit. Some of them allow you to pay your utility bills and initiate transfers between different bank accounts.
Depending on the bank in which your account is, and the bank to which the ATM belongs, you might be charged a small fee. Check with your bank to know the associated fees with it. But more often than not, this fee is negligible.
What Is The History Of The ATM?
The first ATM in recorded history belonged to the Barclays Bank in London, back in 1967. Initially, it was limited to customers of Barclays Bank only. But in the following decade, machines that could accept any debit or credit card came into existence.
In just a few years following that, ATMs spread like wildfire across the globe. People around the world became familiar with how to use an ATM machine. At the time of writing, there are around 3.5 million functional ATMs around the world. However underdeveloped the area may be, you can always expect to find at least a single ATM somewhere around. That is the penetration of ATMs.
How To Use An ATM Machine – Types Of ATMs
Depending on the functionality, there are broadly two types of ATMs.
One is the simple machine that allows you to insert a credit/debit card and withdraw money. In these machines, you can also get a slip printed with your bank account balance, a mini-statement and, some of these machines also provide an option to change your Personal Identification Number (PIN).
The second type of ATMs is the more advanced one which allows you to deposit cash as well. These machines have a slot that allows you to put cash (only notes are accepted). This cash is then counted by the machine, and the balance reflects in your account almost instantly. Some of these machines allow you to pay your utility bills as well. If you know how to use an ATM machine in general, operating both these machines must be easy for you.
In India, there are different types of ATMs depending on their location and ownership. Here are some of them:
Onsite ATMs:
These are the ATMs that are found on the premises of a bank branch.
Offsite ATMs:
These are standalone machines that are found commonly in important streets and areas of an urban or rural area. They belong to a particular bank but mostly they accept the cards from other banks as well (for withdrawal).
White Label ATM:
These are machines set up by non-bank organizations to provide financial independence and penetration into the rural parts of the country. These white label ATMs typically do not display the logo or design of any one particular bank.
Brown Label ATM:
They are not owned by the bank, but taken on lease to provide the service to the customers.
How To Use An ATM Machine – Activating An ATM Card
Knowing how to use an ATM machine to activate your card is pretty straightforward. Once you have opened your account with a bank and received your card, you will need to activate it for ATM usage. But it is simple to do so. Here are some of the common ways, depending on your bank and branch.
Your card can be automatically activated if you withdraw some money from the ATM belonging to the bank you have opened the account in. Following this, you will be able to use your card in any ATM in the country.
Activate Through Net Banking:
Along with the account details, you would be given a User ID through which you can log in to your net banking portal (after the creation of a password, of course). Here, there will be an option to activate your ATM card. The process is straightforward and some banks allow you to do this through their mobile apps as well.
You can contact the toll-free number of your bank and choose the appropriate option to activate your ATM card. Here, you may be requested to provide your account number, registered address, mobile number, and ID proof. Once done and verified, your card will be activated.
The main ATM card use is to withdraw cash, deposit cash, pay bills and achieve certain banking processes.
How To Use An ATM Machine Card – Step-By-Step Process To Withdraw Money From ATM
If you are not familiar with how to use an ATM machine before, do not worry. The process is simple and it is consistent with most bank ATMs around the country. But depending on the Bank ATM, the sequence of events on how to use an ATM machine may vary. 
Step 1:  Insert ATM Card To Machine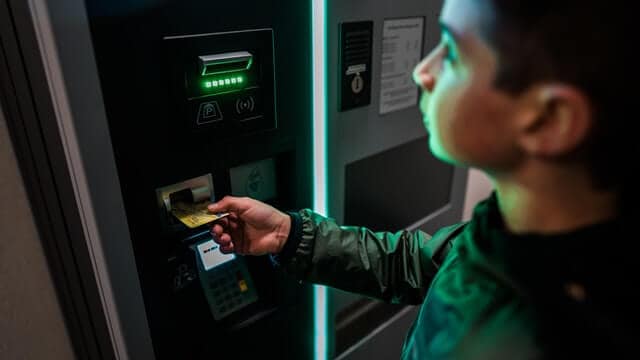 Insert your debit card in the card slot of the ATM Machine. Some machines will take the card inside and only eject it once your transaction is done. Others may provide you the card back once it has read the chip. 
There would be a slot(most probably it lights as green) to insert the ATM into the machine.
Step 2:  Select The Language
ATM would ask to select mainly "Hindi" or "English" language for transaction. Select whichever you are comfortable with.
Step 3:  Enter Screen Test Number
In some bank ATM machines, it asks for entering any number between 10 to 99 for keyboard and screen proper function test, example: in SBI ATM it asks to press any number between 10 to 99;  For eg. '25' and asks to press 'yes' if the number is displayed properly or 'No' if not displayed properly on the screen.
Step 4: Enter 4 Digit ATM PIN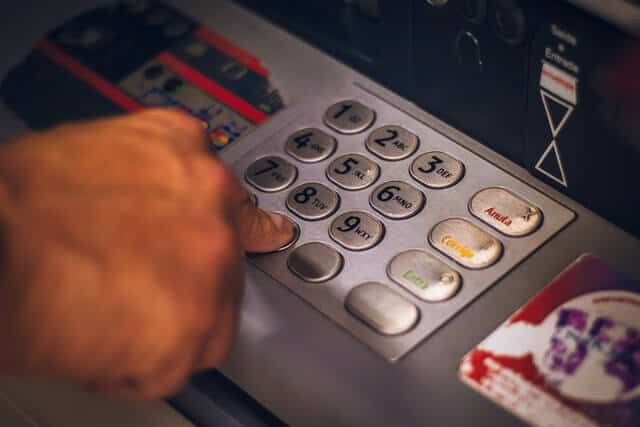 Next, you will need to "enter your PIN". It is a 4-digit secret number that you must remember at all times to access your account through the ATM. While entering the PIN, try to cover your hand on the number pad such that no one around can see it.
Step 5: Select Yours Account Type
Following this, you will need to choose if your account is a "current" account or a "saving" account. Current accounts are typically for registered companies (business), while savings accounts are for individuals (Salary, personal accounts). 
Step 6: Select The Withdrawal Amount
you will be prompted to choose an amount you want to withdraw. Press the 'Enter Your Amount' option and type the amount you need to withdraw. Typically, it has to be in the multiple of tens and should be under the limit of the amount available into your account otherwise the transaction would fail.
Step 7: Collect Yours Cash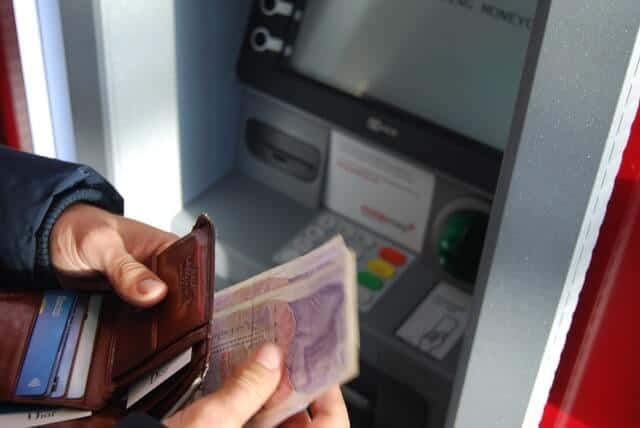 Once you confirm the amount, the machine will dispense the cash. 
Step 8: Collect The Printed Slip If Required
Once cash is withdrawn, it would ask if you want to collect the printed receipt as well or not, choose accordingly if required. 
Step 9: Make Another Transaction
Use this option if you want to make more transactions for withdrawal.
Step 10: End Session
The transaction session typically gets cancelled immediately after the cash is dispensed in some ATMs, but do make sure that the transaction session is not continuing on the machine after withdrawal. You can click on the "red button" on the keypad to end the transaction, or simply press "other buttons" to check if the transaction is terminated or not. 
Last but not least, remember to take your ATM card back from the machine before leaving the ATM room .
This is how to use an ATM machine! You have your cash now!
Conclusion
ATMs are an important part of our lives. Hope this guide made you familiar with how to use an ATM machine. They are everywhere and they are only going to increase in number as the financial penetration increases in our country. Get familiar with using an ATM, online, and mobile banking services so that banking becomes easy and seamless for you. If you have friends or relatives unfamiliar with ATMs, let them know how to use an ATM machine.
Recommended: Best Debit Cards In India
FAQs – How To Use An ATM Machine?
What Cards Are Accepted At The ATM?
Almost all ATMs accept credit cards, debit cards, and even some prepaid cards (eligible for cash withdrawal) for financial transactions
What Is A PIN?
At the time of account creation, you will be provided with a 4-digit secret number by the bank. Sometimes, it will be provided with the initial set of documents, or other times, it will be couriered/posted separately to you. Either way, you can use this PIN and create your PIN to access the bank account through the ATM. Remember to keep the PIN a secret. 
What Are The Different ATM Services?
Typically, ATMs provide account information, cash withdrawal and deposit, mini statements, and bill payment. 
Is There A Service Charge For Using Other Bank's ATMs?
As per RBI's 'Free ATM Access Policy', there has to be a minimum number of free transactions for other bank cards in an ATM. Post this, banks may charge a transaction fee starting from INR 20. 
What To Do If The Card Is Lost/stolen?
Call the customer service of the bank and tell them to block the card immediately. Later, you can request a new card from your bank. 
Similar Posts: