Various investing books have given incredibly strong and mind-opening training which has changed the existence of many individuals. These Investing books have achieved incredible status over the years and have become a cult classic among geeks.
Here, a bunch of the best Investing books for beginners to help you meet commitments, plan expenses and make sensible estimates.
12 Best Investing Market Books For Beginners
1. Investing In India – Best Investing Book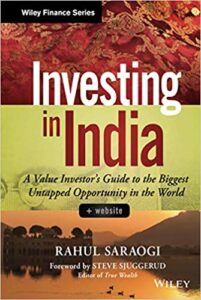 About the author:
This book is written by Rahul Sarogi. He is an Indian writer and a value investor. Rahul Saraogi is working as a Managing Director at Atyant Capital.
Book Summary:
This publication focuses on the value investing opportunities in the country today, explained by Mr. Rahul Sarogi. This book throws light on the investment opportunities in India today, especially in the untapped potential. Mr. Sarogi explains five parameters to differentiate a stock's capital allocation, business fundamentals, financial strength, and comparative opportunity. The publication also explains the government, politics as well as other influences in the entire ecosystem of investing in the stock exchange.
He points out that there are companies that know capital allocation and compound capital, and some companies don't. Some companies run Ponzi schemes.
He cites the example of how Sahara acted as the biggest Ponzi scheme in the country. Everyone should be aware of these practices to avoid any crisis. The publication summarizes the country's past, politics, and government.
One should always invest in the realm of one's potential. This book is a comprehensive manual and a good starting point for an Indian investor.
Those who want to know more about investing in India should consider this book. For Indian investors, this is one of the best investing books for beginners.
The readers will surely get a better understanding of the interesting sectors and can also take some stock tips.
2. Buffett: The Making Of An American Capitalist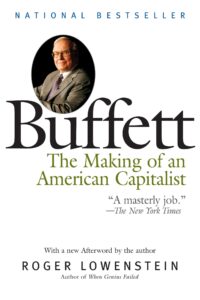 About the author:
Roger Lowenstein is the author of the book. He was a financial journalist at Wall Street Journal.
Book's Summary:
This publication is devoted to insights into the Oracle of Omaha. Warren Buffett's ideas are practical and his techniques can even provide profitable rewards for investors who have enough patience to understand them and employ them correctly.
Roger Lowenstein writes that Buffet developed a completely independent method of thinking. He does not take anything lightly. If he was running a venture, managing money for investors, many assumed he was committing a scam that would provide middle-class yields.
This is the best kind of biography. Lowenstein had no written access to Buffett, overcoming that obstacle through a comprehensive investigation, which included interviews with Buffett's close friends, relatives, and business partners. Lowenstein then turned it into a thoughtful, well-written, and thorough portrayal of a remarkable man.
This book is a collection of the annual letters written by Warren Buffet to his fellow investors. This book is one of the best Investing books for beginners, written by the OG himself.
Also Read: The Future of Cryptocurrency Explained
3. The Little Book That Beats The Market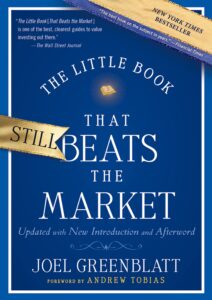 About the Author:
Joel Greenblatt is a value investor of Wall Street. Joel found the fund Gotham Capital which gave almost 50% return for a decade.
Book summary:
This publication contains quite a few magic points to win against the stock exchange and get optimum earnings. The author has recently prescribed a few formulations, two main of those are Earning return & yield Capital. They give maximum gains to the investors about bargained price ranges of shares. In the event you obey these formulations afterward you are certainly going to gain amazing outcomes.
The book is only 176 pages long. This trading book was released in the calendar year 2005 by McDougal Joel Greenblatt.
This book teaches about the idea of ​​value investing and Joel Greenblatt's famous magic bullet investment plan, which will be easy, successful, and practical to ensure earning later in the future.
"The little book that beats the market" is one of the best Investing books for beginners that will help you in building a diverse portfolio.
4. One Up On Wall Street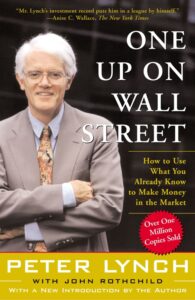 About the Author:
Peter Lynch's status in wall street is equal to the likes of Benjamin Graham and Warren Buffett.
The author is an effective fund director who has listed a 30 per cent moderate return on his portfolio within 1-3 years in the mutual fund industry.
Book summary:
This publication discusses the fundamentals of the stock exchange apart from strategies to make money in the market. Because of this, it is suitable for beginners to the stock exchange. Lynch has diluted his experience and knowledge in this Investing book. It is one of the best investing books for beginners and amateurs.
If you want to invest in the market for a long time, you need to decide the ideal stock for you. In his best-investing publication, Peter Lynch explains how to choose the ideal stock. As a result, you will have the potential to earn higher returns on your investment bits.
Read More: Best Personal Finance Books
5. The Most Important Thing By Howard Marks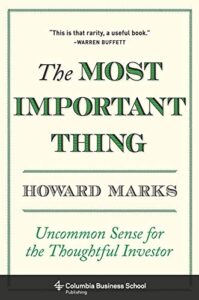 About the Author:
He is an American writer and investor. Howard Marks is the co-founder and co-chairman of Oaktree Capital Management.
Book Summary:
This book is a gem. "The Most Important Thing" is easy to read even for a beginner. The book is about one's psychology, thoughts and about managing your portfolio.
Successful investing requires attention to many different aspects at once. "Experience is what you have when you don't get what you wanted." Great times only dictate the bad course: that investing isn't easy, that you understand its secrets, that you shouldn't be worried about risk.
The main reason is that the risk is hidden because it's invisible. What is visible is loss, and loss generally happens when danger collides with adverse events.
6. The Intelligent Investor – Overall Best Stock Market Book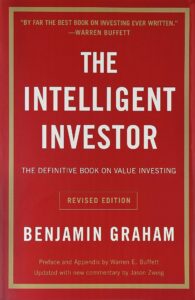 About the Author:
Benjamin Graham was an American economist and investor. Graham was the mentor of Warren Buffet. He is popularly known as the "father of value investing".
Book's Summary:
Who can defy the advice of Benjamin Graham himself? In this book, the man had imparted his classical knowledge. His book "The Intelligent Investor" has earned the status of "Bible of Stock Market".
Graham believed in the dogma of minimizing losses, not maximizing profits. His belief works for its investors using their research, investigative and analytical ability, and years of discipline and investment experience. This book presents a realistic picture of Wall Street.
This book will help you to attain your financial motives, since this publication may be your Bible of investment for everybody, who is in the field of the stock exchange. Written by the OG himself, this book is one of the best stock market books.
Remember, this book was never meant for beginners. The reader should do his/her homework before flipping through this book.
Read Next: Best Share Market Books
7. Stocks To Riches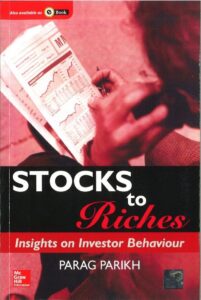 About the Author:
Parag Parikh, a fantastic investment or cum builder.
He founded Parag Parikh Financial Advisory Services Private Limited in 1992. He is a renowned stock investor.
Book's Summary:
Trading in the stock exchange is hard. The market dynamics are somewhat unpredictable. Analysts, agents, and retail investors realize for their disappointment that investments fared well, but traders do not. What are the reasons behind that? What continues within an investor's mind? Exactly what may make a stock exchange bubble? How can this burst? So how exactly should you discover the ideal way of investment?
The book won the Richard Thaler Noble prize in economics for 2017.
" Stocks to riches" is the best selection for beginners. Mr. Prag Parikh has diluted his experience and knowledge in the book. You can be a successful investor by an act of discipline and sheer hard work. "Stock to riches" is highly recommended and one of the best investing books for beginners.
Also Read: What is Passive Income? 6 Simple Ways to Earn Passive Income
8. Why Are We So Clueless About The Stock Market?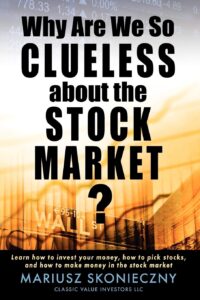 About the Author:
Mariusz Skonieczny is the founder and president of Classic Value Investors LLC.
Book's summary:
The book by Mariusz Skonieczny lays out the basic principles of the importance of buying simple and clear speech in a way that anyone can understand. Topics covered range from the difference between stocks and organizations, how to buy and sell stocks that represent a great firm, and how to admire individual stocks.
The publication also includes a chapter that includes four case studies, as well as a chapter on the advantages and disadvantages of real estate investing compared to stock exchange investing.
An easy-to-understand explanation of the fundamentals is a must for the kind of novice who wants to enter the world of investing and can additionally be used by professional traders who want to brush up on the basic concepts.
This is the best investing book as it is written in a very simple and easy language which makes it suitable for every beginner investor.
9. How To Make Money In Stocks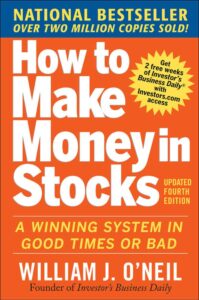 About the Author:
This book is written by William O'Neil. Neil was the founder of William O'Neil & Co. Inc. William O'Neil also started Investor's Business Daily. Investor's Business Daily is a business paper. William was an American writer and a stockbroker.
Book's Summary:
In the list of best-investing books, "How to make money in stocks" can be your ultimate guide in the journey of investment. This bestseller book gives a seven-step guide for all investors to minimize risk and maximize profits to generate wealth. The publication is listed with plans that allow the discovery of winning shares before substantial price gains are achieved.
However, the best part is that the publication will help you understand the basic mistakes that every investor faces. The publication is indeed a great creation and contains detailed descriptions of the stock exchange.
Neil's plan enabled him to show up in-house, the only time-proven scheme that reflects the way the stock market works – to its passive, minority, outside investor.
Read Next: Best Technical Analysis Books
10. Value Investing And Behavioral Finance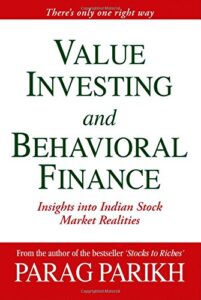 About the Author
Parag Parikh, a fantastic investment or cum builder.
He founded Parag Parikh Financial Advisory Services Private Limited in 1992. He is a renowned stock investor.
Book's Summary:
You must be aware of the notion of value investing. If a stock is recognized on a stock exchange as having low value as well as high yield potential, then buying that stock is currently called value investing. But deciding on a value stock if it has less than great potential is an incredibly difficult endeavour for the persistent investor.
This publication shows how shareholders' behaviour affects investment decisions. Furthermore, he pointed out against his rich experience how those investment decisions resulted in poor yields and various market movements.
The author also corrects and identifies how you can create long-term value and establish investment plans based on the principle of viable money. This publication can be included in the list of cheap books to buy for beginners. This book is a power pack tool and one of the best investing books for beginners.
11. The Four Pillars Of Investing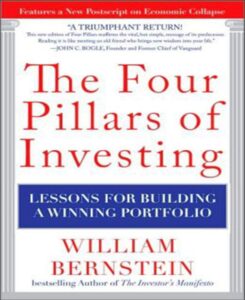 About the Author:
William J. Bernstein is an American financial theorist and neurologist. William had written several books on investment and personal finance. He is the co-founder of Efficient Frontier Advisors, an investment management firm.
Book's Summary:
This book gives the theory of "four pillars". There are four pillars of effective investing:
Pillar 1st: Investment Principles – Risk and Return are all two sides of the same coin.
Pillar 2: Investment History – One of the four important areas of investment understanding – the history, psychology, and methodology of the investment industry – Historical understanding has become the most important for success within a fund.
Pillar 3: Investment Psychology – You are your own worst enemy.
Pillar 4: Investment Business – Agents are not your friend, and the interests of these finance businesses are very different from yours too.
"The Four Pillars of Investing" is highly recommended and one of the best investing books for beginners.
Read Next: Best Day Trading Books
12. The Unshakeable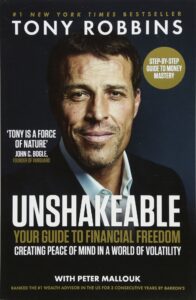 About the Author:
Anthony Jay Robbins is an American author, coach, speaker, and philanthropist. He is the #1 NY Times bestselling author. Tony Robbins had written various chart-toppers and bestsellers stock market books.
Book's Summary:
Tony Robbins gives a detailed account of what he wants to do to eventually become financially independent and secure. Whether you are a member of staff, self-employed, or perhaps even a company owner, you can easily find these steps. He talks about the best way to go to the market. How to stop fear when to buy, when to sell, things to invest money, etc.
How Tony Robbins moves on from the stock market and how to overcome the problem most investors face; Panic. This is the best stock market book that helps you to overcome your feelings. He instructs you to improve not only financially, but also emotionally and logically. By Tony Robbins With The Meditation Process itself, we know how to be filled with gratitude and be at peace no matter what challenges we face.
There are a lot of best-investing books for beginners but these books are a must-read for every beginner. These stock market books will help you stay directed on your investment rules and will prevent your sentiments from taking over. Educate yourself and then get involved in the arena of the stock market otherwise, it can be risky.
Similar Posts: