Personal finance is a fundamental part of our lives, and it has been evident since the beginning of time. From early civilizations, who found ways to save resources for the winter to ensure their survival, to current generations who use budget planners to manage their money, financial planning has always been a priority.
The problem is that most people are not taught the importance of personal finance as elementary education. Books can be a key toolkit to learn about personal finance and money management. The question arises of which are the best individual finance books.
This blog shares a list of top personal finance books that will help you understand the concepts, including taxation, insurance, loans, exemptions, and more.
15 Best Personal Finance Books 2021
We have listed some incredible personal finance books. Consider this recommended list of books to amplify your self-growth.
1. I Will Teach You To Be Rich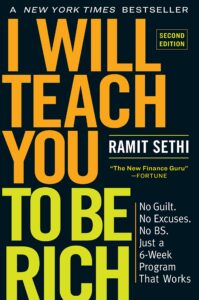 The bestselling title written by Ramit Sethi is celebrated worldwide by enthusiast stock market geeks. Mr. Sethi has used a  satirical tone to explain the psychology behind difficulties and excuses while managing and investing money.  
Ramit is appreciated with nicknames such as "Wealth Wizard" & "new guru on the block." The author questions the purpose that inspires readers to be rich. 
The book delineates the art of earning, saving, and building a fortune. It teaches you about daily personal finance such as getting out of debts and student loans, saving and investing money, buying material for personal use such as automobiles, household expenses. 
This book is a must-read for everyone of any age group. 
2. The Automatic Millionaire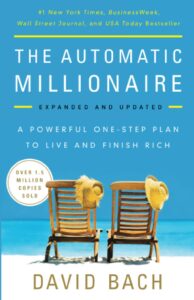 The  Automatic Millionaire is written by David Bach, who is a financial advisor. The book shares a powerful and life-changing system that works automatically after setting up once. It features an ordinary couple who work at low-paying jobs, how these characters retire at the age of fifty-five with almost 1 million dollars of savings. 
The Automatic Millionaire will explain how you can automate your earnings and be a millionaire. The system and methods presented by the author sound legit and practical. Add "The Automatic Millionaire" to your bucket list and understand the secrets of becoming a millionaire. 
Read Next: Best Investing Books for Beginners
3. Retire Before Mom and Dad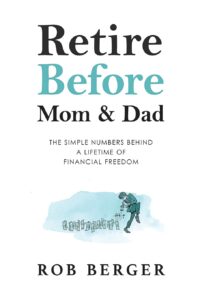 This personal finance book is as enjoyable as its title. It is written by the former editor of Forbes, Rob Berger.  The self-help title will help you to reveal the secrets of millionaires. The author tried to solve the common queries related to money and finance. The book is written in straightforward and easily digestible content.  
Rob Berger has tried to formulate his finance hacks to help you turn your income into financial salvation. Getting rich isn't about sacrifice. It's more about making intelligent moves at the best moments. Astonishingly, Retire Before Mom and Dad are among the best reads. 
4. You Are a Badass at Making Money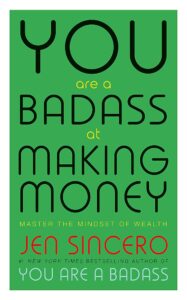 Written by the bestselling author Jen Sincero, this is a life-changing guide. It will help you understand your financial situation and teach you how to manage your money. It's the perfect book for anyone who wants to master their money, get out of debt, work their money, and reach financial freedom. The author is trying to bust myths about money and clearing the perspective about the financial management of the readers. The reader will help you to find the hindrances between you and your dream. Sincero says that it is all about the mindset that is blocking you from uncovering your hidden potential. 
Read Next: Best Technical Analysis Books
5. The Millionaire Next Door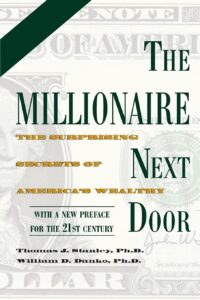 The Millionaire Next Door is written by Thomas J. Stanley and William D. Danko. This book is a compilation of several American millionaires' lives. The author has divided millionaires into two groups: UAW and PAW.
Under Accumulator of Wealth (UAW)  are those individuals whose net worth is relatively low to their income. It includes those people who do not invest at least 10% of their total revenue.
Prodigious Accumulator of Wealth (PAW) are the individuals whose net worth is relatively high to their income. Those people who invest at least 10% of their total income are called PAW.
The author concluded that even individuals with high income ended up with little savings if they do not invest/save regularly. 
All that creates a hindrance in the process of becoming wealthy is one's approach towards money. Savings are a significant aspect of personal finance. 
6. Broke Millennial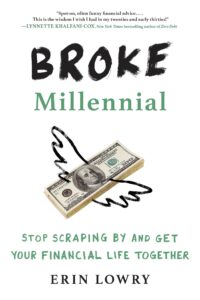 Broke Millennial is among the boldest personal finance books. The author has shown a reality check that how today's generation is not serious about savings and easily gets freaked out by finances. With this approach, they will be compelled to spend the rest of their lives in debt.
Broke Millennial is written by Erin Lowry. Erin shares a panacea for dealing with tricky finances. 
Erin asks people to find the kind of relationship they have with their money. 
This book is full of true stories of financially clueless individuals and how they turned into financially bold. 
Erin has created a roadmap for people to achieve financial savviness. 
Read Next: Best Share Market Books
7. The Money Manual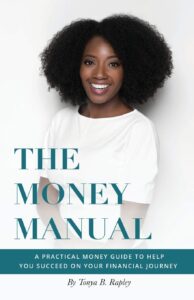 Tonya B. Rapley has created a designed roadmap that will teach you about the basics of budgeting and saving. Tonya runs a blog as Myfabfinance, where she shares information about finance and investing. The guidebook covers elementary financial topics on managing money, building credit, eliminating debt, managing student loans, and best-finance practices. Readers of Money Manual walk away with a better perspective of savings and investing.
The books include engaging infographics, flawless writing, and practical financial advice. The Money Manual is the best personal finance book for beginners and young adults. Tonya promotes the book as more of a crash course for finances that everybody must do.  
8. Why Didn't They Teach Me This in School?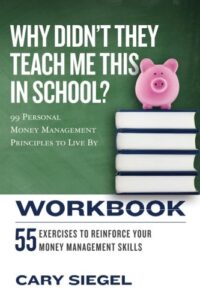 "Why Didn't They Teach Me This in School?" is primarily written for teaching money management to college, high school, and higher grade middle school students. The book includes workbooks to teach students more effectively. The book is written by Cary Siegel. Cary  Siegal advises people to set common and realistic financial goals such as savings, investments, and personal rewards. Such realistic goals are easy to achieve and can boost up your confidence. 
The book features a concept of "99 principles". The author theorizes that learning this 99 principle can help you understand the idea of personal finance. The cherry on the cake, this book has a set of 55 advanced practicals that can help you scale your understanding of the topic. 
Read Next: Best Day Trading Books
9. The Psychology of Money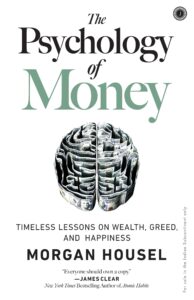 This gift is suitable for a friend, family member, dear, peer, or associate in the office. The book is written by Morgan Housel, a former journalist of The Wall Street Journal. 
Even for the most intelligent people, it can be challenging to learn about every bit of finance. Most people consider managing money, investing it, and making a business decision to require many math calculations. The book includes such information, data, and sources to tell us what we should do. People do not make financial decisions on spreadsheets in real life. 
They decide on the dinner table or in a meeting room where personal history, the unique ideas of the world, pride, marketing, and other incentives are assembled. "Psychology of Money" is a collection of 19 stories in which people get a strange way to see the money. This teaches you how to understand one of the most critical aspects of your life.
10. The Investment Answer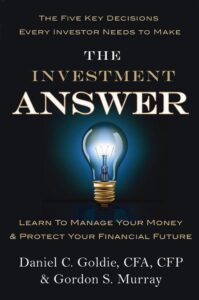 The bestselling book is written by Gordon S. Murray. The book gives an elementary introduction to investing in the stock market. It covers a wide range of topics like brokers, asset allocations, the relationship between risk and return, passive investing, and many more. 
The book is celebrated as the "last message of the dying banker." Gordon S. Murray was sick, and in his last time, he decided to write the book, "The Investment Answer". Beginners and intermediates can consider this bestselling title for a read.
Read Next: Best Accounting Books
11. The Millionaire Mind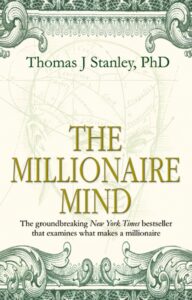 The Millionaire Mind is written by bestselling author Thomas J. Stanley. He is also the author of the famous title America's Wealthy. Stanley has emphasized the elementary education provided to children in schools. He theorizes that financial success depends on the kind of environment they were brought up in. The book raises questions like how people sell/buy their houses or earn livelihood and run their households. 
Stanley researched more than 1,300 American millionaires. The author theorizes that personal experiences and habits tell many things about their potential. Readers will get to know more about individuals' money-making psychology. 
12. Debt-Free by 30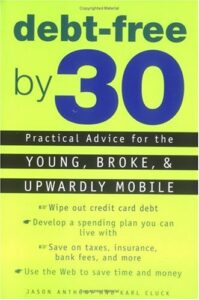 Mounds and mounds upon debt, Many people see it as a side effect of education loans. With credit card debts and employment and the culture of dot-com riches, you will find a whole group of graduates in deep trouble. Jason Anthony, the co-author of the book with Karl Cluck, says that "we were financial basketcases." "Most people in their 20s don't know anything about money. We didn't.
If you are young and educated but owe more money than you can earn or save, the book will help you get rid of that overwhelming mountain of debt. This authoritative guide was written by two 20-year-olds who escaped the terrors of a double-digit deficit.
By tracking every expenditure, you can avoid debt incurring. The book also includes many quizzes, infographics, and tables related to personal finance.
13. How to Make Your Money Last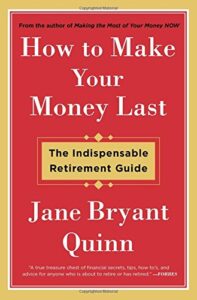 Most people don't plan to increase their assets or automate their earnings, and they are just clueless about money. The book is written by Jane Bryant Quinn, an American financial journalist. The book's intent, How to Make Your Money Last, is all about teaching people to engage them to save money for the adverse condition? The author raises a simple question to readers that "How much can you spend without running out of funds? 
The author Jane Bryant Quinn says that it will be hard for people if their savings run out in old age. He emphasizes people quit opting for "safe investments" and to motivate them to go for "risky investments." "Safe investments" will not help them increase their assets. 
This advanced guide will help those people who are looking for retirement plans. 
14. A Random Walk Down Wall Street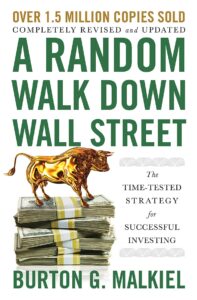 The book is written by Burton Gordon Malkiel, Burton is an economics professor and a writer. It has been sold over 1.6 million times.  The book mainly focuses on investing in the stock market and tax loss harvesting. In a statistical way, Burton compares the market movements to the walking style of a drunken man. Questioning all theories on the market so far, the professor says that the market has no pattern or relation to its historical value. The random walk theory suggests that investors should not expect prices according to their historical values and patterns. 
Indeed, this book will give a new perspective to look at shares and mutual funds. 
15. Why Smart People Do Stupid Things with Money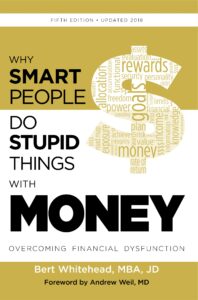 Best Whitehead is the author of the book. He is renowned as among the best advisors of the United States. The book explains a different kind of psychological behaviour that people show during financial resolutions. The author has mentioned several strategies or other individuals(personalities) to achieve financial freedom. 
This book offers a different panorama to its readers. The self-help book will help you to understand the thought process of individuals and the flaws in the system. 
Why did these books make our list?
Each book listed here has one thing in common; relevance. Each book is relevant according to the preferences. 
The authors have used a flawless and straightforward writing style. 
Each of the titles is written by acclaimed writers. 
The books are listed here, after extensive research based on readers' reviews and authors' profiles.
Each book is applicable and updated to the date.
Personal Finance Books are Financial Management Toolkit, which helps individuals or families spend budget, savings, and monetary resources. These books provide helpful insight on your money to improve and use. A finance book can help you hand over the latest trends and information. 
If any of the books caught your eye, rush to the nearby bookstore and read them.