In the NFT Analytics system, there are a number of endpoints that enable you to query NFT related information based on NFT contract information or wallet addresses—finding the NFTs that are stored in a wallet or retrieving, not just the NFT's metadata but also the contract's metadata.
Listed below are top NFT analytics tools:
1. Nonfungible.com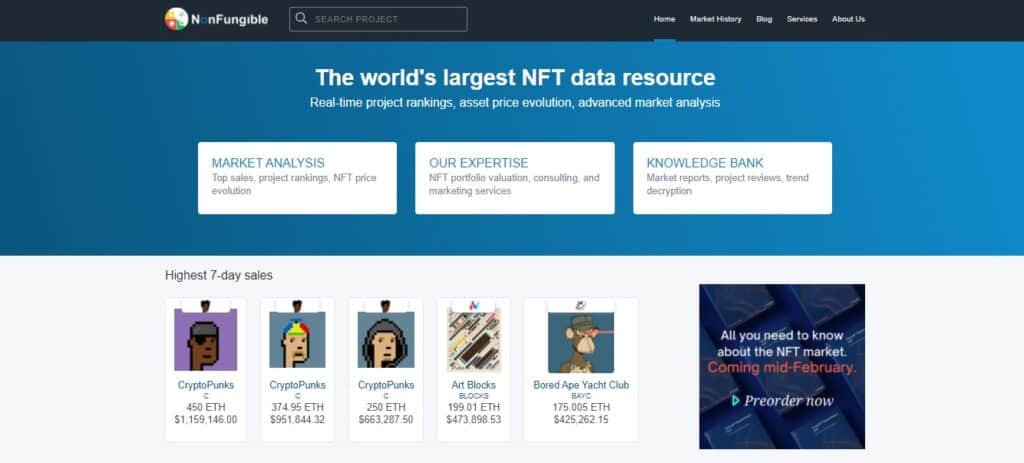 Crypto collectibles and blockchain gaming markets with the largest database. To create individual non-fungible token valuations, track historical market sales data.
Consider similar assets before placing a fair price on NFT, whether buying or selling! All NFT marketplaces are tracked on the Ethereum blockchain.
Features:
Data Integrity
Consulting services for the NFT project.
Portfolio Valuation
2. Moby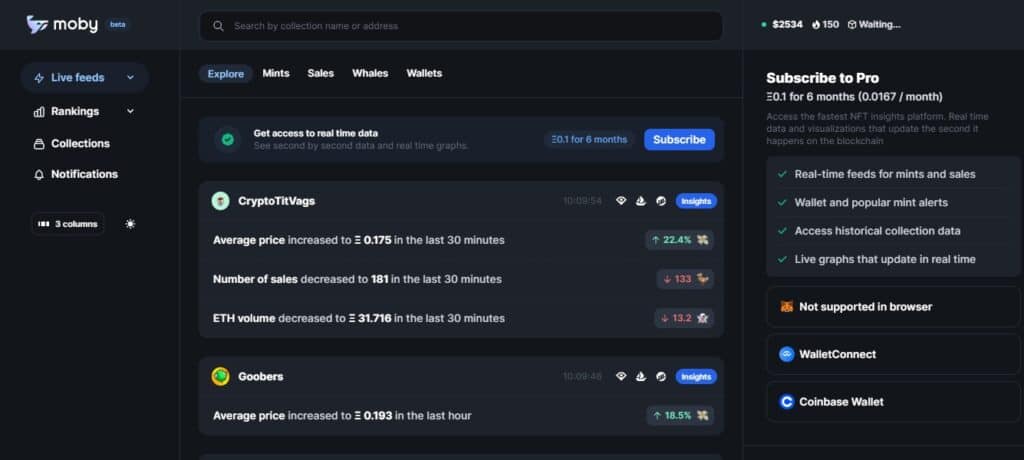 Get access to the fastest NFT insights platform. The data and visualizations are updated on the blockchain as soon as something happens.
Live NFT price trends, wallet watch lists, instant notifications, and real-time insight into NFT minting.
Features:
Trade execution at lightning speed
Round-the-Clock Trading
Limited Risks and Event Notification
3. Ayzd.com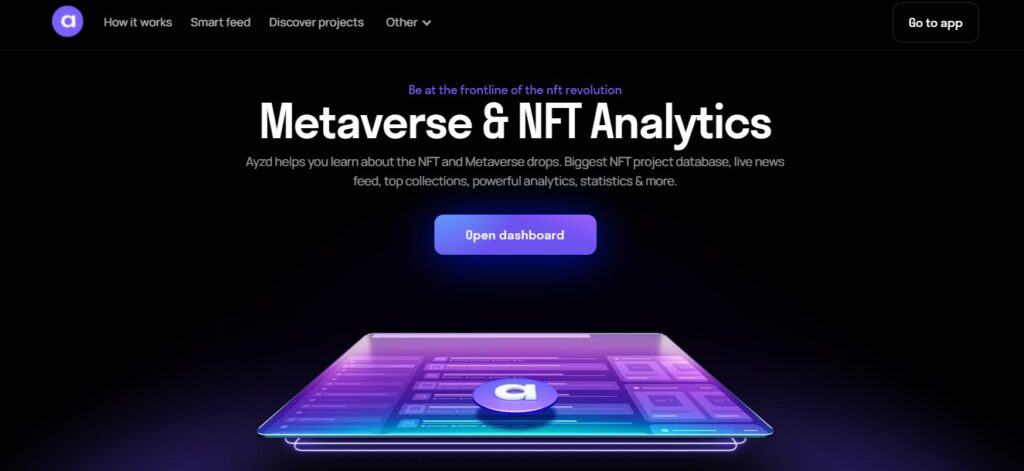 Choosing the best NFT drops and using the most powerful analytics. Database of NFT projects, a live news feed, top collections, statistics, guides, and more. Ayzd helps you to learn about Metaverse drops and NFT drops.
The largest collection of NFT projects, top collections, powerful analytics, statistics, and more.
Features:
Largest collection of NFT project
Powerful Analytics
4. Dune XYZ – Analytics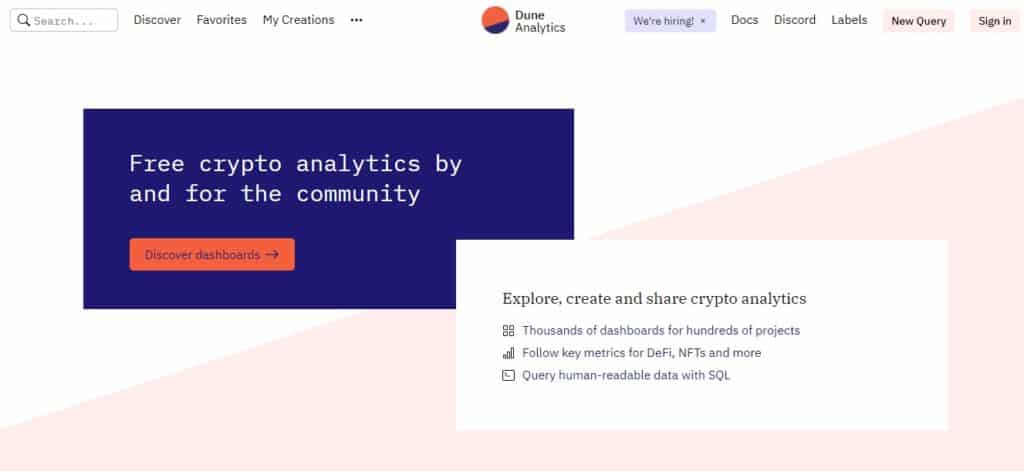 For blockchain research, Dune Analytics is an excellent tool. Dune allows you to query, extract, and visualize data from the blockchain using all the tools available.
Dune is enabling the public release of blockchain data so that it can be used by anyone.
Features:
Dashboards for thousands of projects.
Monitor key metrics such as DeFi, NFTs, and more.
SQL allows you to query human-readable data.
5. NFTGO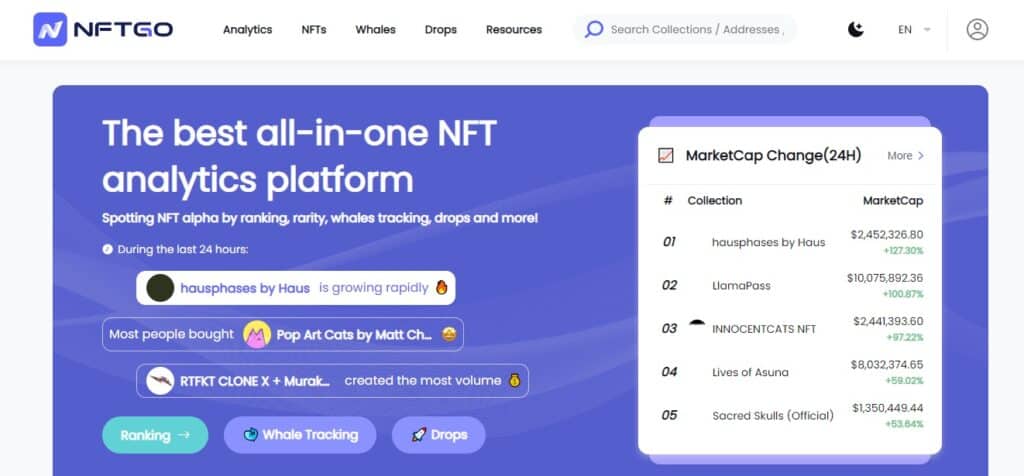 NFTGO is the world's top analytics platform. To obtain the latest NFTGO transaction data from the blockchain, NFTGO developed its engine for collecting stable blockchain data.
This engine parses the blockchain transaction data into readable NFT market and transaction data.
Features:
NFT Management
Rarity distribution
Whales Tracking
6. OpenSea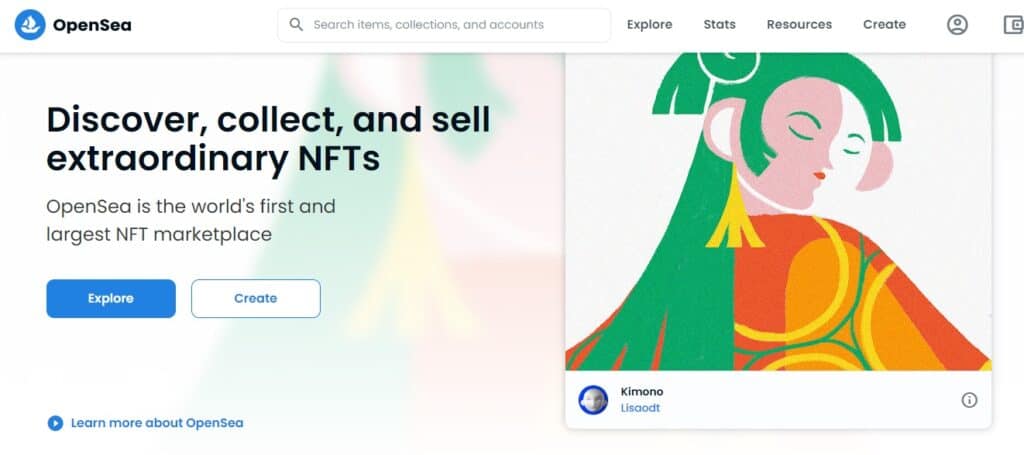 OpenSea is the largest platform for NFT and houses some of the most coveted collections. This NFT platform does not just offer an impressive digital art collection; it can also be used as an NFT tool to analyze an artwork or collectible. OpenSea will provide a robust ecosystem for collectors, including the NFT shop and data. Making a buying decision about the best NFT is much easier when all the information is in one place. As the world's largest NFT marketplace, A ranking and activity section in the main menu displays information about NFTs in real-time. Using one platform, you can track NFTs across all three chains.
Features:
OpenSea makes it easy to review all the activity and data associated with any NFT listed on its platform.
OpenSea supports a host of other blockchain-based NFTs.
It supports nine categories besides blockchain, such as art, music, sports, and trading cards.
7. rarity.tools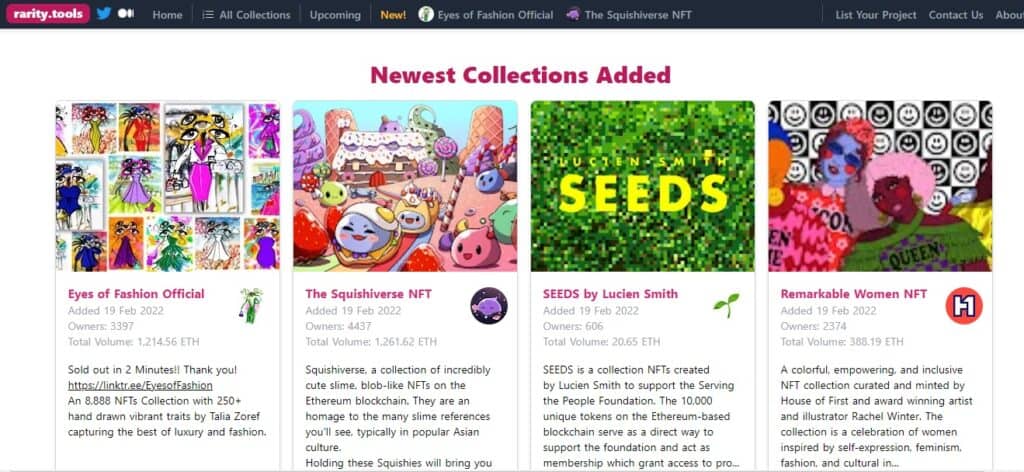 This is a tool for determining the rarity of NFTs and ranking, scoring, and retrieving information about them.
The website is updated regularly. Users can inquire about a range of new initiatives that have recently been born, in addition to popular projects such as CryptoPunks and Bored Apes.
Users can also inquire about new things offered on the website for purchase.
After selecting a series of NFT collections, users can arrange them by rarity. To get the total score, rarity.tools will score all of the series' features, then add the scores based on the characteristics of a certain NFT.
Features:
Easy tool for determining the rarity of NFT's.
The floor price for each attribute is presented at a glance, and users can query about the NFT's collector, number, characteristics, total rarity, and so on.
8. DappRadar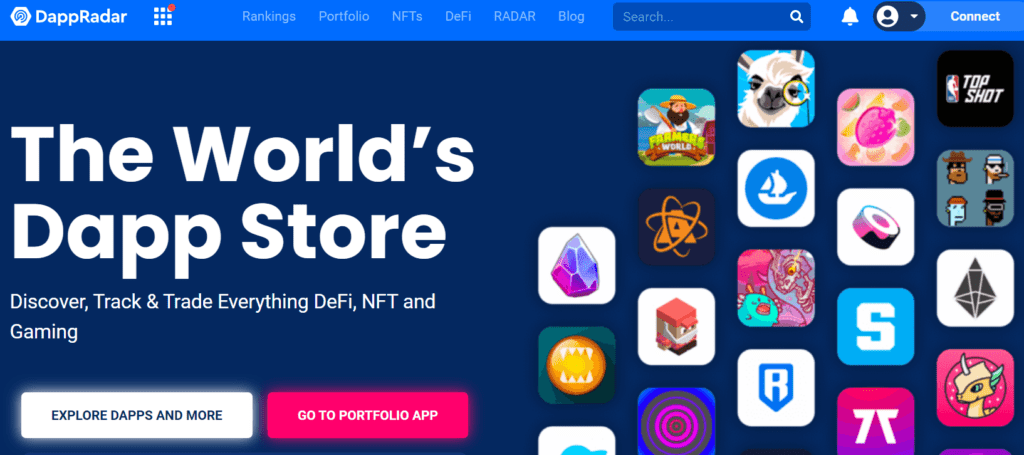 Among the top sites for NFT collection and sales data, DappRadar is well known. In 2020, the platform added a portfolio tracker for Ethereum wallets and provided a simple way to monitor them in real-time.
A user can quickly enter an ENS name or Binance or Ethereum wallet address, and the system displays the NFT balance and token and the wallet's net worth immediately.
However, the portfolio tracker has minimal notifications and trade analytics, but the usage, DeFi, and NFT financial stats are all special tools for tracking portfolios individually.
Features:
Quick user-interface
Provides portfolio tracker
9. Ninjalerts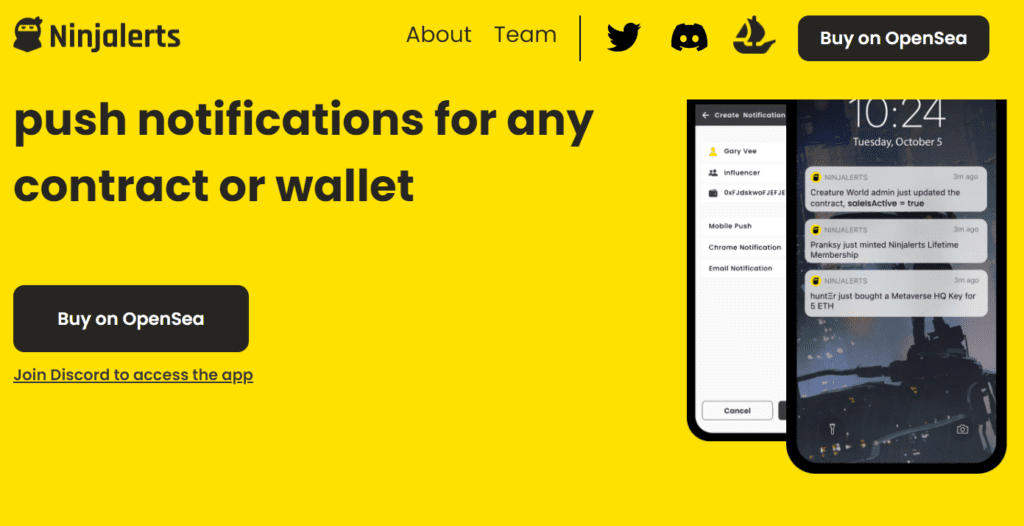 In the market of cryptocurrency and NFT tracking services, Ninjalerts is an exciting new player.
The platform, which has only been available for a few months, lets users identify specific contracts or wallet addresses and be informed when anything happens.
When minting begins, NFT reveals happen, and influencers and whales move next; users can receive notifications when minting starts as well.
Features:
Provides push notifications
Individuals interested in Ninjalerts service can buy a lifetime license of the app.
10. Icy.tools

Features:
Budget-friendly
Offer a wide range of analytics tool
11. Nansen

With Nansen, you can integrate real-time on-chain data with millions of wallet labels in a massive and ever-expanding database.
The informative dashboards of Nansen come with tools like wallet profilers, intelligent alerts, top holders information, and more.
Nansen is somewhat expensive, but it allows you to do much more than track collectors and trades; you can download data, access exclusive insights, keep up with DEX trades, and more.
In terms of NFT analytics services, Nansen, a platform that has existed for over a year, is a popular selection.
Features:
Allow users to download data
Offers a free trial
12. Rainbow Wallet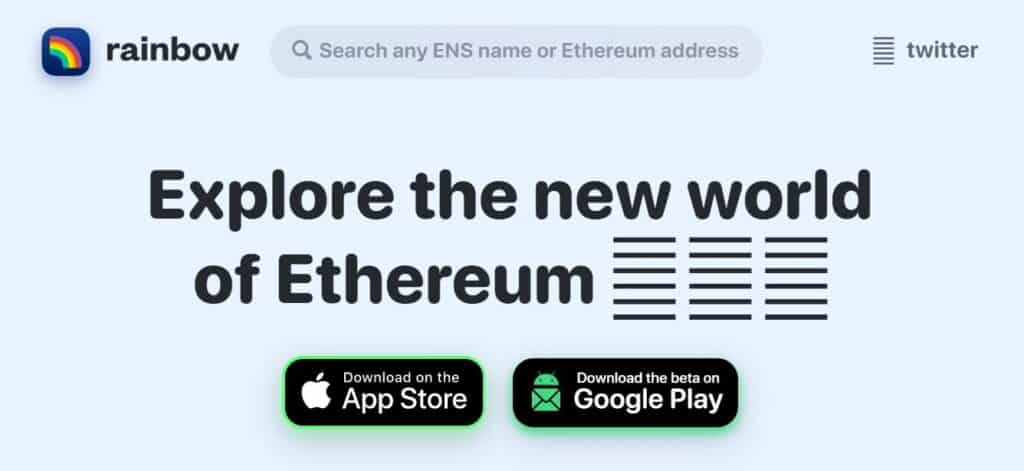 Features:
Provides stalking feature so that user can view others wallet's contents
User-Friendly Interface
Similar Posts: