An NFT card may be defined as a trading card created on the blockchain, most commonly on Ethereum. NFT holders own a virtual deed to their digital trading cards, even though they are not tangible. Eventually, the NFT owner will sell it at a profit if its value appreciates.
Trading cards have been among the most valuable items that collectors can own for decades. Trading cards are so popular that they have their annual show. Now, with the ever-growing NFT community, trading cards and their collectors are going digital.
Collectors have long placed a premium on unique baseball cards, paintings, stamps, and rare coins. Several of the most valuable trading cards have fetched millions of dollars.
Their rarity and uniqueness add value to them. Digital creators are transforming NFTs into collectables akin to trading cards.
Additionally, collectors hope that the uniqueness of NFT trading cards will increase their value as with physical trading cards. This uniqueness has been transferred to the digital realm via non-fungible tokens.
Listed below are some of the top NFT trading cards:
1. Spells of genesis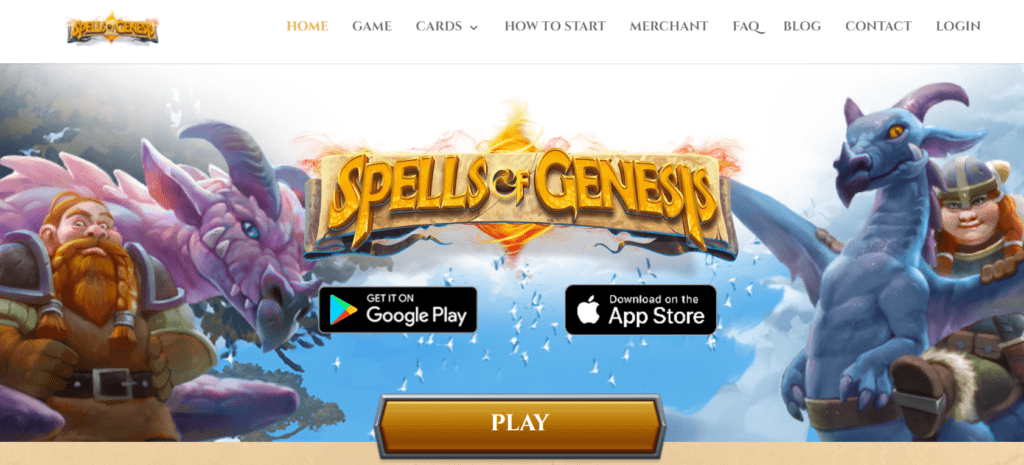 Spells of Genesis is the world's first NFT-based mobile game. SOG is a 2017 game that combines trading card game functionality with arcade-style point-and-shoot gameplay.
Players must collect and combine cards while building the strongest deck possible to defeat their opponents. In the SOG game, you can combine, collect, and trade cards to create a stronger team. You can also challenge your opponents while exploring the fantasy world of Askian.
As you play, you will be collecting cards and combining them to make stronger decks to face your opponents. It is possible to create your deck by combining different cards or spells, which are abilities that characters have; by trading new cards or combining new ones with others.
In-game cards are converted to NFTs through blockchainization, a process SOG calls minting cards. You can unlock Blockchanization by combining four cards and levelling them up.
This will allow you to hold the mint cards in your wallet. There are many in-game packs you can purchase, and then mint them.
The in-game currency gems can be purchased in order to obtain more powerful and valuable cards as well as to increase your stamina, allowing you to play longer.
2. Crypto strikers or Wrapper Strikers

Crypto strikers are Ethereum's first sports NFT project, having launched in June 2018. There are 10261 digital photographs included in Crypto striker, of which 32 of them are little mints.
Crypto striker features 100 players from the 2018 Fifa world cup. Wrapper strikers are crypto strikers and NFTs that were created after ER-721 was incompletely implemented, which rendered them incompatible with several new protocols.                               
Because NFTs are still a relatively new technology, they must be "wrapped" before they are listed on marketplaces like OpenSea. Let it be known that you can always unwrap a card and restore it to its original state if desired.
Originally created to celebrate the 2018 Fifa World Cup, the crypto striker's collection has since become a global phenomenon.
They were launched successfully on June 11, 2018, on the Ethereum blockchain, by Benn Gurton and Gianni Settino.
These are the first sports cards based on the blockchain. 32 of 100 authentic Fifa world cup players were used to create the iconic set, a limited-edition run. Not only is the iconic set distinguished by its limited quantity, but also by its distinctive artwork.
3. Rare Pepe

Rare Pepe NFT trading cards are a digital collection of popular Pepe memes originally minted on the counterparty protocol and traded on the bitcoin blockchain as XCP assets.
Rare pepes are considered one of the first-ever NFTs, minted in 2016. The pepe collection consists of 36 different series, each distinct production run, and rarity. It was Matt Furies who made Pepe the frog in 2005 without knowing what a meme was.
A number of memes were made about Pepe after Matt shared him on the internet. Collectors of the original rare pepe NFTs use a decentralized cryptocurrency wallet called emblem vault, which offers users the ability to combine multiple blockchain tokens into a single token and trade such tokens across any Ethereum-based platform.
In addition to being extremely rare and valuable, rare pepe cards come in quantities exceeding 100,000 units, making them less desirable and valuable.
4. Candy Digital

Candy digital is major league baseball's official non-football trading platform, allowing fans and collectors to purchase, trade, and share officially licensed MLB non-football trading cards.
Candy's goal is to create engaging, authentic digital assets for sports, culture, and collectables that increase engagement and connect people to the things they love.
Not limited to sports cards, the digital candy brand creates and sells a variety of digitized sports memorabilia pieces.
Digital goods as well as customized experiences, like throwing the first pitch at your favorite MLB game, are available as collectables. Among the investors in candy digital are Payton Manning and Gary Vaynerchuk.
5. Gods unchained

This is the world's first multiplayer blockchain game that allows players to combine blockchain assets with trading cards, as well as the world's first ZK rollup for Ethereum-based NFTs.
The Gods Unchained trading card game is free-to-play. Gods Unchained, founded by brothers James and Robbie Ferguson, is a competitive game in which players must outwit their opponents strategically by building decks capable of combating various tactics.
NFT cards in the game are completely owned by the players, allowing them to trade, sell, and use them however they wish.
Play-to-earn refers to the ability to earn real money simply by playing a game. This is demonstrated in Gods Unchained by earning in-game items that can be sold for real-world money.
6. Curio cards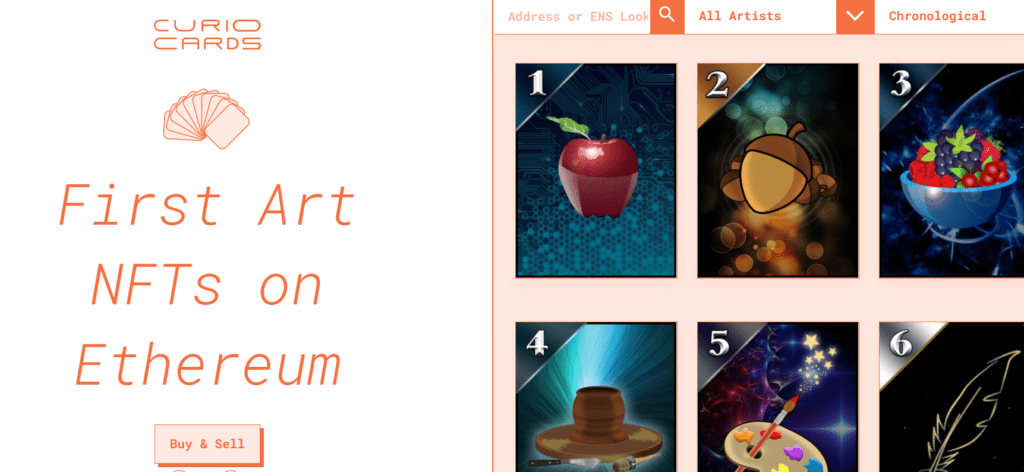 Curio Cards are a digital collection of thirty one-of-a-kind cards widely regarded as the first NFT art project on the Ethereum blockchain.
These cards were launched as an online art gallery on May 9, 2017. The curio card collection is a set of 30 cards featuring seven distinct artists' artwork, each with its distinct style.
Curio Cards are non-fungible tokens that were among the first ones minted on the Ethereum blockchain, they are unique, and are therefore arguably the most valuable of all tokens.
Limited editions of digital prints are included with each numbered series. These NFT cards are available in limited quantities, ranging between 111 and 2,000.  
7. Ether legends

Ether legends are an NFT trading card game created in 2018 on the ethereum blockchain. The cards feature stunning illustrations and skill-based gameplay, allowing the platform to grow and release other games in the future.
Elementeum is the reward and currency that underpins this gaming platform's digital ecosystem. Elementeum gaming LLC was founded in 2017 with the primary goal of improving the experience for players of collectable trading card games.
To give players a sense of ownership and security over their digital assets, the elementeum team introduced ether legends and digital currency.
8. Bitcorns

Bitcorns is a passive accumulation game whose objective is to collect the most bitcorn. Although the task is trivial, accumulating bitcorn requires crops, which most people lack.
Meme engineers created the bitcorns trading cards on the counterparty protocol to earn corn from farmers. The collection contains 278 different bitcorns trading cards when writing this article, totalling 15 harvest lots.
The bitcorns NFT trading card's first edition was released on January 30, 2018, making it a potentially valuable collectable. In bitcorns, the goal is to accumulate the most bitcorn to become the wealthiest player.
At the end of the game, the player with the most bitcorn wins. On bitcorn.com, you can purchase crops and use your bitcorn address to establish farms.
Crops can be harvested for bitcorns if you own a farm. Players can also customize the appearance of their farm, location, and even in-game assets between harvests.
9. Age of chains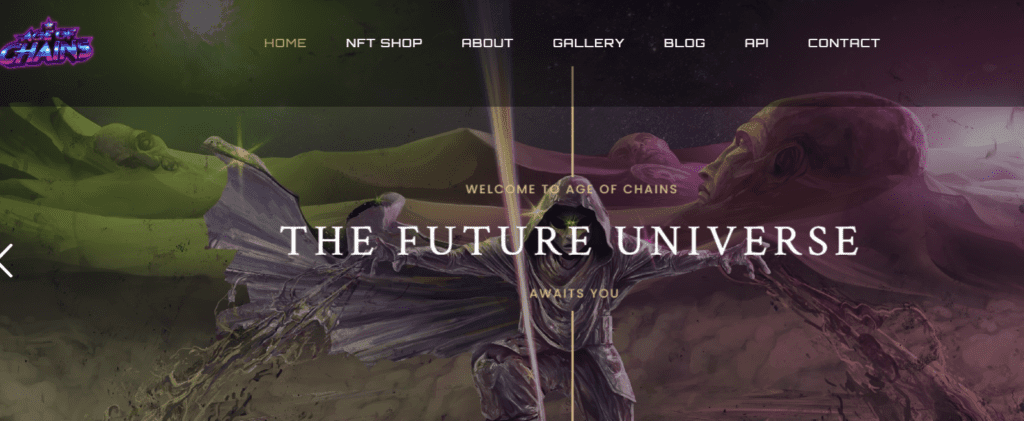 An NFT trading card game based on the bitcoin blockchain, Age of Chains was created in 2016. It is set billions of years in the future in an intergalactic clash of cultures.
As a player, you can use your abilities to construct strong decks of NFT cards and defeat your adversary in epic 1-on-1 player versus player battles.
Using the bitcoin blockchain, we use the counterparty protocol as part of the trading cards of the age of chains. Bitcoin addresses can be used to store the age of chains cards.
Wood coins guardian was the first card released with Age of Chains in November 2016. UG, a berlin-based company started by Klilian Kunst, is developing the age of chains.
At this point, the team is working on a haptic prototype so that their core community can test it and give it feedback.
10 Veefriends

Veefriends is a not-for-profit organization founded by Gary Vaynerchuk. It is built on the foundation of meaningful intellectual property and a great community.
Gary illustrated 268 of the characters in Veefriends v1. The NFT is technically a trading card, but Veefriends is not advertised as an NFT card. Each NFT comes with its own set of benefits as the holder of that particular card.
NFT tokens refer to these numerous NFTs. There are three kinds of Veefriends tokens: admission, gift, and access. The Veefriends NFT project aims to provide access and value to the Veefriends community, and each NFT offers its unique access and perks.
The Veefriends tokens are positioned as the key to Gary's world. In addition to participating in a multi-year mega-conference, the Veefriends NFT holder gets instant access to the terms outlined in its smart contract, plus the NFT itself, which serves as a collectable permanently stored on the blockchain.
11. Sorare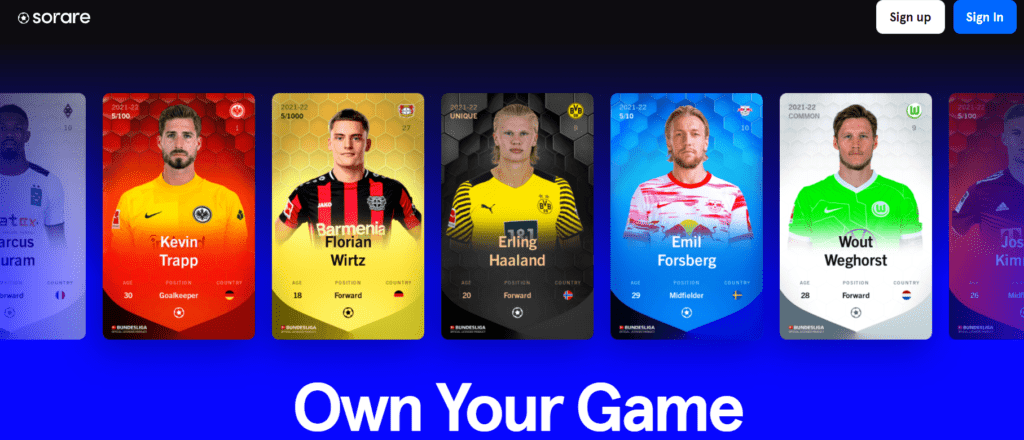 Sorare is a digital football game where users can purchase, sell, trade, and manage a virtual team using NFT player cards.
Nicolas Julia and Adrian Montfort developed the game in 2018 using Ethereum-based blockchain technology. The platform has seen rapid growth, with a global audience purchasing, selling, and trading NFTs of their favourite players.
Sorare has acquired European giants such as Juventus, Bayern Munich, Athletic Madrid, and the major league soccer, the Korean league, and the Japanese league.
Players create virtual teams of five football players using the sorare platform's NFT trading cards. Teams are ranked and credited with points based on their players' real-world performance, similar to traditional fantasy football.
Each digital trading card on the sorare platform is an ERC-721 token, enabling collectors to purchase and trade these non-fungible tokens on secondary markets such as OpenSea.
12. Force of will

The Force of will is a Japanese fantasy series comprised of two major components: an NFT trading card game and a collection of short stories.
These two components combine to create a game and universe brimming with fun and customization. Everdream began dispensing the NFT cards in 2016 as part of an official partnership with fowtcg.com to enable on-chain play of the game.
Each card was issued in quantities of 1000, but 500 have been burned, reducing the total issuance to 1/500. These NFTs were created using the bitcoin blockchain's XCP protocol.
13. Splinterlands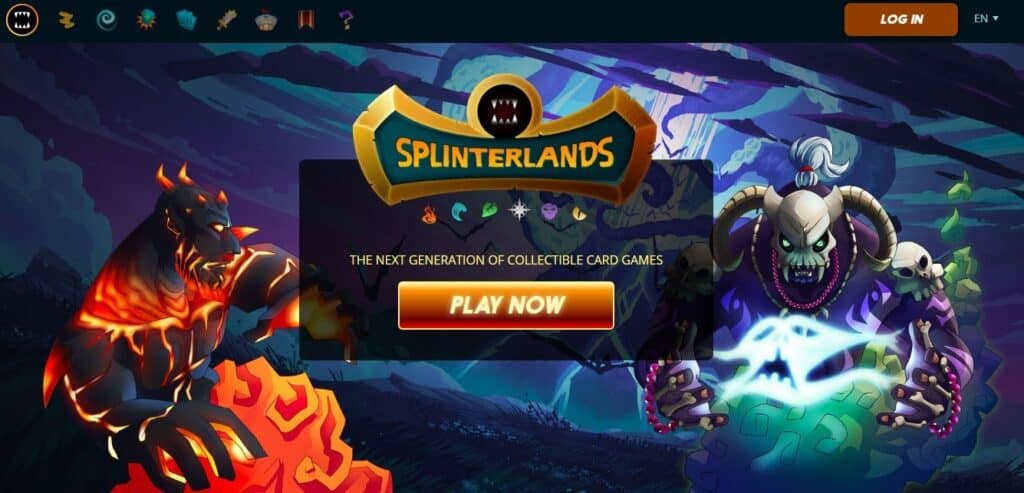 Splinterlands, the NFT trading game, is one of the most popular blockchain games on the market. Every player has the opportunity to try out the free demo.
However, to get started, users will need to pay $10 for a beginning kit, which will be sent to the user at no additional cost. From there, the user may go out and find his/her favorite card packs to play with. On the NFT marketplace, users may also buy, sell, and trade cards with other players that are participating in the game.
In the same way, as other NFT games are cross-compatible across many blockchains, "Splinterlands" is cross-compatible across multiple marketplaces, allowing users to transact with other players from different marketplaces.
The official in-game token for the game is the DEC, which stands for Dark Energy Crystals. Users must first win rated games and then trash all of their useless and duplicate cards to get this cash.
14. ThePokemonCompany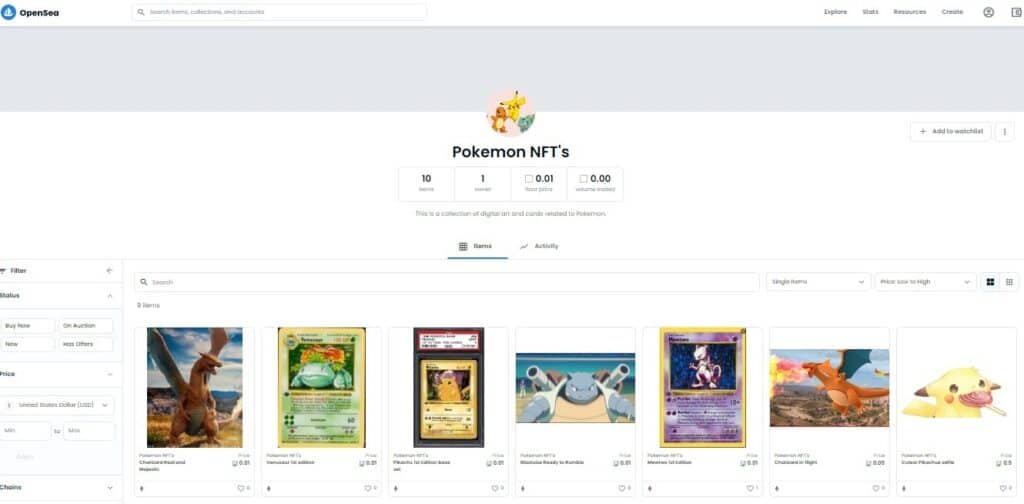 NFT is now home to another well-known player in the media world. To distribute NFTs for the Pokémon franchise, ThePokemonCompany has launched an account on OpenSea.
Hundreds of them are available for collecting and trading on the internet right now.
https://opensea.io/collection/pokemon-nft-s
15. Pokeworld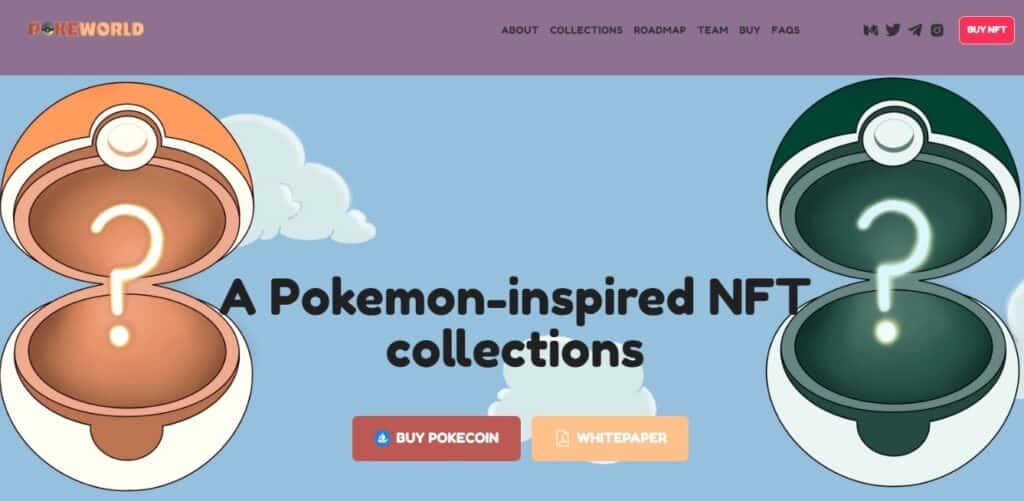 Pokeworld is an NFT that features magical NFT collections where players can acquire goods. Each Pokeworld collection will have its own functions within Pokeland, the unique metaverse where all Pokeworld collections come together.
Each user has access to Pokeworld Club. NFT's value will increase when Pokemon World is converted into a play-to-earn game.
Collections
Pokecoins are the first collection of 10,000 unique pieces of the game that are part of the project, along with a set of useful non-transferable tokens that have been designed for the next play-to-earn game in early 2022.
The company's adventure begins with a collection of 10,000 Pokecoins chosen at random. This collection aims to engage with our followers while also providing liquidity to the project so that the second collection can be completed.
They will not only compensate people who have minted a Pokecoin with Pokecard NFT, but they will also grant Pokecoin holders admission to their Pokeworld Club.
The Pokecoins are based on NFT coins inspired by Pokemon, and each one is one-of-a-kind and preserved. Pokecoins will be created in their main dapp and will have an initial price of 0.04 ETH.
Pokecoins, as previously stated, are simply the project's first starting point and are intended to serve as both collectible and utility NFTs.
Pokecoin holders will be rewarded with Pokecards, the NFT for the game's second phase, which will be released in stages as a play-to-earn game.
It's also available for minting on their website or later in the OpenSea marketplace. The second collection will include many NFT organized by category that may be utilized in their play-to-earn game, where players can gain access to a variety of perks in addition to their main token or other tokens selected by the community.
Also Read:
Conclusion
Digital NFT trading cards are similar to physical cards in that their uniqueness increases their value. It is not easy to locate something truly rare and valuable.
Investors will need to invest significant time and money in learning about this emerging market to find investments that provide a return on their time and money.
As a result, it may not be the best investment for those who have no desire to own these types of collectables. You could easily lose a significant amount of money attempting to locate an NFT trading card that is a rare winner.
Further Readings: