NFT wallets are virtual wallets that allow you to store both NFTs and cryptocurrencies together.
To acquire different assets and purchase collectables with the support you currently own, wallets are essential.
The significant increase in NFT purchases has spurred the development of functionality in NFT wallets that preserve NFT art after it has been minted or purchased.
Interestingly, the assets in a digital counterpart of a bank account are not taken into consideration while using an NFT wallet.
As an alternative, the wallet keeps track of the location of your assets on the blockchain.
Even though the sector of non-traditional financial institutions is still in its infancy, it can potentially change existing companies for artists and collectors.
In order to participate in the constantly developing NFT arena, however, one would need a top NFT wallet.
To make the most of NFT wallets, it's essential to understand how they function and what traits to look for in the most sophisticated NFT wallet.
It is necessary to distinguish between the various crypto wallets that are currently accessible to make the best option for your specific requirements.
Cold wallets are created with the use of hardware.
They are actual devices that allow you to keep your cryptocurrency in a cold storage facility.
On the other hand, hot wallets are operated through the use of software or web-based applications.
In most circumstances, they must be connected to the power grid.
Other forms of wallets, such as paper wallets, are also available.
On the other hand, hot and cold wallets are the most prevalent types of wallets used by novice and intermediate users, respectively.
Below are some Top NFT wallets:
1. MetaMask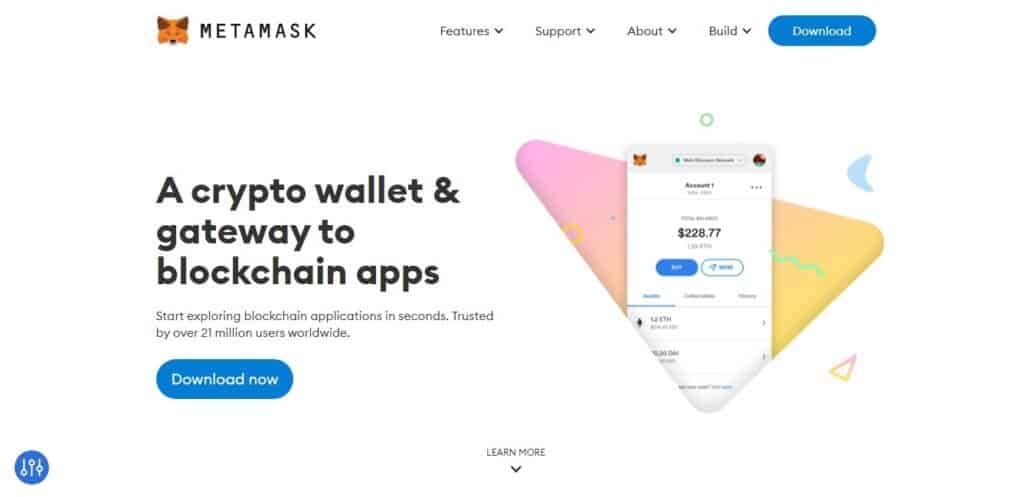 MetaMask is a digital cryptocurrency wallet adapted to interact with the Ethereum blockchain.
It enables the users to access their Ethereum account through a known browser extension or a mobile app, interacting with trusted applications.
The Metamask wallet also makes it simple to create multiple addresses, allowing you to keep your NFTs in a separate account from your cryptocurrencies, or you can create a single address for each NFT you acquire.
A mobile application was developed by ConsenSys, the company that created Metamask, and it will be released in 2020.
The wallet's holdings are perfectly synced between the desktop and mobile versions of the app.
There is also a built-in browser for decentralized applications, or dApps, and non-centralized trading platforms, or NFT marketplaces, in the mobile application.
If you need to swap currencies to purchase an NFT, Metamask has built-in swap options.
Additionally, you can limit the amount of money you spend on gas fees, though there is the chance of a transaction failing.
Alternatively, if you require another blockchain, Metamask provides compatibility for various platforms.
Key Features:
Open-source
NFT commercial centres combination
Integrated ETH buys with credit and check cards
Integrated token trades
Ease of utilization
2. Math Wallet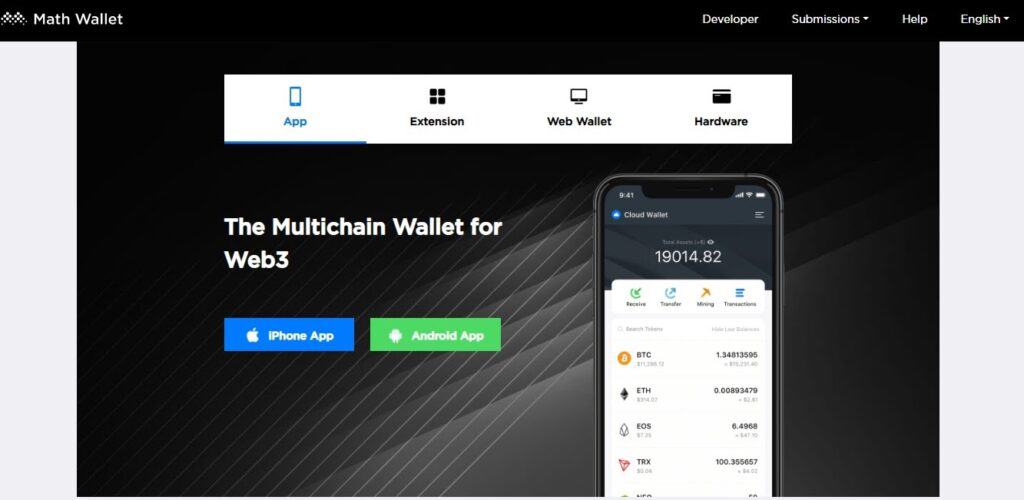 Math Wallet is a formidable competitor to Metamask in terms of security.
Its most distinguishing feature is that it supports more than 70 different blockchains.
This wallet is available as a browser, desktop, and mobile version that syncs between platforms and includes connections with several hardware wallets.
Math Wallet also allows you to create multiple addresses at the same time.
Math Wallet includes a built-in dApp browser, allowing users to browse NFT marketplaces while using the app.
Additionally, it provides various other functions for cryptocurrency holders, such as staking, swapping, and so on, and it even has its utility coin.
Key Features:
Multi-stage process like Chrome expansion, cell phones and web wallet
Cross-chain supports 70+ effective blockchains
3. AlphaWallet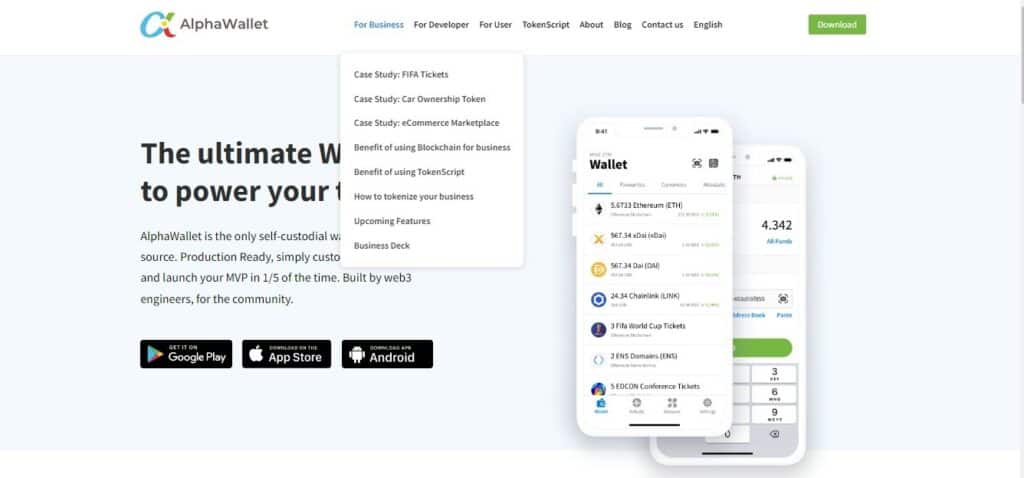 AlphaWallet is a cryptocurrency wallet that is free and open-source.
While it has some limitations – it is only available on mobile devices and only supports Ethereum, its native support for blockchain games and non-fungible tokens (NFTs) distinguishes it from the competition.
Beginners will find it quite simple because of the straightforward user interface.
An entire section of the wallet is dedicated to non-fungible tokens and gaming tokens.
Moreover, it allows users to tag their tickets with meta tags to search and filter their collection when browsing their group quickly.
AlphaWallet integrates directly with several NFT marketplaces and blockchain games, including OpenSea, CryptoKitties, Dragonereum, and Chainz Arena.
In addition, a built-in dApp browser allows you to discover more NFT marketplaces and direct access to DeFi applications like Compound, just like the rest of them.
Key Features:
Native support for ETH based NFTs
Web3 browser for exploring dApps and DeFi applications
Under development scope for improvement in the near future
Easy to use
4. Trust Wallet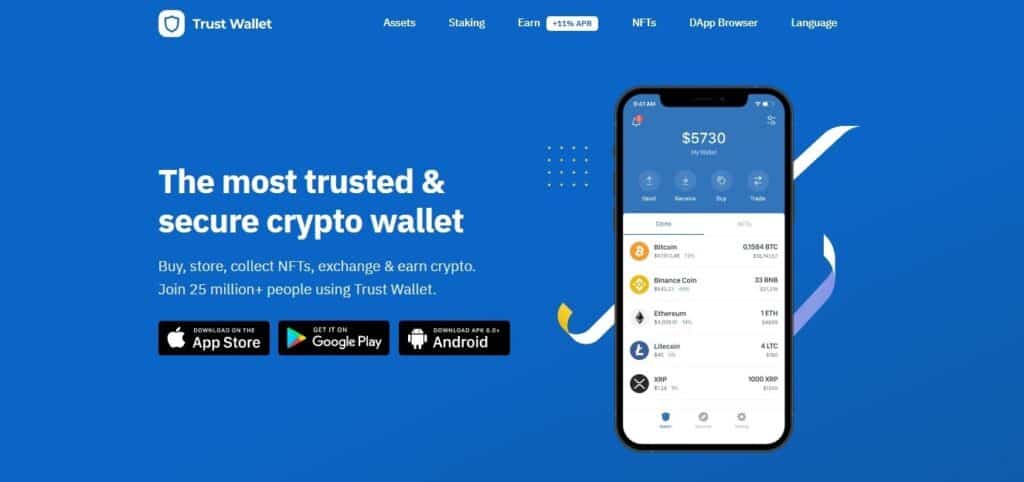 Binance is the company that owns Trust Wallet, a popular mobile cryptocurrency wallet.
Because it is affiliated with Binance, it supports multiple blockchains, including Ethereum, indicating that it has a strong bias toward smart chain tokens.
Trust Wallet may offer the best option if you're interested in Binance NFTs because it's already set up for BEP tokens.
Trust Wallet, like other wallets, includes a dApp browser for searching for NFT marketplaces, which makes purchasing NFTs from within the wallet simple.
It also consists of an integrated exchange feature that allows users to quickly and easily swap currencies to obtain the necessary tokens in exchange for the NFTs they wish to purchase.
Key Features:
Great user interface and graphical representation of your NFTs
Allows for quick revenue marking
Supports a total of 53 different blockchains.
5. Coinbase Wallet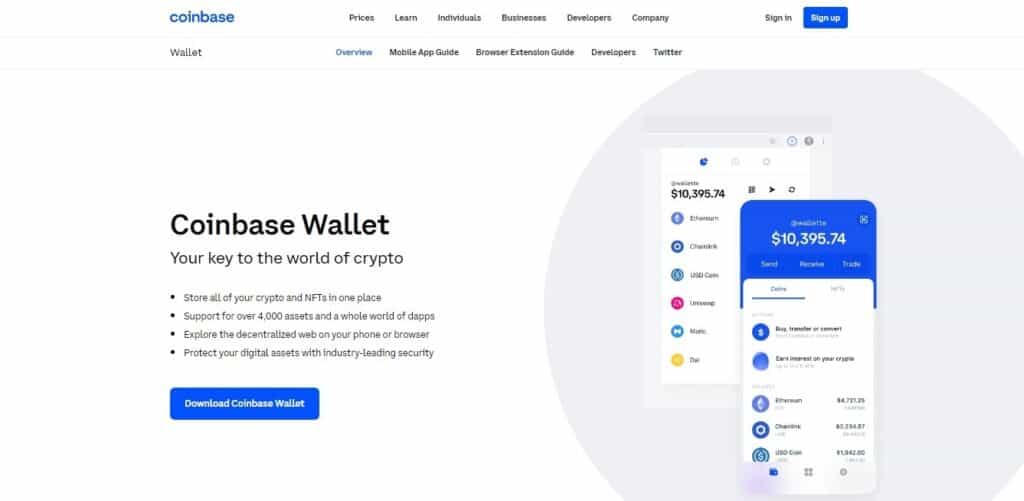 Coinbase (NASDAQ:COIN) is best known for its bitcoin exchange, launched in 2013.
It also provides a non-custodial wallet that can store NFTs and other types of tokens.
In contrast to owning cryptocurrencies on Coinbase's exchange, holding assets in the Coinbase Wallet provides the user with complete control over their digital assets, including Bitcoin.
Coinbase released a browser plugin earlier, making it easier for customers to utilize their wallets across devices to purchase NFTs and use other decentralized applications.
In addition, accessing DApps through the mobile wallet's built-in browser is also an option for customers.
Key Features:
User-Friendly
Personalized transactions
Stronger sense of security
Coinbase also provides a one-click cloud backup service for your private keys, saving them on your cloud storage account.
This can help ensure that you don't lose access to your NFTs or other monies stored in the wallet in the event of a disaster.
https://www.coinbase.com/wallet
6. Enjin Wallet

The ERC-1155 blockchain convention, developed by the Enjin group, is extra.
Engineers can use it to create tokens that are both non-fungible and fungible.
It is advantageous in gaming because the engineers may mint the in-game money as a fungible token, which is advantageous.
In addition, NFTs can record both objects and characters simultaneously.
To store these ERC-1155 tokens, you should use the Enjin wallet, a feature-rich application available for both Android and iOS devices.
This wallet is quite versatile since it not only supports ETH and ENJ but it also allows you to store well-known coins such as Bitcoin and Polkadot.
Key Features:
Open-element fingerprint
Bitcoin, Polkadot, ERC-20, ERC-721, and ERC-1155 tokens are all supported
Multiple features and functions like wallet, commercial center, dApp program, and trade
https://enjin.io/products/wallet
7. Kukai (Tezos)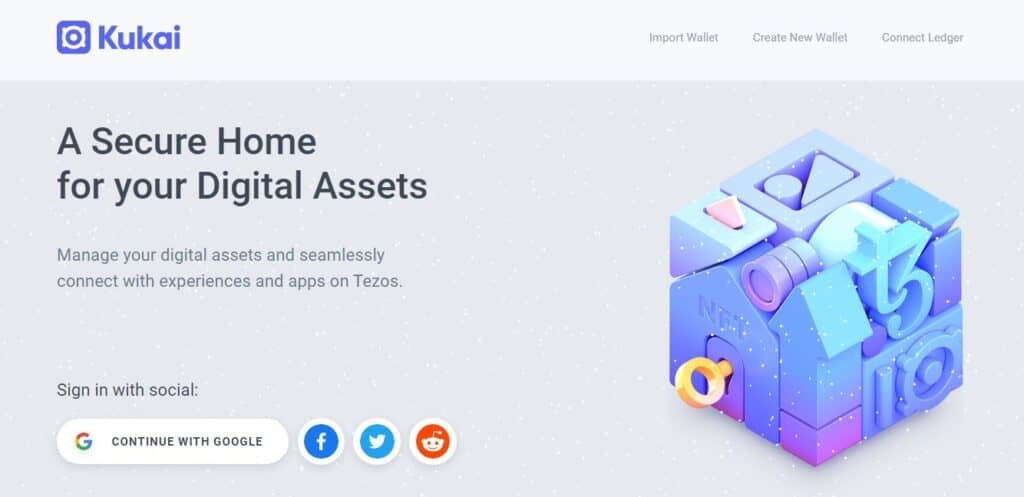 The Kukai wallet is an open-source wallet based on the Tezos blockchain.
Creating an NFT wallet with Kukai is as simple as downloading the software, encrypting the Kukai wallet file with a password, and downloading the encrypted file.
Clients require private keys to gain access to work areas, and these keys are stored on their internet browser with perfect encryption.
Key Features
Programs can be inspected or verified at any time
Kukai's security is formidable
Kukai's interface is perfect, important, and straightforward
No extra costs or expenditures
8. Ledger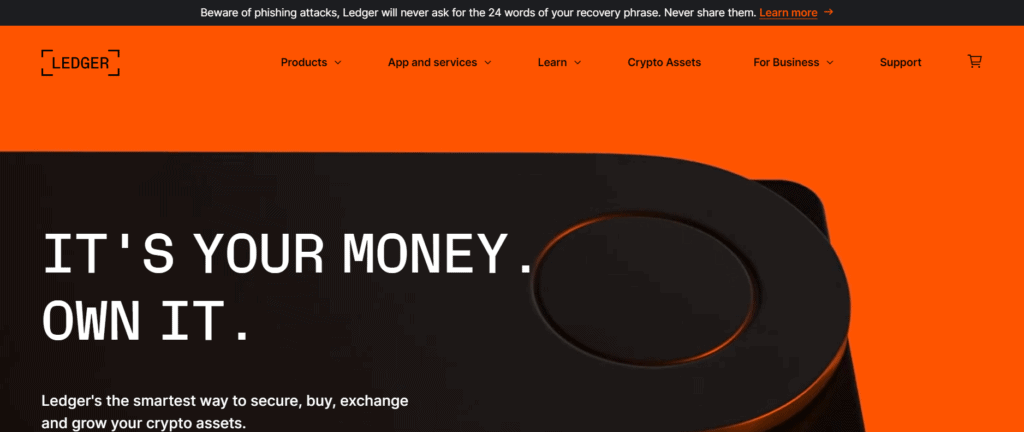 Ledger is a hardware wallet that secures digital transactions and stores cryptographic assets.
With a single tap on its side buttons, it double-checks and confirms each transaction by connecting to any computer (USB).
The Ledger hardware crypto wallet is one of the most popular options in the cryptocurrency industry, having sold more than 1,000,000 units so far.
Those looking for a secure storage option for their cryptocurrency investments may find these portable gadgets extremely useful.
A PIN is required to access the wallet, which has an LED display and payment validation.
A two-way authentication technique is provided for those who want to increase their security.
There are also mobile app versions available for Android and iOS devices.
Features of Ledger:
14 Days Battery Life
Built in LED display
Compatible with Mac OS X 10.8 or later, Linux, and Windows 7
9. Coinomi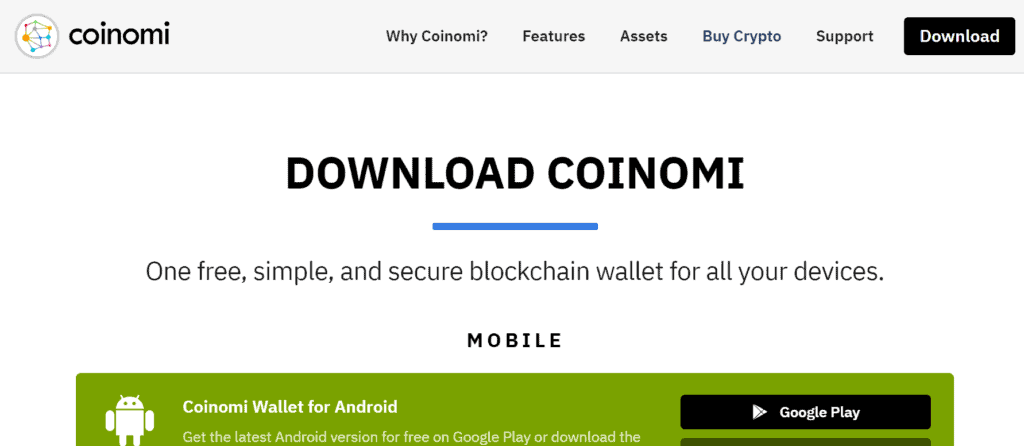 Blockchain technology company Coinomi was established by fintech and entrepreneurship experts who have a proven track record in cryptocurrencies and blockchain technology.
Coinomi is a convenient wallet option for both mobile and desktop users, and it has millions of active users and has not been hacked yet.
Because there are no predetermined transaction fees, a valuation can be determined based on the current state of the market.
The interface is fully customizable and compatible with Android, iOS, Mac, Linux, and Windows platforms.
Many coins are available for selection, allowing you to build a diverse portfolio.
Features of Coinomi:
Cold Staking
Superb Security
Blockchain based ID
DeFi Ready
Wallet Interoperability
https://www.coinomi.com/en/downloads/
10. Trezor

Secure your digital assets in a secure vault with Trezor hardware wallet.
Passwords, logins, keys, Bitcoins, Litecoins, and more are safely stored in Trezor.
Trezor is available as both a desktop application and as a web-based service, depending on your preferences.
This site provides many coins in the neighborhood of 1000 or more.
A pin on the LED display that the user has generated ensures that the hardware is protected.
Also included is the plug-in and connections option, which allows you access from your smartphone while using the plug-in option.
The compatibility of Trezor with other popular apps such as MetaMask is one of its main advantages.
You can get the benefits of cold storage and a variety of third-party applications.
Features of Trezors:
Compatible with Windows and Linux operating systems.
PIN based security system
Convenient and Intuitive Interface
5 Star customer support
Cross compatible
11. SafePal S1

With SafePal, everyone can safely and conveniently grow their crypto assets with a secure, easy-to-use management platform.
This is Binance's first hardware wallet.
More than 3 million users use SafePal's hardware wallets and software wallets in more than 196 countries.
Users have easy access to their crypto wealth through the SafePal App, where they can easily secure, manage, swap, trade, and grow it without having to worry about security.
SafePal may be tucked away in your wallet because its design is similar to a credit card.
Instead of using a Bluetooth or WiFi connection, it uses a local QR connection.
As a result, the level of security is raised.
Users can acquire access to their cryptocurrencies through software such as SafePal.
It is simple to manage your entire cryptocurrency portfolio on one platform because this platform supports hundreds of different coins.
Features of Safepal:
True Random number generator
Self destruct mechanism
Multiple security sensor layers
Enables with offline ai gapped signing mechanism
Truly cold storage wallet
12. Blockchain.com

Blockchain.com Private Key Wallet is the most widely used wallet to hold your digital assets.
Blockchain.com started as a block explorer but has developed into a massive organization that provides a wide range of financial products and services.
It has more than 40 million users and is known for its outstanding protection measures and reasonable commission costs.
Blockchain wallets make it easier to exchange funds.
Since transactions are cryptographically signed, they are secure.
Wallets can be accessed through web devices, including mobile devices, and the user's privacy and identity are protected.
As a result, a blockchain wallet provides all the features for transferring and exchanging funds between various parties safely and securely.
Features of Blockchain.com:
Best in class security
Easy to use interface
Low Transaction fees
Transacts instantly across multiple geographies.
https://www.blockchain.com/wallet
13. WalletGenerator

Wallet generator is a website that allows you to create cold storage wallets using paper wallets for lots of coins.
Paper wallets mean that all of the critical information is printed and then stored on paper.
WalletGenerator can be accessed using the GitHub platform.
Wallet generators are very safe as long as they are used properly.
It is always best to download the site itself before using it.
Turn off the internet and then download it.
When you are offline, generate the keys.
You may then print off a QR code sheet and keep it with you wherever you go to make use of it.
As long as the other party has an alternative method of sending and receiving cryptocurrency, you are not required to use a device to complete a transaction.
This is a very effective method of preventing viruses from infiltrating your system.
Features of WalletGenerator:
It is a free service.
It is not affected by keyloggers and malwares.
Your coins will not be lost if your device breaks.
The security of your coins is not dependent on a third party's honesty or capacity.
14. KeepKey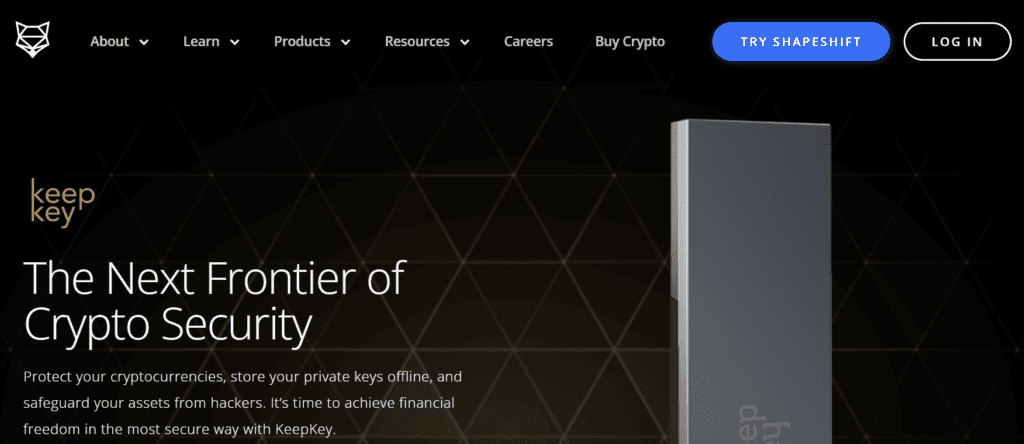 With KeepKey's bitcoin hardware wallet, you can protect your money from hackers and thieves while allowing convenient access.
Security is one-way KeepKey differentiates itself from significant competitors like Trezor and Ledger.
KeepKey does not require any operating system to function, making it nearly impossible to infect by malware.
As a hardware wallet, KeepKey is one of the most secure ways to store your assets.
So, it doesn't matter if malware infects your computer; hackers will not be able to steal your cryptocurrencies.
Features of KeepKey:
Simple and Sleek Display
Effortless Exchanges
Stress Free Security
Straightforward Recovery and Backup
https://shapeshift.com/keepkey
15. Exodus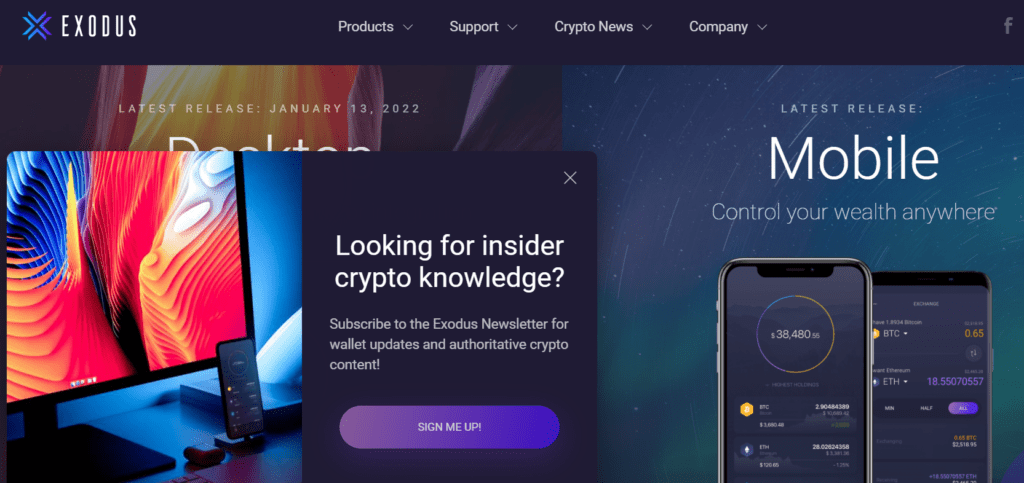 Exodus is a great desktop wallet that is easy to use.
Cryptocurrency trading can be carried out using the application, which is entirely anonymous.
The company provides real-time charting, and it is ready for assistance around the clock, seven days a week.
Like some other exchange platforms, Exodus is compatible with Trezor digital wallets.
Alternatively, you can connect your Exodus wallet to your phone to receive regular notifications on the status of your wallet.
Features of Exodus:
Safe, Reliable and Trusted Wallet
24/7 Support
Send and Receive Digital Assets conveniently
1000+ Digital Assets available
https://www.exodus.com/download/
16. Electrum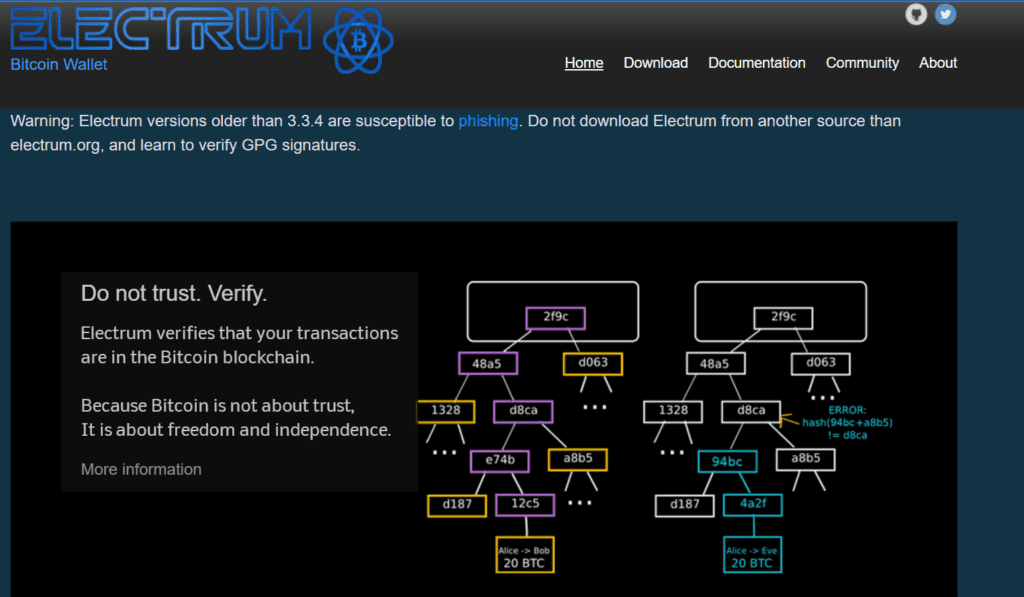 This is a fantastic alternative for those who are new to Bitcoin.
Electrum was established in 2011 and is considered one of the industry's pioneers.
The company processes approximately 10% of all Bitcoin transactions and charges a fee of 0.2 mBTC for every transaction.
In some instances, you may be able to negotiate a cheaper charge.
The user interface is straightforward to use and navigate, making it a fantastic choice for beginners looking to get their feet wet in the industry.
Because Electrum is entirely web-based, you may access it from any computer with an internet connection.
They have also demonstrated compatibility with mobile applications.
Features of Electrum:
Proof Checking
No Lock-In
Safe and Secure
Instant On
Cold Storage
Recommended:
Conclusion
Technological transition is taking place right now, and we are witnessing it firsthand.
The year 2021 indicated that NFT has a significant income potential to grow.
Because of this, more individuals became interested in the NFT space, the most excellent NFT tokens, and the top NFT tokens, among other things.
As a result, there has been a significant increase in demand for the best NFT wallets.
There are a plethora of wallets available on the market from which to choose.
Your objectives influence everything about what works best for you for using a cryptocurrency wallet.
For example, some people prefer to purchase coins and keep them in their wallets, whereas others want to do transactions on the go consistently.
Although trading and collecting NFTs are relatively new, it is crucial to remember that they are still in infancy.
When it comes to making the most of this unique and rapidly increasing field, it is a good idea to start with the fundamentals, such as an NFT wallet.
Similar Posts: