Trust Wallet is a mobile application you can use to store, manage and trade crypto. The application also allows you to access Decentralized Applications or DApps.
The Trust Wallet application is available on all devices, Android & iOS. However, iOS has recently removed the DApps browser from Trust Wallet.
So, these users can still access DApps via their mobile browsers.
Trust wallet is a decentralized, user-controlled wallet you can use to store, manage and trade cryptos. You can also use it to access DApps.
Trust wallet bridges the individual blockchains via their nodes. Each blockchain has its own set of public addresses where the cryptos are encrypted & stored.
It helps you manage your addresses so that you can send & receive cryptos. The app also allows you to do other crypto transactions like trading & staking.
Trust Wallet DApp browser, a provider of  web3 browsers that users can use to access Decentralized applications. Trust Wallet gives you a secure & simple connection to Binance Smart Chain (Ethereum Based DApps) like PancakeSwap & UniSwap.
PancakeSwap is a popular decentralized exchange (DEX) made on Binance Smart Chain. It is a faster and cheaper option against Ethereum.
The platform provides huge liquidity and a broad feature set to its massive user base PancakeSwap provides a myriad of DeFi (Decentralized finance) farming opportunities to liquidity providers to create liquidity pools.
Moreover, PancakeSwap rewards people for taking its native BEP-20 token, known as CAKE. By staking CAKE, you get SYRUP in a 1:1 ratio. Holding this SYRUP qualifies you to get 25% of the CAKE emissions which is distributed to holders proportionally.
WalletConnect is an open-source protocol that allows users to connect DApps and mobile wallets via QR code scans. The WalletConnect protocol is supported by many DApps & wallets.
Users then can interact with any DApp securely without using an inbuilt DApp browser. However, it will work just as long as the app supports WalletConnect.
How to Connect Trust Wallet to PancakeSwap?
Steps to Connect Trust Wallet to PancakeSwap:
Android users can follow the following steps to connect their Trust Wallet to PancakeSwap.
Step 1: Launch Trust Wallet Application on your phone.
Step 2: Select the "DApps" option present at the bottom of your screen.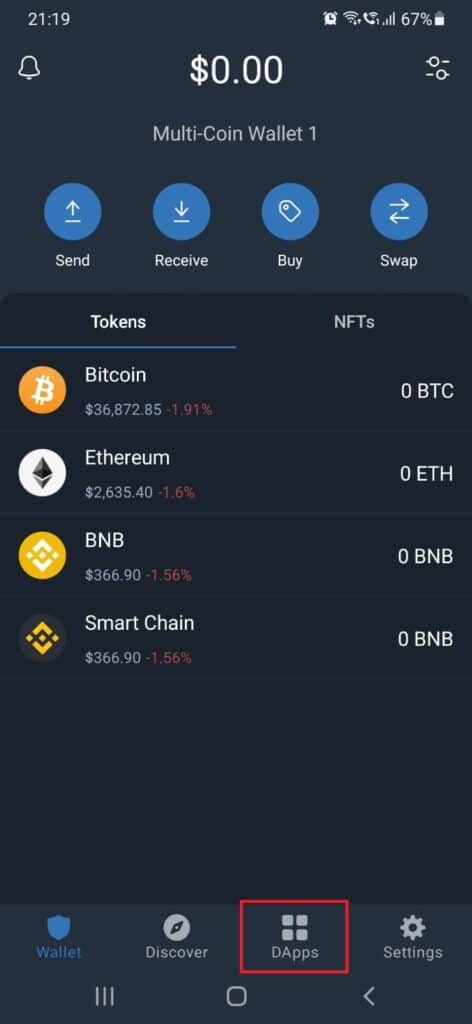 Step 3: Scroll down to the "popular" section. Select "PancakeSwap." The option is also available in "Exchanges."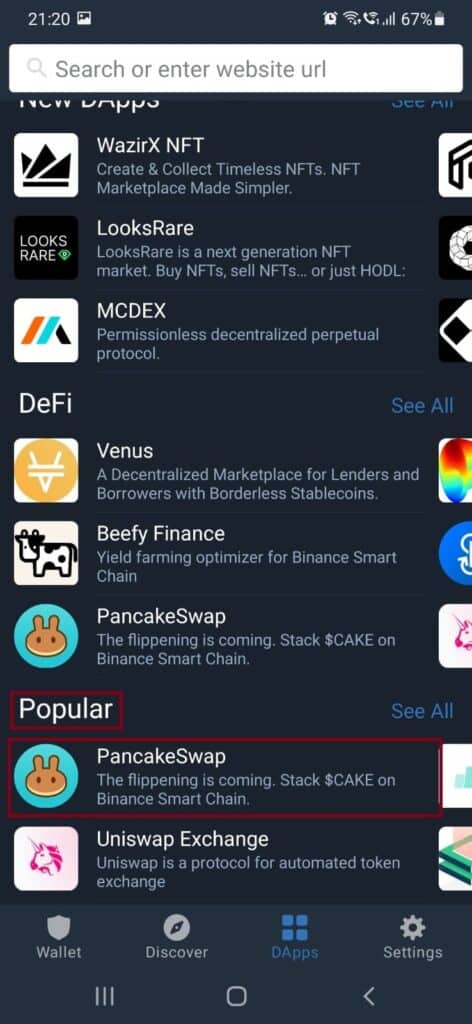 Step 4: This will open PancakeSwap. Click on the "connect wallet" button present in the top-right corner.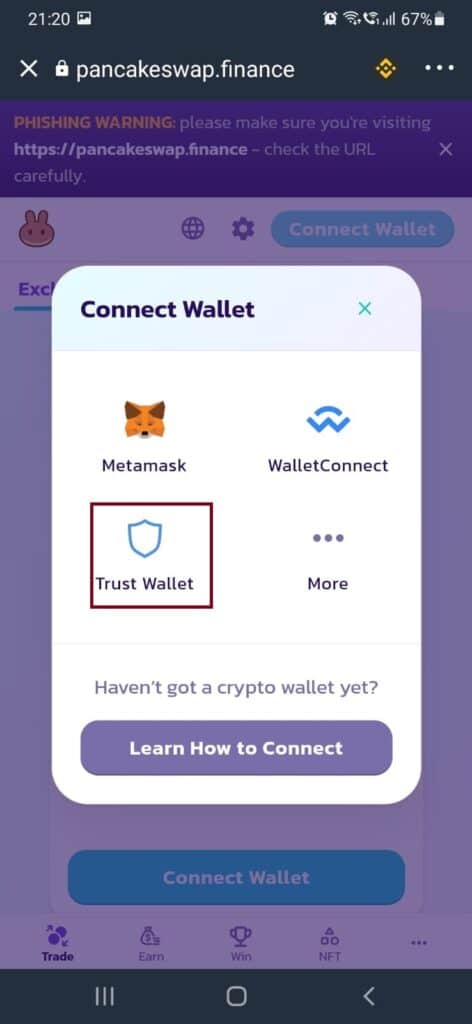 Step 5: Select "Trust Wallet" from the list.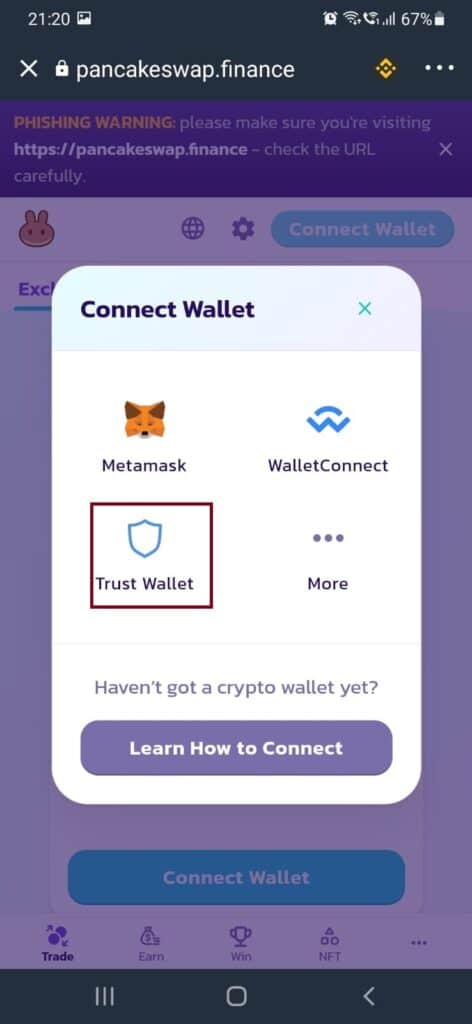 Step 6: A prompt will appear to alert you that PancakeSwap Exchange wants to connect to your wallet. Select "Connect."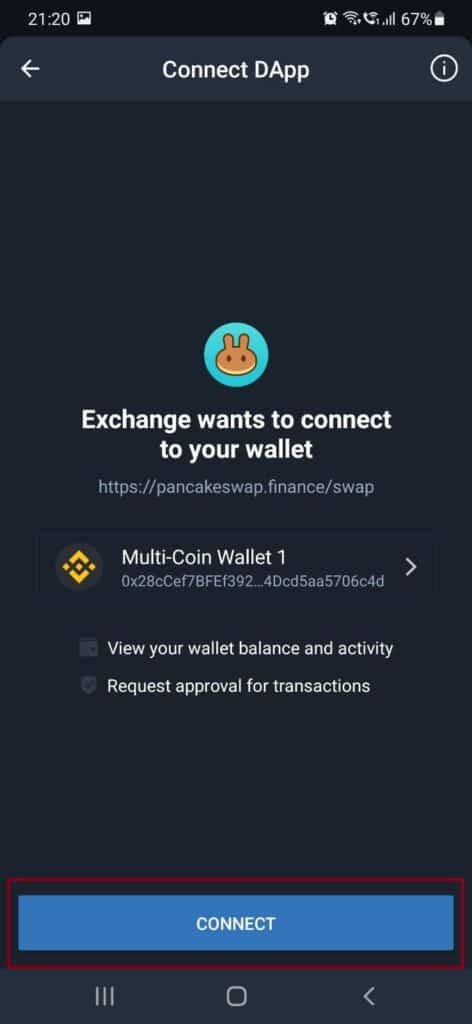 Step 7: Your trust wallet will be connected with PancakeSwap.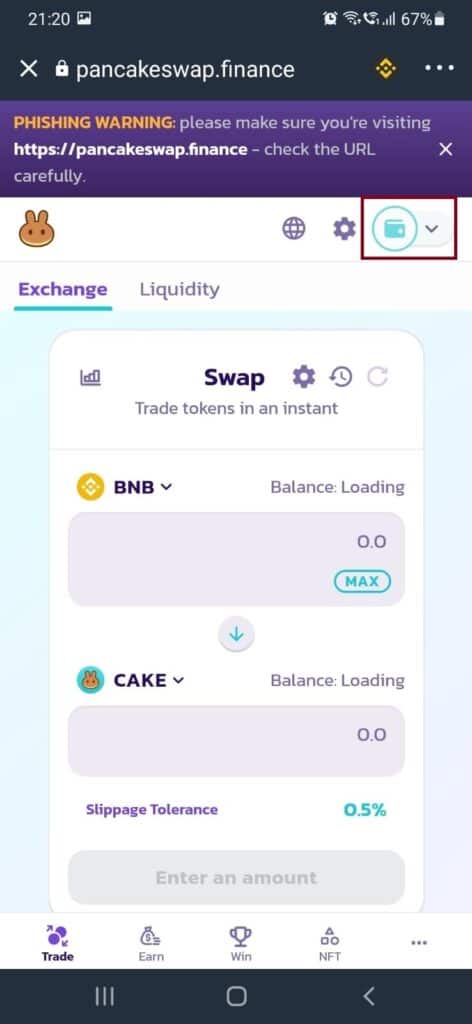 Also Read: How to Get ERC20 Address in Trust Wallet?
How to Transfer BNB from Trust Wallet to PancakeSwap?
Steps to Transfer BNB from Trust Wallet to PancakeSwap:
To transfer your BNB from Trust Wallet to PancakeSwap, you need to buy some BNB tokens for the gas fee.
Step 1: Go to the PancakeSwap exchange website (https://pancakeswap.finance/swap#/swap).
Step 2: Connect your Binance Smart Chain (BSC) compatible wallet, that is, Trust Wallet by clicking on Trust Wallet.
Step 3: Now go to the "From" section. Click on the drop down menu and select the BNB from the drop-down menu. However, it is by default set on BNB. Your balance is also visible in the From section.
Step 4: Now go to the "To" section to choose the token you wish to trade to from the drop-down list.
Step 5: Enter an amount in either of the input boxes of the two sections. The other section will show you an equivalent estimated amount automatically.
Step 6: Click on "Swap" after checking the details.
Step 7: A prompt will appear with more details. Check it and click on "Confirm Swap."
And the BNB will be traded on PancakeSwap.
Also Read: How to Fix "Deep Link is Not Supported" on Trust Wallet?
PancakeSwap won't Connect to Trust Wallet
When you try to connect PancakeSwap to Trust Wallet, sometimes you may get some error that may be due to network issues or network congestion, or website traffic. So wait for some time.
If you are getting "provider was found" error then click on the below-mentioned link. https://wealthquint.com/no-provider-was-found-pancakeswap-25884/
Still, you are not able to connect then create a support ticket and keep handly
Trust Wallet app version (open the app, go to the settings of the app and press "About", take a screenshot, and attach it here)
Smart Chain wallet address (press the receive icon near the send button, take a screenshot of the QR code, and attach it here)
Screenshots of the wallet (including errors or missing balance)
Conclusion
Trust Wallet is a popular mobile application for storage and crypto transactions. It is also popular for providing access to DApps.
PancakeSwap is among the most popular DEX and gives Ethereum good competition. Connecting Trust Wallet to PancakeSwap can be performed either by using desktop & phone, both or by just using your phone.
Both the methods are pretty straightforward and easy. Therefore, a user can easily connect the two for his/her use.
Frequently Asked Questions
Why am I unable to connect Trust Wallet to PancakeSwap?
The most probable mistake can be that you didn't select "Trust Wallet" from the list of preferred wallets. Or, it can be due to an "Unsupported chain ID error."

Is PancakeSwap safe?
CertiK has verified PancakeSwap. But, that doesn't mean that it is completely safe. There is always a risk of bugs when you deposit funds on PancakeSwap.