Customers of Bank of Maharashtra can easily track their accounts and recent transactions by using the mini statement facility. Banking services offered by Bank of Maharashtra include missed call banking, SMS Banking, internet banking, mobile banking, and more.
What is Bank of Maharashtra Mini Statement?
A mini statement is a service available from Bank Maharashtra for checking information about recent transaction activity on an individual's account. The Bank Maharashtra Mini Statement Services can be accessed after a user has registered their mobile phone number. They can get their Mini Statements either offline or online after registering their mobile numbers with their bank accounts. Maharashtra Bank provides mini statements through several different methods. You do not need to visit the bank branch or ATM.
How to get Bank of Maharashtra Mini Statement?
Using the toll-free number 1800 233 4526 OR the 020-27008600 from your Bank of Maharashtra account, you can get a Mini statement. The system will assist you with steps after you have dialed the above toll-free number from your registered mobile number with the Bank of Maharashtra. This is a simple and quick way to check the Maharashtra Bank's mini statement.
Get Bank of Maharashtra Mini Statement Through Missed call
Make a missed call to 1800-102-2636
Your registered mobile number should be used to make the missed call
Your bank will send you a statement through SMS.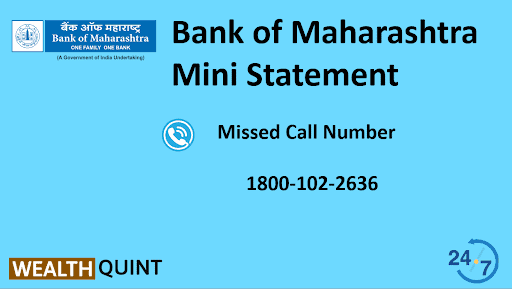 Get Bank of Maharashtra Mini Statement Through SMS
Bank Maharashtra Mini Statements can be accessed by SMS Banking without charge, but depending on the mobile network, users may have to pay SMS charges.
Here are some steps to get Bank of Maharashtra Mini Statement using SMS:
Type an SMS with the following text: LATRAN <space> Bank Account Number <space> MPIN.
Now send this message to 9223181818 from the number which is registered
You'll receive an SMS with your statement from the bank.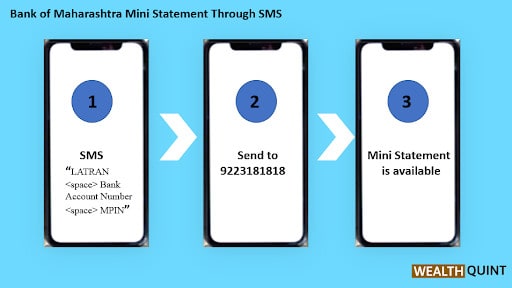 Get Bank of Maharashtra Mini Statement by Visiting ATM
Go to the ATM
Proceed to the ATM and insert your ATM card
Click on the language you wish to use
Type in your 4-digit ATM PIN
On the screen of the machine, select "MINI STATEMENT"
Select the account type you hold with the Bank of Maharashtra.
Wait for the machine to process your request for a few seconds.
The receipt will be printed out by the machine, and it will be your statement.
Get Bank of Maharashtra by using Internet Banking
The Bank of Maharashtra offers its customers the option of online banking called 'MahaConnect", which is secure and fast. This is enhanced by the MahaSecure application, and both applications work together seamlessly to offer seamless service.
The Bank of Maharashtra's Mini Statement can be obtained by:
By logging in with their user ID and password, Bank of Maharashtra Internet Banking account holders can view their recent transactions.
They can view recent transactions under the "Account Overview" section.
In addition, account holders can access their "e-statements" for checking their transactions during a particular period.
Bank of Maharashtra Mini Statement Number 
Bank of Maharashtra account holders can check their mini statement by just sending a text LATRAN<A/C no.><MPIN> to 9223181818.
How to register the mobile number for Bank of Maharashtra Mini Statement?
There are various ways you can receive Bank Maharashtra Mini Statements, such as SMS Services, Missed Calls, and visiting the bank's ATMs. You must first register with the Bank to use the Mini Statement services. Maharashtra Bank is where you can apply to update your mobile number. Customers can also update their mobile numbers by sending an SMS or by using an ATM in Bank Maharashtra. You can do this by sending an SMS containing the keyword "SEED" to the number 9223181818. SMS notifications will be sent when the mobile number is registered.
Benefits of Bank of Maharashtra Mini Statement
A mini statement is an easy and convenient way to check the last five transactions
Account Holders do not even have to visit the bank for this.
They can access it via SMS Banking, mobile banking apps, internet banking and through missed calls.
Conclusion
The methods listed above can be used by you. You will not be charged for receiving a statement by SMS and by missed call from the bank. However, your telecom provider may charge you according to standard SMS rates. ATMs are another option. The bank's customer care executive can provide more information about ATM charges by calling 18002334526 (toll-free).
Frequently Asked Questions
Are there any limitations regarding the number of inquiries one can make through the app every day or week?
The Bank Maharashtra Mobile Application does not have a limit on the number of "MINI Statement inquiries" you can make. An account holder can view their last five banking transactions at any time, anywhere.

Can I register more than one account number with the bank under the same mobile number?
Yes, with the same mobile number, you can manage multiple bank accounts. A mobile app or the Missed Call Banking service of Bank Maharashtra is the easiest way for account holders to get information about the recent transactions of their accounts.

Am I able to receive a mini statement from Bank of Maharashtra using mobile banking?
Yes, your mini statement can be viewed via the "MahaSecure" mobile application from Bank of Maharashtra. Enter your MPIN in the app, choose 'Mini Statement', and continue. The last debit or credit transaction will be shown here.