It is necessary for every individual to monitor their bank account statement monthly to anticipate future expenditures. In some cases, however, it cannot be done by visiting the bank's branch in person. So, people prefer mini statements with details regarding the last ten transactions. Therefore, you can access your Bank of Baroda mini statement here and see the last 10 transactions. SMS can be used to get your statement and be able to plan your future expenses. Looking at all the ways to get a Bank of Baroda mini statement, let's explore them all.
What is Bank of Baroda Mini Statement?
A Bank of Baroda Mini Statement specifies the latest transaction information and the status of your bank account. All Baroda Bank account holders have access to it. In the comfort of your home, you can view the bank's mini statement to keep up with your account's balance, transactions, etc.
How to get Bank of Baroda Mini Statement?
Through its digital banking services, the Bank of Baroda offers many convenient and customer-friendly services to its customers. Missed call, SMS Banking, and Mobile Banking are ways to retrieve mini statements.
Get Bank of Baroda Mini Statement Through Missed Call Number
Missed call services are also available to Bank of Baroda customers. If you want to know your last 5 transactions, you should dial 8468001122 from your registered phone number. You can use this service 24 X 7 for no charge. You can access your account information using this service from anywhere.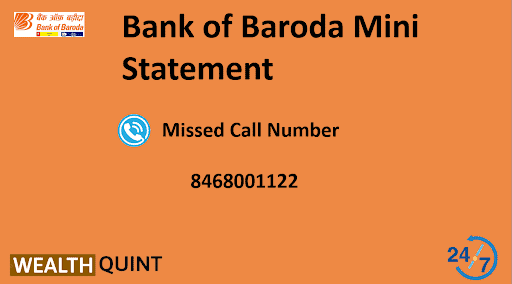 Get Bank of Baroda Mini Statement Through SMS
For informational-based services like mini statements, the Bank of Baroda SMS Banking facility offers simplicity and ease of use. The service is available to existing bank customers who have already registered their mobile numbers.
Please send "MINI*space>Last 4-digit Account number" to 84222009988
For example: if the account number is 17610400000811, type: MINI 0811.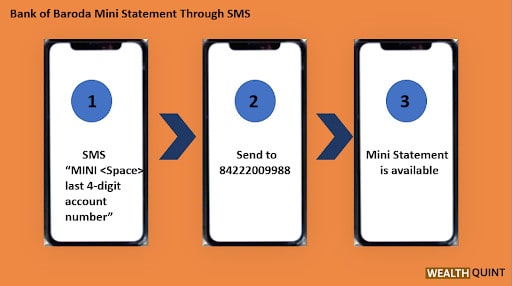 Get Bank of Baroda Mini Statement by using Net Banking
Bank Of Baroda Net Banking provides you with easy access to your MINI statement online.
Simply log in with your Customer ID/User ID and Password.
Once you have successfully logged into your account, click on the My Account option to view your recent bank transactions.
Get Bank of Baroda Mini Statement by Visiting ATM
A Bank Of Baroda mini statement can also be accessed from an ATM near you. You do not need to visit only BOB ATMs. The ATM machine of any bank will allow you to access a mini statement if your PIN is four digits.
Steps to get Bank of Baroda Mini Statement by Visiting ATM:
Find a nearby ATM center.
You can choose what language to use after inserting your ATM Debit Card into the slot.
You will be prompted to enter your ATM PIN and choose your banking option.
Select Mini Statement and Kind of Account (Current account or Savings account).
A mini statement of your bank account will be printed out from the machine.
Get Bank of Baroda Mini Statement by using Mobile Banking app
"M-Connect Plus" from Bank of Baroda is an improved version of the current M-Connect app. A variety of services are available to customers through this new app, which has an attractive and extremely user-friendly interface. There are various kinds of accounts you can link with this app such as savings accounts, PPFs, current accounts, cash credit accounts, and overdraft accounts with Bank of Baroda. This app lets you check your account balance, download statements, transfer funds between different accounts, and send money to third parties.
Steps to get Bank of Baroda app by using Mobile Banking App:
You can download BOB "M-Connect Plus" on your phone.
By using your Customer ID, register with your registered mobile number and verify it through OTP.
Once you have successfully logged in, click on "My Account" for more options.
Click on "transactions" to see your recent transactions.
Bank of Baroda Mini Statement Number 
Bank of Baroda mini statement can be obtained by calling at 8468001122 from your registered mobile number. Bank will send an SMS containing the details of your last five transactions. 
How to register the mobile number for Bank of Baroda Mini Statement?
Bank of Baroda Mini Statement Services are available through multiple modes, including Internet Banking, SMS, Missed Call, etc. It is necessary for you to register your mobile number with the Bank first before you can use the service.
To register your mobile number, you must apply at the Bank of Baroda branch. Through an ATM or an SMS, users can also update their mobile number themselves. You will need to send an SMS with your mobile number to register it, if you wish to register the number through SMS.
A notification will be sent to the mobile number once it has been registered.
Benefits of Bank of Baroda Mini Statement
Online access to your bank information becomes easy.
Your smartphone lets you use it from anywhere.
Keeping track of your credit and debit cards can be done at home.
It facilitates the transaction of money in various ways.
Conclusion
You can obtain a Bank of Baroda mini statement on your mobile device using the methods listed above. All these methods are free, and they can be used to check Bank of Baroda balances. Any method can be used to obtain a Bank of Baroda mini statement. So, once you keep track of your past transactions, you will find it easier to make an informed financial choice.
Recommended:
How to Close Bank of Baroda Account?
Bank of Baroda Timings & Working Hours
Frequently Asked Questions
A BOB mini statement provides how many details about a transaction?
In your mini statement for your bank account, you will receive a breakdown of the last five transactions.

Are there any charges associated with Bank of Baroda-Missed Calls?
Bank of Baroda offers a free service called MISSED CALL BANKING where you can get your Mini Statement and full account balance by simply calling from a registered mobile number or by sending an SMS.

Does the app have a limit on how many inquiries you can make each day or per month?
Using the Bank of Baroda Mobile App, you can make an unlimited number of inquiries into your Mini Statements. An account holder can access the past five banking transactions anywhere and anytime.