OpenSea marketplace is a great place to sell or purchase a non-fungible token (NFT), OpenSea has more than one million active users and it is relatively new when compared to other NFT marketplace.
OpenSea users often face this error where they are asked to unlock a currency or unlock a selling functionality while they try to purchase an NFT or try to sell it via the OpenSea marketplace.
This article will cover a few important fixes that can help you to resolve this issue without deleting your OpenSea account or losing any of your NFTs by taking the wrong step.
What Does "Unlock Selling Functionality" On OpenSea?
Unlock Selling Functionality error message in OpenSea occurs when you are trying to buy or sell an NFT.
It is widely faced by OpenSea users, Unlock Selling Functionality error message means OpenSea is not able to recognize the funds within your wallet address.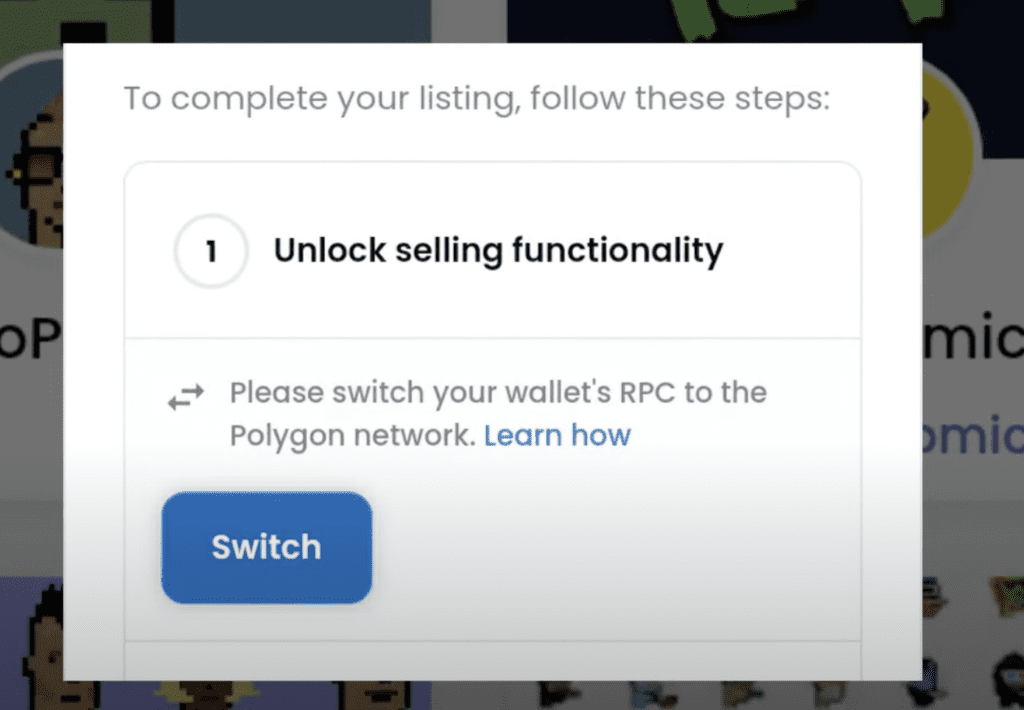 Why Unlock Selling Functionality Error Occurred On OpenSea?
Unlock Selling Functionality on OpenSea occurred because either there is some bug/ glitch in OpenSea or because of transaction fees or network traffic.
As mentioned earlier this is a common issue, you don't have to worry about, nor think you need to unlock a new type of currency to buy/sell the NFT.
This error occurs mainly due to the following reasons:
1. A Bug Or A Glitch
OpenSea is a relatively new platform for the selling and purchase of NFTs, it is normal to encounter such bugs and if you are using the OpenSea website then it can cause some glitches.
2. Transaction Fee
Sometimes it can be due to the transaction fee or the gas fee.
3. Using A VPN
Avoid using a VPN service if you are using OpenSea especially if it's your first time.
4. Network Traffic
The type of blockchain network also plays a key role, if there is traffic over the blockchain network it can thereby result in this error message.
5. Uncleared Browsing Cache (For Website Users)
If you are using a common browser then it is your uncleaned browsing data (history and cache only) that can also cause this error.
Make sure they are cleaned as they clog the process of buying/selling or connecting to any of your digital wallets via OpenSea.
Also Read: How To Deposit Money In OpenSea?
How To Fix Unlock Selling Functionality On OpenSea?
You can fix this common issue by following the steps given below with the fixes. They are as follows:-
Fix 1: Stable Internet Connection
A stable internet connection is a must to have especially if you are using OpenSea for the first time, with an unstable internet service you may also encounter other types of error.
If you are using VPN, it is better if you turn it off and in addition if you have ad blockers enabled it may also create a hurdle to buying or selling your NFTs on OpenSea.
Fix 2: Updated Web Browser
OpenSea can be used only on web browsers. In order to use OpenSea, you have to use web browsers like Chrome, Firefox and Excel and make sure your browser is updated and all the browsing cache is deleted.
It is better to change your web browser if you encounter this error, for instance, if you are using Chrome then change it to Firefox and login to OpenSea via firefox.
If you do not want to use any browser, you can simply download the OpenSea application from your Google Play Store (for Android users) or Apple App Store (for iOS users).
If you use the app, you need to customize some settings regarding your details and data on your OpenSea app.
Fix 3: Change The Network In MetaMask
Step 1: Go To MetaMask
You need to open your MetaMask wallet account either directly open the app or go to the browser extension.
Step 2: Tap On Settings
From your MetaMask account, click on the account icon (with colours) on the top right of the screen and scroll down for a while and click on Settings.
Step 3: Click On Network
From settings, you will see the option "Network" in the given list of settings, click on network and then tap on the "Add network" bar.
Step 4: Fill In The Form
Once you have clicked on add network, you have to fill in the form, and enter the network name, RPC URL, chain ID and currency system. And then click on the Save tab.
Step 5: Check If Your Network Is Changed
Next, from the settings page move to the main screen and check on the top of the screen if the network has changed, you can click on the drop-down arrow and add the network you want (if the network is not changed).
Fix 4: Change The Duration
You can follow this fix, if you have a good internet speed and an updated web browser, go to your OpenSea account and you will see the option "Fewer Options" in blue click on it and change the duration that is the date, month and year.
You can also make other changes if you want to.
Fix 5: Wait For Sometime
Sometimes the OpenSea server may be down, therefore you are seeing the error message. You can not fix this error until and unless the server is working.
Before you carry out any transaction, visit this https://status.OpenSea.io/ the official OpenSea status website to check the status.
Fix 6: Refresh Your Funds In OpenSea
In this fix you have to increase your funds (crypto) in your wallet, this is because OpenSea may detect you have insufficient funds within your wallet as a result it will tell you to "unlock currency" while you try to buy or sell an NFT in OpenSea.
To avoid this, you have to increase your current wallet balance, you can do so by the following the given steps:
Steps to Refresh your Funds in OpenSea:
Step 1: Tap On Wallet In OpenSea
Launch OpenSea from your home screen (on your mobile phone or PC) and log in to your account and tap on the Wallet symbol present on the corner of the screen(top right).
Step 2: Select Refresh Funds
Next, you will see a list of options and then select "Refresh Funds".
Step 3: Purchase Or Sell Your NFT
After you have refreshed your funds, you can go back to the marketplace on OpenSea and try to buy or sell the NFT, most likely it will work.
Fix 7: Contact OpenSea Support
If the above six fixes do not work, the only fix you are left with is to contact OpenSea support, send them a ticket and explain to them in detail about your issue and how urgent it is to be fixed.
You can either contact them at their Gmail address or visit their official support website https://support.OpenSea.io/hc/en-us
Also Read:
Conclusion
Unlock selling functionality is a common issue faced by thousands of OpenSea users every month. Most of the time it can be a bug, software glitch or the server may be down.
Other times it can be for some other reasons, you do not have to worry much.
Often it is resolved by itself (if it is a bug or the server is down) otherwise you can follow the above mentioned fixes and sort your problem. If the fix does not help you can always contact OpenSea support.
Similar Posts: