OpenSea is one of the largest marketplaces for trading NFTs these days.
It has a simple interface that even a new user can also get used to in no time.
But like any other platform, OpenSea is also prone to errors, and this fact can not be denied.
Luckily, OpenSea support has got your back.
You can always get in touch with the support team to get a resolution for your issues.
However, this process may take time because of the large number of users and requests on the platform.
Fortunately, you can use different ways to contact OpenSea.
So, if one doesn't work for you, there is always another way.
Keep reading this post to know all the ways to contact OpenSea.
OpenSea allows you to get in touch with the support team in different ways.
Usually, a lot of people prefer sending an email to the support team explaining their issues.
Another option that you can use is to submit the request form.
This method may take up several days.
In that case, you can always attempt to contact them on Twitter.
You can also get in touch with the OpenSea community on Discord.
Let's discuss all these methods in detail. 
You can contact OpenSea via the Support request form, via the OpenSea Twitter handle, via OpenSea Discord Channel, and using OpenSea support request by submitting ticket.
Contact OpenSea Via Support Request Form
The very common method to contact OpenSea is to submit the request.
You will have to go to the support center for OpenSea and then submit a request, or you can simply visit https://support.opensea.io/hc/en-us/requests/new.
On the submit request page, you will have to choose the issue you want assistance with on the submit request page.
From the categories, choose the issue category you want.
For example, if you face issues with your transactions, choose transaction and wallet errors.
Complete your form by typing all the personal information required.
If you need to provide any screenshot or document, you can do it by adding them to the attachments option.
In the end, simply tap on the submit button and then complete the process.
Now, sit back and wait for the response from OpenSea.
They will revert you to the email ID you have provided.
However, it will take some time to revert.
Contact OpenSea Via Twitter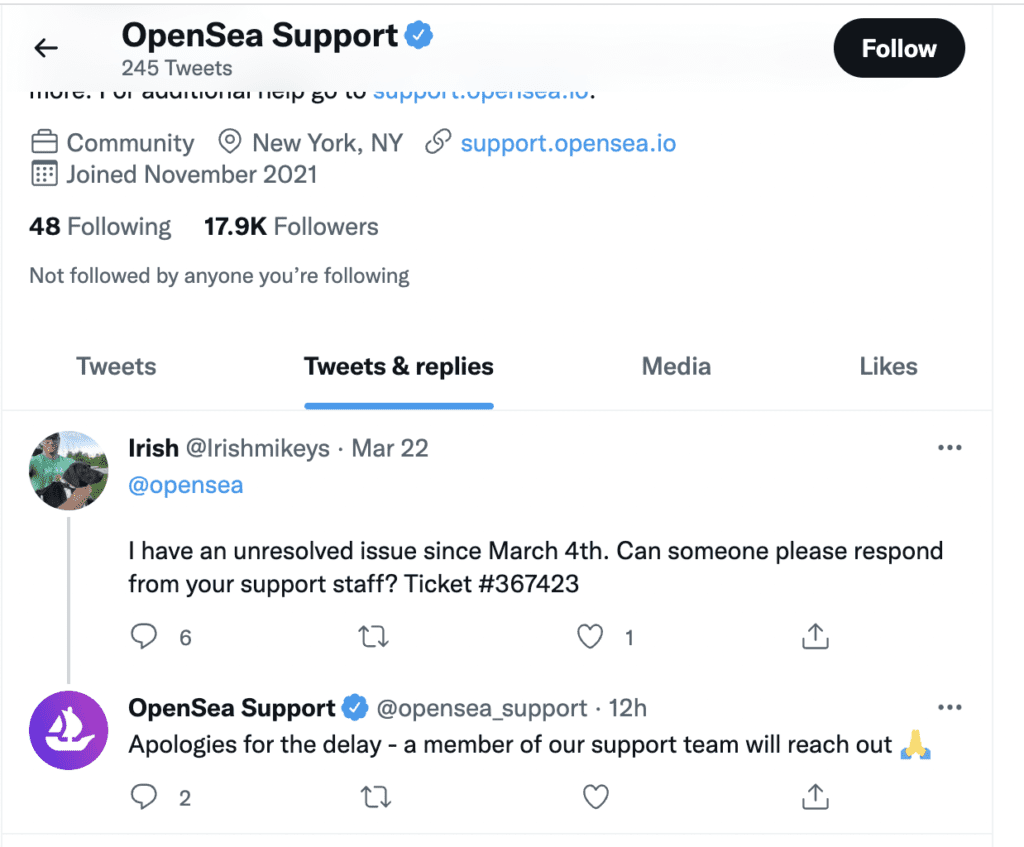 If you are still waiting for a response from OpenSea, you can also try contacting OpenSea on Twitter. for this method, you will have to either mention them in your tweet or simply reply to one of theirs.
On Twitter, you will encounter two Opensea handles: @opensea_support and @opensea.
If you are trying to contact OpenSea on Twitter, you will have to mention @opensea_support.
But you must know that you can not DM them.
They have disabled it on their Twitter handle.
You can always choose to reply to them on their Tweets.
Another thing that you can do is to type a post and mention the issue in the same post, tag both @opensea_support and @opensea.
Then, if they respond, provide them with the ticket ID you have received.
Contact OpenSea Via Discord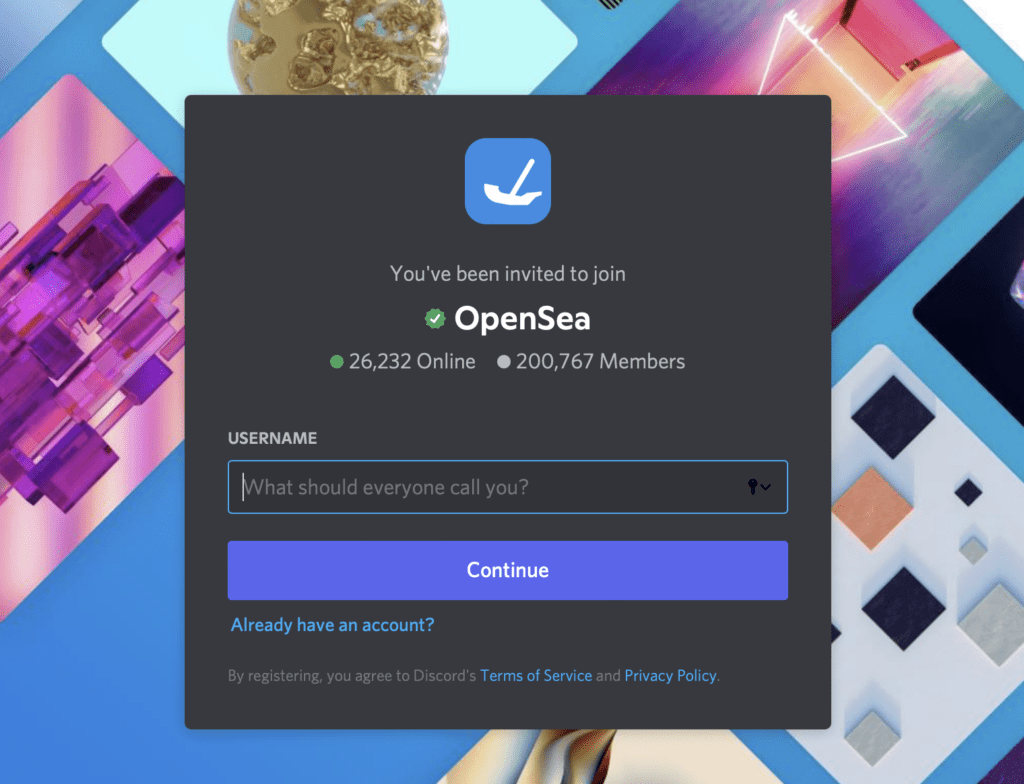 You can also join the discord channel of OpenSea.
On this channel, you will get help from the OpenSea community only.
The first thing you need to do is join the server on: https://discord.com/invite/opensea.
To post your queries, you will have to agree to the terms and conditions of the server.
When done, hover to the community help channel.
Here, you can mention your issues and wait for a reply from any community member.
However, simply go to the report issue section if you are facing an issue.
Also Read: What Does "Content Not Available Yet" Mean on OpenSea?
Opeansea's Email
Opeansea operates their support email based on the inquiry or complaints users have.
Therefore, make sure that your notes are as descriptive as possible.
For general inquiries, use: [email protected]
OpenSea's Phone Number
OpenSea does not provide customer support via phone numbers.
You can only contact OpenSea by using any of the options mentioned above.
In addition, you can simply report the issue by visiting: https://support.opensea.io/hc/en-us/requests/new.
Conclusion
OpenSea is a game-changer in the NFTs marketplace; it has gained popularity for its incredible services.
Speaking from a global point of view, people buy and sell digital currency and utility tokens regardless of their volatile nature.
They're happy owning digital items that they can't see or perceive, implying that the digital age is truly here.
Open sea has hit the jackpot in this era and is not ready to stop.
Their customer support service is quite limited, but it is a work in progress to give users a more satisfactory experience.
Similar Posts: