Keeping up with the latest NFT news can be difficult if you don't know where to look. The NFT landscape is constantly evolving since it is a young market.
Increasing investor interest will accelerate the rate of change even further, making the crypto landscape even more volatile. A wide range of content is available, from the latest releases from your favorite crypto artists to a detailed analysis of market metrics and numbers.
It seems like everyone has been talking about NFTs lately, and the market is huge. But if you don't have time to read through the hundreds of blogs or are an NFT fan to explain it all to you, listening to the NFT podcasts can be a great way to stay informed and understand it.
Below is the list of 30 Best NFT Podcasts you Should Listen:
1. Bankless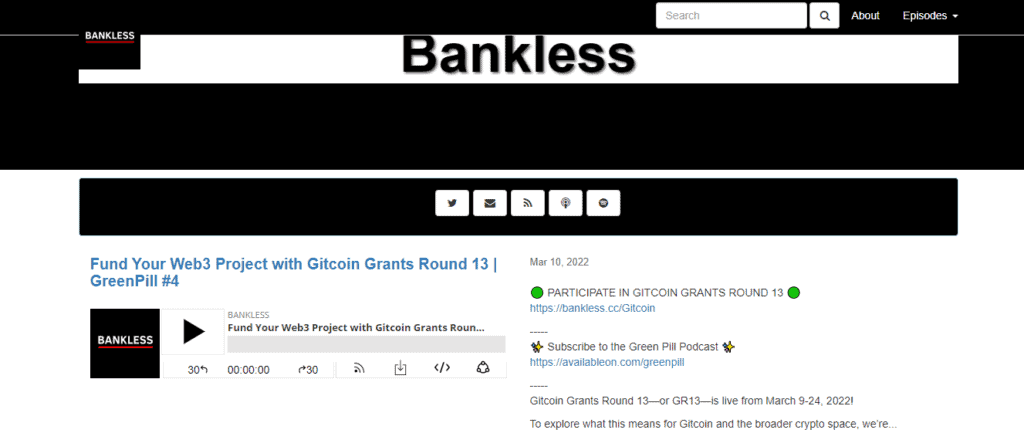 Bankless is the place to go if you're seeking a reliable source of information on anything related to DeFi.
The nicest thing about this NFT podcast is that it discusses the ups and downs of the crypto markets and delves into other subjects in the blockchain and NFT arena that have the potential to influence and potentially transform the Web architecture itself.
http://podcast.banklesshq.com/
2. NFT Catcher Podcast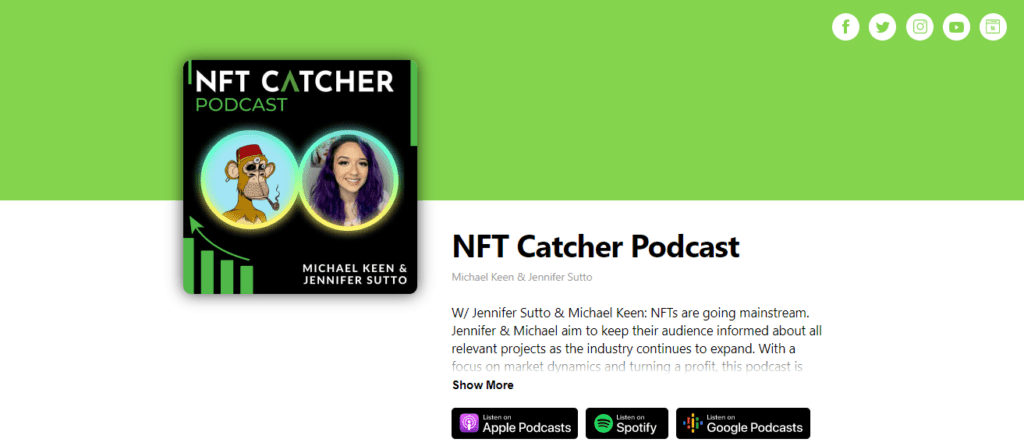 Michael Keen and Jennifer Sutto of the NFT Catcher Podcast keep their podcast listeners up to date on all pertinent NFT initiatives by focusing on market dynamics and making a profit.
This show is ideal for experienced NFT traders as well as individuals who simply want to learn more about the industry.
https://nftcatcherpodcast.buzzsprout.com/
3. NFT Talk Show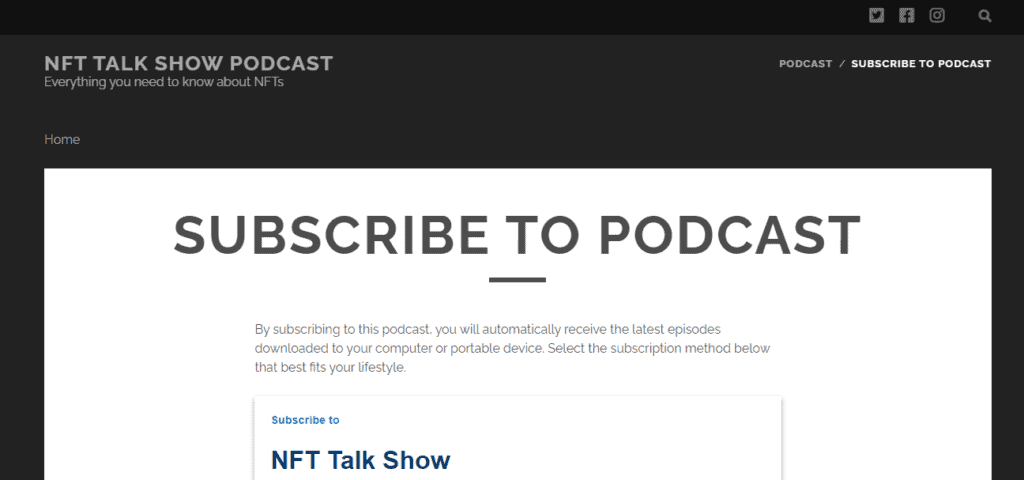 This podcast series is jam-packed with fascinating conversations with NFT artists and collectors that will answer all of your burning questions.
Check out their most recent podcast episode, in which they discuss the Opensea and Looksrare marketplaces, as well as some typical Opensea difficulties.
4. Two Bored Apes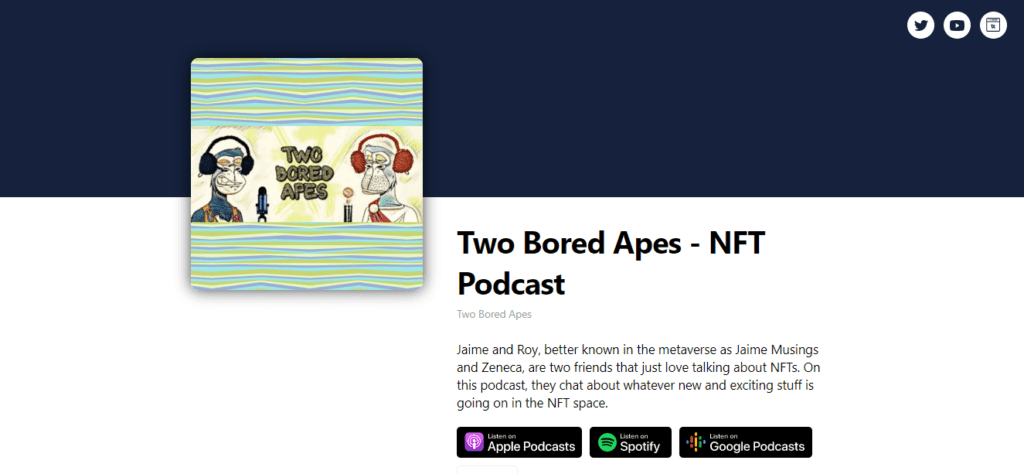 Two Bored Apes is one of the best podcasts to find smart observations and conversations on some of the best and most popular NFT projects.
Even though their most recent episodes are around 2.30 minutes long, the show's wonderful hosts, Jamie and Roy, will make sure you enjoy every minute of it!
5. Edge Of NFT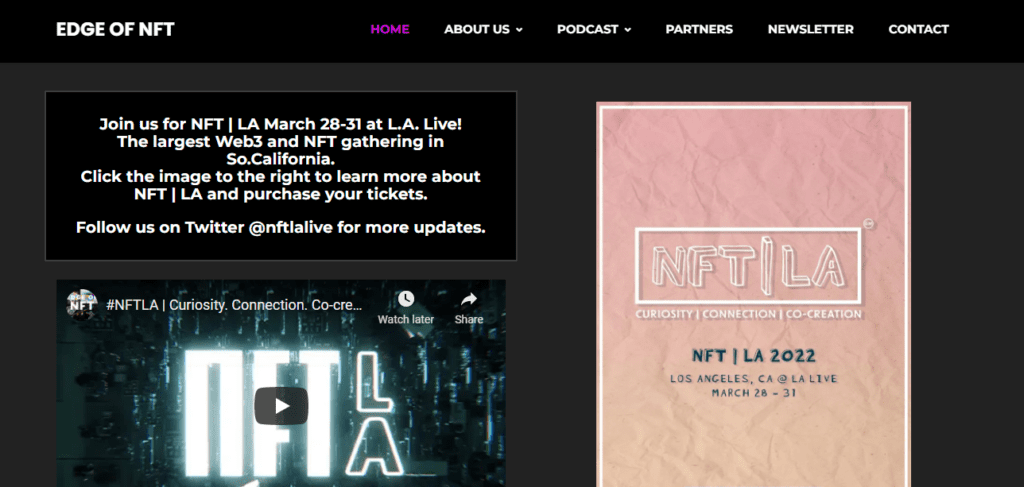 Jeff Kelley, Ethan Janney, and Joshua Kriger are the Edge of NFT Podcast hosts. Their combined experiences in the arts, music, and entrepreneurship make this podcast appealing to a wide audience.
You can stay up-to-date with what's going on in the world of NFT with the Edge of NFT podcast. NFTs are discussed in detail and how their use alters our interactions with objects.
6. Modern Finance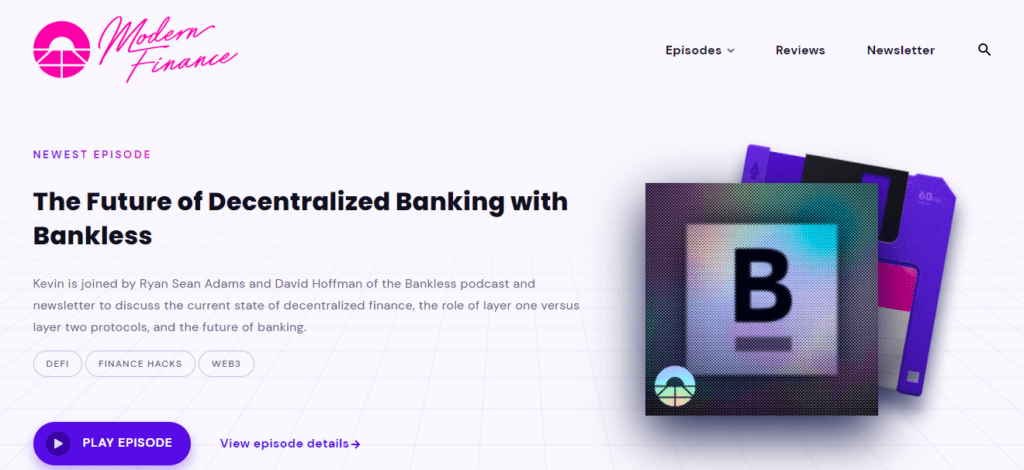 The Modern Finance podcast is a newcomer to the NFT audio world, but it has quickly established itself as one of the greatest crypto podcasts available.
All things bitcoin, finance hacks, cryptocurrencies, yield farming, DeFi, and, of course, NFTs are covered. Kevin Rose, the founder of the podcast, was named one of Time Magazine's "Top 25 Most Influential People on the Web."
Join Kevin as he speaks with various industry leaders developing current finance tools.
7. The Nifty Show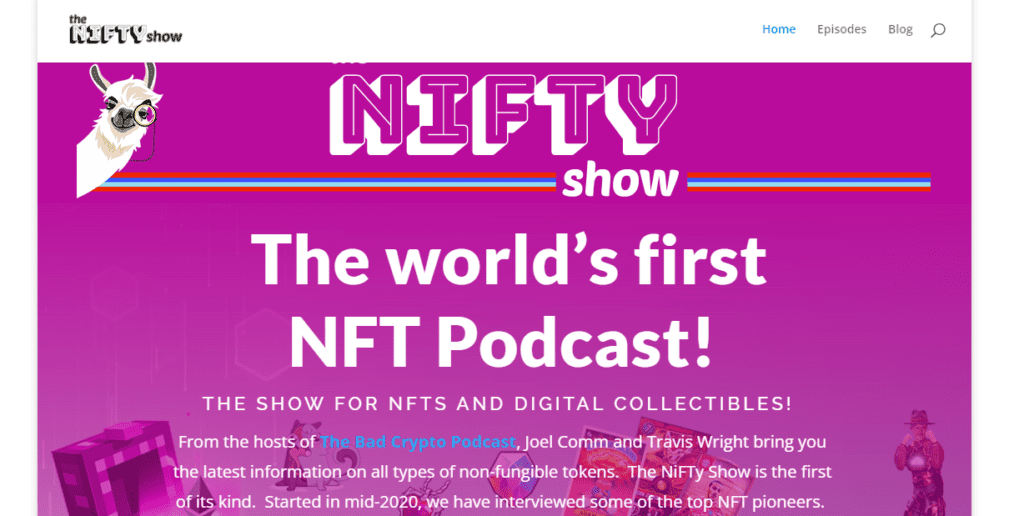 The Nifty Show, which debuted in the mid-2020s, was one of the first podcasts on NFTs. Here you will find interviews with some of the top NFT pioneers.
This podcast is a lot of fun to listen to because you're just following the two hosts as they talk about the NFT area and the newest developments.
The Nifty Show is one of the most popular podcasts dedicated to non-fungible token topics and interviews. Weekly, the podcast releases excellent NFT content and tools.
Nifty News airs on The Nifty Show every Tuesday, and live interviews air every Thursday at 5 p.m. EST. Their content includes information on impending NFT releases and case studies from relevant companies.
8. Unchained

Unchained is another good podcast in the NFT space. Laura Shin discusses how cryptocurrencies and blockchain technology are changing the way we think about digital ownership, our financial system, and our culture in general.
9. The Mint Condition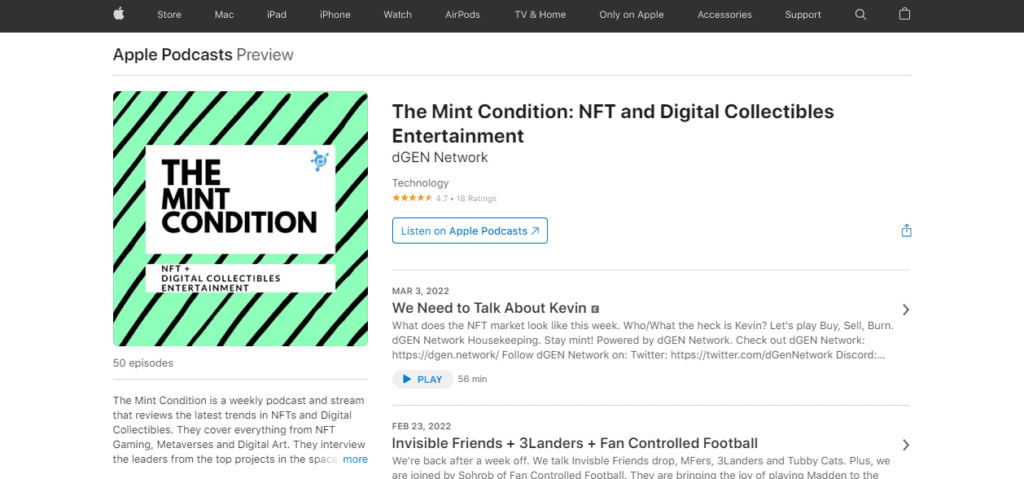 In Mint Condition, prominent people in the NFT space provide in-depth interviews on various NFT topics. As well as helpful tips on how to launch NFT projects, there are general market reviews in the NFT flipping podcast.
https://podcasts.apple.com/us/podcast/the-mint-condition-nft-and-digital/id1557408139
10. Zima Red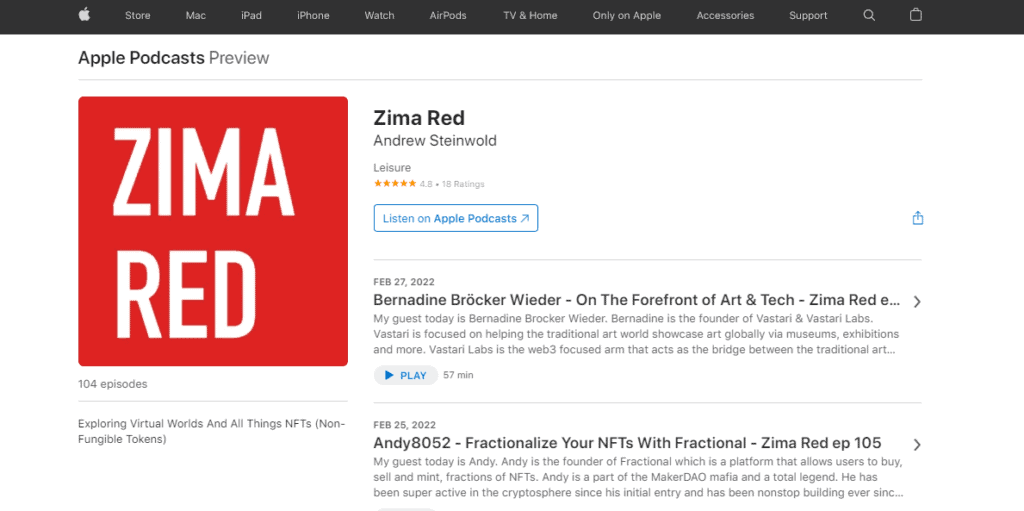 Zima Red is an NFT podcast that has been around for a long and focuses on everything there is to know about them.
Andrew, the host of Zima Red, leverages his background in venture capital, finance, and cryptocurrencies to deconstruct some of the week's NFT headlines.
Zima Red takes listeners on a journey through the present and future of NFTs, the metaverse, and virtual worlds. The typical length of a Zima Red episode is about an hour, and new episodes are released weekly.
https://podcasts.apple.com/us/podcast/zima-red/id1494165748
11. PROOF
PROOF is hosted by Kevin Rose, a prominent entrepreneur, and tech venture financier. Time Magazine named him one of the "Top 25 Most Influential People on the Web," and Bloomberg named him one of the "Top 25 Angel Investors."
Kevin Rose is the inventor of Digg, a popular social news site, and Zero, a fasting app. He was also a General Partner at Google Ventures. Kevin has appeared on The Tonight Show with Jimmy Fallon, Charlie Rose, and the covers of Businessweek and Inc. Magazine.
12. NonFunGerbills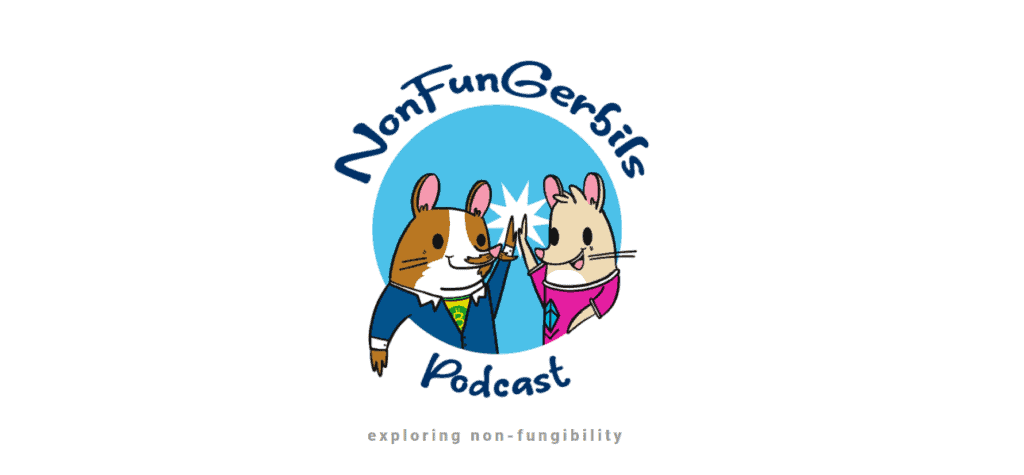 The NonFunGerbills podcast is hosted by Luke & George each week. It discusses decentralized assets and NFT assets.
NonFunGerbil tokens are given away to their audience who participate in the description creation process.
13. That's Nifty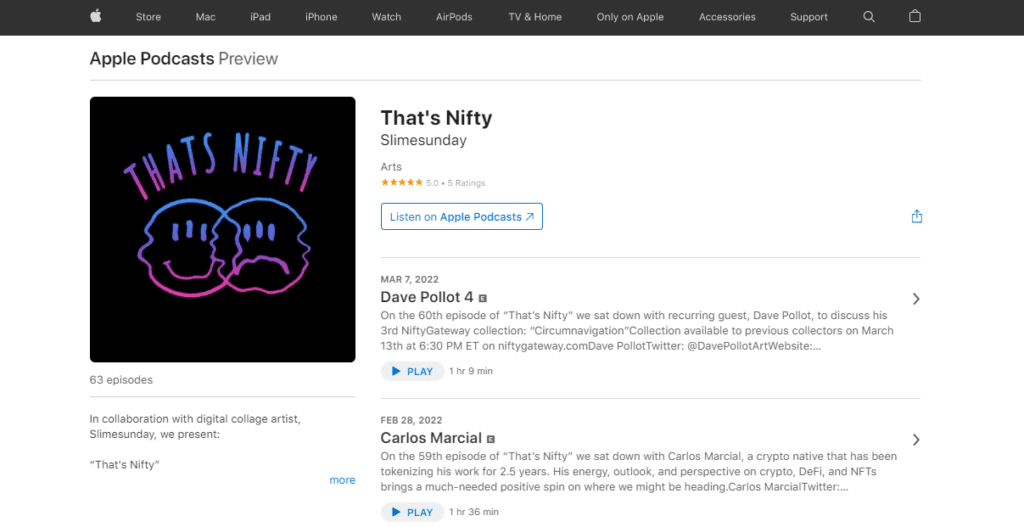 That's Nifty is a podcast about NFT art that features some of the industry's greatest artists and collectors.
Slimesunday, one of the most well-known NFT artists, featuring an NFT collector, Tommy Noble, hosts the event, and kitschy kitch, an NFT collector.
https://podcasts.apple.com/us/podcast/thats-nifty/id1554794204
14. nft Now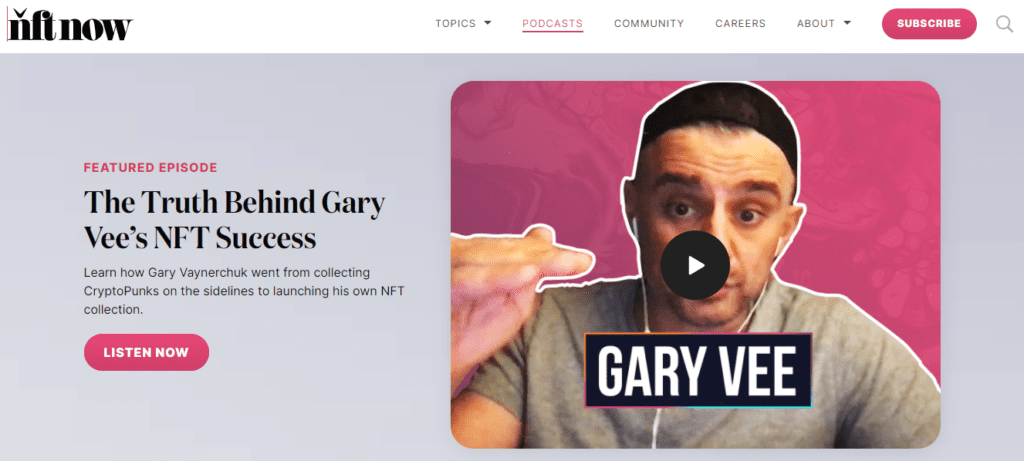 Sam Hysell, Alejandro Navia, and Matt Medved are the founders of nft now. Podcasts cover the latest news, curation, and analysis from the NFT every Wednesday.
In addition, the nft now showcases trailblazers, gives actionable strategies to creators, and fosters community engagement.
15. The Matthew And Rizzle Show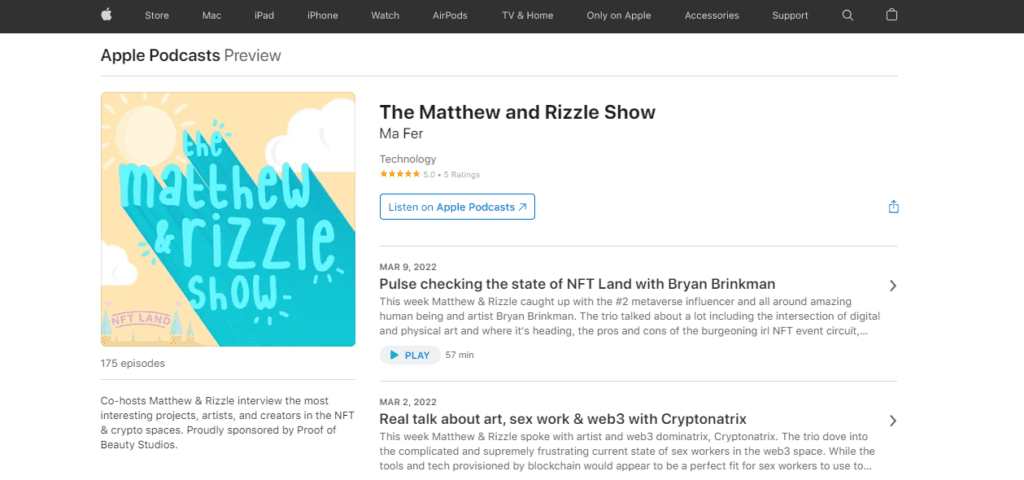 TheWIPmeetup.eth creator Matthew and nft42 co-founder Rizzle host an interview podcast. In the NFT and crypto space, Matthew and Rizzle discuss interesting projects, artists, and creators.
https://podcasts.apple.com/us/podcast/the-matthew-and-rizzle-show/id1474505563
16. Digitally Rare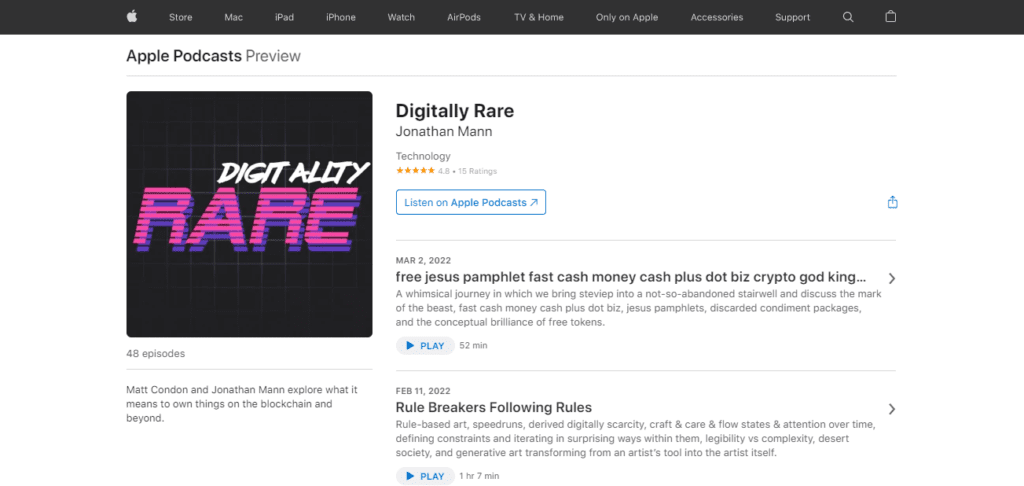 Digitally Rare has a reputation for being a pioneer in the crypto field regarding NFT podcasts, having done so for the past three years.
Jonathan Mann and Matt Condon host the Digitally Rare podcast. Jonathan is most known in the cryptocurrency Twitter community as Son a Day Man, who has been posting a song every day for the past 12 years.
Digitally Rare takes a more laid-back approach to some of the industry's most technical and recent events. Digitally Rare episodes range in length from 50 minutes to more than an hour, and they're available on ListenNotes, Apple Podcast, and Pod Chaser.
https://podcasts.apple.com/us/podcast/digitally-rare/id1413304564
17. NorCal And Shill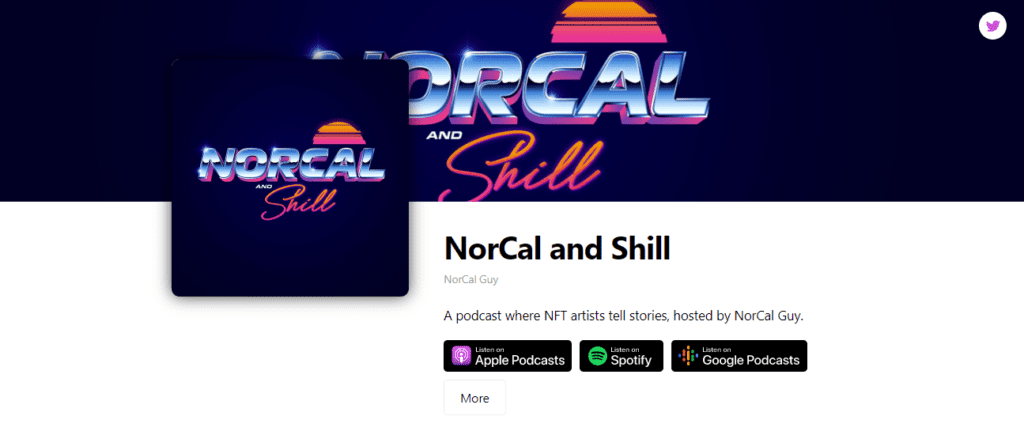 It is a podcast hosted by NorcalGuy, a crypto pioneer collecting NFT genesis art. The top crypto musicians are featured on this lighthearted and entertaining podcast. It's usually about the artist's experience with NFT and crypto.
https://norcalandshill.buzzsprout.com/
18. NFTs For Newbies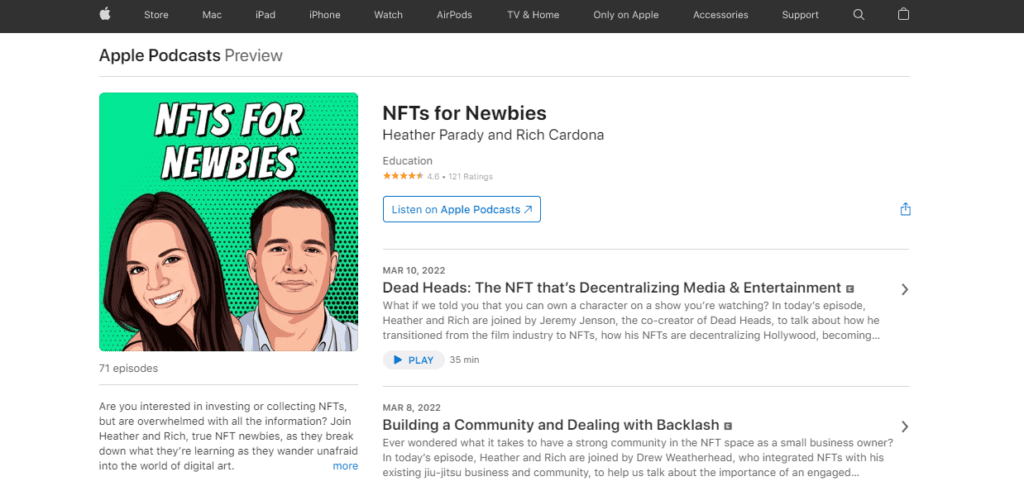 Heather Parady and Rich Cardona host NFTs 4 Newbies. Rich is a media firm entrepreneur and one of the "Top 100 podcasters."
They have over 1000 podcast episodes on mental health, leadership, and entrepreneurship between them.
NFT 4 Newbies is a 15-minute podcast only for beginners, as the name implies. Instead, they divide what they've learned about NFTs into manageable chunks.
https://podcasts.apple.com/us/podcast/nfts-for-newbies/id1581483443
19. Shot2TheMoon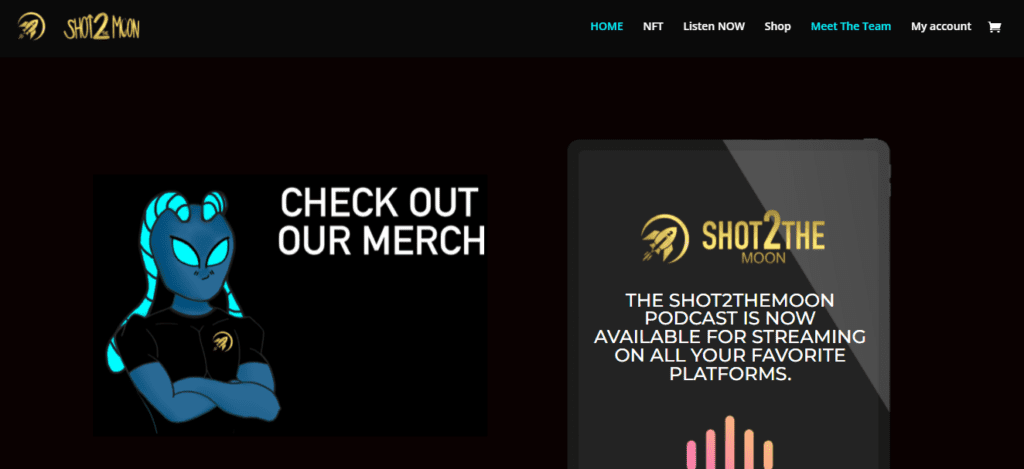 Sean Pfeiffer and Steven Shill broadcast Shot2TheMoon, which, in their own words, provides a raw, accurate, and unfiltered take on NFTs.
In addition, the boys aren't afraid to provide their honest view on the week's most talked-about projects and stories, both good and terrible.
They also invite guests to speak about their initiatives, and they even interview prominent members of the Shot2TheMoon community about their experiences in the NFT arena.
20. Non-Refungible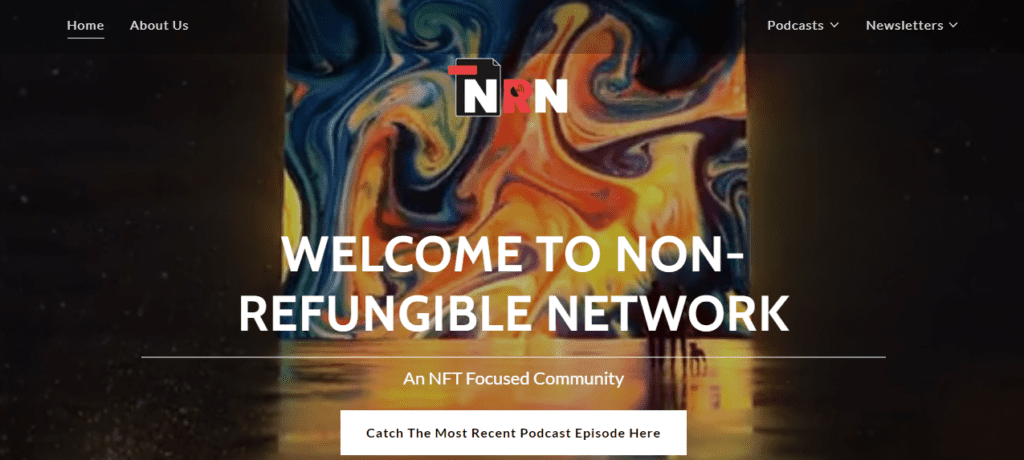 The Non-Refungible Network's namesake and flagship podcast, this one offers a tonne of terrific interviews with some of the industry's major figures.
The three hosts have spoken with the creators of hugely successful enterprises such as Doodles and the Gutter Cat Gang, as well as significant collectors and other influential persons.
The crew also examines the state of the NFT market and noteworthy news in addition to guest interviews.
21. NerdFT Radio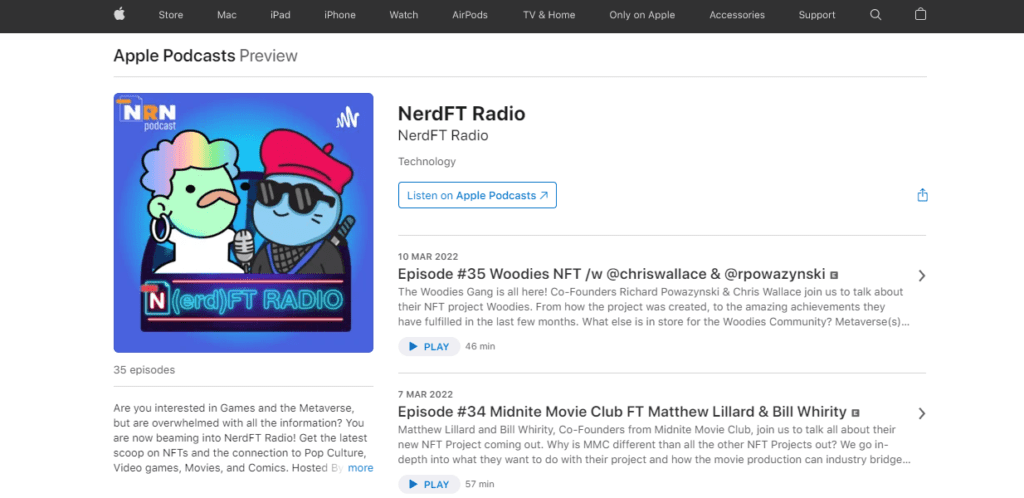 Mateo and Austin, the hosts of NerdFT Radio, release two new episodes every week. They mostly cover the most important stories in the NFT area, but they also invite founders and experts to speak about their initiatives and specialized themes.
Because the majority of the episodes are between 30 and 40 minutes in length, they may be more doable than many of the others on this list if you're just getting started with NFT.
https://podcasts.apple.com/lb/podcast/nerdft-radio/id1593393166
22. Probably Nothing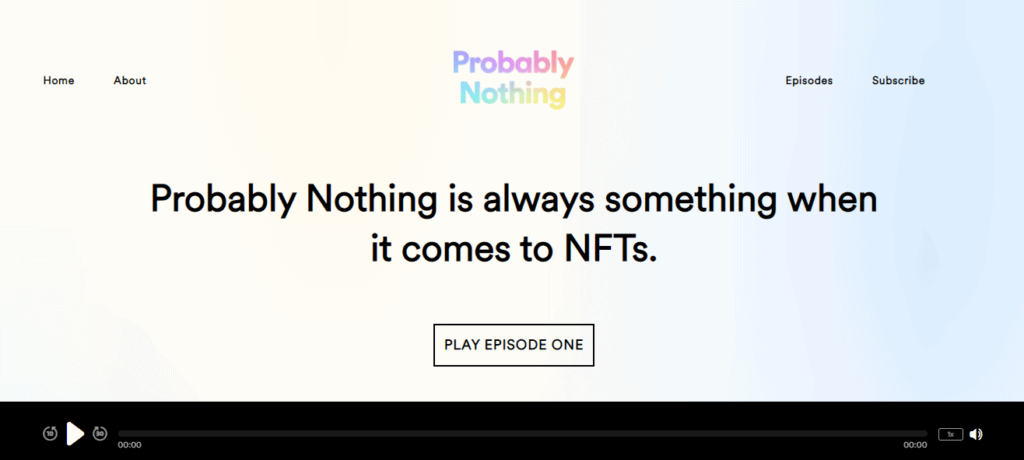 Tiffany Zhong, the founder and CEO of Islands, and Alexis Ohanian, the founder of Reddit and the VC firm Seven Seven Six, host Probably Nothing.
They interview a major figure from the NFT space every other week about their narrative, experience, advice for others, and what's next.
For those unfamiliar with the crypto and NFT communities, "probably nothing" is a popular phrase. It's a play on words that says "absolutely something!" This podcast is no different.
https://itsprobablynothing.xyz/
23. Overpriced JPEGs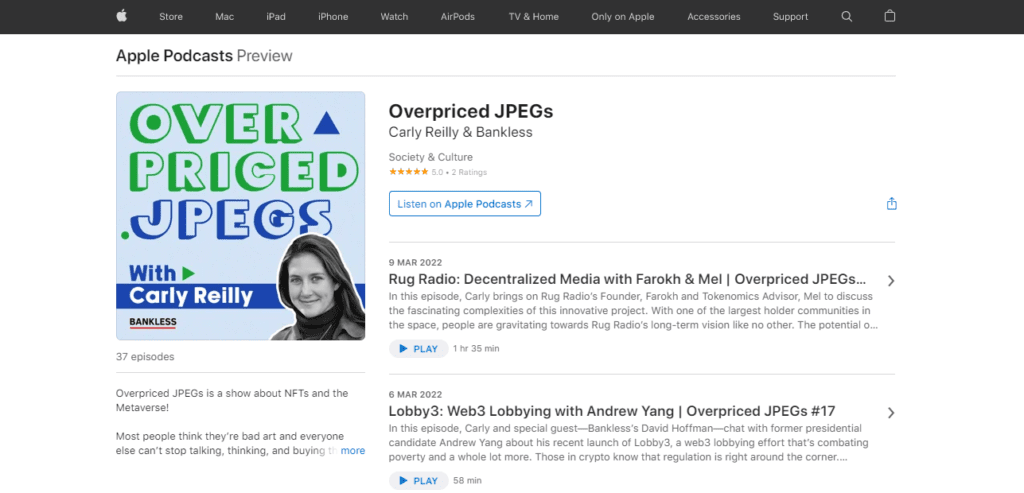 Carly Reilly hosts a new podcast called Overpriced JPEGs. She invites NFT founders, inventors, and collectors to discuss their ideas and the market's current situation.
She just added a new recurrent part called "A Moment of Zen(eca)," co-host of Two Bored Apes, joins her to discuss recent new launches and important news and the NFT market in general.
https://podcasts.apple.com/sg/podcast/overpriced-jpegs/id1591954323
24. The Adam McBride Show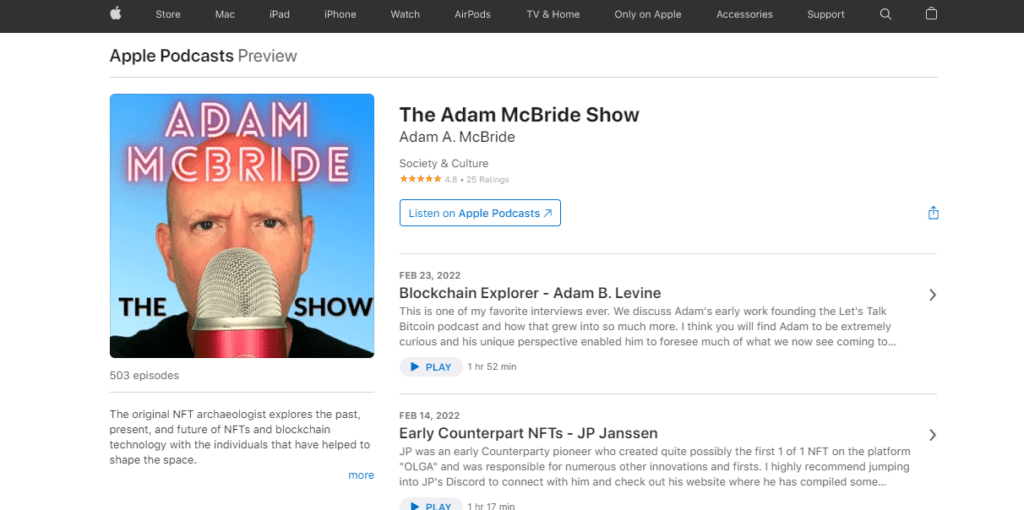 Adam McBride is one of the most well-known NFT archaeologists. This effectively means he's unearthing and promoting the very first NFTs, i.e., those that were released before the phrase was coined in 2021.
https://podcasts.apple.com/us/podcast/the-adam-mcbride-show/id1410811576
25. Not Another Bitcoin Podcast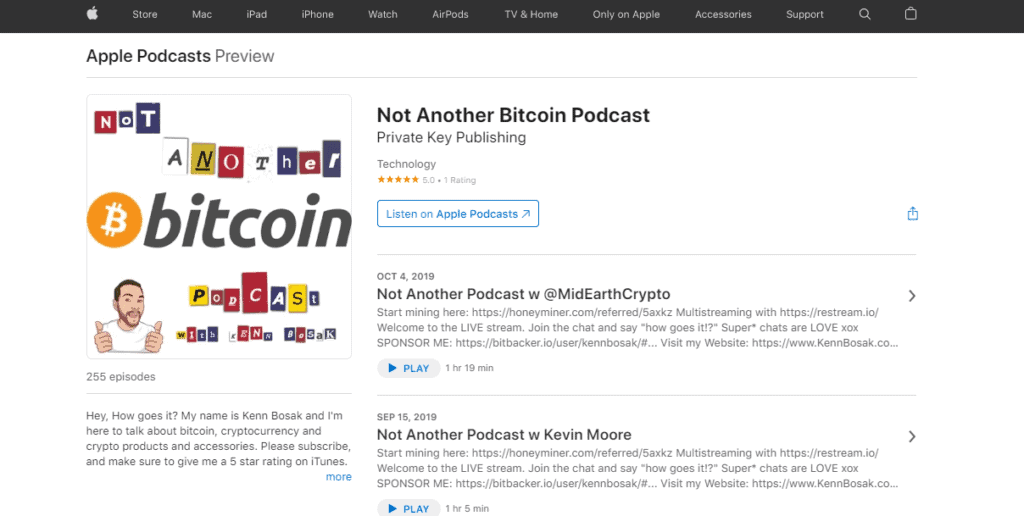 Kenn Bosak, the Not Another Bitcoin podcast host, is a well-known figure in the NFT and crypto communities. Every day at 12:00 EST, this podcast broadcasts a live chat feed.
In addition, it delivers ample information about the Crypto industry, with visitors from throughout the crypto field, including founders and developers.
https://podcasts.apple.com/us/podcast/not-another-bitcoin-podcast/id1434235447
26. Girl Gone Crypto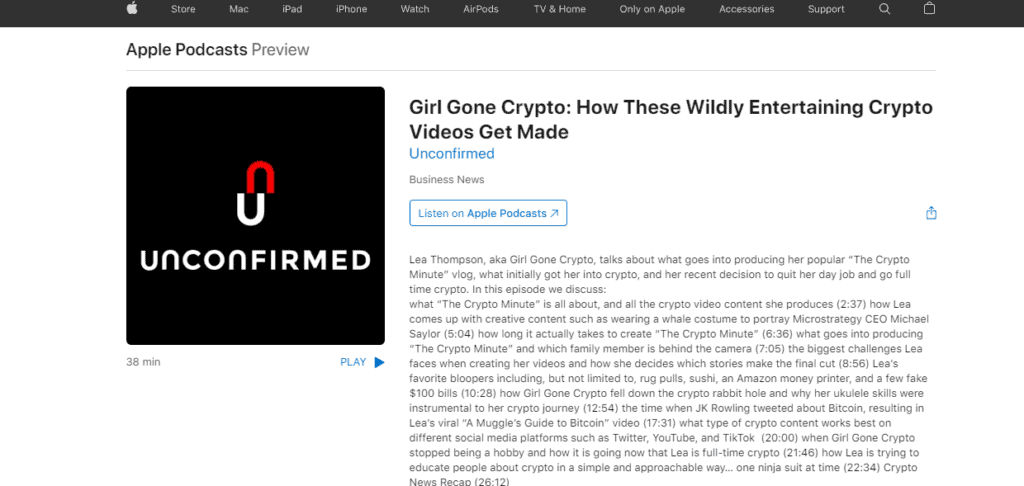 Girl Gone Crypto, hosted by Lea Thompson, is a terrific and entertaining source of information on crypto, Blockchain, and NFTs.
It features discussions with crypto-experts on upcoming trends that inform and entertain the audience.
https://podcasts.apple.com/us/podcast/girl-gone-crypto-how-these-wildly-entertaining-crypto/id1347049808?i=1000509794748
27. Indra's Podcast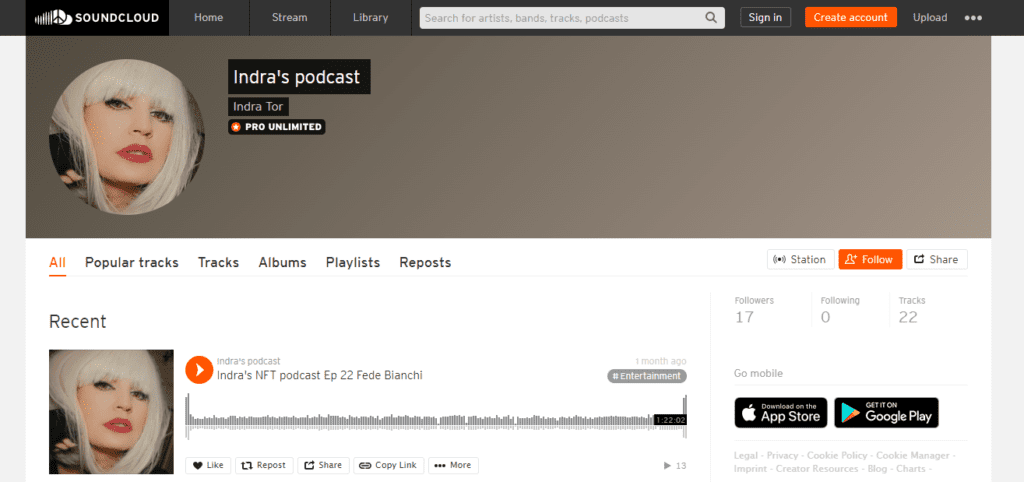 Indra Tor is a dedicated NFT collector and artist. On the weekends, she hosts a podcast where she discusses the hottest themes in non-fungible tokens and assets.
Indra keeps her weekly listeners engaged on her fascinating NFT podcast with her knowledge and interests spanning voxel, machine learning, and artificial intelligence.
So, if you're searching for a great NFT or blockchain podcast to listen to, check out Indra's. Indra Podcast episodes range in length from 33 minutes to 149 minutes and feature interesting discussions about non-fungible assets and the experiences of artists who create them.
28. Delphi Digital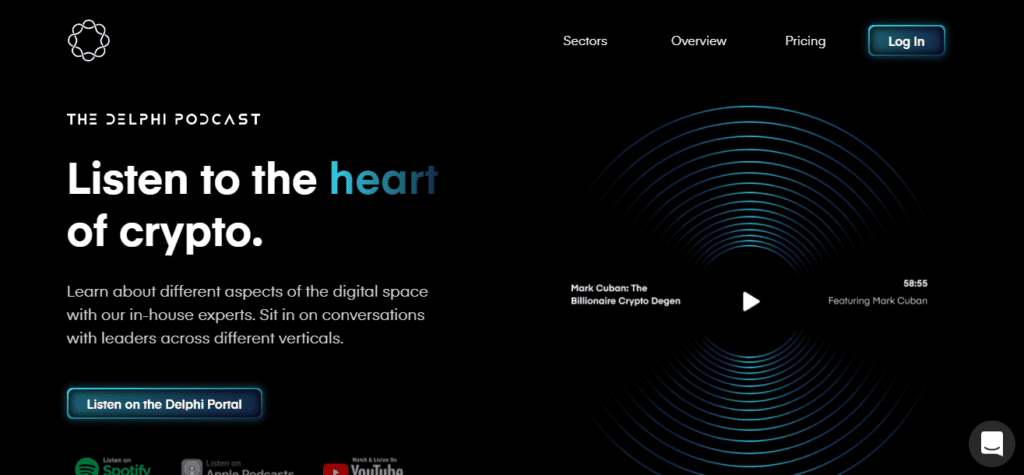 The podcast has a team of specialized finance specialists who continuously meet with significant names in the blockchain and finance industries and bring rigorous financial analysis to issues.
Delphi Digital is a great choice if you seek a podcast that will help you comprehend what moves offer value to NFT and cryptos.
Delphi Digital listeners can pick between four different sides of the podcast based on their interests. Listeners can choose between NFT game material, the metaverse, fractionalizing NFTs, and collector opinions.
Andy Chorlian, Nick Emmons, and Jeremy Allaire, popular influencers and founders of NFT projects, are featured in some of their most recent episodes.
Delphi Digital episodes are as entertaining as they are educational, and they can last up to 60 minutes.
https://delphidigital.io/podcast
29. NFTs On Fire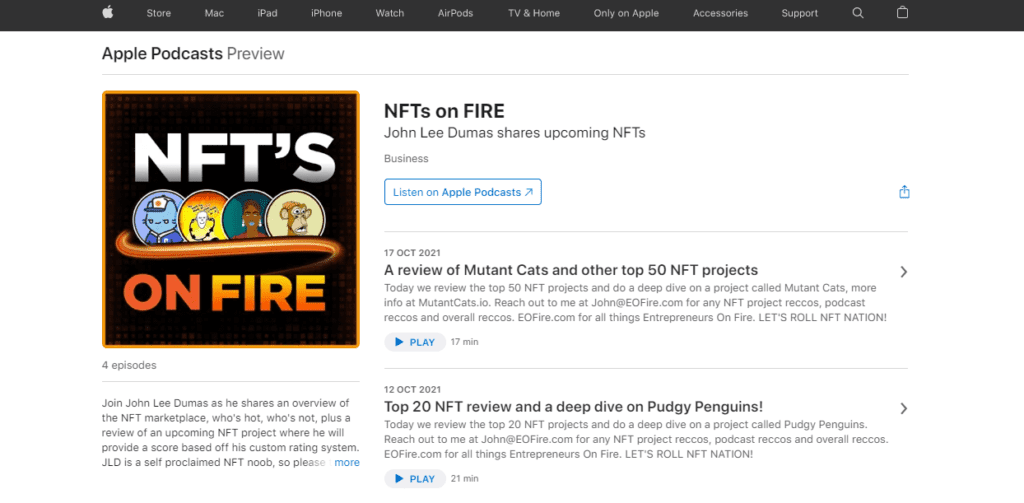 John Jee Dumas hosts NFTs on Fire, a podcast that discusses what's hot and not, as well as making ratings for potential NFT projects. Therefore, it is essential to keep up with and learn about NFT market trends.
https://podcasts.apple.com/ie/podcast/nfts-on-fire/id1589606518?uo=4
30. NFT 365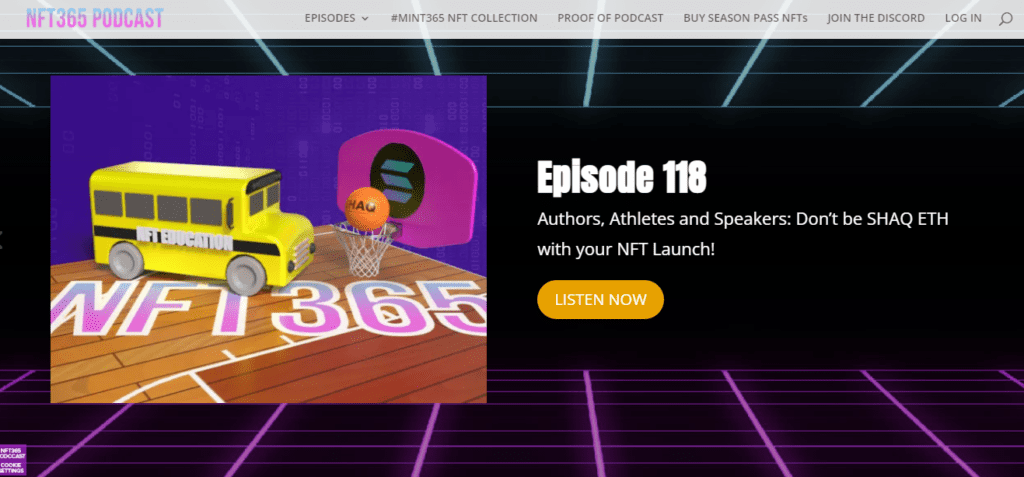 The NFT 365 is hosted by Brian Fanzo. It runs on $ADHD coins and features breaking news, upcoming projects, instructive programs, developing trends, and NFT expert interviews.
In addition, expert discussions on creator economy Blockchain, web3, cryptocurrencies, metaverse, and Blockchain enable NFT 365 listeners to rethink the future.
Final Thoughts
Podcasts are one of the most convenient and reliable methods to stay up with what's going on in the NFT world, and these NFT podcasts are some of the best to listen to.
Whether you're an expert in non-fungible tokens and assets or a novice navigating the broad world of blockchain and cryptocurrencies, the podcasts on this list should keep you up to date on everything NFT.
Similar Posts: