NFT marketplace or companies is a hub where businesses or creators can list NFT projects for sale.
The NFT marketplace is a digital platform that allows artists to generate Non-Fungible Tokens and trade them in.
The NFT marketplace works similarly to e-commerce sites in that you can use your digital wallets to buy anything.
If you wish to generate and buy or sell any NFT at a specific price after evaluating the possible cost of that Non-Fungible Token, you have several possibilities.
What Does NFT Company Mean?
NFT companies are basically the NFT marketplaces that serve as a means for connecting buyers and sellers and a point of meeting for both.
The marketplaces are open to creators who wish to sell their NFTs. Meanwhile, collectors need to bring their favorite NFT, bid, and purchase it.
You can get closer to your favorite celebrities, artists, or creators by participating in this process. Getting the real deal is an amazing opportunity for creators.
Creators of the NFT collectibles receive a small percentage of profits each time a collectible is sold.
Top NFT Companies List
1. Rarible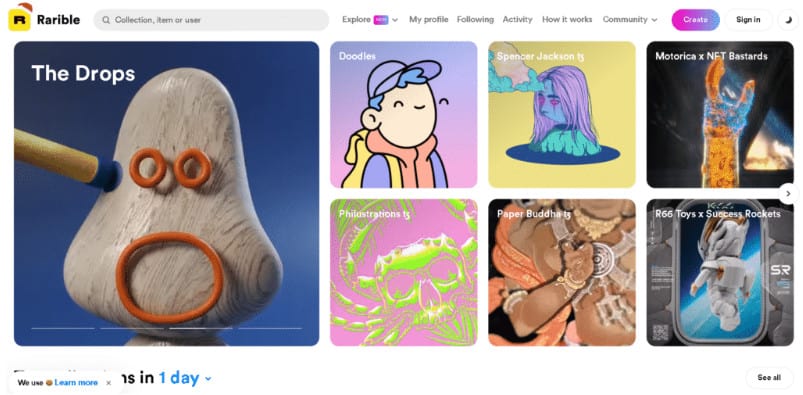 Rarible is a very vast marketplace for all kinds of NFTs. Art, movies, collectibles, and music can all be bought, sold, or created on the website.
However, unlike OpenSea, you'll have to purchase and sell using the marketplace's token, Rarible. The company has teamed with many well-known businesses.
Rarible has collaborated with Taco Bell to help secure NFT artists' and creators' work, and cloud software giant Adobe recently joined with Rarible to help secure NFT artists' and creator's' work.
2. OpenSea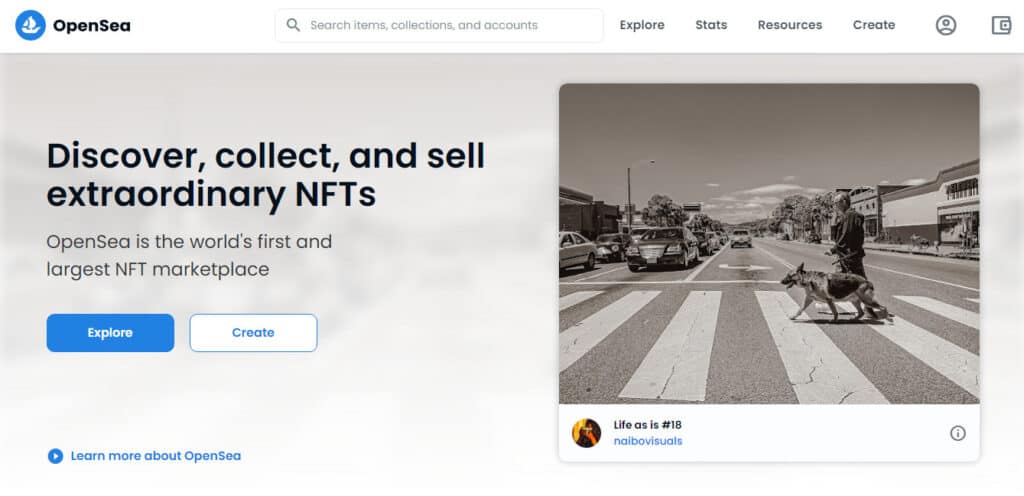 OpenSea is the market leader in selling NFT. OpenSea offers a large collection of digital items available on its platform, and registering and looking through the extensive selection is free.
It also benefits artists and other creators, and it provides a straightforward method for developing your own NFT.
The platform's moniker is appropriate because it supports more than 150 different payment token types. If you're new to the NFT world, OpenSea is a fantastic place to begin your exploration.
3. Foundation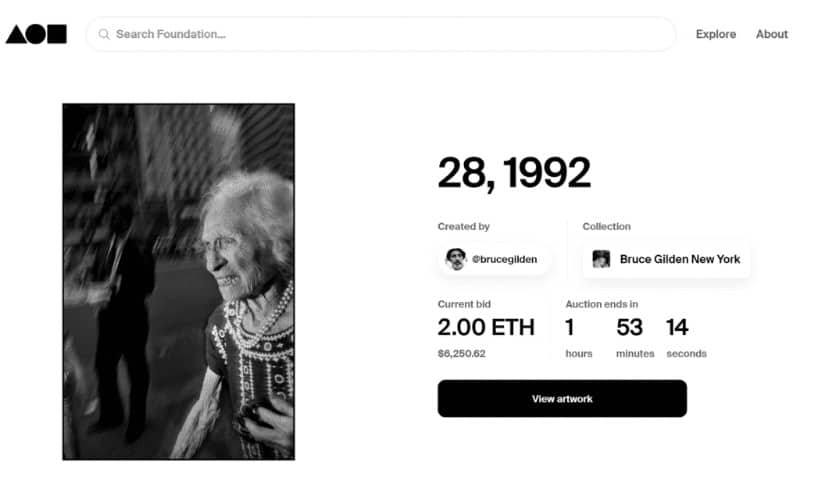 Foundation app was designed to be a simple, no-frills way to bid on digital art and other digital media. Sales are conducted through the use of Ethereum.
It has sold over $100 million in NFTs since its launch in early 2021, making it the most successful marketplace in the world. Artists are invited to become members of the Foundation community, and purchasers merely require an Ethereum-funded crypto wallet to use the site.
If you're looking for a quick and easy way to get started generating your own NFTs, Foundation isn't the best place to start.
However, the marketplace has a plethora of artwork that can be seen straightforwardly.
4. MakersPlace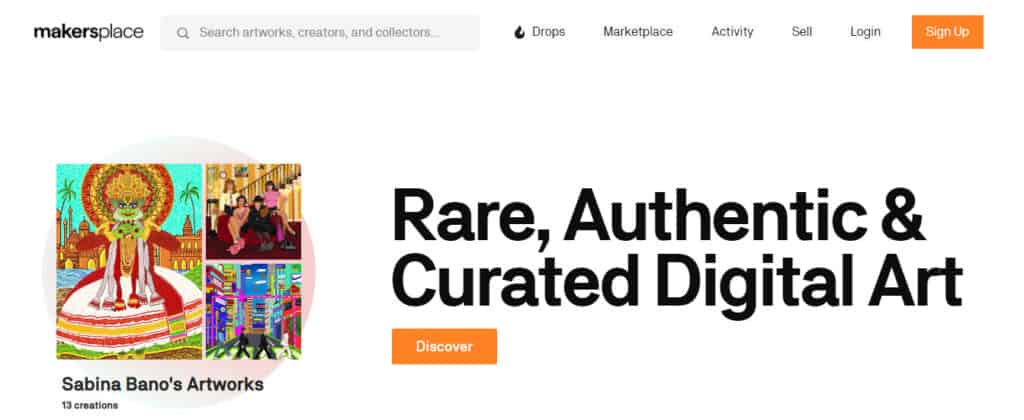 Making digital art is the focus of the website MakersPlace. Here you can browse collections and search for individual artists.
MakersPlace set a new sales record in March when it auctioned Beeple's classic Everyday: The First 5000 Days for $70 million.
The artist issues and signs every piece, and the blockchain is used to permanently store and authenticate them. The site is easy to navigate, with comprehensive artist profiles, freely accessible ownership data, and searchable tags.
A digital auction or a fixed price sale and a regular credit card can be used to purchase work.
5. SuperRare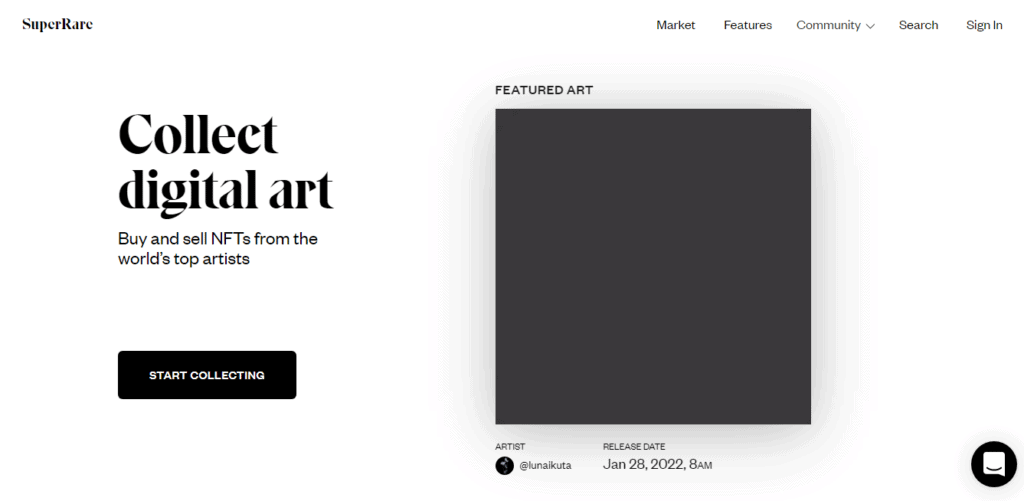 SuperRare, like Rarible, is creating a marketplace for digital producers. Collectors can purchase artwork using Ethereum on the site, including art, films, and 3D imagery.
SuperRare just announced the launch of its Ethereum-based currency with the same name.
The tokens will be used to discover and curate fresh talent for the platform. SuperRare NFTs, like Rarible, can be bought and sold on OpenSea.
6. KnownOrigin
KnownOrigin is one of the most established NFT marketplaces, specializing in rare and collectible artworks. KnownOrigin specializes in timed-release events, known as drops, that allow artists to limit the number of copies published, such as Seth Tillett's Jean Michel Basquiat photo collection.
This can lead to shortages and higher prices. The fact that artists must apply and be screened adds to uniqueness. Because this marketplace mints Ethereum, you should consider the fees and carbon footprint before bidding.
KnownOrigin also encourages NFT cooperation and goes beyond its way to support community messaging and provide guidance on drops and sales, including making secondary sales transparent in a separate marketplace.
7. Nifty Gateway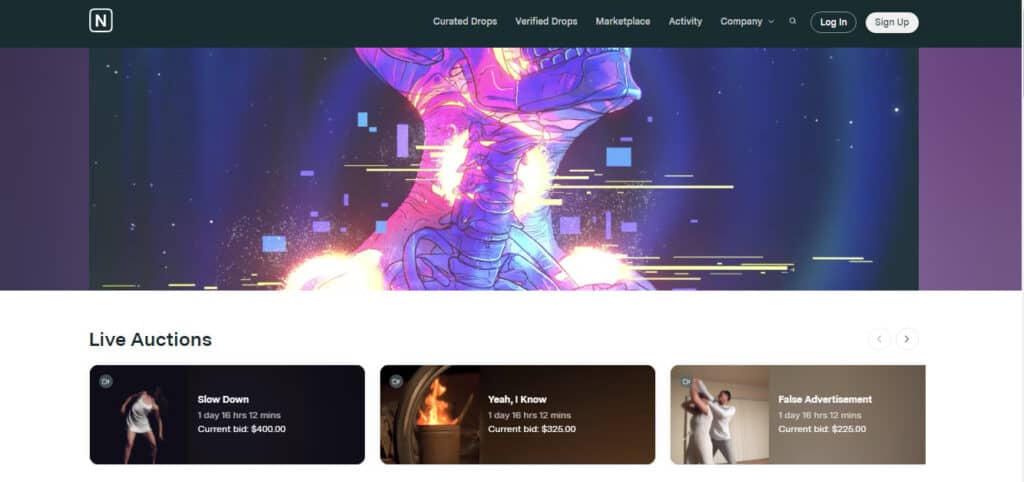 Nifty Gateway has helped some of the most well-known digital artists, including Beeple and singer/musician Grimes, sell their music.
It's a cryptocurrency exchange-backed art curation platform. The NFTs, sometimes known as Nifties, are Ethereum-based.
In addition to being a curated platform, Nifty Gateway also hosts any NFTs acquired, which means the NFTs aren't stored in your wallet but rather by Nifty Gateway and Gemini.
The NFT's purchasing and selling of art can be conducted in fiat currency without purchasing cryptocurrency. However, this may not appeal to NFT collectors who prefer more flexible investments.
7. Mintable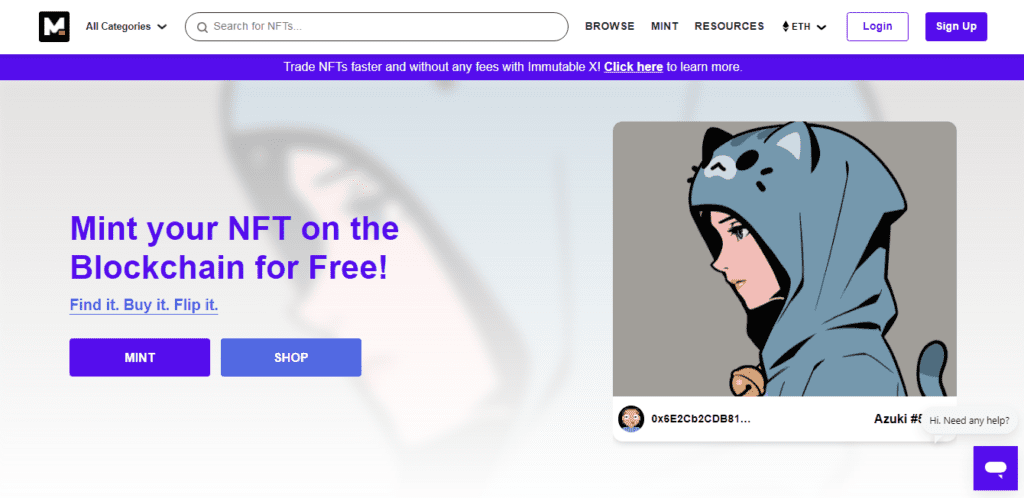 Mintable, funded by billionaire Mark Cuban, aspires to create a similar open marketplace like OpenSea.
For purchasing and selling NFTs on Mintable, Ethereum is required. The platform also allows creators of all kinds to mint NFTs to market their work as digital assets. 
An ambitious NFT collector or creator must first purchase Ethereum on a crypto exchange, then connect their wallet to Mintable to participate in the marketplace's bidding and buying.
8. Axie Marketplace

Axie Marketplace is the online store for Axie Infinity, a video game. For rewards, players can battle Axies of other players whose Axies they have purchased and trained.
Players can purchase new Axies and entire lands and other items, as NFTs for use in the game on the Axie Marketplace.
The Ethereum network creates Axie Infinity tokens also known as Axie Shards.
As a result, they're available for purchase and sale on many additional NFT markets, as well as other cryptocurrency exchanges like Coinbase Global.
https://marketplace.axieinfinity.com/
9. NBA Top Shot Marketplace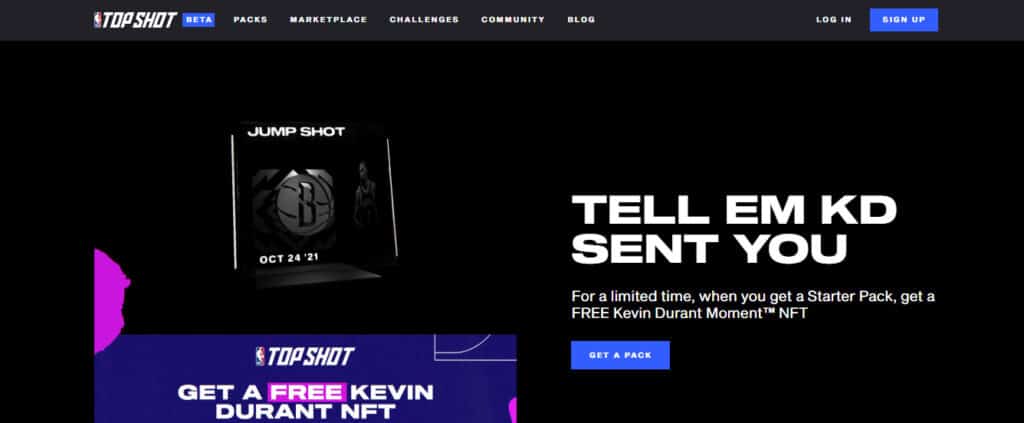 NBA Top Shot enables participants of the National Basketball Association and Women's National Basketball Association to participate in the NFT.
Collectible moments and art from the world's top basketball leagues can be acquired on its marketplace. Using Dapper Labs' Flow blockchain, the NBA created it as a closed marketplace.
A user can easily register and purchase directly on the Top Shot marketplace website.
9. AtomicMarket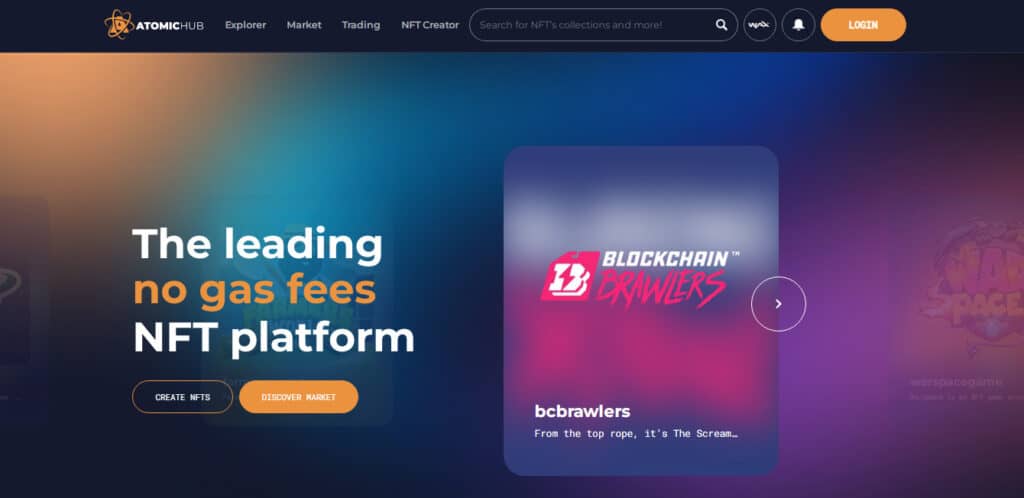 AtomicHub is a one stop platform for developing, trading, buying and selling NFTs already used by large numbers of dedicated customers.
Several websites make use of AtomicMarket. AtomicMarket is a shared liquidity NFT market, which means that everything posted on one market is likewise listed on all others.
On AtomicMarket, you can both sell your own NFTs for sale and explore existing listings. Genuine NFTs with a verification tick are easily identifiable. Malicious collections have been put on a blacklist.
10. Larva Labs – CryptoPunks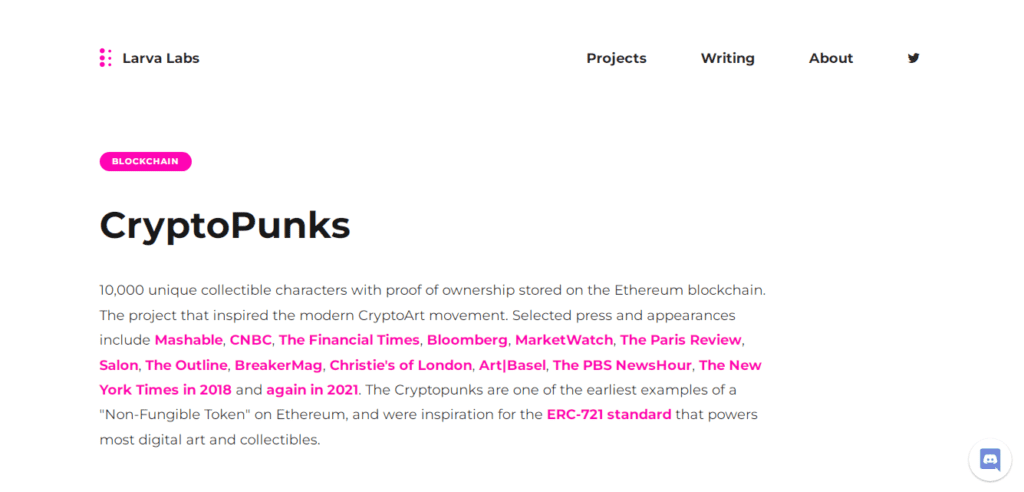 Larva Labs is primarily known for the CryptoPunks NFT project. CryptoPunks were originally given away for free in 2017, but some have since sold for millions.
Larva Labs is working on several additional digital art projects, including Autoglyphs and other Ethereum blockchain-based app development initiatives.
The CryptoPunks NFTs from Larva Labs are sold out, but they can be bid on and purchased on various third-party marketplaces.
Nonetheless, Larva Labs' numerous projects are worth following, particularly the Meebits, which can be purchased directly through the company's built-in marketplace.
https://www.larvalabs.com/cryptopunks
11. Theta Drop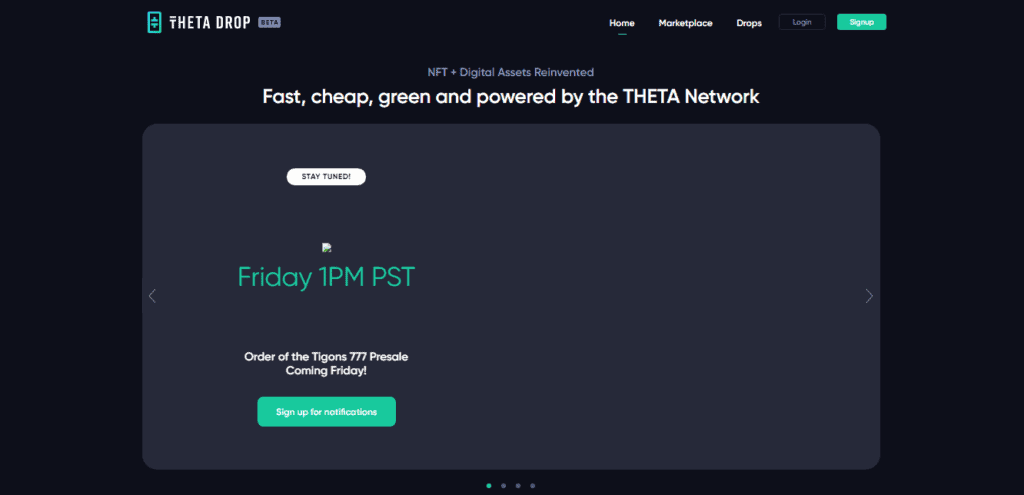 Theta is a decentralized platform for video and television distribution on the internet based on blockchain technology. Digital poker artifacts from the World Poker Tour were featured in Theta Drop, a new NFT store, in 2021.
World Poker Tour has brought Theta TV programming to the network as an early adopter. Theta's proprietary blockchain technology is used.
You'll need to buy Theta Token to participate in the Theta Drop NFT marketplace.
Theta is supported by many crypto exchanges, including Binance, and the tokens and NFTs purchased with them can be saved in a crypto wallet or Theta's crypto wallet software.
12. Binance NFT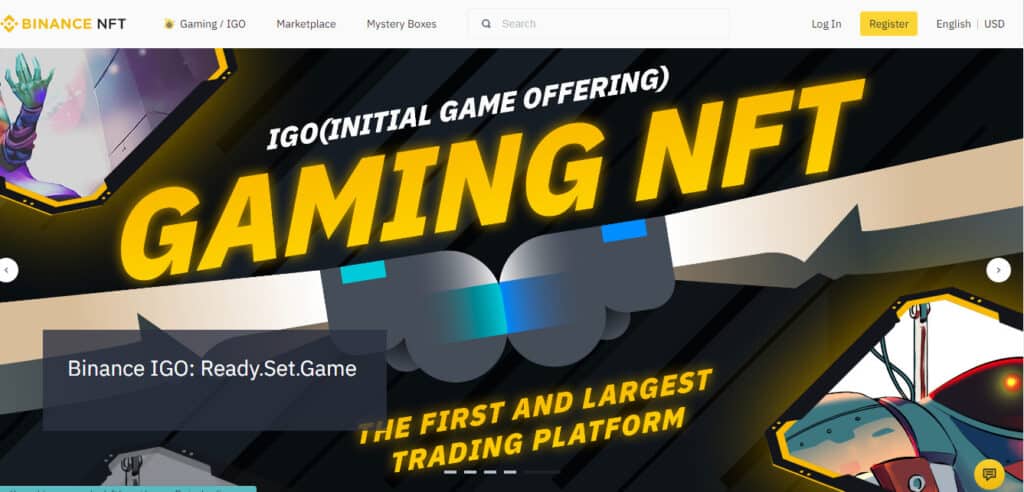 Binance NFT is one of the world's largest markets, with its blockchain; Binance is one of its largest cryptocurrency exchanges.
As a result, Binance NFT is regarded as one of the most future-proof NFT exchanges. Because of its breadth and scope, this marketplace can provide exclusive collaborations and events that others may be envious of.
Accessing the marketplace is significantly easier if you have Binance tokens, and you can bid in ETH, BNB, and BUSD.
https://www.binance.com/en/nft/home
13. Async Art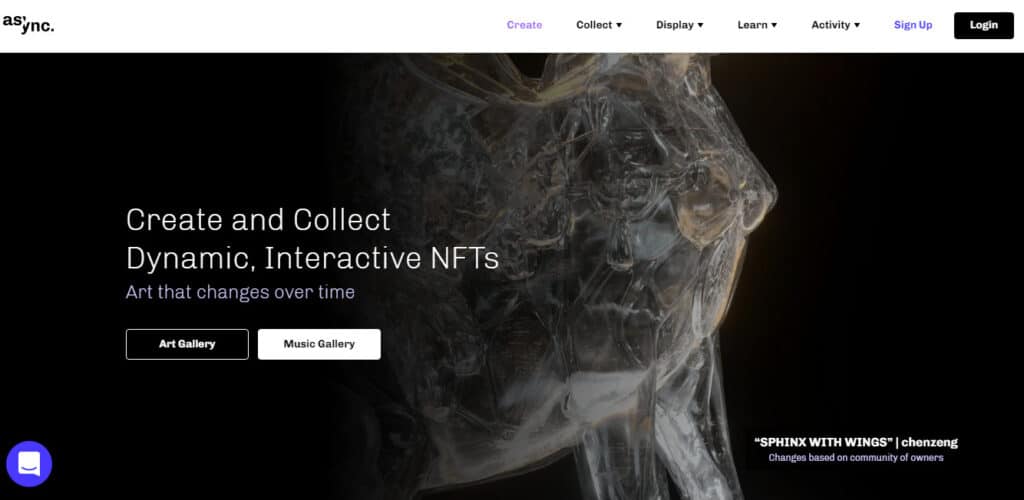 Async Art is an NFT marketplace that specializes in 'programmable art'. Each work of art is made up of a Master and Layers; the Master is the entire NFT, while the Layers are individual elements that can be changed. 
Everything is 'Tokenized,' which means that different artists can own different levels and contribute to the artwork's evolution.
Programmable art is at the vanguard of digital art, allowing different producers to edit an artwork over time. Blueprints, a new platform from Async Art, allows artists to develop generative projects in the manner of Bored Apes.
14. Zora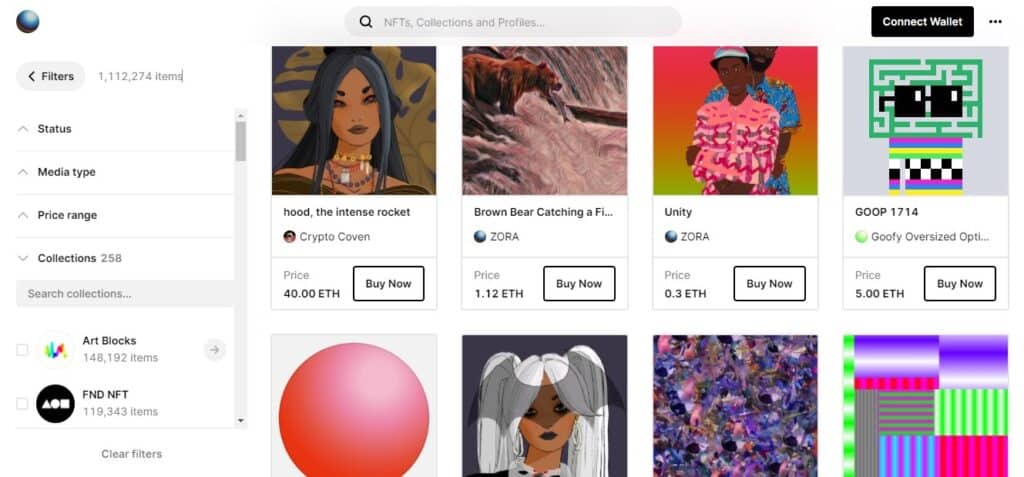 Zora began as an invite-only platform for artists, akin to Foundation, but has subsequently evolved into an open marketplace open to anyone.
Zora is a simple-to-use marketplace with eternal bids, allowing anyone to bid in any currency. Its goal is to give artists and creators more control and ownership over their work.
This market has developed into a good arena for music NFTs and a platform that connects the physical and digital worlds. RAC's Boy record on cassette was auctioned off digitally and physically by Zora.
In this vein, Zora is emerging as a destination for actual things sold by super-fans, such as Nike designer Jeff Staple, who sells limited-edition sneakers on the site.
15. Cargo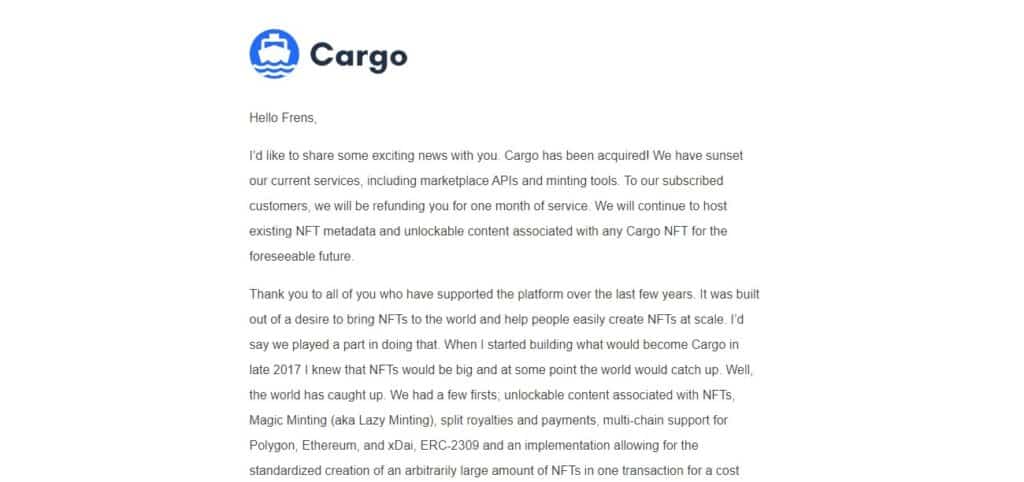 Cargo will attempt to be a one-stop solution for NFTs if you need to generate, show, manage, buy, or sell NFT cards, blockchain gaming products, secure tickets, and other important items for your business or project.
One of the best NFT marketplaces, Cargo, has an API that allows you to interact with it through your application.
It's a sophisticated, user-friendly platform that can handle 15 accounts and split payments. Cargo had a governance token called Cargo Gems, just like the other digital marketplaces.
15. Portion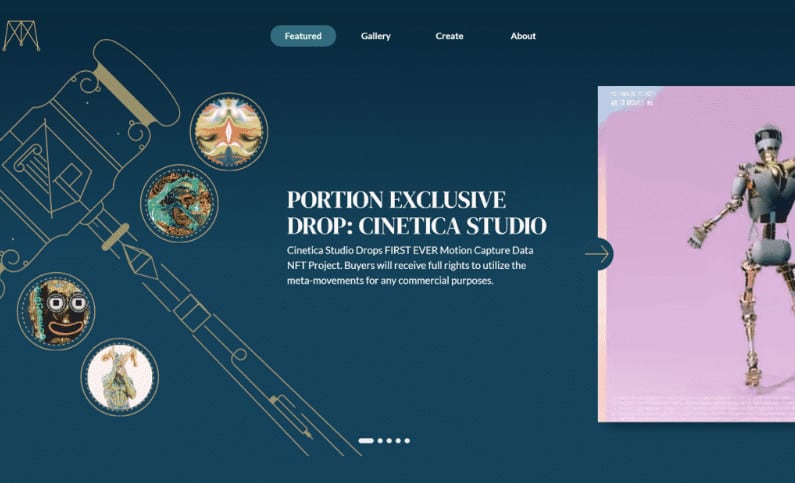 The portion is a decentralized worldwide community of artists and creators that allow anyone to buy, sell, store, and trade their art and collectibles with complete transparency.
Portion's inclusion in the finest NFT marketplaces is because it allows any user to be a collector.
The software allows you to easily manage digital and physical collections of various arts and collectibles in one location.
This makes exchanging crypto for collectibles and digital art a breeze.
New coins were distributed for artist grants, liquidity mining, potential partnerships, and team members on the digital platform.
Furthermore, when digital artists develop new Non Fungible Tokens, these tokens are also given. At the moment, each NFT costs more than 500 PRT.
16. BakerySwap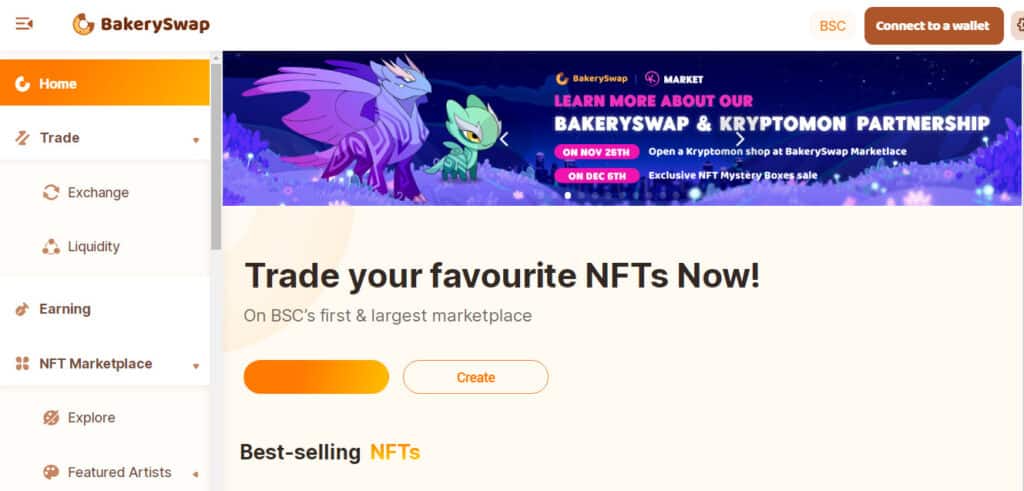 BakerySwap is a Binance Smart Chain decentralized exchange and automated market maker. NFT cards are available to trade, purchase, and sell in the marketplace.
It also organizes digital exhibitions, NFT games, and meme competitions in addition to NFT cards. Users can use these features after paying for them with BAKE tokens.
This platform makes it simple to earn BAKE tokens. All you have to do is incorporate NFT into your 'combo meals'.
You may also mint and sell your artwork for a profit simultaneously. One of the most efficient methods to acquire BAKE tokens on this marketplace is to use the 'Bread' pool feature.
https://www.bakeryswap.org/#/home
17. Myth Market
The digital marketplace supports various digital trading card brands. Heroes.Market(for Blockchain Heroes trading cards), GPK.Market(for digital Garbage Pail Kids cards), Shatner.Market(for William Shatner memorabilia), GoPepe.Market (for GoPepe Trading cards), and KOGS.Market are just a few of the featured marketplaces.
The platform has the potential to become one of the greatest NFT marketplaces for selling Non Fungible Tokens.
18. NFT Showroom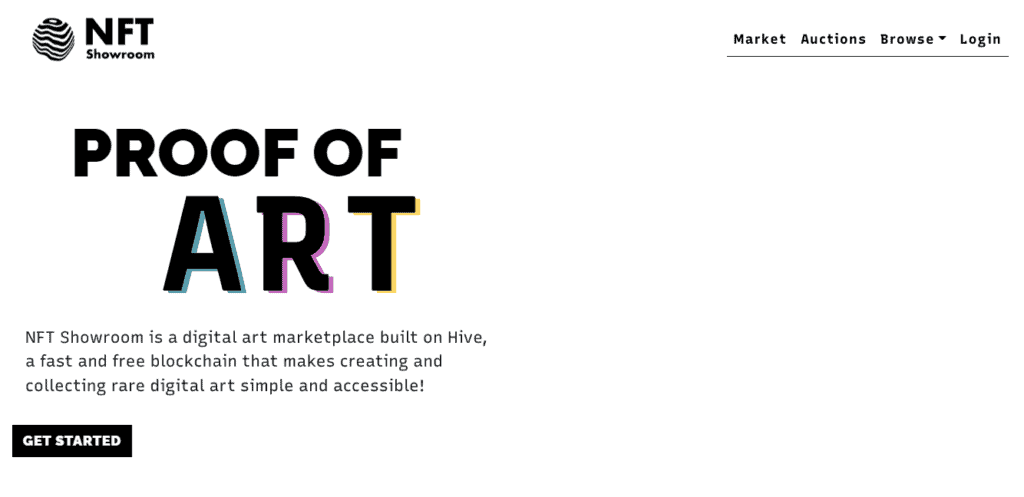 The digital platform is built on one of the fastest and free blockchain technologies making all creations accessible.
The marketplace is built on Hive. The most excellent aspect of the NFT Showroom is that it features various art styles and levels of expertise.
Every artist can get a 5 percent commission on every secondary sale. However, the platform charges a 10 percent commission every time an artist buys their art for the first time.
It serves as an affordable alternative for digital artists and collectors. The only thing a user needs to do is register their account on Hive.
19. Enjin Marketplace
The marketplace offers Enjin-powered blockchain projects from its extensive game catalog, such as The Six Dragons, the Multiverse, the Age of Rust, etc. In addition, several games additionally provide incentive systems such as community-created collectibles, Microsoft's Azure Heroes, and Non-Fungible Token hosted by Binance and Swissborg. 
Enjin Marketplace is regarded as one of the leading NFT platforms for developers to sell Non-Fungible Tokens.
Unlike other platforms, it enables you to find and exchange many types of digital assets, amongst which you can choose any.
You would be delighted to know that this platform has facilitated 43 million Enjin Coins spent on digital assets, and 2+ billion NFTs have been transacted.
Another exciting aspect about Enjin Marketplace is that it facilitates the listing and purchasing collectibles and gaming equipment.
20. AppDupe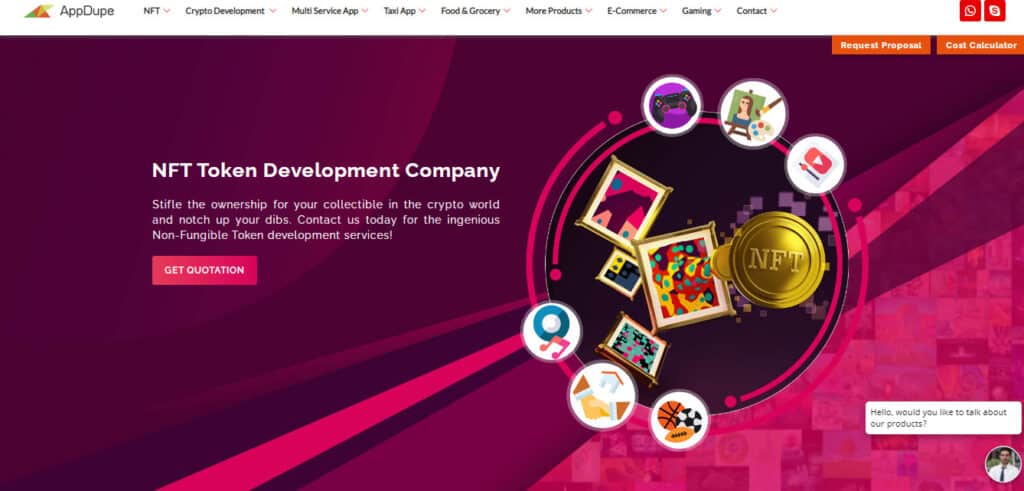 In the realm of NFTs, it is impossible to avoid hearing about the number one company engaged in providing top-notch NFT marketing services to inventors.
They offer a wide range of marketing services for NFTs and digital collectibles. They develop cutting-edge marketing tactics to reach the target audience with the help of a robust team of specialists.
They want to boost your NFT-based business by improving online traffic and conversions.
They use a variety of campaigns as a top NFT marketing firm to assist you in reaching your target demographic.
This name should be considered while choosing the leading NFT marketing business.
21. NinjaPromo
NinjaPromo is a provider of B2B NFT marketing services. Content marketing, social media marketing, influencer marketing, and email marketing are among the marketing tactics their NFT marketing services listed.
They also help influencers promote your NFT collections by persuading them to do so.
22. Lunar Strategy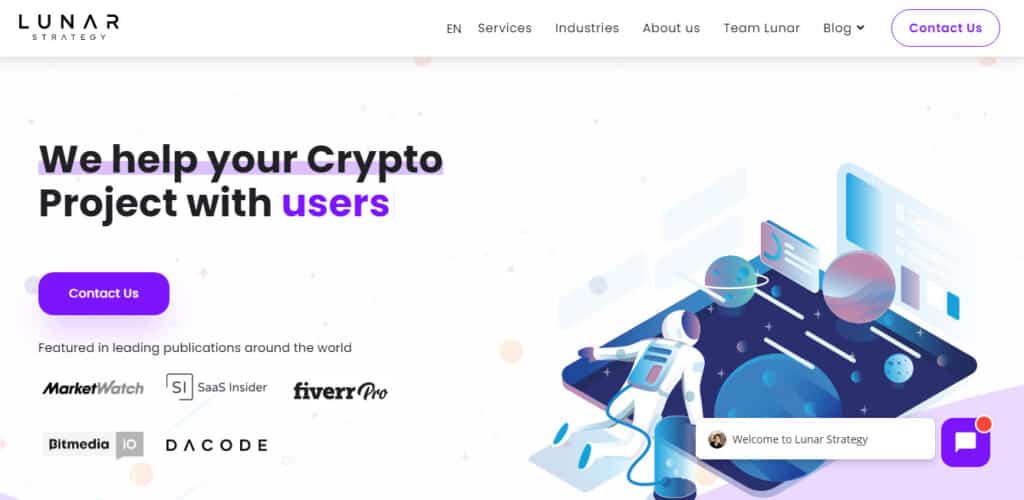 This is a premier crypto marketing firm specializing in cutting-edge methods for promoting NFT collections.
It also has set records for assisting businesses in making large profits from the sale of NFTs to consumers.
Having a solid presence on the internet platform is critical in today's world. The moon strategy takes this extremely seriously, aiming to establish a powerful brand in the NFT arena.
Their sophisticated techniques will enable you to advertise your NFTs to large audiences worldwide.
https://lunarstrategy.com/nft/
23. Chaincella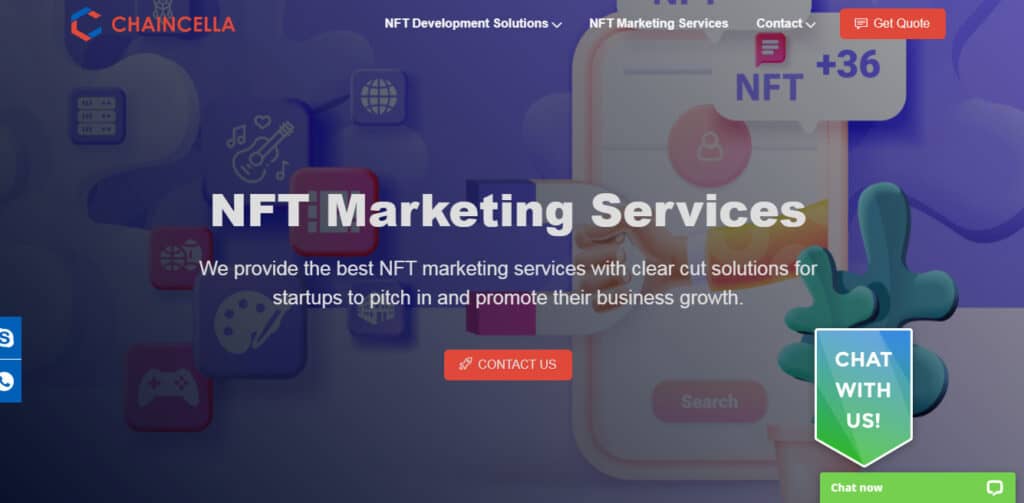 It is a blockchain development company that was one of the first. They take the lead in promoting the NFT digital collectibles and enterprises in the NFT venture, as they have more knowledge and competence in blockchain technology.
They offer their assistance in promoting your NFTs based on your business needs. Their uncomplicated method will aid in enhancing your NFT marketplace's market awareness.
Focusing on social media advertisements, PR, content marketing, building interactive sessions with influencers, and email marketing are their top marketing ideals.
When choosing an NFT marketing firm, this company should be at the top of your list.
https://www.chaincella.com/nft-marketing-service
Conclusion
NFTs are the newest internet fad, and everyone is amazed that so many people are willing to pay for digital art, whether they are buyers, artists, or merchants. 
As a result, it can be argued that NFTs have experienced tremendous growth in a relatively short period.
Similar Posts: