The Solana blockchain provides significant advantages in terms of cryptocurrency investment and transactions.
With a speed of 50,000 transactions per second, the Solana platform tracks transactions with Proof-of-History technology. Solana is a platform that enables the scaling of blockchains and provides intelligent contracts.
You can use this platform to access Coinbase, Binance, and Bilaxy exchanges. Solana, one of the most popular blockchains, is innovative and secure at the same time.
Using Solana, you can manage crypto funds with great Hardware Wallets and conduct NFTs, DeFi, and Stakes.
Below are the Top 12 Solana NFT Wallets:
1. Phantom Wallet – Web Wallet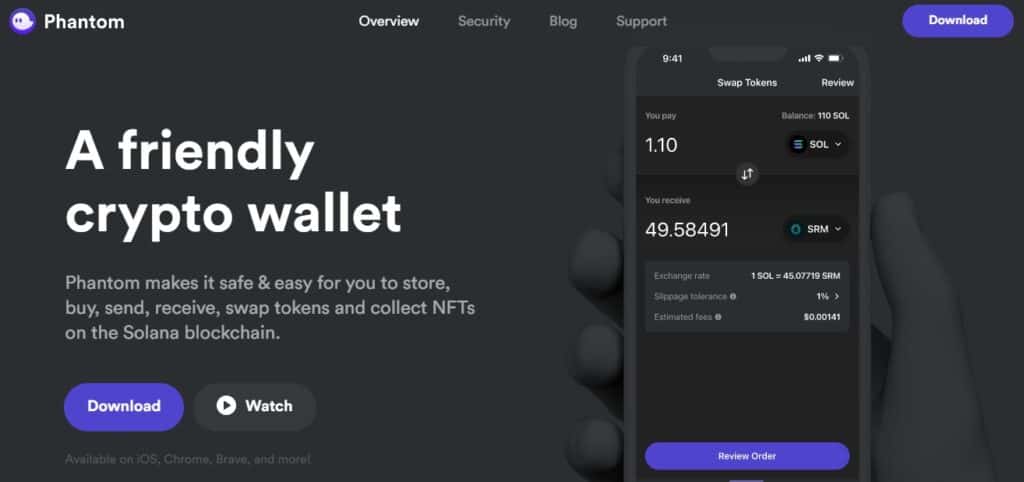 This NFT wallet resides in the Google Chrome toolbar as an extension, making it convenient to access. Because of its simplicity and broad functionality, Phantom has fast become one of the most popular Solana wallet options.
This easy-to-use app not only lets you access your SOL but also includes tools for viewing your NFT collection.
It also supports SPL tokens, which means you'll have full visibility of your tokens should you wish to swap USDC tokens for SOL or participate in Solana's exciting world of DeFi and DApps.
With the Phantom wallet, staking is also supported natively, so it is a simple matter of clicking a button and beginning to earn rewards.
Furthermore, they highlight the most popular validators first, which helps large validators accumulate stakes and hinders efforts to decentralize the network.
In conjunction with your Ledger Nano X wallet, this is one of the best and safest browser extensions.
Having these two products together provides one of the most secure options for digital wallets available.
A Phantom Wallet is an excellent addition to the Ledger Nano X, providing you with total security and safe access to all the features and DApps of the Ledger Nano X.
2. Sollet – Web Wallet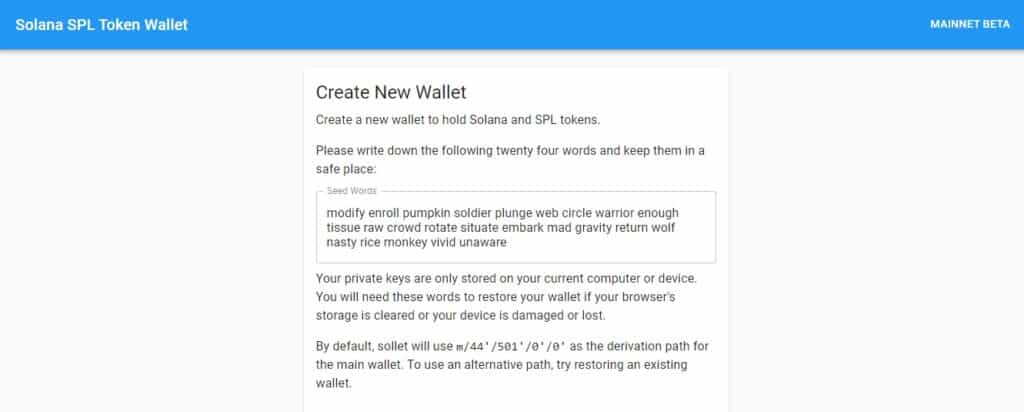 This web-based Sollet NFT wallet is easy to access and use for managing SOL and connecting your Ledger Nano X hardware wallet.
Due to its web-based nature, it's easy to access from anywhere, so some users might find it attractive, even if there are inherent security risks.
Sollet can be used to switch between SPL tokens and SQL tokens, though it is not recommended as a direct route to Solana Dapps without a Ledger hardware wallet.
This may be due to a problem with the Sollet browser extension. Nevertheless, ledger and Sollet are ideal for interconnecting various Solana transactions and excellent integration.
3. Ledger Nano X – Hardware Wallet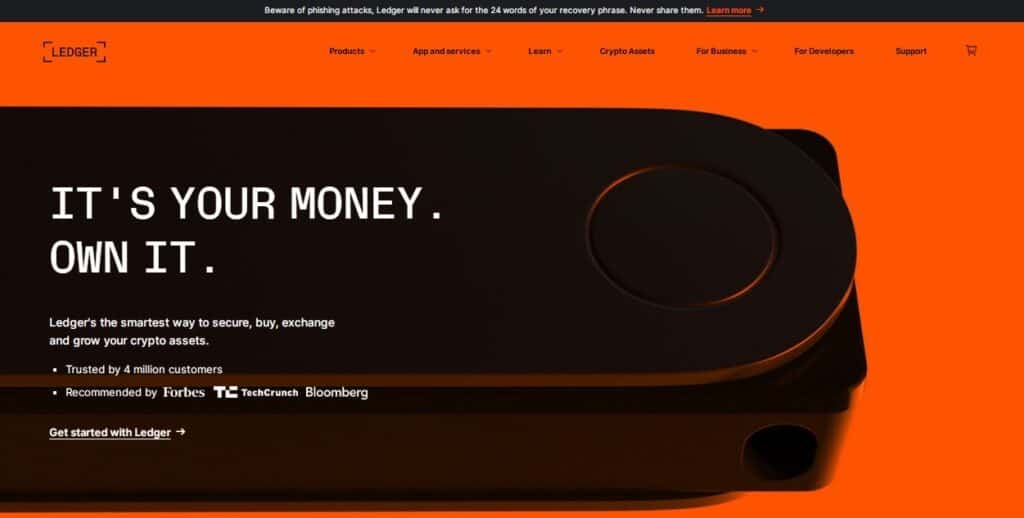 The Ledger Nano X Hardware NFT Wallet is one of the most popular crypto wallets on the market, and it's easy to use, hence its popularity.
You can hold your Solana crypto funds safely with this solution while taking advantage of the Dapps developed on the blockchain.
Furthermore, this wallet is one of the easiest ones to install, and you'll find Ledger Live a valuable companion app for communicating between Ledger Nano Xs through the Manager interface.
Moreover, this simplifies the installation process for the Solana app, which is available in the app catalog.
It may be slightly more expensive than other Solana compatible crypto wallets, but SOL's high level of security and safety makes the Ledger Nano X an excellent investment.
It is one of the most secure hardware wallets for staking, NFT, and Defi and has many features that aren't available in other wallets.
4. Solflare Wallet – Mobile Wallet And Web Wallet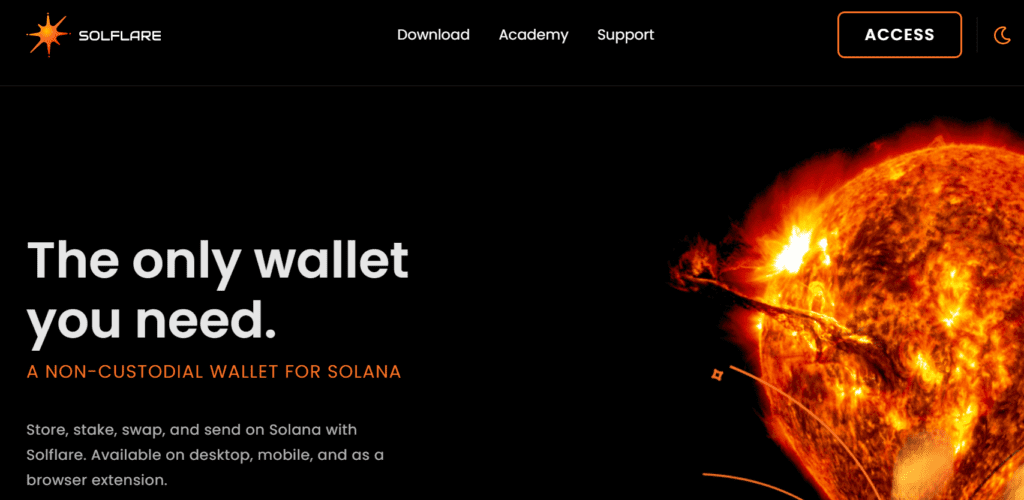 Solflare offers excellent security with the Ledger NFT wallet and is a relatively easy web-based wallet to install.
It has a great browser extension, and it is one of the best wallets for both desktop and mobile devices. The wallet is ideal for swapping, staking, storing, and sending SOL, which is compatible with Solana and viewed as a "one-stop-shop" for investing in cryptocurrencies.
Using the service is also a good option for anyone new to cryptocurrencies or seeking a non-custodial, non-fiduciary, and NFT-friendly service.
5. Math Wallet – Web Wallet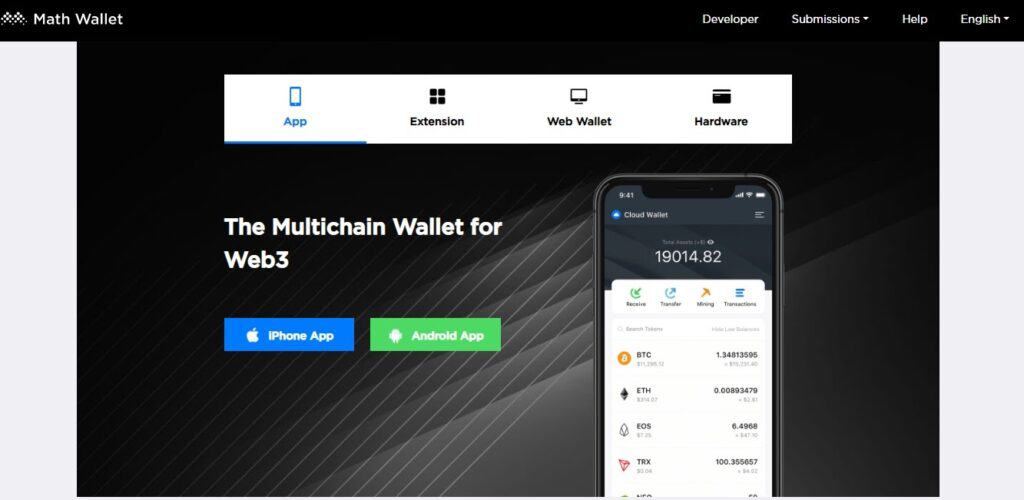 This option is compatible with desktop and mobile browsers and functions as an extension. Math Wallet's interface supports more than twenty blockchains, allowing you to switch between them to process transactions easily.
In addition, this digital wallet supports mobile devices such as Android and iOS, and it is also compatible with a Chrome extension.
You can use the Google Chrome extension to explore and interact with many decentralized exchanges such as DEXs and connect to Solana DApps and use Ledger hardware.
6. Trust Wallet – Mobile Wallet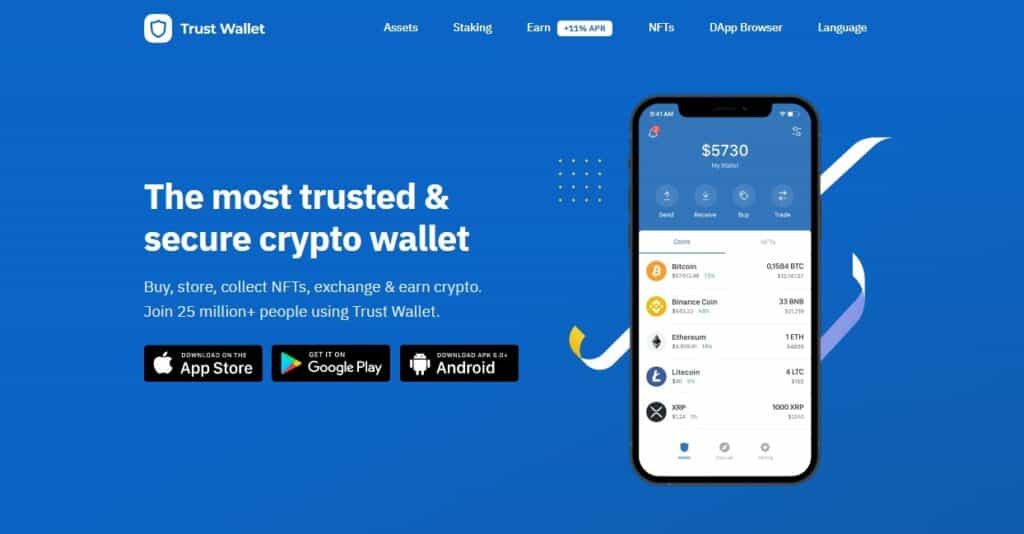 Trust wallet allows SOL coins and tokens to be received and sent from Android and iOS devices. It's renowned as a mobile wallet and can easily be downloaded to your device and connected to the Solana system.
In addition, the network can show you real-time statistics and metrics, and you can search the blockchain with ease.
This wallet is accessible via Google Play and iOS and is easy to download, making it easy to use for making transactions.
7. Exodus Wallet – Mobile Wallet
Exodus is a good choice if you are looking for a multicurrency wallet with support for SOL.
The cryptocurrency wallet is available for many operating systems and devices, including Linus, Mac, Windows, iOS, and Android.
Staking Solana can earn you approximately 6% passive income per year, but it doesn't offer a wide choice of validators, hindering decentralization.
The Exodus wallet allows you to send and receive SOL cryptocurrency rapidly. It is an excellent wallet option to consider if you want to trade, send, or receive crypto funds in SOL or other currencies.
8. Atomic Wallet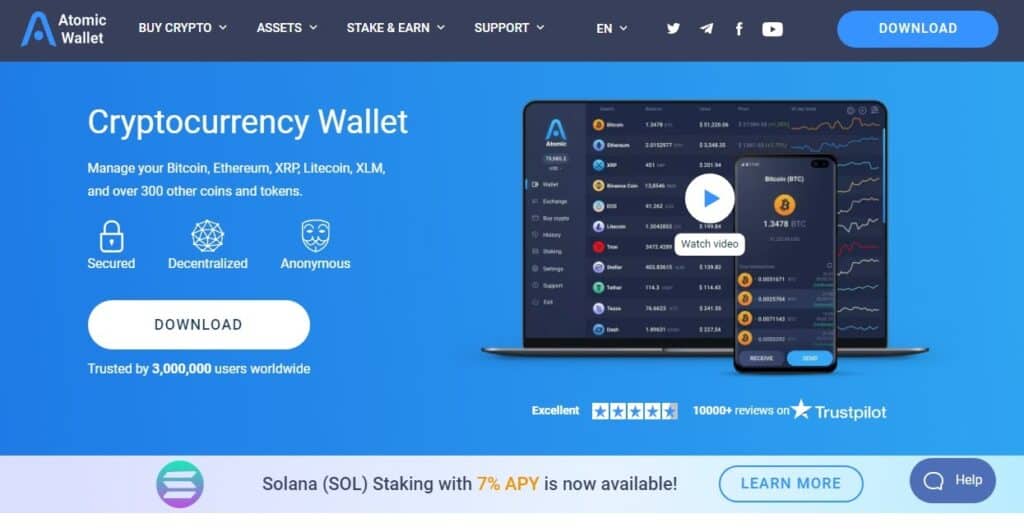 Atomic wallet can be installed on both desktop computers and mobile devices.
Many different operating systems can be used with this wallet, including Ubuntu (Linux), iOS, Windows, Mac, Fedora, and Android.
The Android wallet provides easy access and management of Solana while earning 7% annually as a stake.
A significant feature of Atomic is accessing and trading over 300 different cryptocurrencies. Wallets for Android and desktop may differ in their features, with some not as accessible as those for desktop.
In general, this product is ideal for transferring coins and cryptocurrencies across multiple blockchains, including the Solana blockchain.
9. Coin 98 – Mobile Wallet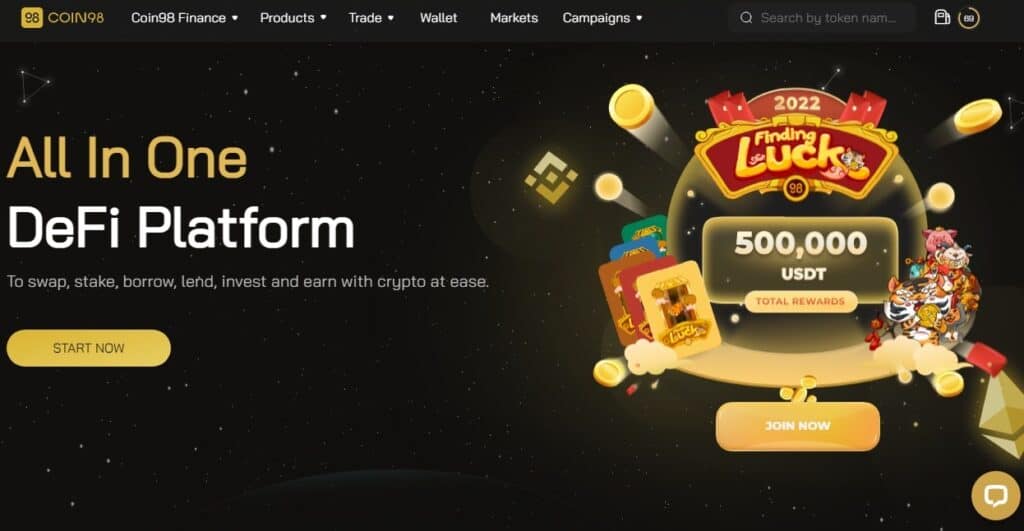 The Coin 98 NFT wallet is compatible with Android and iOS devices, and you can use it as an extension on Chrome. Coin98 is very easy to use, functioning as a browsing tab for Solana DApps.
Users can switch between networks and build Dapps using Coin98. The wallet's website is easy to use and lets you learn about its features.
It is often called the "gateway" to decentralized finance (Defi). With Coin98, you'll be able to open multiple tabs simultaneously, enabling you to explore and use multiple networks at the same time.
Beginners and novice cryptocurrency investors alike will enjoy this wallet.
10. Slope
Slope is the first non-custodial NFT wallet offered across all platforms in Solana. With the slope wallet, both Solana wallets and Ethereum can be accessed in a few seconds.
The slope wallet allows users to store both Ethereum and Solana assets in a single click. A world-class set of investors such as Solana Capital, Sequoia, Spartan, and NVC Venture all support the slope as the best mobile decentralized exchange and wallet in the world.
Using Slope Wallet, artists and creators can create their own NFTs and launch self-hosted NFT stores.
Solana's slope wallet is available as a Chrome extension and can be used on iOS and Android platforms. The slope is the best cross-platform Solana wallet.
11. Clover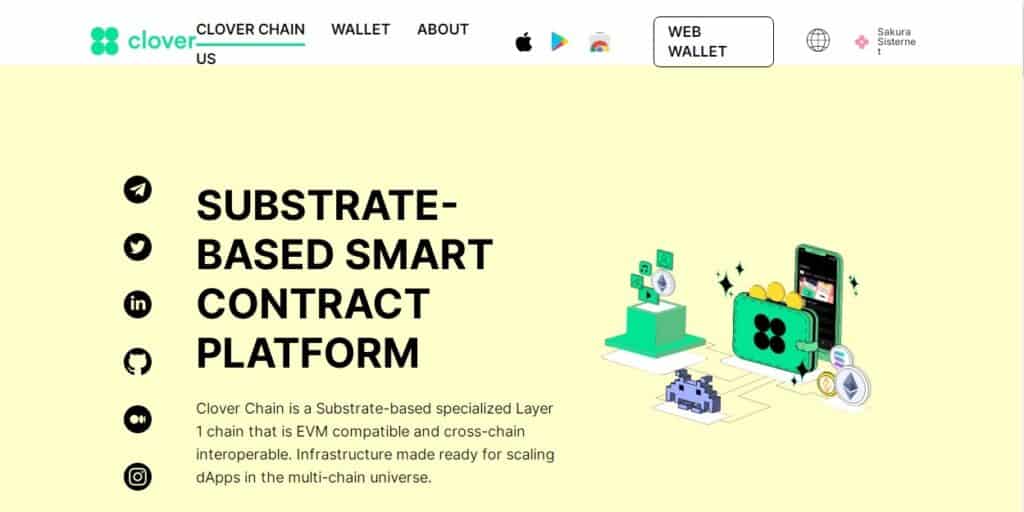 12. Zelcore – Mobile Wallet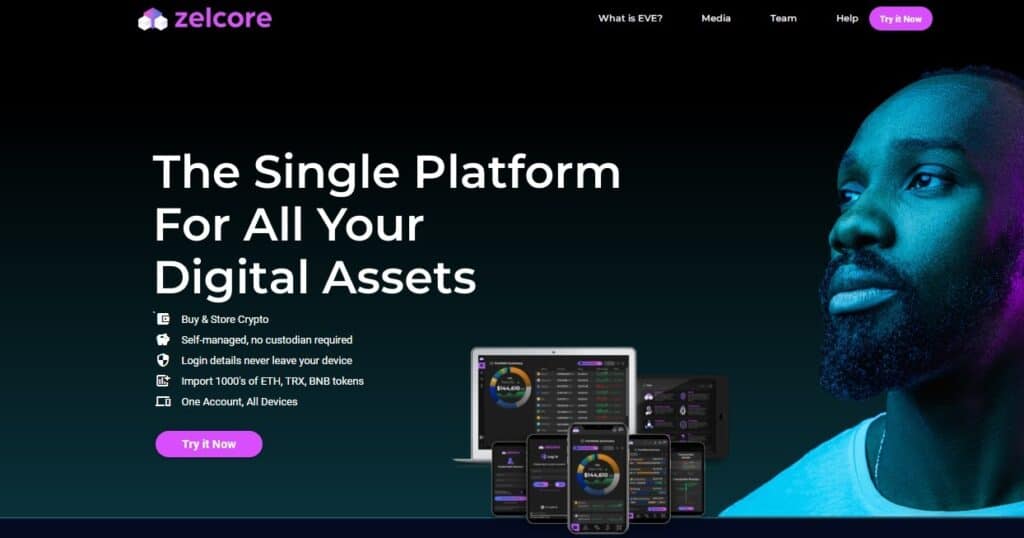 The Zelcore wallet supports all Solana tokens and can hold both SOL and other cryptocurrencies simultaneously.
Using Zelcore, you will store each asset individually using three discrete addresses. It supports over 270 cryptos, including SOL, ETH, and BTC.
Zelcore, including Android and iOS, supports mobile and desktop devices. Users can easily connect all their Dapps through a single browser tab using a custom adapter based on Sollet.
Its flexibility and ease of use make for a great choice for users who want to stake operations on Solana.
Similar Posts: