India is a tech-savvy nation. It is home to over a billion mobile phone users, and this number is expected to grow.
India is becoming a hot market for app development; it is the world's third-largest, accounting for over 15% of global downloads. 
India is home to some of the world's most well-known and talked-about mobile apps. While there are millions of apps in the market, we combined the list of the Top 10 Apps in India.
Top 10 Apps In India
India has various applications such as taxi booking applications, online shopping applications, educational apps, medical apps, etc. These Indian Based mobile Apps are available in the Android Play Store and the iOS Store.

Owner: One97 Communications Ltd.
Category: Finance
Downloads: 100 M+
Google Rating: 4.6
iOS rating: 4.7
User base: 350 M+
The Indian Payment technology company Paytm is the leading online payment system that provides digital payment, e-commerce, and financial services. The company was founded in  August 2010 by Vijay Shekhar Sharma, who is also serving as the CEO of Paytm. 
In 2016, Forbes awarded Paytm with the Outstanding Startup of the Year Award. The payment conglomerate is backed by Ant Group, SoftBank Vision Fund, SAIF Partners, Alibaba Group, and Berkshire Hathaway. 
The company has also set up its foot in Canada and Japan. 
Other services provided by Paytm are:
Paytm Mall
Paytm Payments Bank
Paytm Money
Gamepad
Paytm Smart Retail
The Indian unicorn startup is looking to launch its IPO by the end of 2021. The mobile application is available for all operating systems: Android, iOS, and Windows.
On September 8, 2020, Google removed the Paytm mobile app from its app play store. Paytm was accused of violating Google Play Store policies. 
2. PhonePe: Recharge & Investment

Owner: Flipkart
Category: Finance
Downloads: 100 M+
Google Rating: 4.4
iOS rating: 4.7
User base: 250 M+
The Bangalore-based digital payment system, PhonePe is among the top apps in India. PhonePe was founded in December 2015 by Sameer Nigam, Rahul Chari, and Burzin Engineer. The application works on UPI (Unified Payments Interface).
It is powered by Yes Bank. PhonePe provides digital payment, e-commerce, and financial services such as fund transfer, mobile and DTH recharge, utility payments, pay at shops, investments in mutual funds and gold, ticket booking. 
The startup was awarded UPI Digital Innovation Award from NPCI in 2018 and SuperStarUp Asia Award in 2018. PhonePe is recognized and licensed by the Reserve Bank of India.
PhonePe is owned by the Indian e-commerce company Flipkart. 
The app is available for every operating system in more than ten languages. It has partnered with Axis Bank, ICICI Bank, and Yes Bank to provide the best UPI services to the customers.  
Read Next: Best Small Business Ideas In India

Owner: Zomato Media Pvt. Ltd.
Category: Food & Drink
Downloads: 100 M+
Google Rating: 4.3
iOS rating: 4.6
User base: 100 M+
Zomato is a multinational food delivery company working in more than 24 countries. Zomato was founded by  Deepinder Goyal and Pankaj Chaddah in 2008. The company is known for its customer support services and its marketing prowess. 
Zomato has expanded its business across the country and internationally. It operates in the United Arab Emirates, Sri Lanka, Qatar, New Zealand, Turkey, Brazil, Indonesia, and other American and western countries. 
Zomato also owns Zomato Market, a grocery delivery service that was launched in 80+ Indian cities. It was created to meet the growing demand for groceries online amid the COVID-19 pandemic. 
Recently, on July 23, 2001, the company opened its IPO at Rs 72-76 per Share. Zomato was appreciated for its "period leave policy" in August 2020. The policy allows female employees to take as many as ten days off each year if they cannot work because of menstrual cycle effects. This policy also involves transgender workers.
Zomato is a conglomerate startup that has acquired more than 12 startups globally. It has acquired businesses including Menu-mania, lunchtime.cz, Gastronauci (a Poland-based restaurant chain),  Uber Eats, Grofers, and many other startups.
4. Gaana Music – Songs & Podcasts

Owner: TImes Internet
Category: Music & Audio
Downloads: 100 M+
Google Rating: 4.3
iOS rating: 4.0
User base: 185 M+
Gaana.com is India's most popular music streaming site. Gaana has more than 200 million users monthly. Gaana has millions of music audios available in 21 languages, including English and other Indian languages.
The app is available for all operating systems: Android, iOS, and windows. Gaana offers a premium account that costs around ₹ 99 per month for Indians and $ 3.99 per month for non-Indian users.
Prashan Agarwal founded Gaana.com in April 2010. Gaana has partnered with more than 79 music labels and rights of more than 45 million songs.
In October 2015, Micromax acquired Gaana. Tencent has also invested $5 million in the company. Gaana owns a short-video platform named HotShots. 
Gaana provides a voice assistant feature and a feature to make a public playlist for the audience.
Read Next: Best Profitable Franchise In India

Owner: Gametion Technologies Pvt Ltd.
Category: Gaming (Board)
Downloads: 500 M+
Google Rating: 4.2
iOS rating: 3.9
User base: 150 M+
Ludo King is an Indian mobile gaming application. It was developed by Gametion Technologies Pvt Ltd., owned by Vikash Jaiswal. The application is available for Android, iOS, Windows operating systems. Ludo King is a digital adaptation of Ludo, an Indian board game.
Ludo King was released on the Apple App Store on February 20, 2016. In 2020 it remained No.1 on the Apple App Store's and the Google Play Store's Top Free Games Section.
It is the first Indian game app to reach 500 million downloads. Ludo King can be played in 30 countries and is available in 14 languages.
This game's objective is to move four tokens from the beginning point on the board to the middle or "home" of the board, and the first player to reach the center or "home" will be the winner.
Ludo King offers four modes, Player vs Computer, Pass and Play, Online Multiplayer, and Private Multiplayer. These modes allow you to play with your friends in private rooms.
The Player vs Computer mode allows the player to play offline against the AI. In Local Mode, players can play together offline.
Online Multiplayer lets users play with other players online, but they have no control over their opponents. Private Multiplayer allows players to play with multiple online players and choose the other players. The online multiplayer mode will enable players to play with six different players.
6. Ola, the top ride-hailing app 

Owner: OLA Cabs
Category: Maps & Navigation
Downloads: 100 M+
Google Rating: 4.1
iOS rating: 4.6
User base: 200 M+
OLA or Ola Cabs is an Indian ridesharing company headquartered in Bengaluru, Karnataka. Softbank backs OLA, it has more than 75% market share in the ridesharing business. 
Bhavish Aggarwal and Ankit Bhati founded OLA on December 3, 2010. It aimed to increase its roots in the food delivery market with the acquisition of food tech company Foodpanda India. 
Ola expanded into Australia in January 2018 and New Zealand in September 2018. Ola launched its UK operations in March 2019 by introducing auto-rickshaws to the UK. Before its launch in London, more than 10,000 drivers applied online and offline. Ola launched its taxi-hailing service in February 2020 with more than 25,000 drivers.
Other services provided by OLA are:
Ola Electric Mobility
OLA Auto
OLA auto was started to incorporate "rikshawalas" in OLA services.
Ola Electric Mobility focuses on charging solutions, EV batteries, and infrastructure for Electric Vehicles. 

Owner: The Times Group
Category: Video Players & Editors
Downloads: 500 M+
Google Rating: 4.2
iOS rating: 4.6
User base: 200 M+
MX Player is an Indian video streaming and over-the-top platform. It is used by more than 280 million people worldwide. It currently works on an ad-supported basis and offers streaming content of more than 150,000 hours.
The OTT content is available in more than 12 languages, including English, Hindi, and Tamil. It's available for iOS, Android, and the web.
Times Internet purchased a majority share in MX Player for $140 Million in 2018.
MX Player raised $110.8 Million in October 2019 from Tencent, a Chinese conglomerate. Karan Bedi founded the company.
MX Player was developed as a video player application. Later, the application was integrated with online video streaming, audio music, and real-time video games. 
MX Player launched its OTT service in selected markets in March 2020. MX Player's short video app "MX TakaTak" was launched in July 2020 after the TikTok ban. App has over 70 million users as of January 20, 2021.
The Times Group now owns the application. OTT services have partnered with film studios like Sonar Entertainment, Screen Media Films, and Goldmine. It partnered with Ullu App and other studios to provide adult content.
Read Next: Best MLM Companies in India
8. Flipkart – Online Shopping App

Owner: Walmart
Category: Shopping
Downloads: 100 M+
Google Rating: 4.3
iOS rating: 4.6
User base: 250 M+
Flipkart, an Indian e-commerce company, is headquartered in Bangalore in Karnataka, India. Initially, the company started selling books online, but it soon expanded into other product categories, such as fashion, home necessities, groceries, and consumer electronics.
Flipkart has a significant share in India's online-commerce market. The company holds a dominant position within the garments sector, thanks to its acquisition of Myntra.
Flipkart has also acquired PhonePe (a mobile payment service that uses the UPI).
Walmart, an American retail chain, bought a 77% control stake in Flipkart in August 2018 for US$16 billion. The deal valued Flipkart at approximately $20 billion.
Flipkart was founded by Sachin Bansal (an IIT Delhi alumni) and Binny Bansal (ex-Amazon employee).
Their initial sales were limited to online book sales and shipping within India. Flipkart gradually rose in popularity with time. By 2008 Flipkart bought WeRead from Lulu.com, a social book discovery site based in Bangalore, 2010.
9. Myntra – Fashion Shopping App

Owner: Flipkart
Category:  Shopping 
Downloads: 100 M+
Google Rating: 4.3
iOS rating: 4.6
User base: 40 M+
Myntra is a fashion and lifestyle e-commerce platform. Indian e-commerce company Flipkart owns the company.
Myntra was founded in 2007 by Mukesh Bansal, Ashutosh Lawania, and Vineet Saxena. Initially, Mynntra started its business as an "on-demand personalized products" provider. Myntra has a large user base from Tier I and Tier II cities.
In 2015, Myntra shifted its all business from its website to its official mobile application. The company soon realized that only a "mobile app" service was not a great decision, after a few months, they revived the website.
Myntra has listed more than 500 fashion leading brands, including Adidas, Nike, Puma, Catwalk, Inc 5, Timberland, Avirate, FabIndia, Biba, and many more.
In 2014, Flipkart bought Myntra at ₹ 2,000 crores. Myntra continued its independent business under Flipkart.
Myntra's brand logo started rattling the Avesta Foundation. In January 2021, the foundation filed a case accusing Myntra of using a "naked women" logo. Soon, the company changed its logo.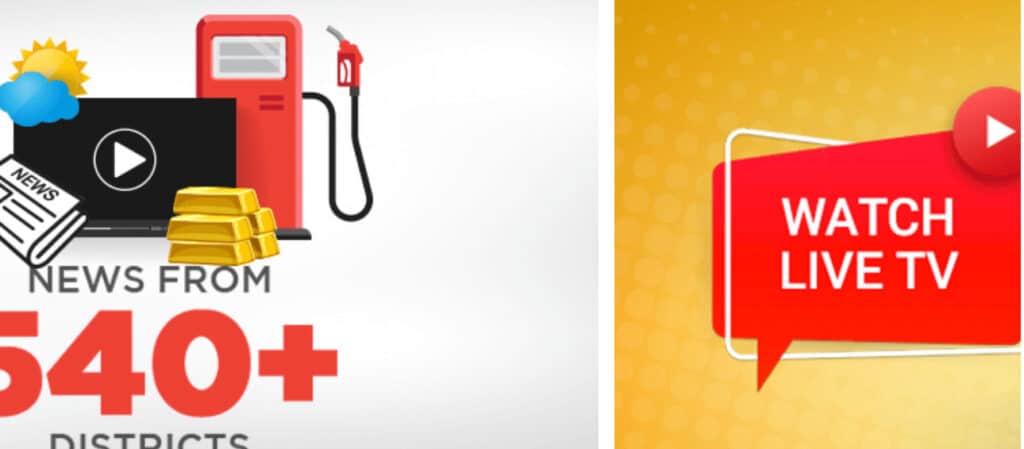 Owner: Dailyhunt
Category:  News and Magazine 
Downloads: 100 M+
Google Rating: 4.2
iOS rating: 4.0
User base: 250 M+
Dailyhunt is an Indian entertainment and news service provider headquartered in Bangalore, Karnataka. Dailyhunt was founded by Chandrashekhar Sohoni and Umesh Kulkarni. Dailyhunt is the leading content provider often seen as rivaling the likes of Facebook and Youtube in the Indian market.
Dailyhunt mobile application is available for all major operating systems, including iOS, Android, and Windows. Dailyhunt owns a short video platform named Josh that was launched after the TikTok ban by the Government of India. 
The company is backed by big names, including Bytedance, Sequoia Capital India, Falcon Capital, and Stonebridge Capital. In 2020, Dailyhunt was the associate sponsor of the Indian Premier League. 
Recently, Twitter and Dailyhunt partnered to bring content as "Twitter Moments" for the Indian audience. Dailyhunt featured a special section for "Twitter Moments" in the application.
Dailyhunt also provides original content in the form of podcasts and short-form content. For the same, Dailyhunt has partnered with Discovery Communications and Star Sports.