STEPN is a Web3 lifestyle app with Social-Fi and Game-Fi elements.
Users equipped with NFT Sneakers – walk, jog or run outdoors to earn GST, which can be used to level up and mint new Sneakers.
Player can choose to lease or sell their NFT Sneakers on the in-app Marketplace; users' GST earnings are stored in the in-app Wallet, which has a built-in Swap function.
Player can choose to lease or sell their NFT Sneakers on the in-app Marketplace; users' GST earnings are stored in the in-app Wallet, which has a built-in Swap function.
You can earn more in STEPN app by raising your level in the game.
Every time you will up your level , GST will be burn.
In this article, you will learn end to end how to play STEPN:
How To Play STEPN?
To Play STEPN, first Choose Sneaker According to your Fitness Level >> Find a Sneaker From the in app Marketplace >> Sneaker Detail Page >> Move Outwards and Earn Money >> Measure Outdoor with GPS >> Burn GST.
Steps to Play STEPN:
Step 1: Install STEPN App In Your Phone
First you have to Install STEPN app in your phone from official Website using this url.
STEPN provide both app for both Android and iPhone.
Step 2: Create Account On STEPN App
Now, Create your account on STEPN and sign up into STEPN app using email address.
Enter your email address and you will get verification code , enter this verification code into STEPN app to proceed.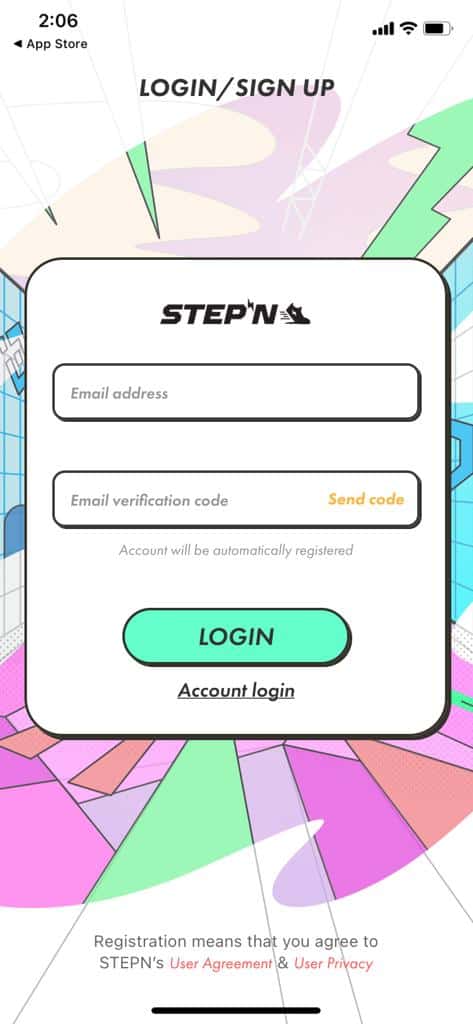 Step 3: Enter Activation Code
Enter the activation code to enter into STEPN game.
After entering Activation code , click on start button.
You will be entered into STEPN app.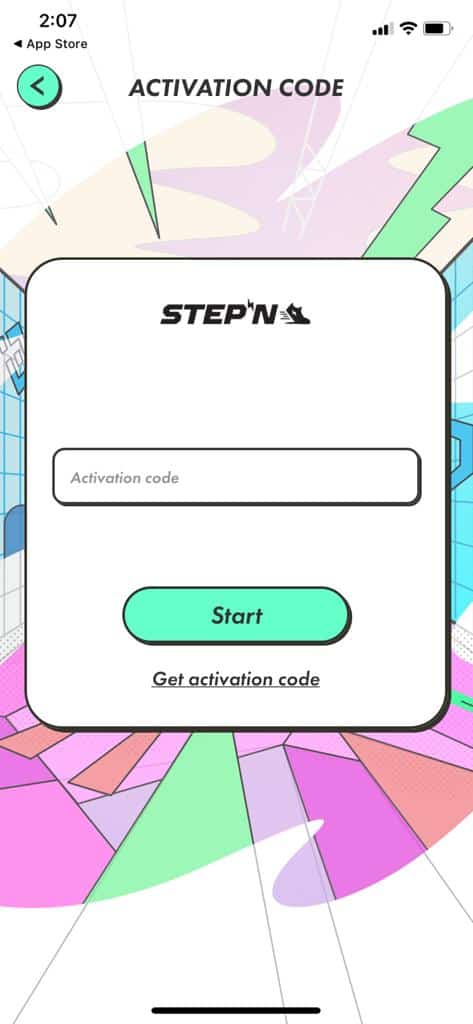 Note: if you don't have activation code then click here to get activation code.
Step 4: Choose Sneaker According To Your Fitness Level
First set your goal.
After entering into STEPN app, You will only earn money when you have NFT Sneaker and move outward with GPS.

Step 5: Find A Sneaker From The In App Marketplace
Now, find the Sneaker from the In app marketplace.
You have a filter Inside the STEPN app, when you can filter specific Sneaker.
If you want to gain higher energy level you have to more Sneakers.
Also SHOEBOX contain one Sneaker with random type and quality.
Step 6: Sneaker Detail Page
You can find full detail regarding every Sneaker.
In left top corner there is '+' sign which is high quality socket which boosts the GEM's attribute.
In top right corner , there is a diamond which increase Sneaker attribute with gems.
Also Show the quality of Sneaker (like Common, Uncommon, Rare, Epic, Legendary).
Sneaker detail page will show Sneaker attribute as below mentioned:
Efficiency: Enhance GST Earning
Luck: Enhance Mystery Box Drop Rate
Comfort: Enhance GMT Earning (At Level 30)
Resilience: Reduce Repair Cost
Step 7: Move Outwards And Earn Money
Equip your Sneaker, Move or walk outdoor, Burn energy and Earn Your rewards.
You will earn mystery boxes according to Sneaker type.
You can see in the app what is earning cap and energy cap which will increase according to level.
Means when your level up then your earning cap and energy cap will also increase.
Step 8: Measure Outdoor With GPS
When you move outdoor then your walking or moving will be tracked by GPS which will ensure you are running or moonwalking.
Also there is a anti cheating system in the app which will check like go your are moonwalking that time you are not allowed to earn.
You can change the Sneaker outdoor ion you want .
In the top right corner of the app you can see GPS signals strong or weak.
Also you can check your earning int the app and also can share to Social media.
Step 9: Burn GST
You can burn your earned GST by doing following:
By increasing your level: When your level will up, your daily energy cap and earning cap will also increase. Also will make your Sneaker more efficient.
Mint a new Sneaker to sell or keep it.
You can also swap with USDC, and withdraw your money.
STEPN Tokenomics
STEPN having 2 tokens: GST(Green Satoshi Token) and GMT(Green Metaverse Token).
GST(Green Satoshi Token) is Utility token that will be used to purchase goods inside the STEPN app.
Also, GST having unlimited supply and can also minted through game.
GMT(Green Metaverse Token) is native token or governance token which is having limited supply of total 6 Billion.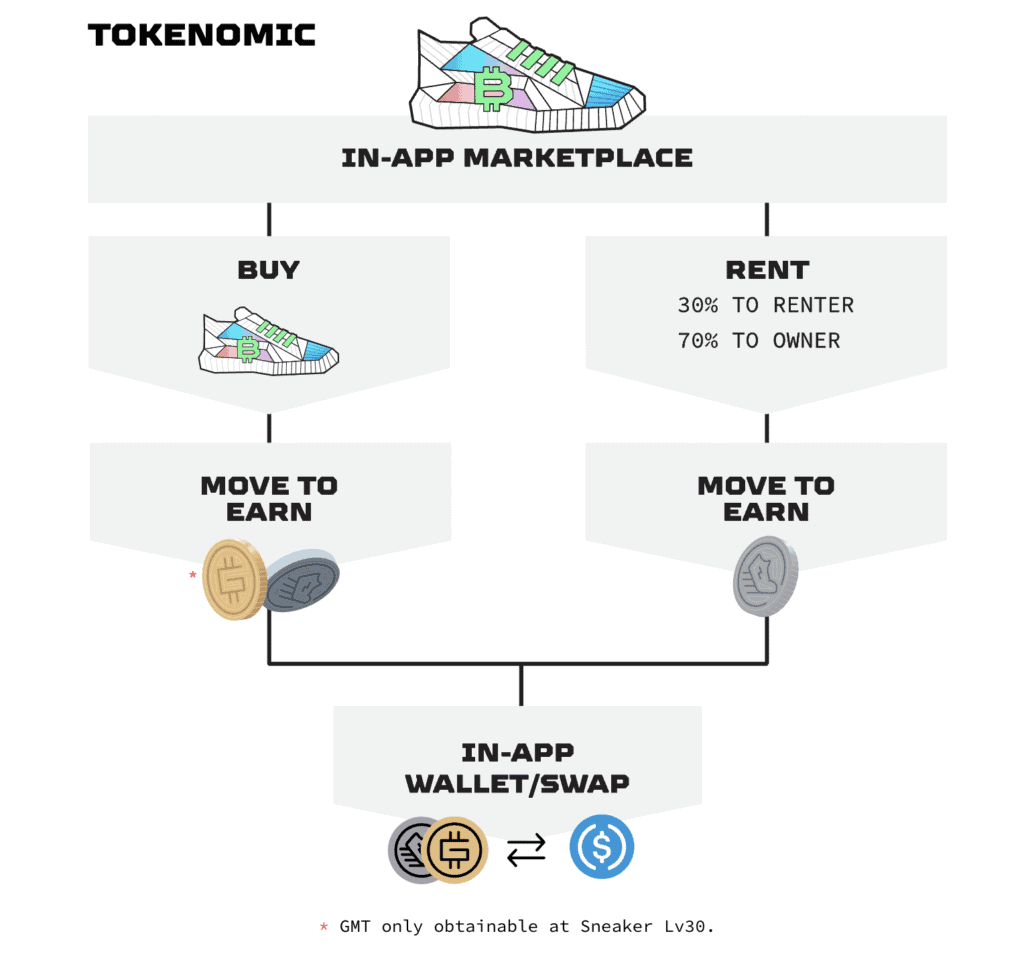 Token Distribution
| | |
| --- | --- |
| Private Sale | 16.3% |
| Binance Launchpad Sale | 7% |
| Team | 14.2% |
| Advisors | 2.5% |
| Ecosystem/ Treasury | 30% |
| Move and Earn | 30% |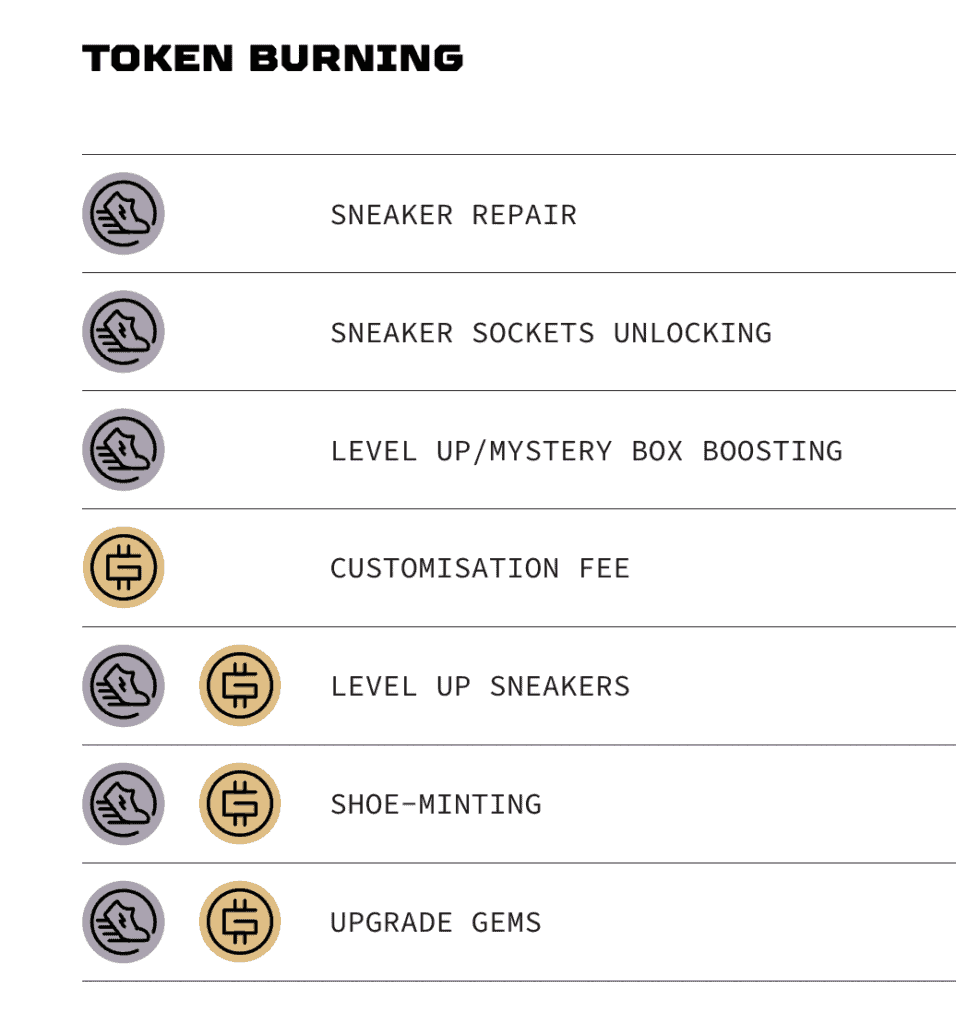 Similar Posts: