Aglet is a sneaker app that enables sneakerheads to gain digital access to sneakers that they wanted to buy eagerly but couldn't get it. It primarily includes limited or grail-level sneakers.
The application was designed by designers, including Adidas's former director of future trends, Ryan Mullins, and illustrator Dan Frebairn.
In this app, users collect virtual currency by walking in the real world, enabling them to buy their virtual sneakers.
What Is Gold Aglet?
Gold Aglet is an in-game currency, they are mainly purchased. You do, however, earn Aglet and can buy normal Aglet sneakers with Aglet.
That said, there are other ways that you can earn Gold Aglet, but they are rare. Sometimes it will be in a stash or a reward. Sometimes we also do Gold Aglet Giveaways!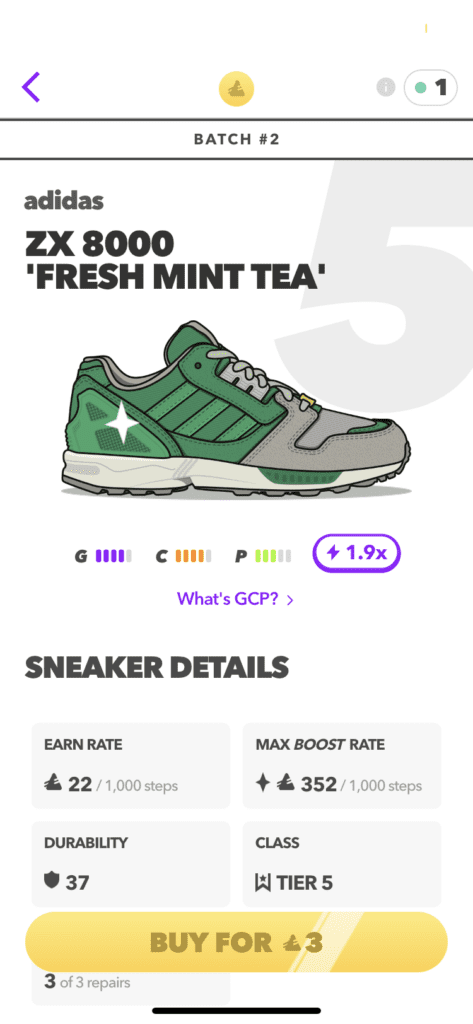 Also Read: Aglet Referral Code
How To Get Gold Aglet?
Gold aglets can be earned in two ways:
You can buy it, which is the most common or effortless method to gain gold aglets.
Sometimes you may find a gold aglet in a treasure stash, but it is very rare, so it mainly depends on your luck.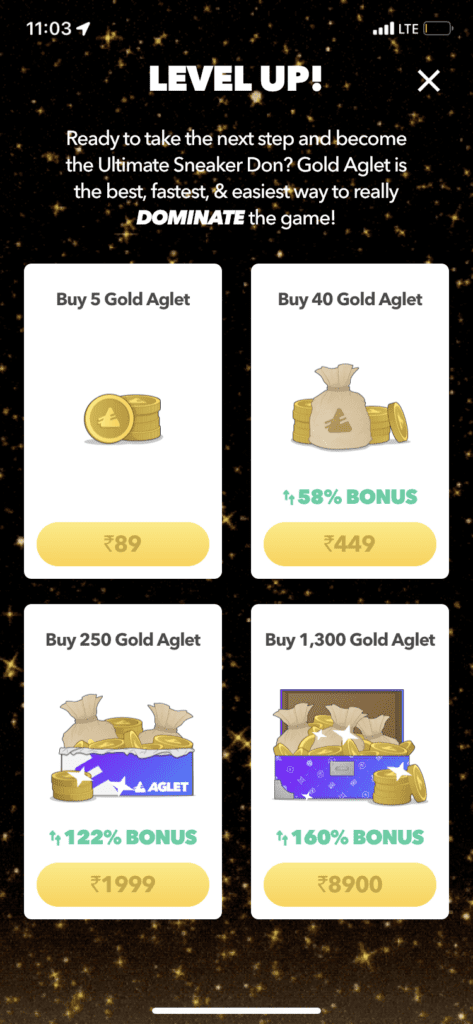 If you want to level up and want to become ultimate Sneaker Don then Gold Aglet is the best, fastest & easiest way to really dominate the game.
Aglets Vs Gold Aglets
Aglet is the currency used in the Aglets app to buy sneakers. It enables users to purchase everyday sneakers digitally and showcase them on their shelves.
You can gain these aglets by running as the app counts your steps, referring the app to your friends, or simply finding it in the stash.
Gold aglets are also a type of currency mainly purchased in the aglets game app. This may have some unique benefits regarding the purchase of sneakers.
What Do Gold Aglet Items Do?
Gold Aglet items allow you to buy sneakers. As Aglets are the currency used in the app to buy sneakers and display them on your shelves digitally.
Similarly Gold aglet items are also a type of currency that enables you to have access to the same function of buying sneakers.
The only difference is that gold aglet items are rare and can either b purchased with money or rarely found in the stash.
How To Get Free Gold Aglets?
You can get free Gold Aglets by walking the maximum steps. The more you cover the steps, the more you will get Aglets, and among them, you can receive the gold aglets.
And gold aglets can be purchased too. That is quite expensive, for getting a free gold aglet is a hefty amount of running or walking that will enable you to earn rewards.
Also you can ger free Gold Aglet By finding a Treasure Stash. Each Treasure Stash is different, but many of them contain free Aglet. Find these Stashes and boost the number of Aglet you have in your wallet.
Conclusion
Aglet application is designed for the sneakerheads to fulfill their incomplete desire of owning the grail-level, unique, and limited edition sneakers that they failed to buy in reality.
It enables users to earn and collect the virtual currency called aglets and gold aglets, which allows them to purchase sneakers and display them on their shelves.
Similar Posts: