Are you a gaming enthusiast who has encountered the frustrating message "your purchase has not been completed, your credit card information has been declined" while trying to make a purchase on Steam?
Don't worry, you're not alone. Many gamers have faced this issue, and it can be a real hassle.
In this blog post, we will explore the common reasons behind this problem and provide effective solutions to help you fix it and get back to enjoying your favorite games hassle-free.
How To Fix "Your Purchase Has Not Been Completed Your Credit Card Information Has Been Declined" On Steam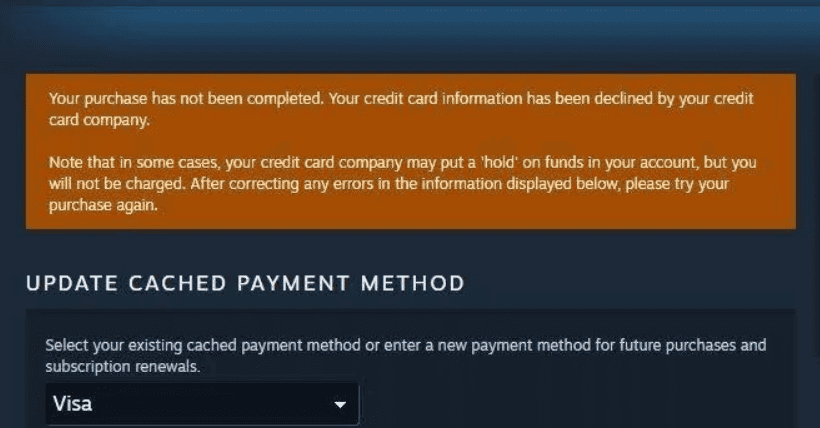 To fix "Your Purchase Has Not Been Completed Your Credit Card Information Has Been Declined" on Steam you can verify the card information, contact your bank, and purchase a Steam wallet card. Additionally, use an alternate payment method, verify account details, and retry.
1. Verify Card Information
Double-check the credit card information entered during the purchase process.
Ensure that the card number, expiration date, security code, and billing address are all accurate. Even a small error can lead to a declined transaction.
This step is crucial as inaccuracies in the card details can result in the rejection of the transaction by the payment processor.
2. Contact Your Bank
Reach out to your bank or credit card issuer to confirm that there are no restrictions or holds on your card that may be preventing the transaction.
Sometimes, banks flag certain transactions as suspicious or unauthorized, leading to a decline.
By contacting your bank, you can verify if there are any issues with the card that need to be addressed to enable successful transactions on Steam.
3. Purchase A Steam Wallet Card
If you encounter persistent issues with your credit card, obtaining a Steam Wallet card can provide a convenient and reliable way to add funds to your Steam account and make purchases without relying on the credit card that may be experiencing difficulties.
Visit a physical retailer that sells Steam Wallet cards, such as gaming stores, electronic retailers, or convenience stores.
Look for the Steam Wallet cards on display, typically available in various denominations, and select the desired value for adding funds to your Steam account.
Proceed to the checkout and purchase the Steam Wallet card, which will contain a unique activation code.
4. Use An Alternate Payment Method
Consider using an alternative payment method such as PayPal, a different credit card, or purchasing a Steam Wallet card from a physical retailer.
This can bypass any issues with the original credit card.
Having an alternate payment method can provide flexibility in completing the purchase if the primary credit card encounters persistent issues.
5. Verify Account Details
Ensure that your Steam account details, including your name and address, match the information associated with your credit card. Mismatched details can trigger a decline.
Verifying and aligning the account details can mitigate the risk of discrepancies that could lead to declined transactions.
6. Wait And Retry
In some cases, temporary server issues or connectivity problems can lead to a declined transaction. Wait for a while and then attempt the purchase again to see if the issue resolves itself.
Sometimes, transient technical issues can impact the transaction process, and retrying after a brief interval can lead to a successful purchase.
7. Seek Support From Steam

If all else fails, consider reaching out to Steam Support for assistance.
They can provide specific guidance and troubleshoot the issue further to help you complete your purchase successfully.
Similar Posts: