Are you getting the error code 10004 everytime you try to install Zoom on your iOS device?
Zoom is a great app through which you can hold video calls and video conferences with your friends and colleagues.
But similar to other apps Zoom can also show error codes at times while you are using it.
In this guide we will be discussing all the reasons why you are getting the error code 10002 and the fixes that you can try to solve it.
Causes Of Unable To Install Updates Error Code 10004 On Zoom
The reason why you might be encountering the Zoom error code 10004 when you are trying to install Zoom on your Mac device not trying to update it is because the macOS desktop client in your device failed to do an auto-update of Zoom.
There are also other reasons, such as the antivirus in your device could be stopping it from taking an auto-update as the antivirus could think some of the files of Zoom to be harmful to your device.
Another reason could be the server issue by Zoom. It is an online application that requires the help of its server to perform well.
In case the server is down then Zoom will not be able to function properly on your device.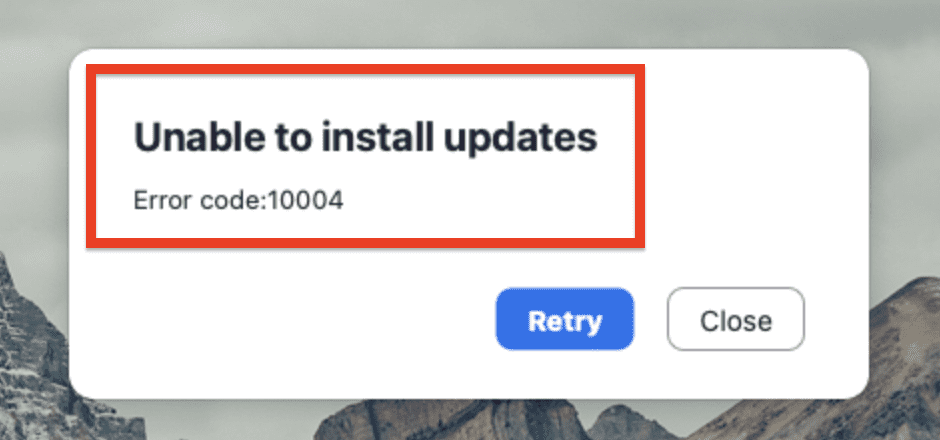 How To Fix "Unable To Install Updates Error Code 10004" On Zoom?
When you are facing an error code such as 10004 in your Zoom application while you are trying to update it, there is no need to worry because it can be easily fixed.
In this section of the article, we will be showing you the way through which you will be able to fix the error code 10004 of Zoom easily.
1. Update The Settings For Zoom Installer On Your Mac
You can try this solution first if your Mac is not updating and showing the error code 10004.
Go to Privacy and security >> then Full disk access >> and navigate to Installer and enable Privacy and Security >> Files and Folders >> Installers >> Downloads Folder.
If you can not see the installer in the above location then you will have to go to '/System/Library/CoreServices/Installer.app' and manually add from there.
2. Update Zoom Client
You should try updating the Zoom client by going and downloading the latest version that Zoom has available on their website.
Zoom regularly updates its app and it might be possible that you are using an older version of it due to which your Mac is showing the error 10004.
3. Check The Zoom Server
You should check and make sure that the Zoom server is working properly because if the server is down then Zoom will not be able to work properly as it should.
If that happens then there is nothing to do except waiting till the technical team of Zoom is able to fix the server.
You can check the Zoom server status from here.
4. Disable Your Antivirus
As an alternative method you can also disable your antivirus.
Sometimes antivirus in your device thinks that third party apps are corrupt or have harmful files in them.
So they do not allow it to be downloaded on your device.
Disabling the antivirus will make the problem solved as you can easily update and install your Zoom after that.
5. Manually Update Zoom
Another solution that you can try is to manually update your Zoom app.
Sometimes the auto-update does not work or can have glitches or bugs due to which the auto-update stopped working or maybe you have disabled the auto-update for Zoom on your Mac.
In that case, you will have to manually update your Zoom.
6. Contact Zoom Support Team
You might still be getting the error code 10004 on your Mac device even after you have tried all these solutions.
In that case, it is recommended that you talk to a professional such as the Zoom Support Team for their expert advice regarding this matter.
It is best to get the error checked by a professional if you still can not install or update your Zoom app.
Similar Posts: