Are you having trouble while using your VRChat? Is it showing that the connection has timed out when you are trying to connect to it?
If so then you have come to the right place. VRChat is a unique platform that gives its members a unique place to belong.
It has many communities where you can join and chat with other like minded people through your own avatar.
You can fully express yourself there without getting judged by others for your features and choices.
In this guide we will be discussing all about the issue of connection timer out in VRChat and provide solutions for it.
Reasons For Connection To VRChat Timed Out
There can be various reasons why you are seeing the connection timeout when you are trying to connect to VRChat from your device.
We have listed those reasons here in this section so that you can easily go through them.
1. Internet Connection Issues
The first and foremost reason why your VRChat can show connection timeout is due to an unstable internet connection.
VRChat requires a high speed and stable connection for it to function properly.
But if you do not have it then your VRChat will not work and show the error message.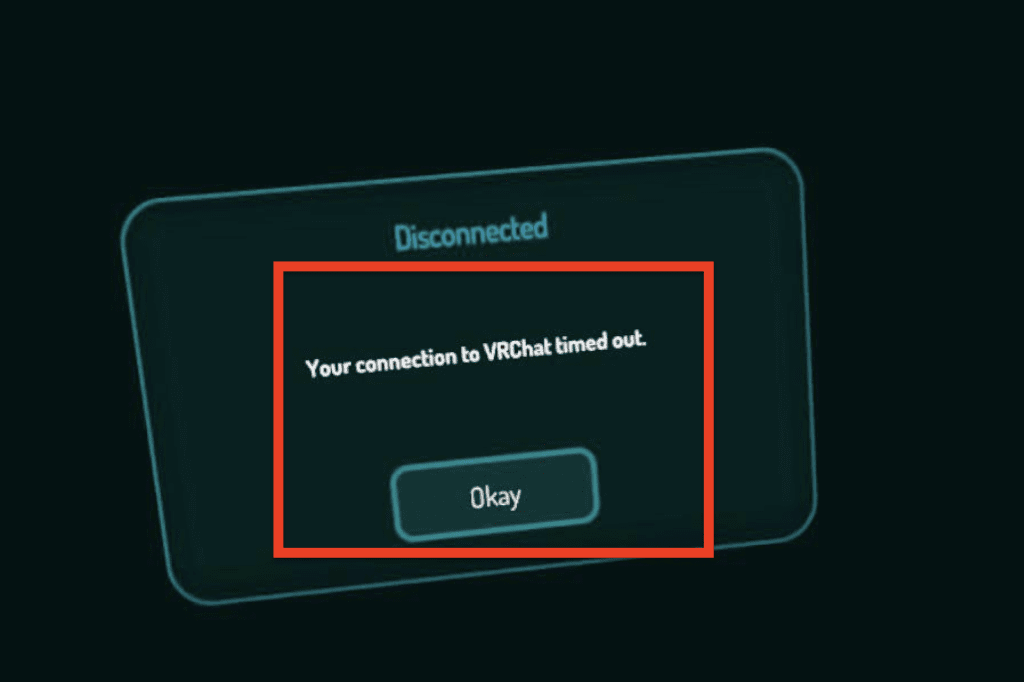 2. Firewall Blocking VRChat
It can also happen that your VRChsat is getting blocked by your system's firewall.
Sometimes your firewall might recognize some applications as threats to your device and they will automatically be blocked by the firewall without notifying you.
It might be the case if you already have a stable internet connection.
3. Enabled Proxy Settings
If you have enabled proxy settings in your computer then also it might be blocking VRChat from accessing its system which is showing you the error message.
4. VPN Is Turned On
When you use a VPN with your device, most of the time it interferes with other third party softwares and this will make the VRChat unable to function and show the connection timeout message.
5. Server Down For VRChat
At the end of the day, VRChat is also an online platform that requires its server to be online and active. In case of a server outage your VRChat will not be able to connect to the system because the server itself will be down which maintains the system.
How To Fix Your Connection To VRChat Timed Out?
Now that you understand the reasons why you can not use your VRChat it is time for us to look at the solutions that will help you to solve the issue.
In this section, we have discussed all the solutions that you can try for your connection timeout error in VRChat.
1. Switch Off The VPN
First thing that you will have to do is to switch off your VPN. You should always switch off your VPN while using a third party app because many apps perceive it as a threat to their system and shut down any service request from there.
After you switch it off you should be able to connect to VRChat.
2. Check The VRChat Server
Another thing to do if you see a connection error is to go and make sure that the server of VRChat is working correctly.
If the server is down then there is nothing that you can do except wait till the technical team comes and fixes it.
You can check the server status from here.
3. Check The Internet Connection
You should check the internet connection because slow internet connection will make you unable to connect to VRChat.
Being an online platform VRChat requires a steady and fast internet connection so if you find that your internet connection is slow then contact your local service provider and they will be able to help you out.
4. Disable Proxy Setting
You also need to stop and disable all the proxy settings in your computer. Sometimes the proxy settings also stops any service requests from going out and that might be your issue. To do that follow the given steps below.
Step 1: Press Windows and R key together.
Step 2: Put 'inetcpl.cpl' in the run window and press Enter.
Step 3: Select the Connections Tab.
Step 4: Now select Never Dial a Connection.
Step 5: Select LAN settings.
Step 6: Uncheck the box Use a proxy server for your LAN.
Step 7: If the box is already unchecked then toggle Automatically detect settings and then click OK.
5. Use A Different Public DNS Server
You can try to use a different public DNS server if you see that you are not able to connect to VRChat from your DNS server. To do that just follow the steps below.
Step 1: Go to the Control Panel from the start menu.
Step 2: Select Network and Internet from the options.
Step 3: Now, select Change Adapter Settings.
Step 4: Right click on your wifi network and open Properties from the menu.
Step 5: Select Internet Protocol Version 4.
Step 6: Click on Properties.
Step 7: Note down the existing DNS server for future reference somewhere.
Step 8: Now, click on Use The Following DNS Server Addresses.
Step 9: You have to replace those addresses with 1.1.1.1 and 1.0.0.1.
Step 10: Click on OK and then close the tabs.
6. Disable The Firewalls In Your Computer
As an alternative, you can also disable your firewall and see if that lets you connect to VRChat.
Oftentimes the firewalls in our system can think of some apps as threats to our computers and that is why they will stop any service request going out from that app to its server.
This might be why your firewall is not letting your VRChat connect to its server.
Disabling the firewall for your system should solve the issue.
7. Contact The VRChat Support Team
After you have tried all the solutions and yet your VRChat is not connecting with your device then it is recommended that you contact the VRChat support team.
It is best that you check it out by using help from professionals who will be able to solve the issue due to their expertise in that field.
Similar Posts: