Tachiyomi is a popular manga client Application for Android OS.
Many people have installed it to read manga on their Android phones or tablet.
One of the great things about the app is its extensions, which allow the reader to expand their experience with the app.
Unfortunately, Tachiyomi extensions are not often showing in the browser, and users are wondering how to fix it.
It might be due to low internet connectivity or a bug in the app.
In this blog, I will show you how you can fix Tachiyomi Extensions Not Showing.
Why Are Tachiyomi Extensions Not Showing?
Tachiyomi extensions are not showing because there might be some issues with the IP address or Internet service; You might be failed to update the Application to the latest version and enable settings inside Tachiyomi Application.
There are several reasons behind the Tachiyomi Extension not showing.
Here are some common issues
Unstable Internet connection
Your Internet setting may block the IP Address of sources to get the Extension
You may not enable the Extension setting
There might be an issue with the server
Your storage may be full
The source might ban your IP
The above listed are the common reasons why the Tachiyomi extension Not Showing.
Let's move on to How to Fix Tachiyomi Extension not showing.
How To Fix Tachiyomi Extension Not Showing?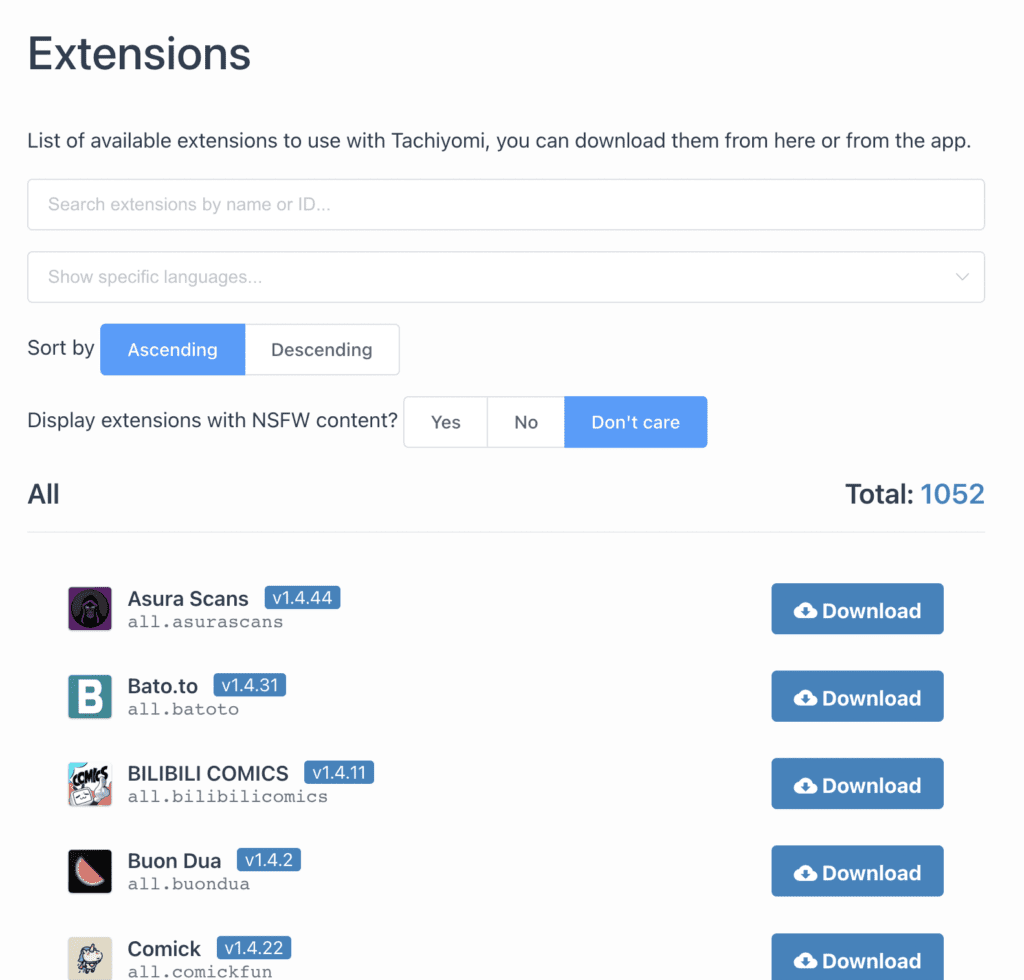 First, you should make sure that you have a stable Internet Connection.
Usually, the Tachiyomi extension doesn't show if it takes a long time to load due to network Interruption.
Here is some troubleshooting process where you can find a solution to fix Tachiyomi Extension Not Showing.
Let's get started!
1. Verify Your Tachiyomi Application Is Up To Date
The new version has bugs fixed and works well. Inspect you are using the Updated version of the Tachiyomi Application.
To update the Application
Go to "Play Store" on your Android device and Search for "Tachiyomi Application."
If you see Update Button next to the Tachiyomi Application, Click On "Update"
Click "Open" after the installation is completed.
If the error persists, download the "Latest Tachiyomi Application APK" from the Tachiyomi official website and Install it manually on your mobile device.
Here is the Link /: https://tachiyomi.org/help/guides/getting-started/#installation
Now check your Application to access extensions.
2. Tachiyomi Extensions Are Up To Date
The Tachiyomi fails to request an extension when it is not up to date,
Open Your "Tachiyomi Application" and Click on "Browse"
Go to "Extensions" and Make sure No extension has an "Update" Button
Then Manually refresh your Tachiyomi Action by dragging it down.
Refreshing your Tachiyomi Application will reset any timeout connection on the Internet.
Now you can see the Tachiyomi extensions.
3. Enable The Extension On Tachiyomi Application
If you are a new user, it is common that you may not enable the Extension on Tachiyomi Application.
That is why, your Tachiyomi Extension Not Showing.
To enable
Go to the "Browse" option in the Navigation bar of your Tachiyomi Application.
Tab Switch to "Extension" Tab and Find the Extension that you would like to install
It would help if you permitted Tachiyomi to install unknown apps in your Android device, and you can read below on how to do :
Go to "Setting" in your Mobile Device
Click On "Apps" and Tab on the "three-dot icon" on the screen
Select "Special access" and Tab on "Install Unknown apps"
From here, you could permit individual apps to install unknown APK files.
4. Restart Your Firewall And Internet Setting On Your Mobile Or Router
Sometimes your Internet provider blocks the request as it considers its malicious traffic.
In that case, "Turn OFF and Back On" your "Airplane Mode" if you are using Mobile data.
If you are using Router Wi-Fi, Power OFF your Router and back it on.
You can also switch your network connection to some other service provider if you have one.
Now check your Tachiyomi Extension, whether it works fine.
5. Enable DNS Over Https In Your Tachiyomi Application
"Enable DNS over HTTPS" is a protocol to improve privacy and security.
Enabling DNS over HTTPS prevents any misconception about malicious traffic.
Follow the below steps:
Open your "Tachiyomi Application" and Click On "more" on the navigation bar
Go to "Settings" and Tab on "Advanced" from settings menu
Enable "DNS over HTTPS" from the Advanced menu.
Now try to open the Tachiyomi Extension.
6. The Tachiyomi Source Banning Your IP
You cannot view the Tachiyomi extensions if the sources blocking your IP.
It is usually temporary; The source will unblock your IP after some time automatically and you can enjoy using the Tachiyomi service.
7. Loading The Website In Web View From Tachiyomi Application
Note that WebView is not the same as using your browser.
How to open WebView
Go to "Browse" in the bottom navigation bar in your Tachiyomi Application.
Press the "source" you would like to access.
Press the public "WebView icon" in the top toolbar.
Complete a "CAPTCHA" if one is shown.
Once done, press the "X "at the top left to return.
Try this multiple times.
You can also press the "Three dot Overflow icon", open the website in your regular browser, and check for a CAPTCHA there.
Some sources may have more advanced Cloud flare protection. If you are facing issues, try the following options.
8. Clearing WebView Data On Your Tachiyomi Account
Clearing cache and Cookies help you avoid looping requests to the source.
Here are the steps to clear WebView Date in the Tachiyomi application
Go to the "WebView" screen on Tachiyomi Application
Click the "Overflow Icon" on the WebView screen
Click on Clear "Cookies" and Refresh
Now back to your Tachiyomi Application View
Click on "More" bottom at the Bottom Right corner of your mobile
Tab on "Settings" and Click on "Advanced" from the Setting menu
Tab on "Clear WebView data."
Now, the unwanted cookies and cache memories are cleared.
Now try to access the Tachiyomi Application extensions.
9. Force Close And Reopen Your Tachiyomi App
Closing and reopening your Tachiyomi Application removes any minor glitches inside your Tachiyomi source file.
Force close all the applications in your mobile devices and Clear your mobile device with any clear boost setting.
Reopen your Tachiyomi Application. It works well in most of these cases.
10. The Manga Site Is Down
If the manga server is down, you cannot access Tachiyomi extensions.
So ensure that other users face the same issue by checking the forums.
You can check here for any Tachiyomi open Issues: https://github.com/tachiyomiorg/tachiyomi/issues
Why Is Tachiyomi Only Showing Installed Extension?
Tachiyomi Only Showing Installed Extension because your storage might be full, and there is no space to install new extensions.
If your Internal or External storage is full, you cannot install the new Tachiyomi Extension.
Removing unwanted apps and files or changing the storage setting helps you to access and install new extensions.
How To Fix Tachiyomi Only Show Installed Extension?
Before getting into the fix, make sure you have enabled the view source list from your Tachiyomi Application.
If not
Go to "More" on Navigation Bar in the bottom right corner of the mobile.
Click "Settings" from the Menu and Click on "Browse"
Find "NSWF Source 18+" and enable "Show in the Sources list."
Go to "Folder" in your Android device and delete Unwanted files and uninstall unused applications from your Android device.
If you have installed an SD card, go to App permissions and Enable permission to SD card storage.
Now you can see the uninstalled extensions from the list and download them.
Thank you for reading our blog post about the Tachiyomi Extensions Not Showing and how to fix it.
Similar Posts: