Are you having trouble trying to create a save game when you are playing Starfield?
Many players have reported recently that Starfield is showing them the error message, "Failed to create save game" whenever they are trying to create a save file of their game.
This can be a hassle when you are trying to enjoy the game as you want.
We understand and that is why we are here to help you solve this issue!
Starfield is a role-playing action-packed game that is published by Bethesda which is an original setting after the Elder Scrolls.
However, being a new game it has problems and issues that can confuse and frustrate its players.
In this article, we will be looking at the reasons why you aren't able to create save games in Starfield and how you can fix that issue easily!
Why Starfield Failed To Create Save Game?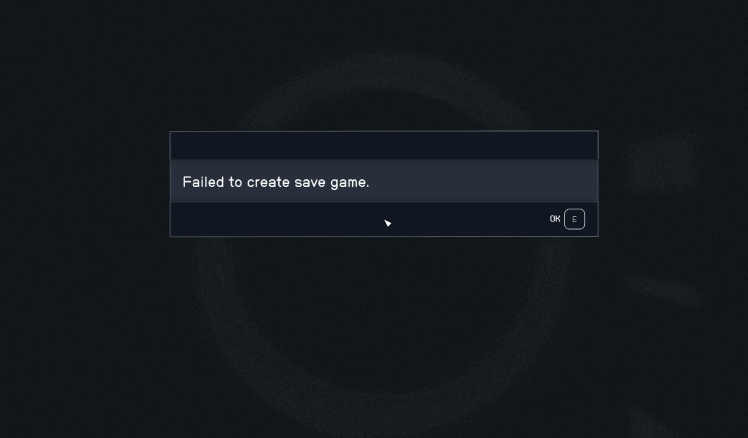 There can be various reasons as to why Starfield has failed to create saved games.
One of the major issues could be that you have OneDrive synced with your computer due to which all your user files automatically get backed up and Starfield is unable to create save games in the User Document folder.
Another reason could be that Starfield does not have permission to create a folder in your Computer due to which it is not able to create save files of its game.
Whatever the reason is there is no need to panic as we are here with the fixes.
You can go through our fixes section below and fix this issue with creating a save game easily.
How To Fix Starfield Failed To Create Save Game?

To fix the issue of Starfield "failed to create save game" error you can disable the OneDrive sync with your device, change the path of the user file and allow folder access to Starfield.
Below we have discussed these fixes in detail for your convenience.
1. Disable OneDrive Sync
When you have the OneDrive synced with your computer, then every file that is created in your Documents folder automatically gets synced with your OneDrive folder.
Due to this, you could be seeing the "failed to create save game" error.
However, you can easily solve this issue by disabling the sync of OneDruve with your computer as we have shown below.
Go to the OneDrive icon in the Taskbar.
Select Settings.
Choose Sync and Backup.
Now go to Manage Backup.
Select Turn off Backup for the Documents folder.
Click on Save Changes.
Now restart Starfield again and save your file without having any issues.
2. Change The Path Of User Folder
In case you aren't able to save files in Starfield even after stopping it or disabling it then it could be due to OneDrive changing the path of the file.
You can follow the steps below to restore the default settings.
Press the Windows button + R from your Keyboard.
In the box type regedit and press Enter.
After Windows Registry Editor is open, navigate to Computer\HKEY_CURRENT_USER\Software\Microsoft\Windows\CurrentVersion\Explorer\User Shell Folders.
Search for C:\Users\YourUsername\OneDrive\Documents.
Right-click on it and choose the option Modify.
Change the path to C:\Users\YourUsername\Documents and click OK.
Do this for all the files that have OneDrive in their path.
3. Give Controlled Folder Access To Starfield
The next fix you can try when you see that Starfield has failed to create a save file is to allow Starfield to control the folder access to create a file in your computer where it will save the game files.
If you have it turned on in your Windows Settings then you will have to turn it off and then you will be able to create a saved game in Starfield.
Open the Settings of your Computer.
Go to Privacy and Security.
Choose Windows Security.
Under Virus and Threat protection settings go to Manage Controlled Folder Access.
Turn it off if you have it on.
4. Disable Your Firewall
Starfield may occasionally have its requests blocked by firewalls if the firewall believes it to be malicious software.
If you are seeing the "failed to create save game" error, that might be the situation.
To solve that issue you can simply turn off your system's firewall.
Go to Control Panel from the Windows search bar.
Open Systems and Security.
Select Windows Defender Firewall.
Turn on the Windows Defender Firewall option.
Click on the Turn off Windows Defender Firewall (not recommended) button under the Private network settings and Public network settings.
Click on OK and close the window.
5. Restart Starfield
As an alternative fix, you can exit the game and then restart it after some time has passed.
If the game had glitched somehow or you aren't able to create the save files due to some bug in the game itself then doing a restart after closing the game should solve the issue.
6. Disable Antivirus
Disabling your antivirus is another solution you can try.
Antivirus frequently makes it difficult for any program to operate on your device.
The antivirus could be preventing Starfield from operating on your device if it believes it to be malware.
You can temporarily turn off your antivirus software while playing Starfield to prevent this.
Each Antivirus has a different process through which it can be disabled.
Before attempting to disable it, make sure to check the process according to the antivirus you are using.
7. Contact The Starfield Support Team

You should be able to create saved files now without having any issues after going through all the fixes above.
However, if you are still unable to do so then please contact the Support Team of Starfield and get help from them.
Similar Posts: