Are you also dealing with the Due In Full Bug in Starfield? Many players are encountering the same bug which makes them very annoying and frustrating.
Starfield took eight whole years for development but in spite of that, the end result was decent. The game has been experiencing a lot of bugs and errors.
It becomes very frustrating for the players when the bug arises and interferes during the quest. The above bug is making it impossible to complete the quest.
If you are also struggling with the "Due In Full" bug then don't worry, you're not alone. We have prepared a guide to help you fix this issue.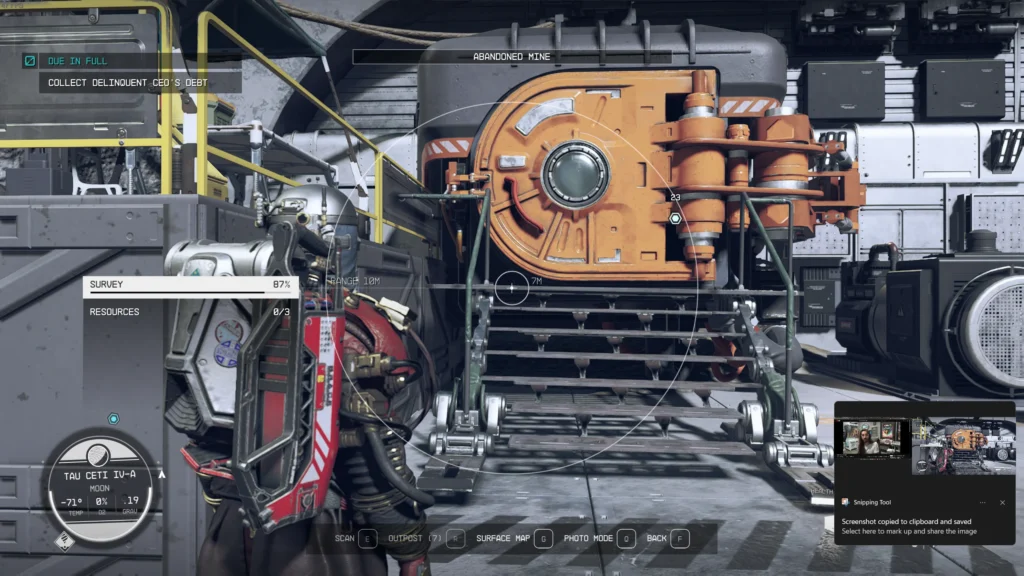 What Is Starfield Due In Full Bug?
The Due In Full bug in Starfield has come out to be one of the most frustrating issues players are dealing with these days.
Actually, "Due In Full" is a quest in Starfield that has you taking on the role of a debt collector.
But it seems this particular quest is bugged. It becomes very important to understand this bug thoroughly.
This particular quest involves tracking down a character named Dieter, but some players have reported encountering a bug where they unintentionally "kill" Dieter before even finding him.
This can be highly frustrating, especially for players who have invested in a speech-focused character build, as it impacts the quest's storyline and progression.
Due to this issue, players are unable to complete the mission. We have mentioned below the major fixes that might help you with the above issue. So stay with us and have a look at them.
How To Fix Starfield Due In Full Bug?
To get past the Due In Full bug in Starfield, you need to use the console command, restart Starfield, reload an earlier save, update the game and contact the Bethesda support team.
Below we have discussed the fixes in detail for your better understanding.
1. Use Console Command
If you are playing Starfield on a platform that allows console commands, then in this case you can use them to advance or reset the quest.
To do the same, just press the ~ key on your keyboard and enter the following command: setstage 002AD3D5 200.
2. Reload An Earlier Save
To avoid the Due In Full bug, you may switch to an old game save before you even start the mission.
For players who have several manual saves, you can reload any one of them. Reloading a previous save might just be all you need to get rid of these kinds of bugs.
Follow the below-mentioned steps to understand this fix more clearly:
Reload a saved game from before the moment you initiated the power.
Hard reset Starfield: Shut down Starfield, turn off your gaming device, and give it a moment.
Once you're ready, turn your device back on and launch Starfield.
Test the quest again and see if the bug persists.
This works wonders especially if you haven't ventured too far since then.
3. Wait For Updates And Patches
The developers of the game often release updates and patches to address bugs that are arising in the current scenario.
So, you need to be aware in relation to official Starfield patch notes and update your game when fixes are available.
Timely updates also improve the game's stability. So, you must not avoid that.
4. Try Again After Some Time Or Do Other Quests
In the end, you can try to take a break from completing the mission. While breaking, you may consider exploring new planets.
Sometimes it happens that game bugs may be temporary or linked to specific in-game conditions.
While you wait, you may engage in other quests and activities. Waiting might allow the game state to reset or change. This may resolve the bug as well.
5. Restart The Game
You can try this simple fix which is just give a game restart. Giving the game a restart may resolve various issues and has been known to work for many.
This fix also refreshes the game's cache and clears any temporary glitches that may be affecting the quest.
It's a basic method or fix that can be effective in resolving various problems.
6. Wait For The Bethesda To Fix This Bug

These are the fixes that have come across till now to fix the Due In Full bug in Starfield.
If the above-mentioned fixes do not work for you, then the last option you can try is just to wait for Bethesda to fix this bug.
However, you can contact Bethesda directly from their help page by clicking here.
Similar Posts: