Are you having a problem trying to log in to Spotify?
Maybe every time you try to open Spotify an error message pops up that says, "A firewall may be blocking Spotify, Please update your firewall to allow Spotify, Additionally you could try changing the currently used Proxy Settings (Error code: auth 16)".
If this is the case then no need to worry because you are not the only one who is facing this issue.
Many users from all over the world have reported seeing this error code for some time now when they are trying to log in to Spotify.
However, this error is only happening in Windows 11, Windows 10 and MAC.
Users haven't yet reported any such error in their Spotify phone app.
Spotify is an online platform where you can enjoy music from all over the world as well as interesting episodes of various podcasts.
Even though it is a great platform where you can relax and enjoy your latest favourite tracks, Spotify can also have errors and issues similar to other online platforms.
In this article, we will be going over the reasons for auth 16 error code in your Spotify and what you can do to fix the error.
What Are The Reasons For Spotify Error Code Auth 16?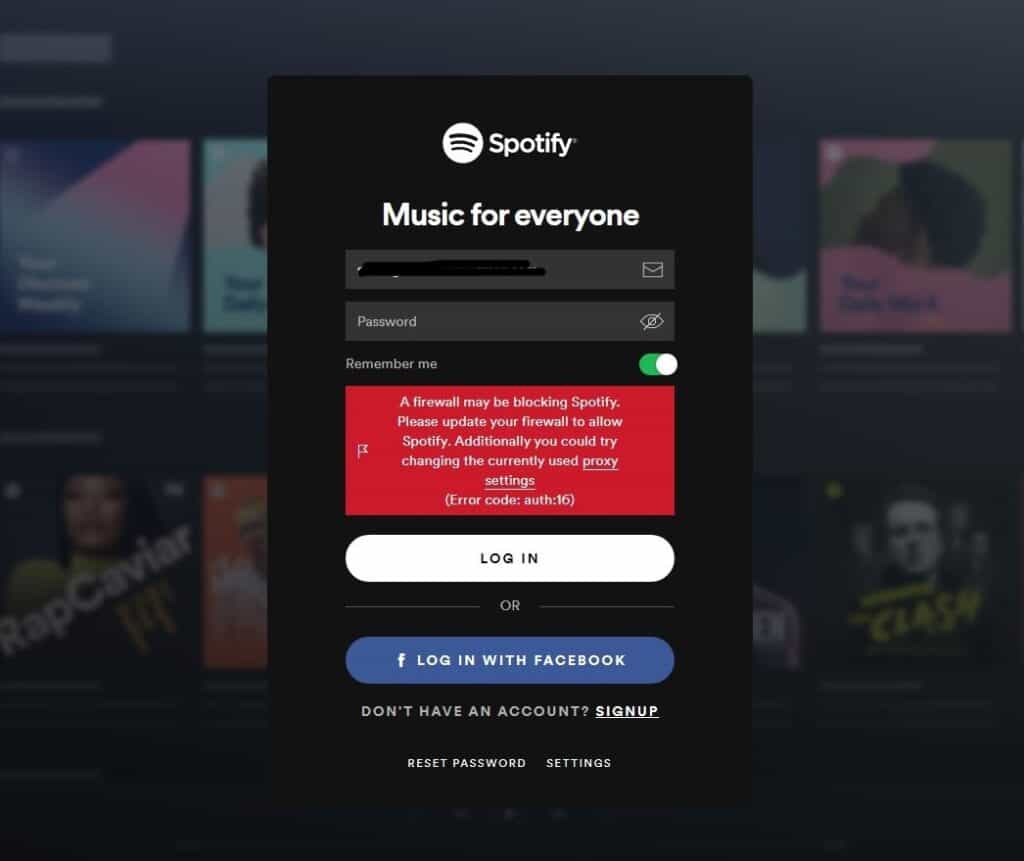 There can be a few reasons why you are seeing the error code auth 16 when you are trying to open Spotify from your computer.
These issues can range from a problematic host file to an uncleared cache folder of Spotify on your device.
We have listed some of the major reasons for the issue below for your convenience.
The device's firewall is blocking Spotify from accessing its network.
The host file needs to be cleared in your MAC.
The cache files have accumulated too many junk files.
Your screen time setting is not configured properly.
Technical issues such as a bug or a glitch in Spotify.
How To Fix Spotify Error Code Auth 16?
Now that you have understood some of the reasons why your Spotify is showing the error code auth 16, we will be taking a look at the fixes that will help you to fix the issue easily in your device.
1. Whitelist/ Allow Spotify Through Firewall
First, You should allow/ whitelist Spotify through the Firewall.
You can easily do that by following the steps below.
Allow Spotify Through Windows Defender Firewall in Windows"
Press the Windows key and type "firewall" in the search bar, then select Windows Defender Firewall.
On the left-hand side of the Windows Defender Firewall screen, click on Allow an app or feature through Windows Defender Firewall.
Click on the Change settings button. You might need an administrator password or to confirm your choice.
Scroll through the list of apps and features to find Spotify. If it's not there, click on Allow another app… button at the bottom.
If you clicked on "Allow another app…", click on Browse… and navigate to the location of the Spotify.exe file. Usually, it's in a folder inside your AppData directory (which is inside your User directory). After you find it, click on it and then click on Open. Then, click Add.
Once Spotify is on the list, ensure that there are checkmarks in both the Private and Public boxes next to it.
Click OK to save your new settings.
Please remember that these steps might vary slightly depending on your specific version of Windows.
Allow Spotify Through Firewall in MAC:
Click the Apple menu in the top left corner of your screen and select System Preferences.
In System Preferences, click on Security & Privacy.
In the Security & Privacy window, click on the Firewall tab.
Click the lock icon in the bottom left to make changes. You may be asked to enter your administrator password.
Click on Firewall Options….
In the Firewall Options window, click on the + button.
Find Spotify in the applications list, select it, and then click Add.
Make sure that the setting next to Spotify is set to Allow incoming connections.
Click OK.
Finally, click the lock icon again to prevent further changes.
Remember, these steps might vary slightly depending on the version of macOS you're using.
2. Clear Host Files
The next fix that you can try is to clear the host files on your computer.
To do that simply follow the steps below.
Open Finder and in the menu bar select Go > Go to Folder.
Type the location /private/etc/hosts in the box that has opened.
Press Enter.
A Finder window will open, and drag the host files from there to the Desktop.
Open the Folder.
Check for any entry with Spotify in it.
If there is, then delete those lines.
Save the Changes and restart Spotify.
Note: This is only for MAC users and not Windows users.
3. Update Proxy Setting
The next fix that you can try is to update your Proxy settings.
As many countries do not support Spotify you will have to use a Proxy if you want to access Spotify.
Find a Proxy Server that has a location that supports Spotify.
Go to the Settings option from your browser.
Under Network Settings navigate to Change Proxy Option.
Now, you can see an Internet option, there click on the Connections Tab.
Select the LAN Settings.
Uncheck the Automatically detect settings box and check the Proxy server for your LAN" box.
Enter the proxy IP and port number in the boxes given and click on OK.
Now, open Spotify.
Go to the Menu tab and choose Preference.
Scroll down and select Advanced Settings.
Open the Proxy Server section, type proxy type, IP address, and port number.
Click on Update Proxy and restart Spotify.
4. Clear Cache Files For Spotify
Make sure that your Spotify cache is cleared before you try to open it.
If you haven't cleared Spotify Cache then that could be the reason why you are seeing the auth 16 error code when trying to open Spotify.
Delete Spotify Cache for Windows
Open the Drive where you installed Spotify.
Navigate to Users and then go to the "username folder"
Click on AppData and then click on Local.
Open Spotify and delete the Storage Folder.
Delete Spotify cache for Mac
Launch Finder and click on Go.
Select Computer from the list.
Go to Macintosh and then Users.
Open Library and then Cache folder.
Navigate to "com.spotify.client" folder and delete all the subfolders in there.
Go to the Library folder and choose Application Support.
Delete watch-sources.bnk file under Spotify.
5. Uninstall And Reinstall Spotify
Another fix that you can try is to uninstall and then reinstall Spotify again on your device.
If there is a bug or a glitch due to which you are seeing the auth 16 error code in Spotify.
Doing an uninstall and reinstall will be able to solve this bug issue in your device.
6. Configure Screetime Setting
Make sure that the issue is not arising due to the screentime setting in your MAC.
If your MAC is controlled by your parent then you might not have permission for music profiles.
In that case, simply ask your guardian to follow the steps below and allow you to have the music profile and that will solve the issue of auth 16.
Go to system preferences.
Then select screen time.
Open content & privacy.
Now check the "music profiles".
Close the tab and open Spotify.
7. Contact Spotify Support Team
After you have tried all the fixes above you should be able to fix the issue of Spotify error code auth 16 in your device.
However, if you are still unable to do so then please contact the Spotify Support Team and tell them the issue that you are having and the fixes that you have tried.
Spotify's team of professionals will be able to help you out by guiding you through a solution.
Similar Posts: