Is Cricut showing the error, "Unsuccessful Sign In.
The operation could not be completed.
Load user Error (Code 1002)" when you are trying to sign in?
If so, you're not alone.
Many Cricut users have reported this issue and it can be a frustrating experience.
In this article, we'll discuss the reasons why you're encountering Load user Error (Code 1002) error and provide you with detailed solutions to fix it once and for all.
What Caused "Load User Error Code 1002" On Cricut
Before we dive into the solutions, it's important to understand why the error is occurring in the first place.
Here are some common reasons for this error:
Your Cricut app is outdated
Cricut server outage
Accumulation of too many cache files
How To Fix "Load User Error Code 1002" On Cricut
Now that you're familiar with the reasons behind the error, let's explore the solutions in detail.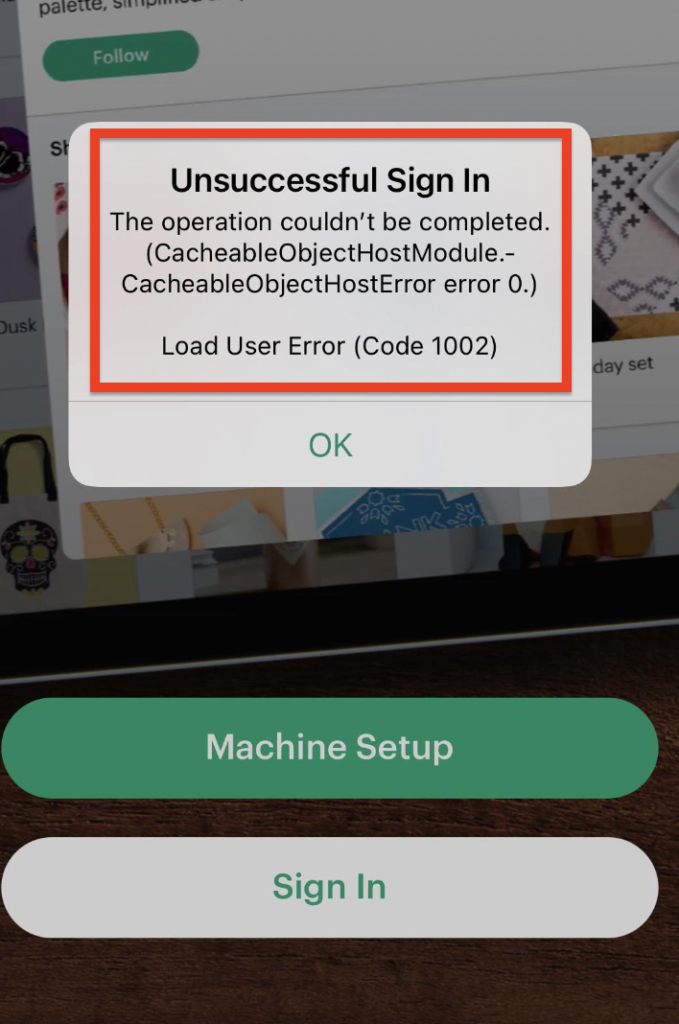 1. Update The Cricut App
The first step is to ensure that your Cricut app is up to date.
Regular updates to the app can resolve any bugs and glitches in the system.
If the error is caused by a system issue, updating the app should resolve it.
2. Check Cricut Server Status
Cricut heavily depends on its servers for commands and information.
In case of a server outage, your Cricut app may stop working.
You can check the server status by visiting the Cricut website and wait until the technical team resolves the issue.
3. Clear The Cricut cache Files
Accumulation of junk and corrupted files in the app cache can cause the app to not open properly, leading to the "Unsuccessful Sign In" error.
To clear the app cache, follow these steps:
For Android: Go to Settings > Apps > Manage Apps > Select Cricut > Clear data or Clear Cache
For iPhone: Go to iPhone settings > General > Find Cricut App > Tap on iPhone Storage > Offload App > Reinstall Cricut app
4. Clear Your Browser Cache
If you're accessing your Cricut account through a browser, clearing your browser cache may also resolve the error.
Here's how to do it:
Go to Chrome > Three dots at the top right-hand corner > More tools > Clear browsing data > Check all boxes you want to delete > Clear data
5. Reboot Your Device
Sometimes, a simple reboot can resolve the issue.
Try restarting your device and see if the error is resolved.
6. Try A Different Device Or Browser
If all else fails, try accessing your Cricut account from a different device or browser.
This may help you determine if the issue is with the device or the browser.
7. Contact The Cricut Help Centre
If none of the above solutions is working for you then we recommend that you contact the Cricut Help centre.
You can talk about your problems with them and get them solved by the professionals there.
To talk to the professionals, just go to the message icon and then chat with them from there.
Similar Posts: