Are you seeing the error code 2999 when you are trying to stream videos in your Kayo Sports?
If you are facing it then you are not the only one as many users have been seeing the error code 2999 when they have tried to stream from Kayo Sports.
Users have reported seeing the error message, "An unexpected error has occurred, If the issue persists, please contact the Kayo Support Crew, Error code: 2999".
Kayo Sports is a very popular streaming service in Australia where you can watch your favourite matches and sports videos with ease.
However, it can be extremely frustrating if you aren't able to enjoy them when you want and that is why we are here to help!
In this article, we will be discussing why you might be seeing such an error and what you can do to solve it.
What Are The Reasons For Kayo Error Code 2999?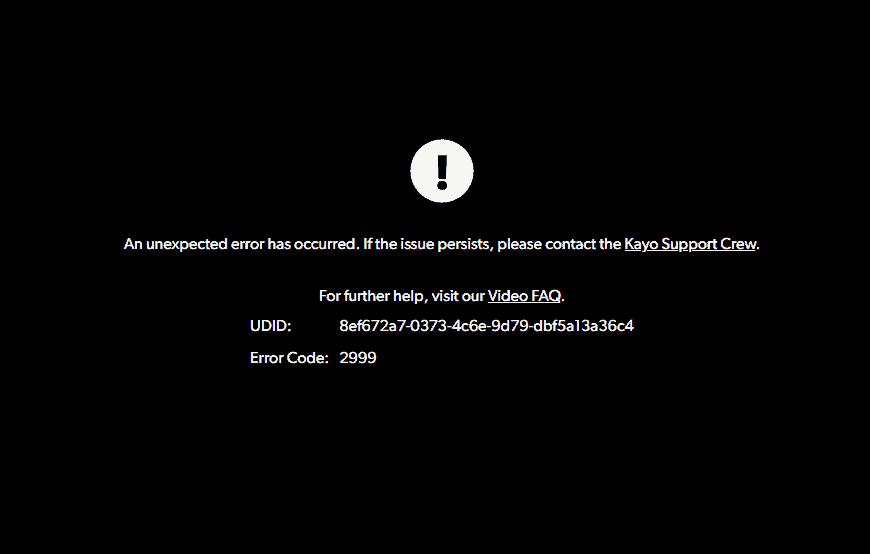 There can be a few reasons why you are getting the error code 2999 when you are trying to watch a sports video in the Kayo Sports app from your device.
The team of Kayo Sports have stated in their error article that the code 2999 happens due to an "issue with the device or browser.
It can also be caused by using a VPN."
Below, we have listed some of the reasons why you might be seeing the eror code 2999 in your Kayo app.
The device is not compatible with Kayo Sports app.
You have enabled VPN on your device.
The cache of Kayo Sports has accumulated too many junk files.
The browser has accumulated too many cookies and cache files in it.
How To Fix Kayo Error Code 2999?
In this section, we have thoroughly discussed the solutions that will help you to fix the error 2999 in your Kayo Sports streaming application.
1. Check Device Compatibility
Device compatibility is the very first thing that needs to be checked.
The Kayo Sports streaming app is incompatible with all operating systems.
To avoid receiving the error code 2999 when attempting to run Kayo Sports, you must ensure that your device is compatible with it.
Visit this list supplied by the Team of Kayo Sports to determine whether your device is compatible.
2. Check The Internet Connection
An issue with your internet connection may also cause you to see the error code 2999 on the Kayo Sports streaming app.
You can stream different videos through the streaming app Kayo Sports and watch them whenever you like.
However, a reliable internet connection is required for it.
To check if the problem is with your connection, try switching the wifi setting to another setup, such as cellular data or ethernet.
If you discover an issue, please get in touch with the nearby service provider to have it rectified.
3. Clear The Cache Of The Kayo App
Make sure that you clear the cache of the Kayo Sports App from your device.
Cache folders at times can store junk filers due to which you will not be able to open the app and see the error code 2999.
Different TV has different procedures to clear their cache files, however, all of them can be accessed by Settings.
So be sure to check the procedure before you proceed.
Below we have shown the steps for clearing the Cache files of the Kayo Sports App from your Phone.
Clear Cache for Android
Go to Settings on your device.
Open Apps.
Select Manage Apps.
Navigate to Kayo Sports App and tap on it.
Tap on Clear Data or Clear Cache.
Clear Cache for iOS Device
Go to iPhone settings.
Go to General.
Find Kayo Sports App and click on that.
Tap on the Offload App button.
Again Reinstall the Kayo Sports App.
4. Disable VPN From Device
Disabling your VPN on your system is the next fix you can try.
According to Kayo Sports, one of the main causes of the error code 2999 may be VPNs.
VPNs are well-known for interfering with service requests and confusing servers, which causes the apps to stop working.
By turning off your VPN on the device, you can quickly fix this problem.
If you are unable to disable it, you can ask your VPN provider to add Kayo Sports to its whitelist.
You can also uninstall your VPN from the computer.
5. Clear Browser Cache
Another potential cause of Kayo Sports flashing the error code 2999 on your device while trying to open through the browser is that you haven't deleted the browser's cache and cookies in a while.
In such a situation, all you need to do is clear your browser's cache and cookies to resolve the problem.
Clear Browser Cache for Google Chrome
Open Google Chrome.
Click on the three dots at the top right corner.
Select More Tools.
Click on Clear browsing data.
Check all the boxes.
Click on Clear data.
Clear Browser cache for Microsoft Edge
Open Microsoft Edge and go to Settings.
Select Privacy, search, and Services.
Select Choose what to clear under it and select Clear browsing data.
Click on Clear browsing data now.
Under Time range select a time range that you want to clear the data for.
Click on Cookies and other site data, and then select Clear Now.
6. Uninstall And Reinstall Kayo App
As an alternative, you might try uninstalling Kayo Sports from your device and then reinstalling it.
It's possible that the problem you've been experiencing is the result of a minor bug in the Kayo app.
That problem would be solved by uninstalling the programme because the bug will be eliminated along with the software.
7. Contact Kayo Help Center

Have you tried all the suggestions in this area but the error code 2999 is still appearing when you start the Kayo app?
In that case, we recommend that you get in touch with the Kayo Help Centre as the error message says.
We advise you to talk with the experts there to have your problem resolved.
Similar Posts: