Facebook is one of the leading and famous social networking websites that enables its users to connect and communicate with each other through texting, video calling, sending audios, etc.
It has become a medium through which people share information, spread news, etc. Many social media news channels now use Facebook as the primary medium to present their news and information.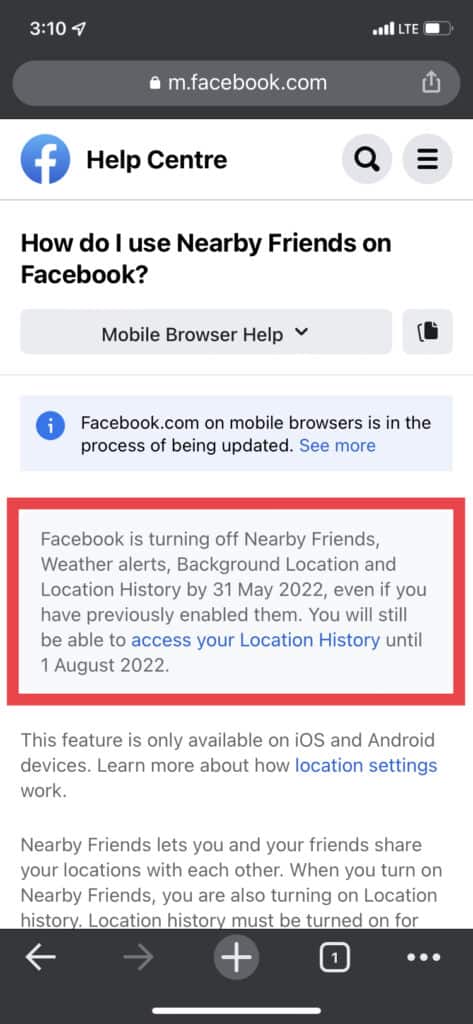 Why Facebook Nearby Friends Not Showing
Facebook Nearby Friends feature is now disabled by Facebook. You will not able to use Nearby Friends feature after 31st May, 2022. If you still want to use Nearby Friends features on Facebook you have to use old version of Facebook which you can find on internet.
Facebook nearby friends was a feature that allowed you to locate your friends near you by turning on your location.
Facebook is turning off Nearby Friends, Weather alerts, Background Location and Location History by 31 May 2022, even if you have previously enabled them. You will still be able to access your Location History until 1 August 2022.
Many Facebook users have been facing the issue of their nearby friends not showing up, or they cannot see their nearby friends in the Facebook app.
This issue is being faced because Facebook has removed this feature from May 31, 2022.
Also Read:
How To Fix "Facebook Nearby Friends Not Showing"?
To Fix Facebook Nearby Friends Not Showing or Working, you have to download old version of Facebook app (version before 31st may, 2022) And this fix only works in Android Devices not in iPhone device.
Steps to To Fix Facebook Nearby Friends Not Showing or Working:
Step 1: Uninstall the Facebook App from your Device
Step 2: Download Facebook version which is release before 31st May, 2022 url: https://androidapksfree.com/facebook/com-facebook-katana/old/
Step 3: After Downloading, Install the Facebook App.
Step 4: First time, you have to "Allow Unknown Apps" access in your device because you are not installing from Play store. You may see message that this file can be harmful , ignore that warning and allow access.
Step 5: Now, Turn On location services by going to Settings >> Apps >> Taps on Facebook >> Tap Permission >> Click on Locations >> Select Allow only while using app, Ask every time or Don't allow.
Step 6: To Turn on Nearby Friends on Facebook App, Open Facebook app >> tap on three horizontal lines in bottom right >> Click on Nearby Friends >> Click (…)next to your name in the top right >> Select Settings >> Turn On Nearby friends >> Now Facebook will show nearby friends. So, Facebook nearby friends issue resolves.
If you want Facebook nearby friends back on Facebook you have to use old version of Facebook which you can find on internet. We don't recommend to download Facebook old version from internet on non trusted sources. because you can steal your data.
How To Get Nearby Friends Back On Facebook?
Unfortunately, there is no such way to get the nearby friends feature back on Facebook because Facebook has recently announced that from May 31, 2022, it will permanently remove the nearby friends feature.
The reason why Facebook did this is unknown to us yet. But you can try getting the feature back by uninstalling the updates of your Facebook app or using downloading the old apk version of Facebook and deleting the recent one.
Conclusion
The nearby feature allowed the Facebook users to know the friends near them by turning on their location and giving Facebook permission to access their site.
But Facebook removed the feature from its application and web. The only through which users can access this nearby feature is to uninstall the updates of their Facebook app.
Similar Posts: