Badges differentiate your profile from another developer. If you have a badge you can put it in your Discord profile.
Discord badges are small images that display on user profiles and profile popups that distinguish a user as a member of specific groups.
A developer badge is a good thing for discord to show off what you created on discord.
You can claim your badge by joining our active developer program.
Also some peoples having issue that they getting "you are not eligible for the active developer badge".
In this guide, we will discuss about Active Developer Badge and how to get that.
Also how to fix "you are not eligible for the active developer badge" issue.
What Is Active Developer Badge On Discord?
The Active Developer Badge is available for developers who own at least one active app.
For your app to be considered active, it needs to be executed by any global command in the last 30 days.
Active Developer Badge Discord is to appreciate the hard work and amazing app.
Any active developer can go to the developer portal to grab their badge.

How To Get Discord Active Developer Badge?
Steps To Get Discord Active Developer Badge:
Step 1: First, go on the Developer Portal and register on the portal or sign in to your account.
Step 2: Click on New Application and name it then click on agree to checkbox and click create.
Step 3: Go to the Bot icon, click add a bot, click yes do it!
Step 4: Click on the + sign to create a new server name.
Step 5: Go to server settings, click on enable community, click on get started, tick the boxes to verify the email required and scan media content to all members and click next. Tick I agree and then set up.
Step 6: We need to give me a badge to invite the bot we created on our server, to do so click here
Step 7: Download the give me badge according to the OS you are using, open the give me a badge, you get a pop-up window click more info, and then click run anyway.
Step 8: Go to the Bot page again and click reset token, click on yes do it!
Step 9: Copy the token, open the cmd prompt, paste the copied token, and press enter.
Step 10: Select the last link that appears in cmd to invite our bot and copy it.
Step 11: Paste the link into the browser. And then select the server you created and click authorize. Click on I am human.
Step 12: Now you see your bot has been added to your server. Now use the bot at least once by typing #. Now, wait for 24 hours for discord registration to this bot.
Step 13: After 24 hours come again on this page by clicking on the link and claim your badge.

You Are Not Eligible For The Active Developer Badge
If you are seeing "you are not eligible for the active developer badge" then Please give your app's activity status at least 24 hours to change if you believe you should be eligible for the Active Developer Badge since you have an active app.
Some peoples reported on Reddit about same:
"Mine wasn't working at first either. Have you made sure that one of the global commands has been actually used? I had to do that yesterday since I'd kind of taken a break from developing my bot. About 24 hours later it's let me do it now."
"You have to use a / command from the bot on an account not managing the bot, aka a friend or alt."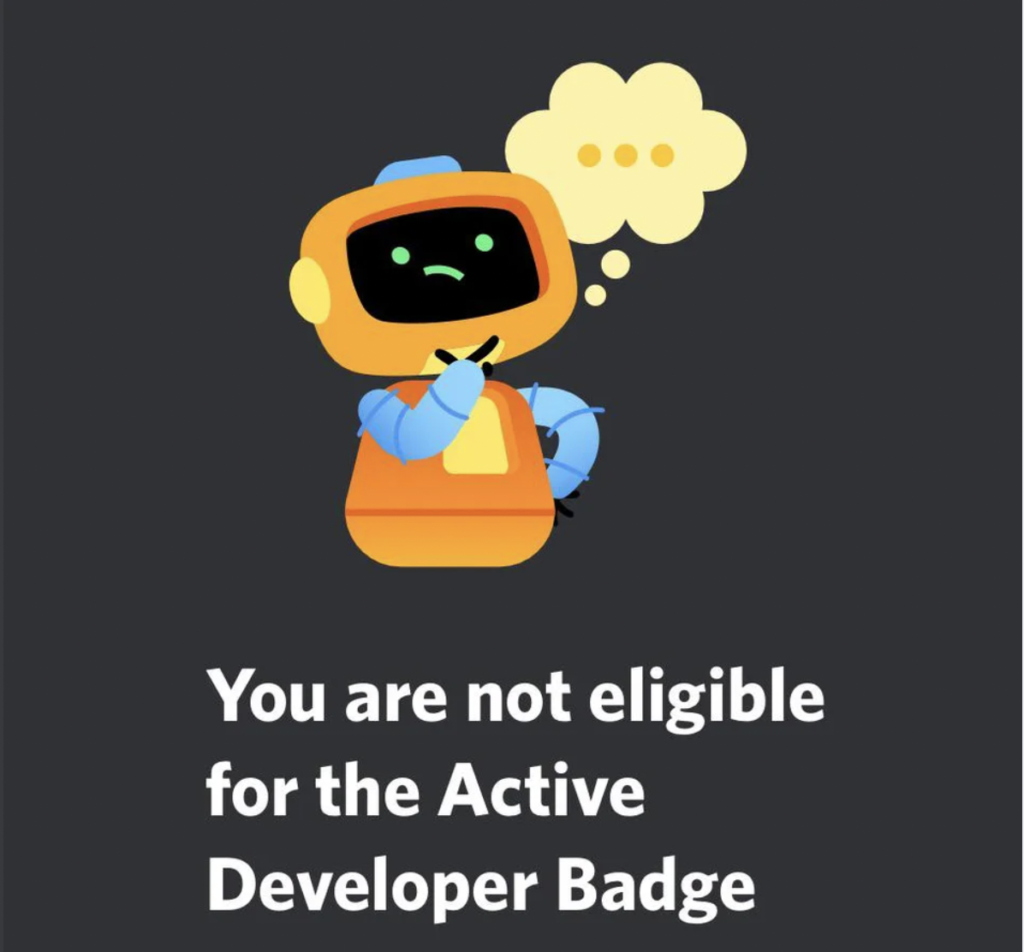 I Have Claimed My Active Developer Badge But I Don't Have
Try restarting or refreshing your client if you successfully claimed your Active Developer Badge.
After that it will start showing Active Developer Badge on your profile.
Similar Posts: