India's Kotak bank is one of the most prominent banks. Many of the bank's services are available online for its customers. This includes online banking and mobile banking. You will need the CRN of your account to access Kotak Bank Internet Banking. In this article, you will find all the details you need.
What do you mean by CRN in Kotak Bank?
CRN stands for Customer Reference Number. It is assigned to every account holder of Kotak Bank. Each Kotak branch and every customer is identified by their customer number. 
Additionally, you will need CRN to sign into Kotak 811 online account and Kotak net banking.
How to get CRN Number in Kotak Bank?
You can get a CRN number in three different ways. Here are the methods for obtaining this number for Kotak Bank.
Get the CRN Number printed on the Kotak Bank Debit Card
You can easily get CRN if you have a Kotak debit card. All you need is to get your debit card and check the number under your name. Your CRN can be found there.
If you only have a virtual card for your Kotak 811 account, then you will need another method to get the number. We will examine those methods below.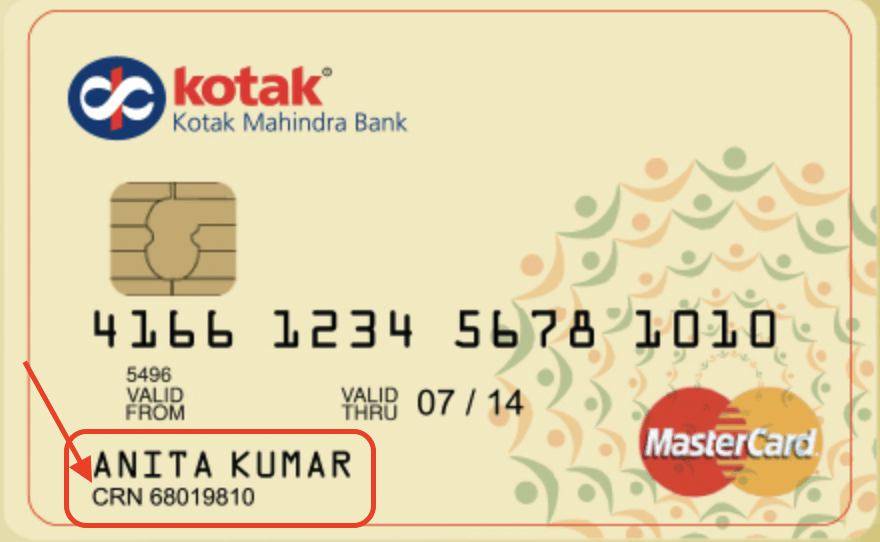 Also Read: How to Get Money from a Closed Bank Account?
Get CRN Number by sending SMS
Getting your CRN is as simple as messaging your Kotak bank mobile number.
Note: Same mobile number should be registered in Kotak bank.
The first step is to open the messaging app from the launcher after getting your mobile number.
The second step is to type the following message and send it to the number below:
Type – CRN and send to 9971056767
After a few minutes, your CRN will be sent to you.
Kotak 811 account can be accessed using this number.
Online portals offer CRNs
(You can only use this method if your account has been migrated to ING Vysya.)
To start, go to the website – https://www.kotak.com/OPR/fpass/wbg/knowYourKtkCrn.jsp 
The second step is to scroll down a little and enter your old Customer ID or existing CRN.
To obtain a new CRN, enter the CAPTCHA code and click the SUBMIT button.
How to Activate CRN number in Kotak Bank?
Step #1: Get the Kotak Mobile Banking App by downloading it
Step #2: CRN (Customer Relationship Number) should be on your debit card or checkbook.
Step #3: To log in, use your CRN and Net Banking passwords or a debit / credit card PIN
Step #4: Make your MPIN a six-digit password. A MPIN should not have the same digits as another (for instance, 11111) nor arranged in a particular order (for example,123456)
Step #5: An SMS containing the activation key will be sent to the registered mobile number. Forward the SMS to the following number: 5676788 or +9919971056767.
Every Kotak Bank customer receives a customized reference number (CRN). You can retrieve your CRN by using one of three easy methods if you have forgotten it. The methods are all described here in a clear and simple way so you can recover your data quickly.
Recommended:
Kotak Mahindra Bank Mini Statement
Kotak Mahindra Bank Timings & Working Hours
How to Close Kotak Mahindra Bank Account?
How to Add beneficiary in Kotak Mahindra Bank?
Frequently Asked Questions
What is the maximum number of CRNs that can be added to the Kotak app?
Kotak Mobile Banking App allows you to add a maximum of 3 CRNs.

What is the process for recovering my CRN?
Text CRN to 9971056767 using the mobile number registered with your bank, and you will receive an SMS containing the CRN.