The internet has changed the world. It has refurbished how the banking area works. Internet banking provides facilities that reduce the need for clients visiting the bank departments for services such as money transfer, cash withdrawal, and others. 
It has considerably decreased cheque books, deposit slips, and other writing applications required to banking services earlier. Nevertheless, you must know what a cancel cheque means and the circumstances a cancel cheque can be helpful.
What is a Cancel Cheque?
A cancel cheque is a cheque which is cancelled by putting two parallel lines on the cheque and writing 'cancelled' between those two parallel lines and the cheque is of a particular bank. A cancelled cheque cannot be used to withdraw money but it is used for other purposes.
Why do We Need a Cancel Cheque?
We need a cancel cheque because it proves that we have an account in the bank. The bank or any financial institution needs a cheque to validate the bank details of the bank account holder. We also cancel a cheque when we make any mistake while filling the cheque. Cancel cheque is a safety that no one can misuse the cheque. There are various places where a cancelled cheque is required.
Know Your Customer (KYC) – Knowing your customer is very necessary for a lot of investments these days. KYC is required for investment in the stock market like cancelled cheque for Zerodha stockbroker, mutual funds, insurance policy or banking sector, etc. A cancel cheque is an important document of KYC .
Equated monthly Installment (EMI) – To buy anything on EMI such as a smartphone, computer, or any product you will need a cancel cheque to validate the EMIs payment option. The company asked for a cancelled cheque to proceed with the EMI payment procedure. There are various types of loans such as car loans, education loans, home loans which require a cancelled cheque for payment through EMIs.
Electronic Clearance Services (ECS) – Electronic clearance service is used for subtracting money from your accounts every month and it requires a cancelled cheque. ECS is very common for mutual funds.
EPF Withdrawal – EPF stands for employee provident fund. Withdrawal from the employee provident fund (EPF) account would want a form and a cancelled cheque. These requirements must be deposited to the company or EPFO. A cancel cheque will help them verify your account details.
Insurance Policy – When you buy an insurance policy like the health, money return, duration, funding, etc., you need to submit a cancelled cheque to the company or agent.
Demat Account – A Demat account is required for someone who wants to invest or trade in stocks. A cancelled cheque needs to be submitted to the stock brokerage with the account opening form, address proof, ID proof, etc.
Also Read: How to fill a Cheque?
How do I Cancel a Cheque?
Firstly, take a new fresh cheque from your cheque book.
Take a pen and draw two big parallel lines on the front side of the cheque.
The two lines should cover the middle part of the cheque and there should be a gap  between the two lines.
Then, write cancelled in between of the two parallel lines who have drawn.
Make sure your details on the cheque are visible such as account number, IFSC code or name of cheque holder and bank.
Do not mention anything else like signature or date on the cancelled cheque.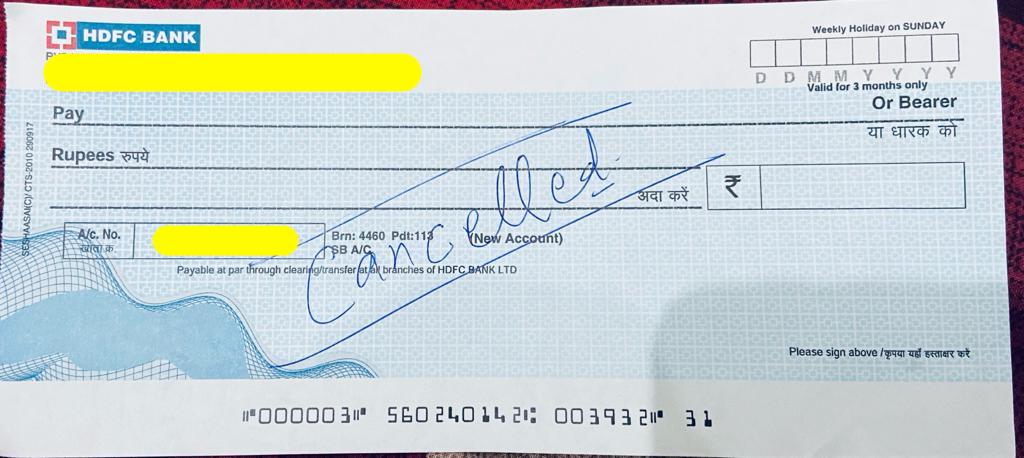 Is it Safe to Give a Canceled Cheque?
It is safe to give a cancelled cheque because no one can withdraw money with a cancelled cheque. It is proof of a person's bank account and proof that no one can misuse that cheque. There are some chances of fraud if the cheque is handed over to a wrong person. Before giving a canceled cheque to any person make sure the person or the company is trustworthy and will not do any fraud with your bank details and cheque.
Does a Cancelled Cheque Need a Signature?
No, a cancelled cheque only needs two parallel lines and cancelled written in between nothing else than that. You do not have to do your signature on a cancelled cheque even if someone says to do so. There are also chances of fraud if by mistake you did your signature or write any amount on the cheque.
Also Read: What are Duplicate Checks?
What is the Alternative for Cancelled cheque?
There are three alternatives of a cancelled cheque if you do not feel safe to give a cancelled cheque or you don't have one.
Passbook- If you do not want to submit a cancelled cheque, you can submit a photocopy of the passbook. But, only submit the first page of the passbook where bank name, account holder name and other details are mentioned.
Statement- In spite of the canceled cheque you can submit a photocopy of your bank statement.
Photocopy of cheque- If you do not want to submit your original cheque you can submit the photocopy of the cancelled cheque and use it many times whenever you need.
What is a Personalized Cancelled Cheque?
In a personalized cheque, all details of the account holder including his or her name is mentioned in the personalized canceled cheque. The details include the name of the account holder, address, name of the bank, cheque number, account number and IFSC code printed on it.
Final Thoughts
There are places where a cancelled cheque is required. Though a cancelled cheque assures you that no one can withdraw money from your account, there can be chances where people can misuse your details. Follow the only steps given to cancel a cheque. You should be sure before giving the cheque and give it to the right person to reduce the chances of any fraud activity.
Recommended:
50-30-20 Rule of Money is the Answer to Your Dreams
Top 15 Best Money Earning Apps