Today everyone is sweating to earn a little money. We understand what difficulties you have to face. To help you, we have made a list of some such apps that will help you earn money with your smartphone. By taking some time out, you can make a side income.
These money earning apps in India will help you to become financially free. If you want to start earning money, consider these recommendations for India's best money earning apps.
Top 15 Best Money Earning Apps In India
1. Meesho

Meesho is a social commerce platform. It provides a platform for reselling business in India. Meesho is among the best money earning apps in India without any investment.
Sellers can resell Meesho products on the Platform or create an online customer network on social media sites. These networks can help you to engage with more customers by sharing product images and descriptions. Social media is a great way to increase sales and build relationships.
Sellers can choose the product variety they wish to sell. After adding the marginal cost. List the price for each product accordingly. Sellers can purchase products at wholesale prices on the Platform. Meesho can help you to build a profitable business. There are currently more than one crore resellers present on Meesho.
Meesho is among the top e-commerce platforms. The app is available in both iOS and Android versions. It has crossed 50 million downloads on the Google play store.
2. Google Opinion Rewards

Google Opinion Rewards is an online survey app. Google runs some paid surveys on the app. By answering a few simple questions, you can earn a little money.
These surveys are easy and short. For each survey, Google pays Rs. 5 – Rs. 50. It is one of the legit and best money earning apps in India.
The app is available for both iOS and Android. On Android, the rewards can not be redeemed into real cash, but you can use this money for credit in online purchasing of applications, google entertainment services. iOS users are paid via PayPal.  
Currently, Google Opinion Rewards holds a rating of 4.3 with more than 50 million downloads.
Also Read: Top 10 Freelancing Websites to Earn Money Online
3. OneCode Money Earning App

The OneCode app is one of the best money earning apps without investment. OneCode offers a refer and earn program where users can refer their favourite brands to their friends.
Users can use "one code" referral codes to avail discounts on various brands. OneCode is associated with many brands, including SBI, Testbook, Dineout, 1mg, Pharmeasy, The Man Company, Spruce Shave Club, Dr Vaidvyas, Bewkoof, Testbook, Vidyakul, Peebuddy, and many more.
You can earn 10% of their friends' earnings who used your referral code to join. Your friends must use your link to purchase or buy services.
Each product and service is unique. Referrals may pay you. Rs100 to Rs 1550 depending on the product or service you're referring to.
OneCode app is rated with four stars and has over 100,000 downloads on the Google play store. The app is only available on the Android operating system.
4. Memechat

Memes are the best way to reduce stress in our modern world. You read that correctly. Memes have been popularized by everyone, regardless of age.
Some people enjoy scrolling through memes, while others like to make them. The good news is for those who create memes. MemeChat is an app that has seen a lot of growth in the past few months. It is free of ads, and you get paid to create some social media content.
The meme platform was the runner-up in the 'Atma Nirbhar Bharat App Innovation Challenge' in the entertainment category. Members can manage pocket money through the Platform. The app pays Rs. 0.1 to Rs. 10 per meme image shared based on the category.
The app has a unique user interface. Memchat is among the best money earning apps in India.
The app has already been downloaded more than 1 million times. Memechat is available for both iOS and Android devices.
Recommended: 15 Best Passive Income Ideas That Will Earn You Money 24/7
5. You Speak We Pay Money Earning App

As the name suggests, the app's rewards system and concept "U Speak We Pay". It charges its users for reading the messages. Actual cash is added to your account after you have finished reading. You have to be excellent in your pronunciation.
It's possible to wonder about the benefits that a company receives from having others read their messages.
These messages can be used to train AI systems for speech recognition and speech-related abilities. This app can be a panacea for your financial plunge for native speakers of Oriya (Odia), Urdu, Punjabi, Kannada, and Malayalam.
This app has over 2 lakh users and 13000 Play Store reviews.
6. Qureka Money Earning App

Qureka is a live trivia gaming platform. Players can earn money online as well as test their knowledge. The app hosts real-time quizzes between 9 a.m. to 9 p.m. Users need to give quick and correct answers to earn real money.
The platform hosts live trivia games and reward the winners. Each game show features a fixed prize pool and ten questions. Every player who answers all ten questions correctly is eligible to receive a portion of the prize money, evenly distributed at each game show's end.
The app also offers users to earn through referral codes.
The app is only available for Android users. Qureka has been downloaded more than 10,000,000 times.
7. Dream 11

In India, Dream 11 has been gaining a lot of attention in the past few years. It is very popular among cricket-loving youths. The Dream11 app is based upon the cricket fantasy league.
Just download the app, and then sign up using your Gmail ID. This app offers a higher chance of making money by referring others than other apps.
It is amazing. Do not hesitate to try your luck! Play the game, and you will win. Dream 11 is among the best money earning apps in India.
It is not all luck. Before you invest your hard-earned cash, you need to plan and execute strategies. The app is accessible on Android and iOS, regardless of whether you are an iOS or Android user.
Recommended: Best Money Earning Games Online
8. Gamethon Money Earning App

Gamethon is a gaming application. Users can play games and earn real money. The rewards and winnings can be redeemed directly to the user's bank account by their gateway partners.
This application is only present in the Android version. Users can download the application from the official website of Gamethon.
The company continues to add new games to its collection and adapt popular games to make them more enjoyable. They offer a wide range of video games such as Online Ludo Game 2, Online 8 Ball Pool Game 2, Online Solitaire Game 2, Announcement 5, UNO Card Game 2, Dots and Boxes Game.
9. Big Cash App

Big Cash app is another gaming platform that allows users to win real cash prizes. Users can withdraw their cash prizes via Paytm or other UPI gateways.
The application has listed a long-range of online earning games such as Rummy, Call Break, Cricket, Knife Hit, 8-Ball Pool, Bulb Smash, Fruit Chop, Car Race, Soccer, BasketBall, Ice Blaster, Egg Toss, Cricket, ECL Cricket, Kabaddi, Football, and many more.
This application is only present in the Android version. Users can download the application from the official website of the Big Cash app.
10. MX Player Games

MX Player, formerly J2 Interactive, is a well-known application in India. MX Player is a complete package of entertainment. From audio songs to movies, from short video platforms to online money-earning games, the Platform has tried to bring all the pieces together in one box.
A user can earn MX Coins by playing games on the Platform. These MX Coins can be used to unlock premium content and coupons for other brands, such as Paytm and Myntra. The Platform also runs many contests where users can earn real cash.
The application is available for both iOS and Android users. It has crossed 500 million downloads.
11. Money Ball App

Money Ball app, another money earning app in India. It is an online gaming application where users can play and earn real money. The app rewards users with coins. After crossing a threshold, users can redeem coins in real cash via PayPal or Paytm. The cash will be paid through an online money transfer into your bank.
Money ball app also offers paid surveys. By completing surveys, users have another option to earn money.
Money ball is among the best money earning apps in India. Its user interface is appealing and easy to use.
This app is available only for Android users. The app has already crossed 500,000 downloads.
Recommended: Best Ways to Earn Money Online
12. InterMiles App

You can use Intermiles to earn Miles, whether you're looking to book a flight, buy a book, or buy anything online. Miles can be described as coins.
They can be earned through transactions made via the Intermiles app. Later, users can redeem these for various offers, such as discounts on various partner brands like Amazon and Nykaa, Dominos, TataCliq, Flipkart, and Amazon.
It also offers subscriptions to various platforms like Zee5 or Times Prime. You can redeem your Miles to get free flights to 7600 destinations and more than 200 airlines. Every coin, offer and reward, depend on the services you pay for. InterMiles is one of the best money earning apps in India.
The app is available for both iOS and Android users. The app has crossed 500,000 downloads.
13. Paybox App
PayBox App is one of the most used Paytm cash-earning applications. Pay Box has several games that you can play to make money. PayBox App allows you to complete many tasks to make money.
Referring to PayBox could earn you Paytm cash. Refer a friend to get a reward Paytm Cash Rs 6 In Pay Box App. You can withdraw as much as Rs 50 Paybox App allows you to withdraw as much as Rs 50. To make your first withdrawal, you only need five referrals.
PayBox also offers the opportunity to earn Rs. 20 registration. PayBox has been downloaded over 2 million times.
14. Rozdhan App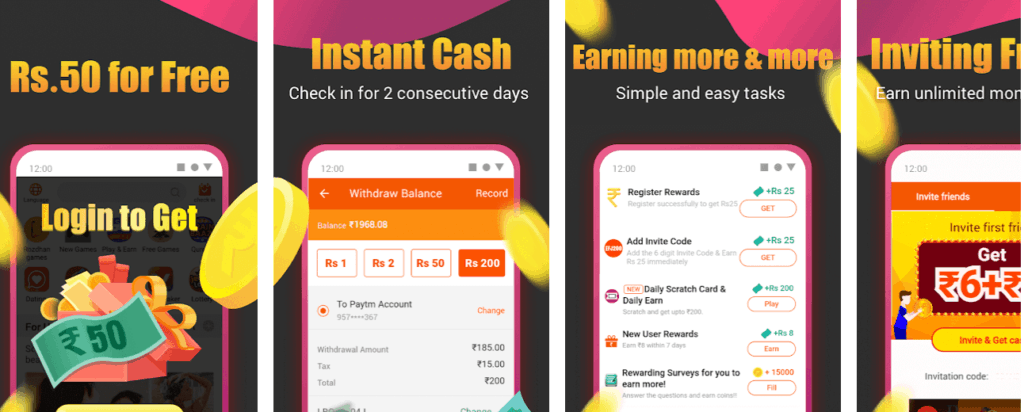 Rozdhan is an Indian video-sharing application. Users can earn money by sharing videos. The app pays you in "points", which can be redeemed via Paytm directly into your bank account.
The application also offers you to earn money via referrals.
Users will get a signup bonus of Rs. 50. The app offers various options to earn money online by completing tasks, Play games, Survey and installation tasks, Daily Horoscope, Read News, Walk and Earn, and Visit Popular Sites. Rozdhan is one of the best money earning apps in India.
The application has more than 10 million downloads. The application is only available for Android devices.
Recommended: Best Copy Paste Jobs Online
15. WinZO Money Earning Application

WinZo is an Indian gaming platform. It is a unicorn gaming platform in India. It is available in 12 native languages. WinZo has listed more than 70 games on the Platform.
In Feb 2020, WinZo tied up with Tencent Games India to launch PUBG in different native languages. WinZo also offers a fantasy sports platform. Players can play fantasy cricket, fantasy football, and kabaddi.
With a user base of 30 million players, WinZo is among India's best money earning platforms.
Frequnently Asked Questions
Why Do Quiz And Gaming Apps Pay Users?
Money earning apps do not pay from their pockets. On quiz apps and gaming apps, users watch many advertisements. These apps earn from advertisements and sales. They pay a small share of the net profit to the users.

Do Money-making Apps Work?
Yes, they do. Apps like Meesho, Google opinion, and Memechat pay their users. If nothing special, it will supplement your income. 
Various gaming and survey applications also pay their users.

What Are The Best Money Earning Apps With Games?
WinZo and MX Player games are one of the best money earning apps in India. Both apps are legit and pay money for playing games. 

Are Money-earning Apps Safe?
Yes, However, we always encourage our readers to do a thorough study of the Platform before using it. 

How Much Money Can You Earn From Money Earning Apps In India?
They will not make you rich, but surely they will give you a hand in your income. On apps like Meesho, you can run a small-scale business to aid your earnings.
Similar Posts: