In recent years, the word "Metaverse" has grown in popularity as many businesses recognize it as the technology of the future economy.
While the terms "internet" and "online" are becoming more widely used, the term's definition remains ambiguous.
Because the Metaverse is being dubbed the "next big thing," it's important to grasp it.
The term "Metaverse" refers to technologies that allow people to participate in connected digital worlds.
It's a mix of the Greek words meta and the universe and it's essentially an extension of the real world.
Real people utilize online games and apps to access these 3D "worlds," They represent themselves as avatars and communicate with others.
These virtual communities' activities mirror those in the real world.
For example, players can produce, sell, purchase products, and invest in and reward others.
As users navigate an ecosystem of competing products, the Metaverse effortlessly mixes gaming, virtual reality, live-streaming, cryptocurrencies, and social networking.
Listed below are the Best NFT Metaverse games:
1. Axie Infinity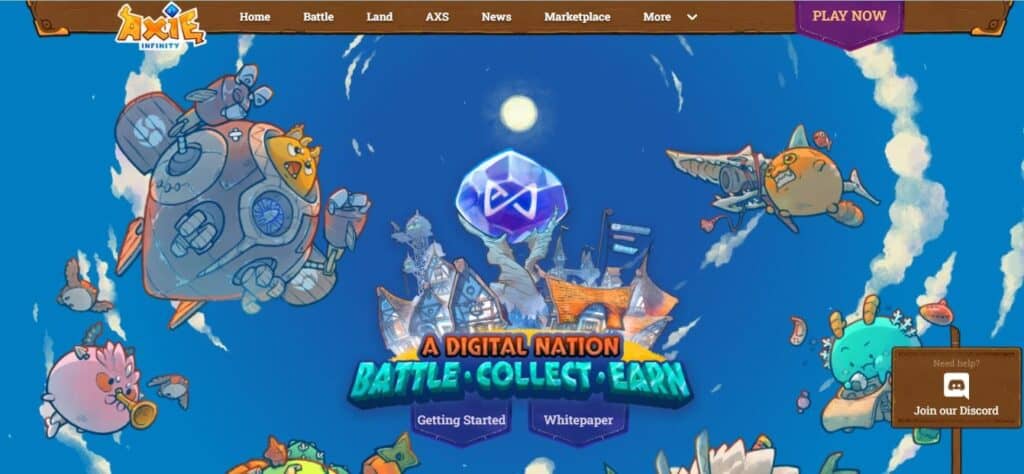 Axie Infinity was released by Sky Mavis, a Vietnamese company, in 2018.
With this game, players breed, raise, collect, and trade fantasy creatures called Axies, inspired by Pokemon.
There are over 500 body parts to customize for each creature.
Axies' offspring have different powers and characteristics depending on which genes they inherit.
By battling against other Axies, you can earn rewards for finding treasure or hunting it down.
The platforms enable you to build homes and land for your Axies based on the available resources.
In this game, virtual pets and items are monetized by a non-fungible token (NFT) or digital ownership certificate governed by blockchain technology.
Scholars or individuals can also be found who can lend players three of their Axies to earn tokens.
Axie Infinity Shards or AXS is the game's currency.
Players receive smooth love potions when they defeat opponents and complete quests.
To breed Axies, you will need AXS and SLP tokens.
2. Star Atlas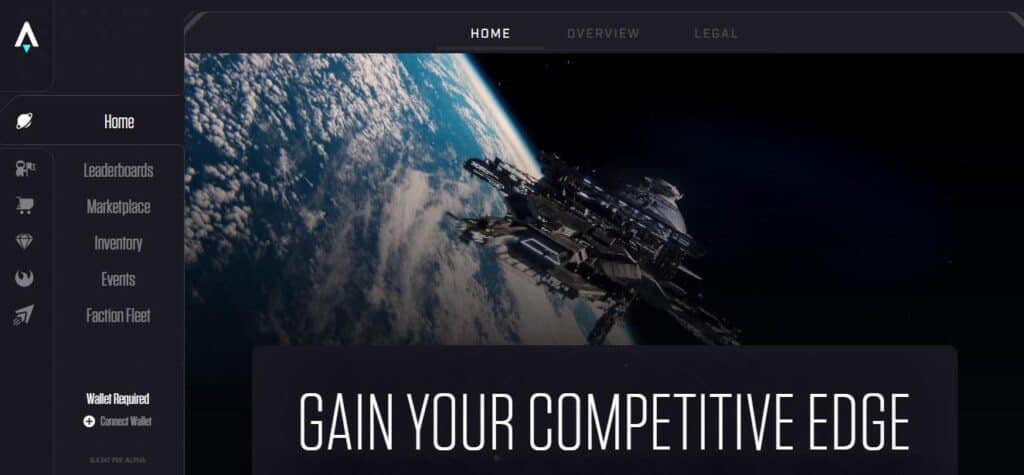 The space research strategy game Star Atlas is a first of its kind.
In this game, you can choose between three different sides.
This is the first of these applications to be built mostly with the Solana blockchain technology.
Despite being a work in progress, the video game has already established itself as a primary virtual world application on the Solana network.
As the game is powered by Unreal Engine 5, stunning visuals can be expected.
Furthermore, the game takes place in the deepest part of the galaxy, letting you take control of various countries.
As a bonus, you can explore different galaxy parts with your friends when you play Star Atlas.
3. Decentraland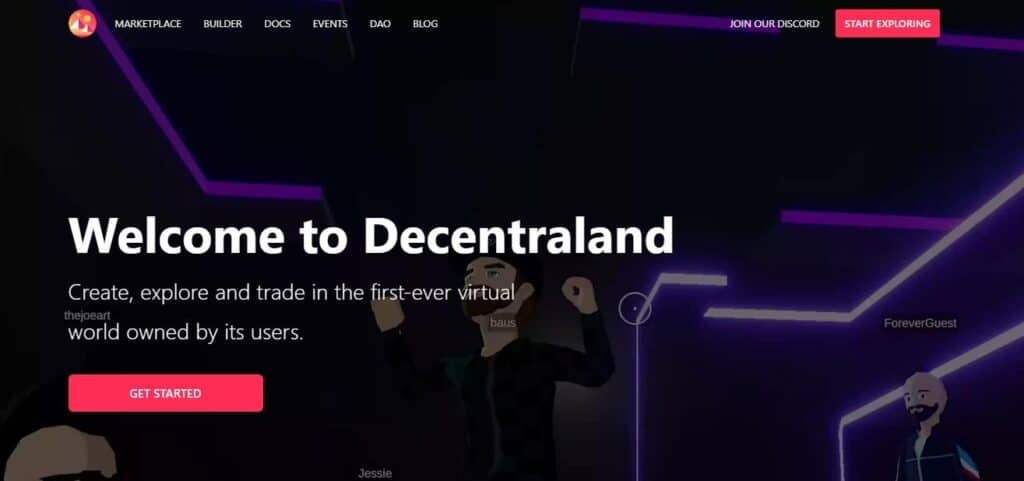 The Decentraland project was opened in 2020 by Argentinean artists Ari Meilich and Esteban Ordano.
The virtual space, including over 90,000 land parcels, allows you to buy wearables, create avatars, and acquire land/real estate with the help of the MANA cryptocurrency.
Besides renting out lots, you can also rent out whatever else is on them, such as cinemas, parks, casinos, hotels, houses, etc.
Another way to earn an income is by organizing a concert and selling tickets or holding an auction to sell digital art.
Players of this platform often use MetaMask as a digital wallet.
4. Sandbox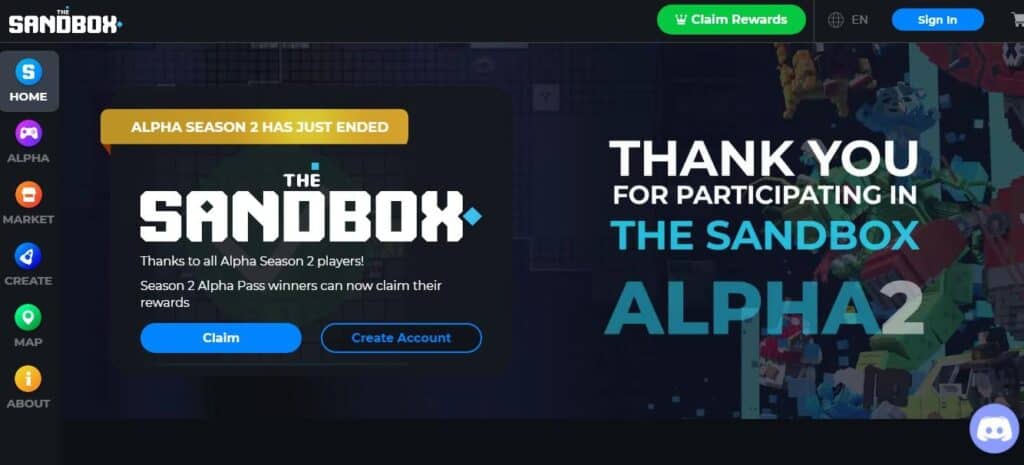 Founded by French co-founders Arthur Madrid and Sébastien Borget of Pixelowl, Sandbox first appeared in 2012 as a mobile game.
The platform is one where users are represented as block-like customizable avatars, and when they create something, blockchain and smart contracts are used to ensure ownership.
There are three main products in Sandbox.
A 3D modeling tool, VoxEdit lets you design avatars, vehicles, plants, animals, tools, and other objects.
Your creations can also be exported to Sandbox's second product, the Marketplace, where you can sell them.
Game Maker is the final product, which allows users to create 3D games without using code.
The Sandbox's primary currency is Sand.
Using your Sandbox map, you can select a land parcel and an estate to purchase, trade, and own.
Alternatively, you can offer these properties in the Open Sea NFT marketplace.
5. Chain Of Alliance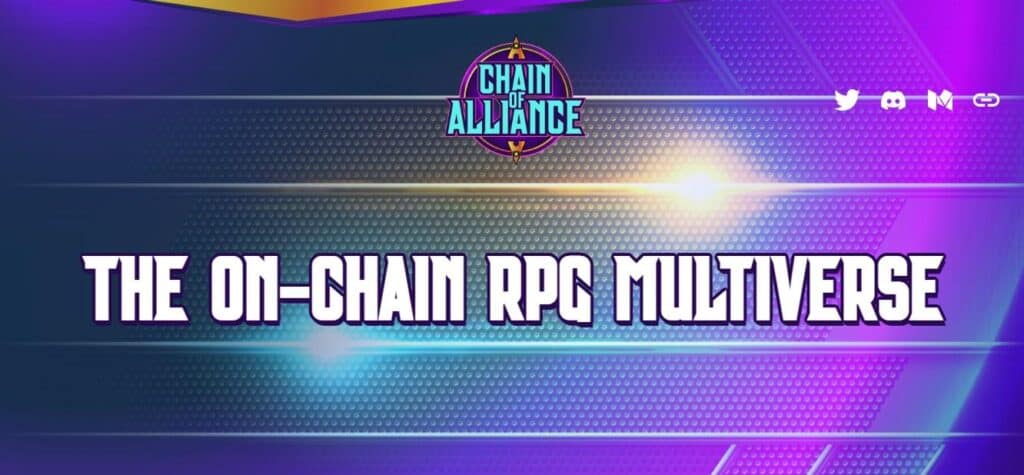 A subsequent role-playing fantasy game, Chain of Alliance, released in 2020, involves customizable monsters with NFT values.
A team of up to eight characters can be fielded per round.
To increase your winning chances, you should choose the best players and equip them with the best weapons.
https://www.chainofalliance.com/
6. My Neighbor Alice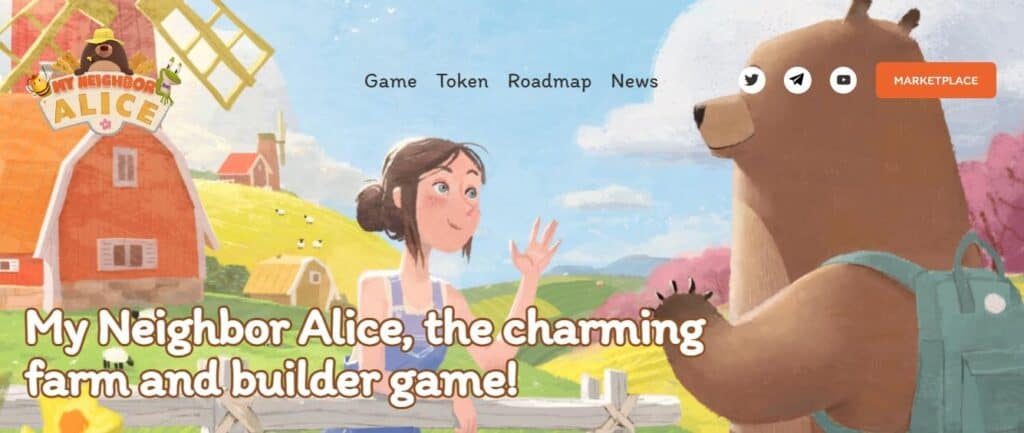 A multi-player builder game called My Neighbor Alice lets you cultivate virtual islands and farm plots stewarded by Alice.
The interface is similar to Farmville, where you can choose the crops to grow and the livestock to breed and interact with other players.
There are also other livelihood options, such as running a bee farm or an apiary and selling honey later.
My Neighbor Alice NFTs are traded on the Alice marketplace and other blockchain platforms.
The NFTs include plants, animals, houses, clothes, decor, etc.
https://www.myneighboralice.com/
7. Krystopia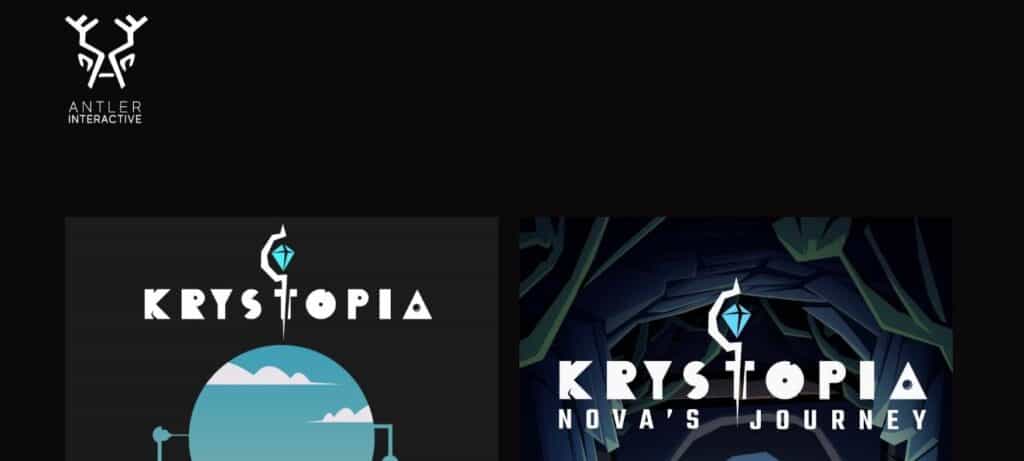 Players who enjoy puzzles and mazes will enjoy Krystopia.
In this game, you play as Captain Nova Dune, a space explorer who heads to planet Krystopia after noticing an unknown distress signal.
Nova and her alien companion Skrii encounter the island's inhabitants and engage in escape room-style challenges along the way.
8. Alien Worlds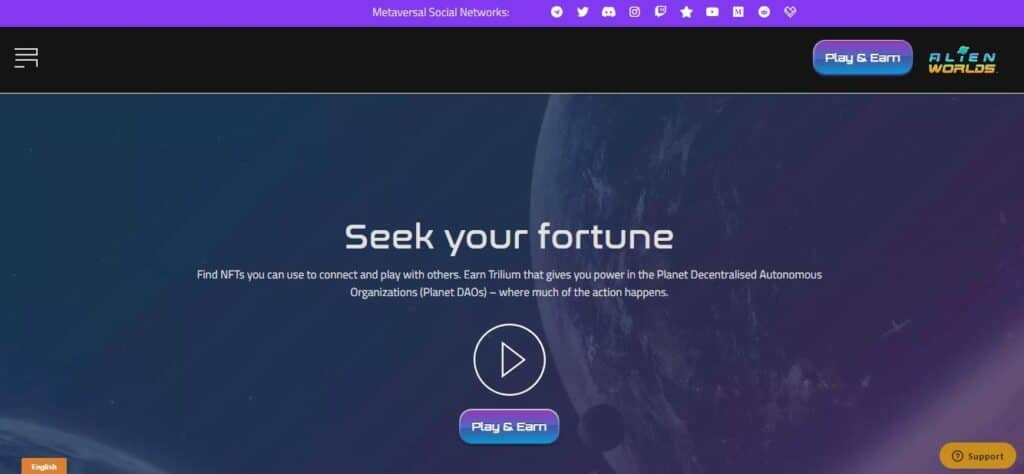 Alien Worlds launched in 2020.
As a space explorer, you are tasked with mining Trilium-the game's official currency-from six planets.
The game features the world's own elected government, and your vote depends on how many tokens you stake on a planet.
To get more tokens and powerful mining tools, you may want to buy your land or pay a landowner to dig.
You can also earn tokens by fighting other explorers and going on missions.
9. Farmers World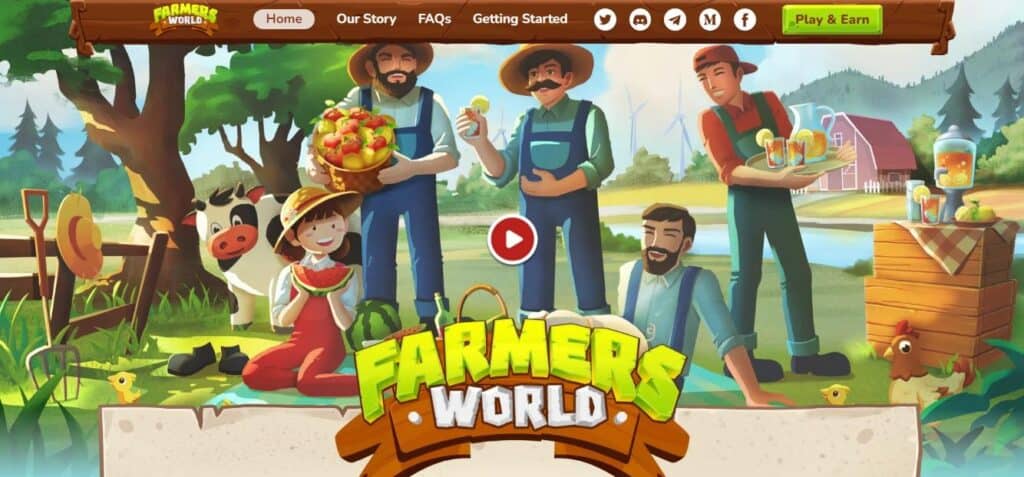 Farmer World, released in 2021, lets you mine gold, grow crops, farm livestock, catch fish, and build homes for your animals.
The AtomicHub market lets you buy tools. The goods you produce on your virtual property and the goods you buy from there, such as milk and eggs, are non-fungible tokens.
You can sell or trade the produce you harvest with other players.
It will be your responsibility to guard your farm against intruders and other players who may steal your resources or fight any jungle monsters in your territory.
10. Prospectors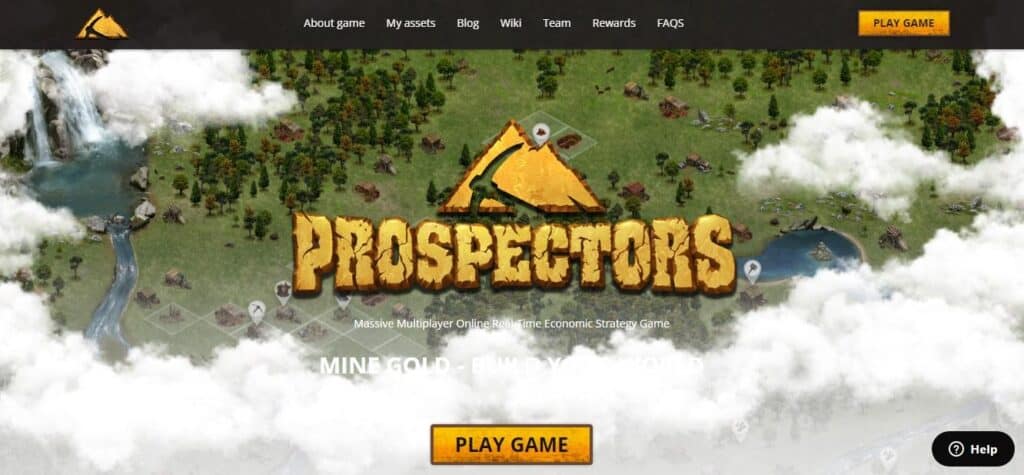 Prospectors is a multi-player economic strategy game set in the Wild West during the 19th century.
The game's object is to acquire gold that you can convert into the official game currency, Prospectors Gold.
You get three workers at the beginning of the game which can be assigned to your business or someone else's.
You can start mining right away by having your workers build a mine.
It's possible to mine for free, but you'll need to rent land to build structures.
In the event of unpaid rent, the property will be blocked, and anything on it will be auctioned.
11. Horizon Worlds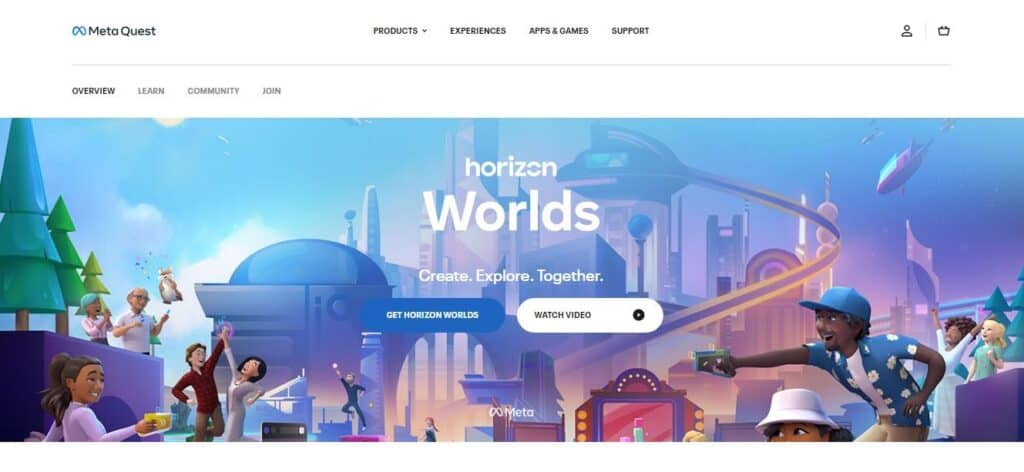 Meta – formerly Facebook has been pushing the Metaverse concept a lot recently.
As a result, the company's app is a big entry point inside the Metaverse.
Known as Horizon Worlds, the app brings together Meta users so that they can socialize together.
Using this app, users can explore various areas, socialize, and even play interactive games and puzzles.
The Horizon Worlds application also provides users with the option to make their worlds and enjoy them.
Using Horizon Worlds, you can interact as your avatar with various other people.
Horizon Worlds doesn't just let you be a visitor.
It makes you a part of it.
https://www.oculus.com/horizon-worlds/
12. VRChat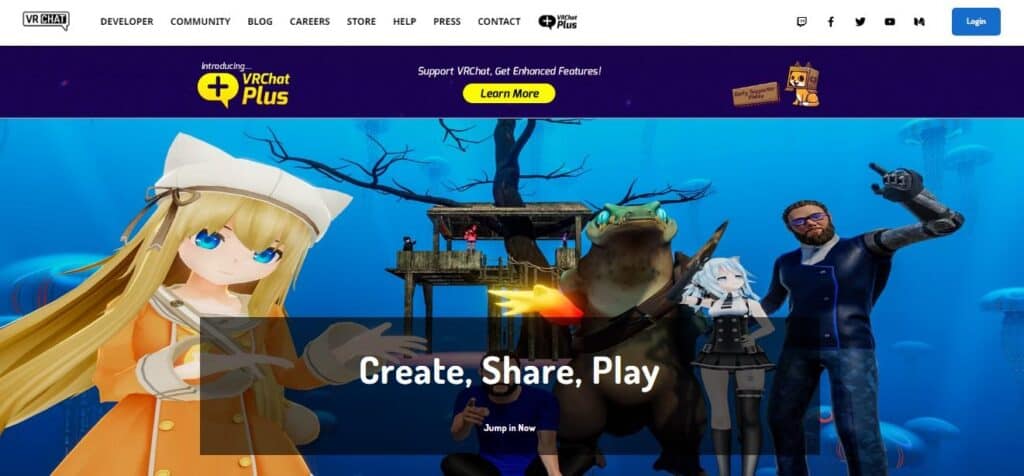 VRChat is another easy way to stay in touch if Horizon Worlds is unavailable in your country.
Originally released in 2014, the game was a community-driven Metaverse experience.
The game has slowly been made available across multiple platforms, including Oculus Quest 2.
The Metaverse game offers users multiple worlds based inside the VRChat universe in which they can create 3D avatars and interact with other players.
With VRChat, you can create an avatar that embodies your personality and uses pop culture and anime characters.
While VRChat's gameplay is similar to Horizon Worlds because it's been around for a while, it currently has a wider variety.
The VRChat game features countless worlds, each with its own unique and beautiful scenery.
Most of these worlds are user-created and are only limited by the creators' imaginations.
In addition, VRChat's avatars support almost a full range of motion, so each VR user's emotions are represented in their avatars.
Numerous users trying to break into the Metaverse have played VRChat consistently.
13. Rec Room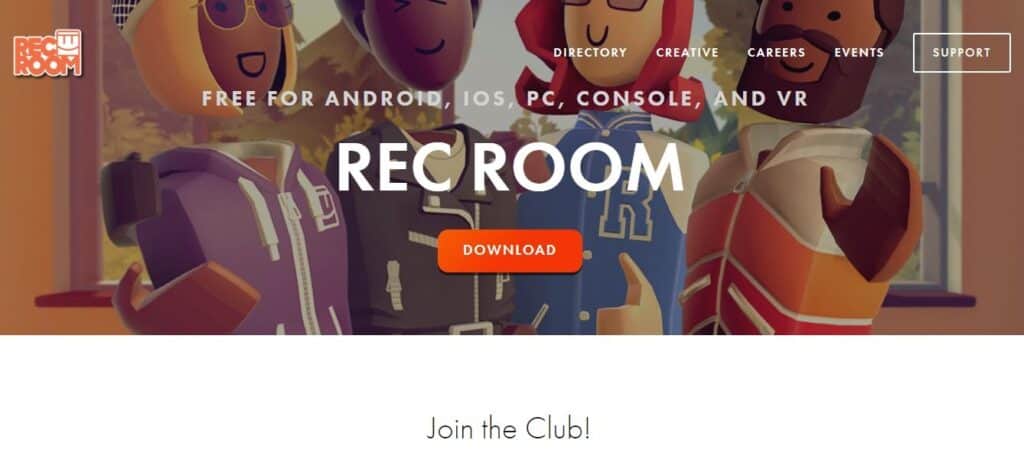 Metaverse game Rec Room is another community-based game with lots of different options.
Players can choose an avatar and become a Rec Roomer, just like they can in other Metaverse games.
In the Rec Room, gamers can reach out to and socialize in an entirely digital environment.
Rec Room adds gamification to the genre while taking elements from VRChat.
Aside from just hanging out, members of our community can create countless games.
There are millions of rooms created by players in the game, which can be expanded even further.
As in VRChat, you can customize the avatar even further to make it more personal.
One of the best things about Rec Room is that it works on almost every platform.
Therefore, the Rec Room app can be installed on any platform, including mobile devices, PCs, or virtual reality headsets.
14. Fortnite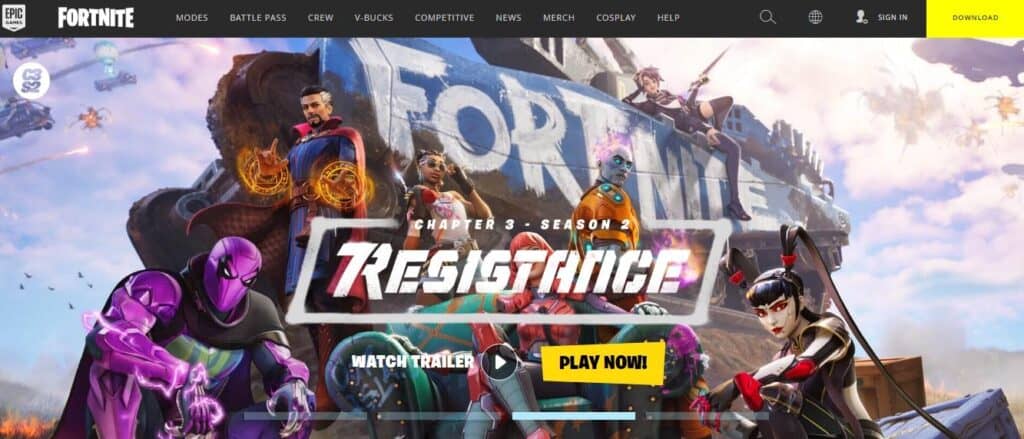 Epic Games' Fortnite has evolved from a Battle Royale game to an entry point into Metaverse gaming, and it continues to be wildly popular.
As time went on, Fortnite evolved into a game that players could play and experience.
Many changes have been introduced, from creating a black hole to introducing Fortnite Impostors.
The most incredible addition to the Metaverse has been that entire live concerts have taken place inside Fortnite.
Those who are already Fortnite fans may have attended Travis Scott's live concert or even seen Marshmello perform.
The game is increasingly becoming a Metaverse by allowing players to participate in events like these.
Players can play and interact with other players and participate in events such as these using their drop-in characters.
Tim Sweeney, CEO of Epic Games, recently commented on the Metaverse and called it a billion-dollar initiative.
https://www.epicgames.com/fortnite/en-US/home
15. Roblox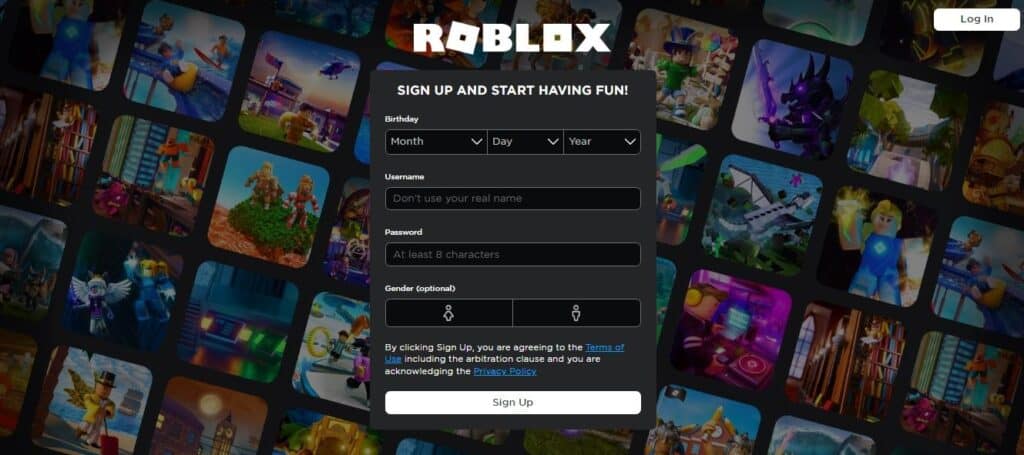 A VR headset is not required to play Roblox.
Gaming platforms like this have recently exploded in popularity and have become a second home for millions.
A variety of games can be played on Roblox by creating your block-sized characters.
More than half a million games on Roblox are divided into different categories.
Many games are available on Roblox, ranging from the scariest to the action-packed.
Furthermore, you can also join dedicated Roblox servers and roleplay as different characters inside the game.
Roblox lets you create your own house, marry someone virtually, and live like a family.
16. Second Life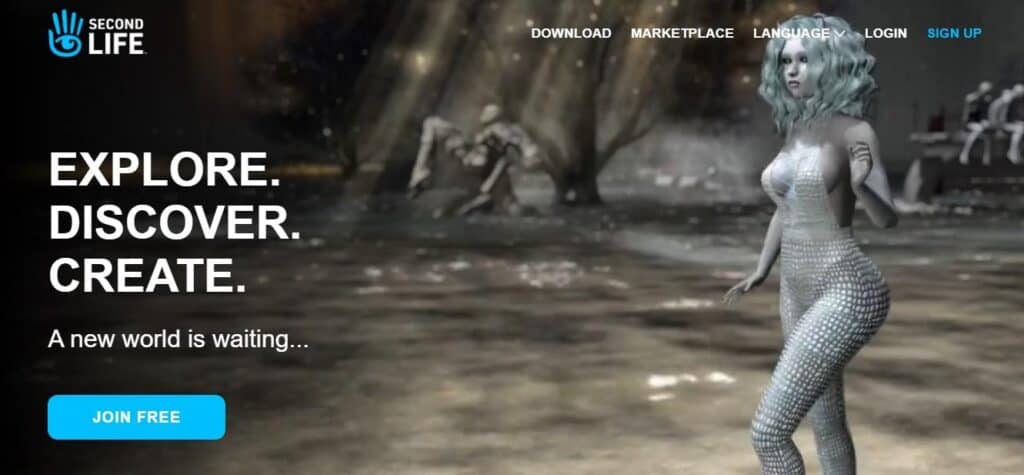 First and foremost, Second Life is a Metaverse game that has been around for quite some time.
With the help of this online platform, gamers can create an avatar and essentially have an alternate reality within the realm of the digital world.
'Residents' are Second Life users who can be made to appear as if they are real-life players by using effective rendering techniques.
More than that, Second Life allows players to participate in the entire Metaverse experience, which includes meeting other players, attending all types of activities, and ultimately living a completely different life in this virtual environment.
However, this is not the end of the story.
Several virtual objects and various other aspects are available for purchase, sale, and trade in the Second Life virtual marketplace.
These transactions are carried out with Linden dollars, which must be purchased with actual money.
Items include anything from virtual furnishings to clothing to automobiles and even whole land.
Second Life is a good choice if you're seeking a Metaverse game in which you may live a second life while also doing real-world transactions.
17. Zepeto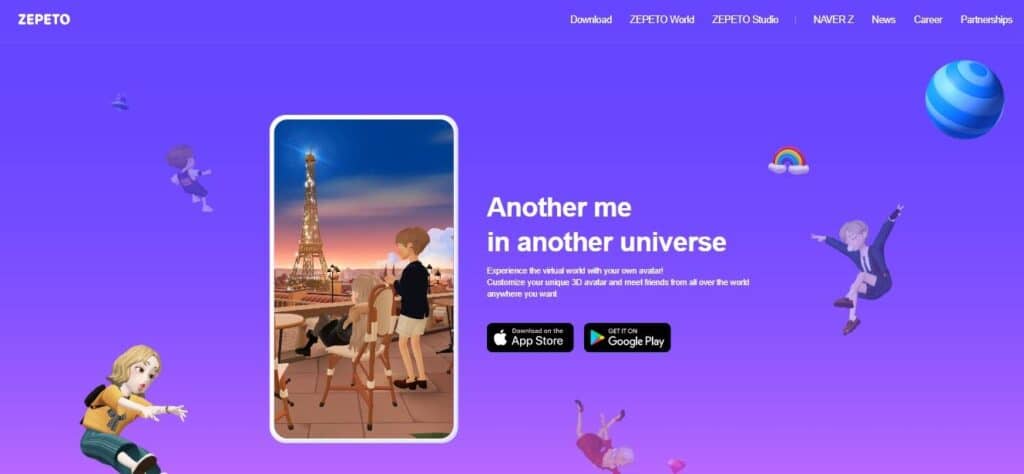 The Zepeto app was launched three years ago, and right now, it has 250 million active users.
By playing this Metaverse game, you can create an avatar that looks just like you in real life and communicate with avatars worldwide.
This game allows you to create virtual items that you can sell into the game's currency, referred to as Zems.
Zems can be made as many times as you want and then exchanged for real money.
Many users of this game are making a handsome amount of money in exchange for Zems by making virtual items in the game and then selling them.
18. Farming Tales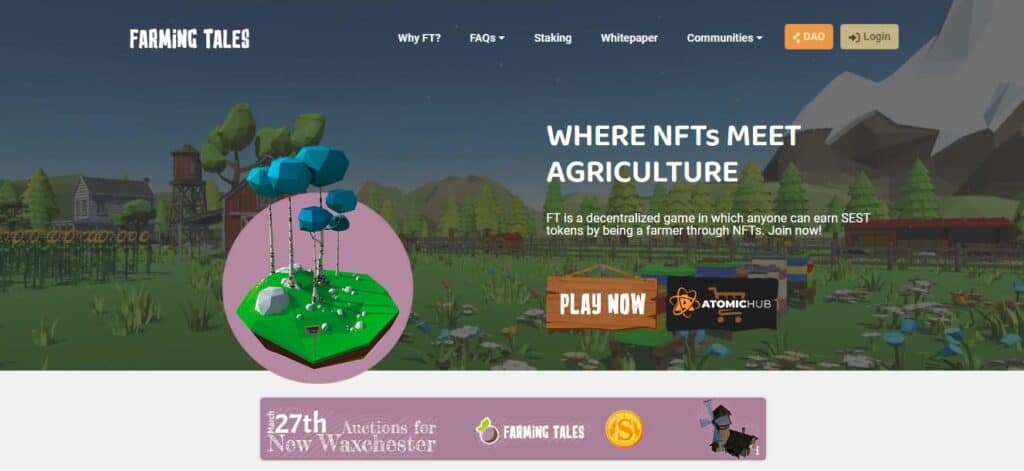 Farming is the main focus of this Metaverse game, which offers players SEST tokens as an in-game currency upon completing objectives.
There are many farming video games out there, and this is no different.
According to the game's official website, "A crypto farm where NFTs reflect genuine items from our real farms" is the game's main feature.
In other words, your efforts in the game will be rewarded based on your results in real-time.
Game developers, Unity is responsible for developing the game's Metaverse, and the WAX blockchain is used to implement the game.
However, it's important to know that Farming Tales does not come for free and that you must get NFTs before continuing.
19. StarCrazy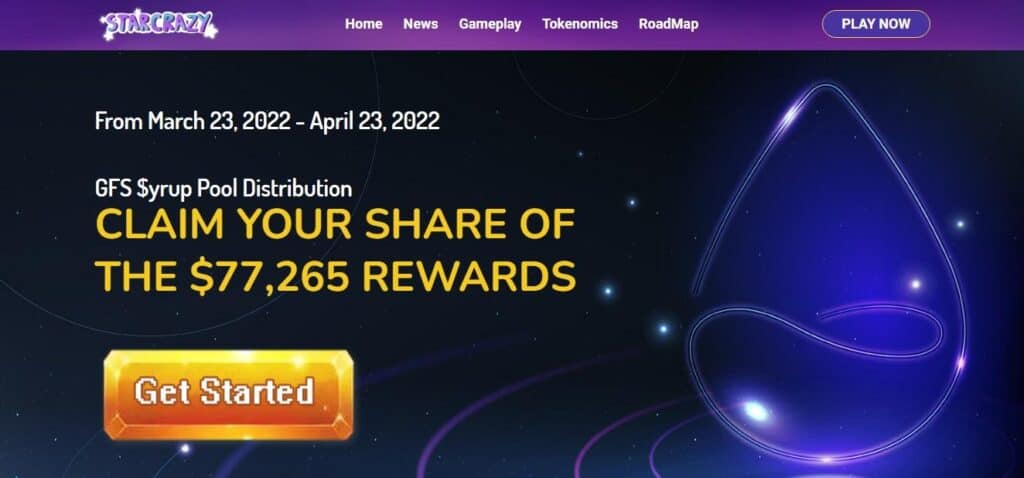 The game StarCrazy takes a minimal initial investment but is an excellent play-to-earn game.
The Metaverse game can be downloaded on both Android and iOS devices.
Once you download the loPay app, you can begin playing the game.
It has a stellar concept that will amaze you.
The GFT tokens can be acquired by collecting Stars (NFTs).
StarCrazy allows you to bid on, buy, and sell stars.
More stars can be obtained by diving deeper into the game.
Gaining more GFT tokens can be facilitated by a star with improved digging power.
Unlike other games, the game doesn't require a lot of money to begin playing.
20. CyberTrade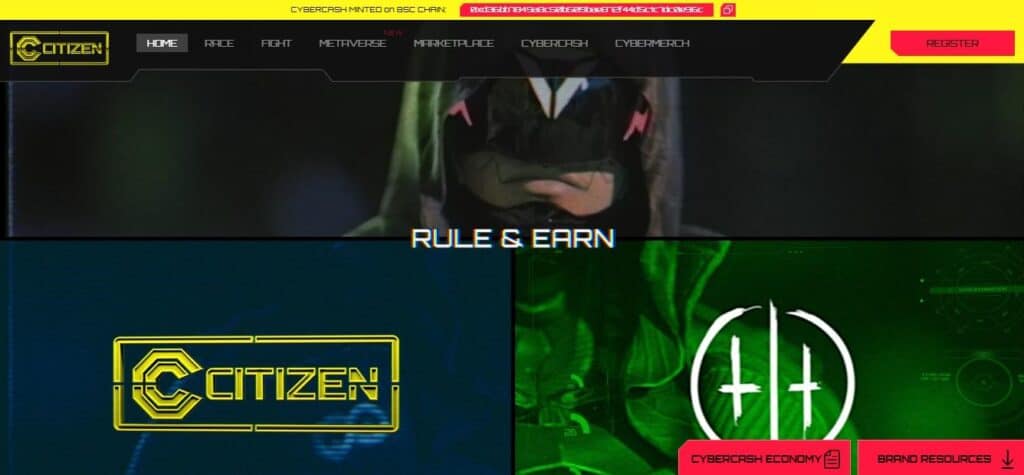 CyberTrade is a futuristic-looking metropolis developed utilizing Binance's Smart Chain.
Play this MMO role-playing game to become the finest fighter and earn CyberCash ($CCASH).
It's a massively multiplayer online role-playing game in which players assume the role of Metropolit city residents.
Governance, Rugpull Zone, Purge, Citadel, and Portal are just a handful of the gaming systems available in Crypto Citizen.
To get started with this game, you need one character.
Users can fight against one another and start earning $CCASH after each victory.
NFT supporters and gamers will be able to get a feel for the game through the Crypto Citizen Portal feature before making a financial commitment.
If you deposit some gaming NFT, you'll get a free rental metaverse avatar or car, which you may use to earn $CCASH in exchange for your money.
21. Vulcan Forged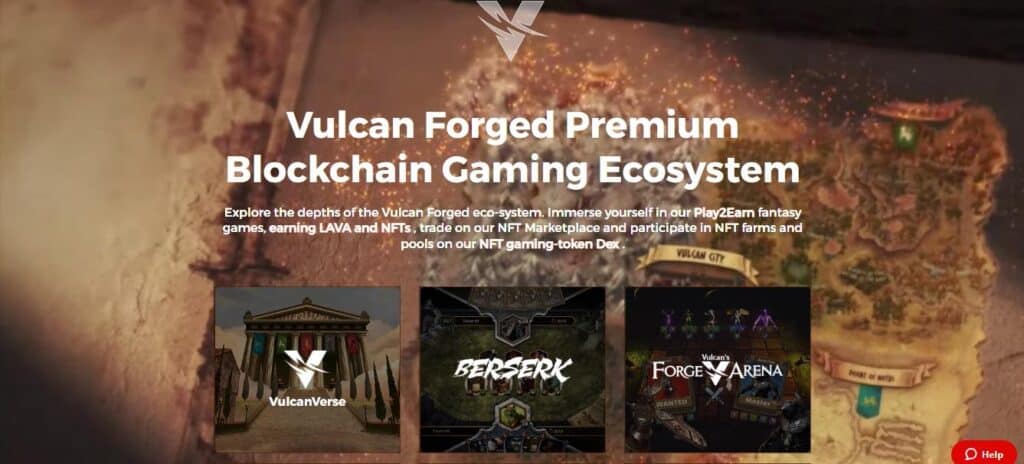 The Metaverse also includes Vulcan Forged, a game library.
Vulcan Verse, Blockbabies, Berserk, and Forge Arena are among the currently available games.
Coddle Pets, Geocats, Block Babies, and Agora are four more that are in the works.
Each game has its playability and non-fungible tokens that can be used or traded.
It is the world's largest blockchain gaming and decentralised application platform.
It has the power to create some of the most incredible Metaverse matchups.
https://vulcanforged.com/#GamingSection
22. Revomon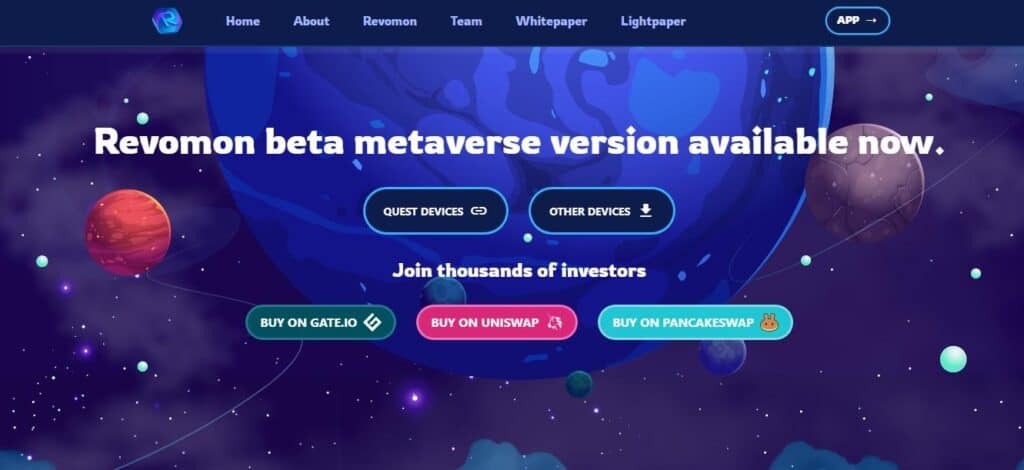 Revomon is a game similar to Axie Infinity where players collect, breed, battle, and trade Revomons.
This Metaverse game allows you to explore a digital environment filled with Revomons in an interactive virtual environment.
It's a fun-to-earn game that will enable you to earn bitcoin while having fun.
The most recent version is currently available for download on their website.
As you go through the Revomon realm, you can choose between Gorlitz and Zorelle as your companions.
Similar Posts: