Portfolio trackers allow you to view your cryptocurrency holdings in real-time, including wallets, platforms, exchanges, and blockchains.
It's possible to keep track of past transactions, weight, and destinations.
Each app provides the current market price of any cryptocurrency.
It may be possible to trade assets held at multiple exchanges.
Below is the list of Best Crypto Portfolio Trackers:
1. Pionex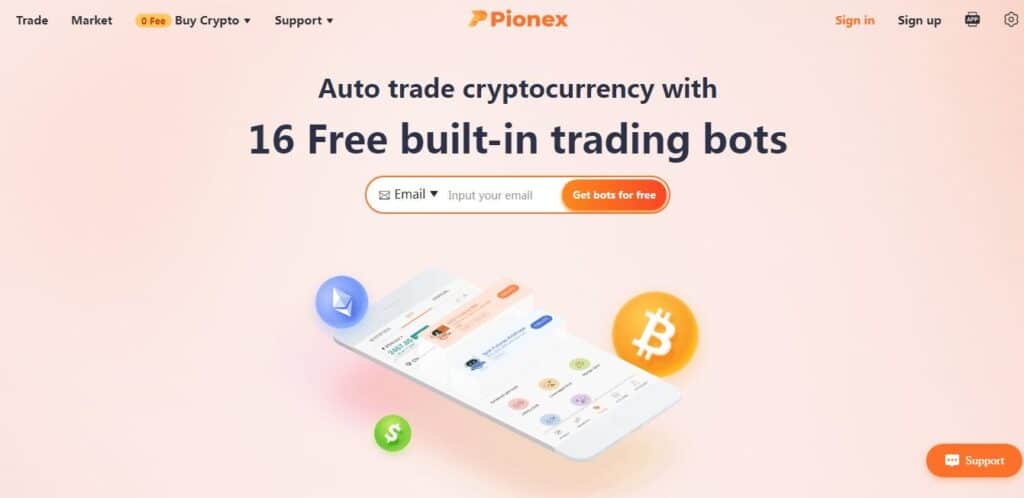 It is the world's first exchange with 18 free trading bots and is the first crypto trading robot.
Robots allow customers to trade around the clock without constantly monitoring the market.
Brokerage company that aggregates finance liquidity with huobi global.
The Pionex platform is a web-based platform that supports most presently available browsers.
Pionex Arbitrage bot has set a few limitations to control investment risk.
These limitations prohibit altcoin investments.
In addition, the wallet service has recently been upgraded.
Features:
The trading bots offered by Pionex are free for retail investors
Compared to most large exchanges, this is the least expensive. Makers and takers each pay 0.05%
The tool is equipped with an integrated live chat feature
Among its features are TradingView charts, light and dark modes, and customisable time filters
Trading can be conducted on Pionex using a bank account
2. Coin Market Manager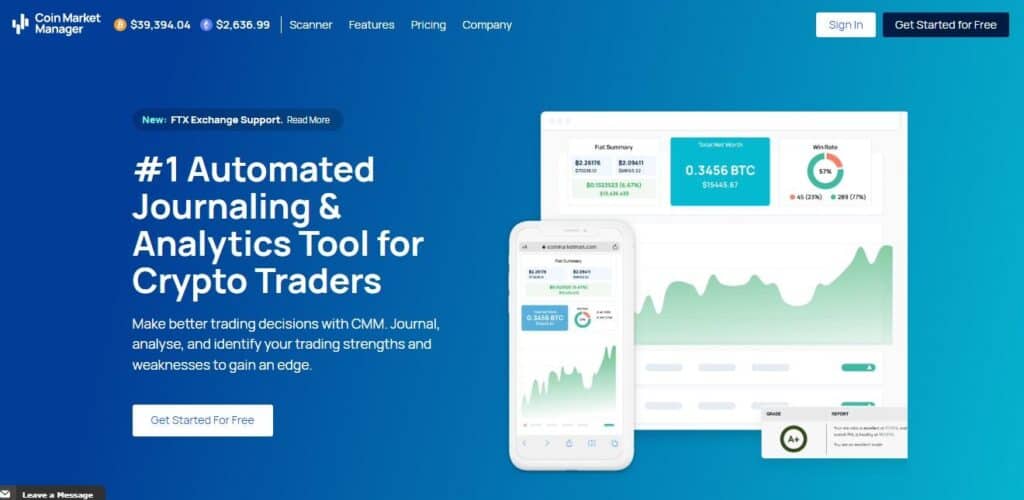 The coin market manager allows you to manage all your accounts from one place and import your trade history in one click, in addition to connecting with your favourite exchange.
With this application, you can exchange Bitcoin on various exchanges like BITTREX, Binance, Bybit, Deribit, BitMEX, etc.
The analysis includes a breakdown of performance analytics, overall exchange PNL, and trade history.
Features:
Coin Market Manager's automated journaling automatically records trades.
Trading can be made more accessible with this tool.
A tracking and analytics feature lets you keep track of your trading activities.
It provides the option of creating a custom URL and a personal verification page.
3. Blockfolio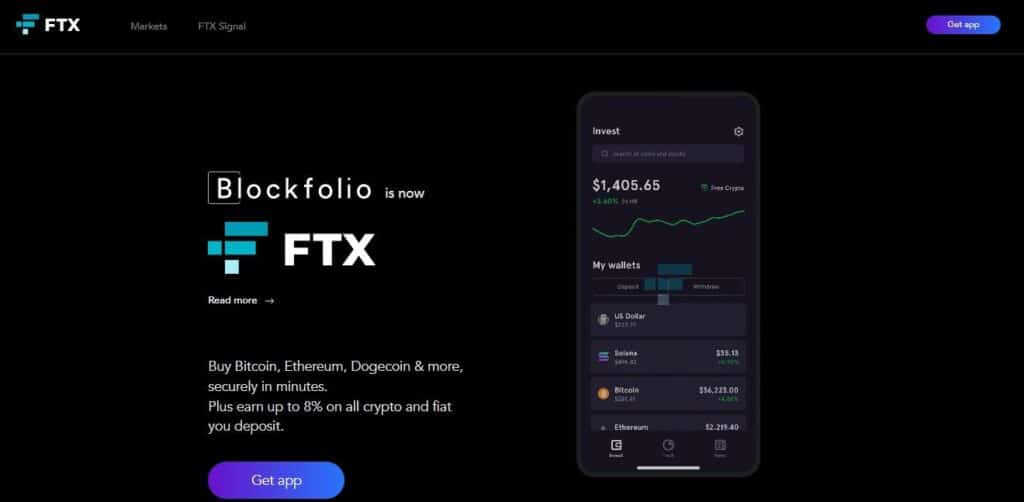 Blockfolio is an online portfolio service launched in 2014.
Six million people use it, and it does not discriminate against any crypto assets.
It offers users access to almost 15 exchange wallets and sets it apart from most other crypto portfolio trackers.
Users can set up price alerts.
Trading data and information can be retrieved from Signal, an intelligence tool.
This app has received extensive reviews, with more than 28.000 ratings on Apple's App Store and 148.700 on Android's Google Play Store.
Features:
The app is available on both Android and iOS
Access to web platforms or desktop apps is not available
Section for upcoming events
4. Delta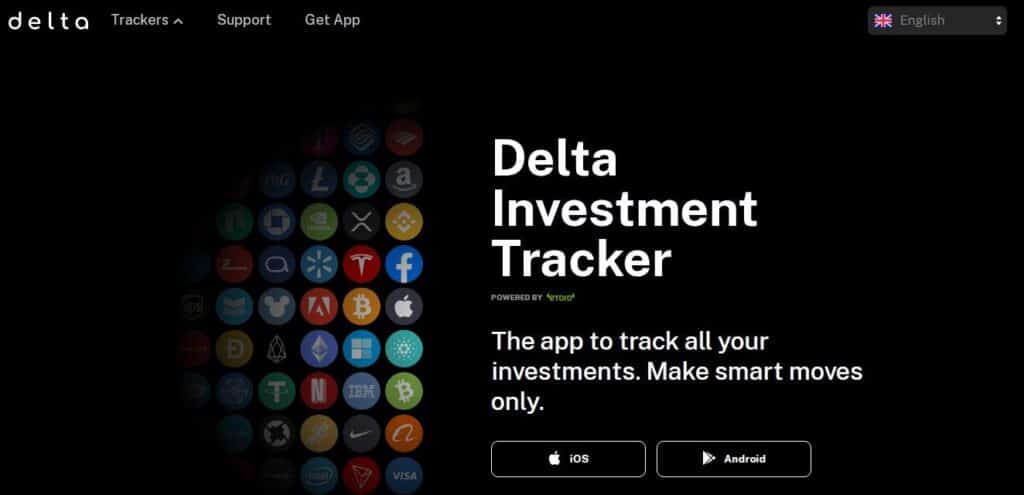 Having more than one million app installs and 1 million users worldwide, Delta appears to be a severe competitor to Blockfolio.
Furthermore, it provides an integrated trading fee tracking system.
However, they also support ICOs, which means users can still add them to their favourite list despite the lack of support for some coins.
A tracker app informing users about upcoming launch events can be downloaded for free.
Delta Direct is designed to be a hub for cryptocurrencies investment news and a source of relevant information for crypto investors.
To help the public understand ICOs, the company can provide information and education on the ICO.
Features:
This software is available for Android, iOS, Windows, Linux, and Mac OS X
Essential charting tools, but few API connections to cryptocurrency exchanges
5. CoinStats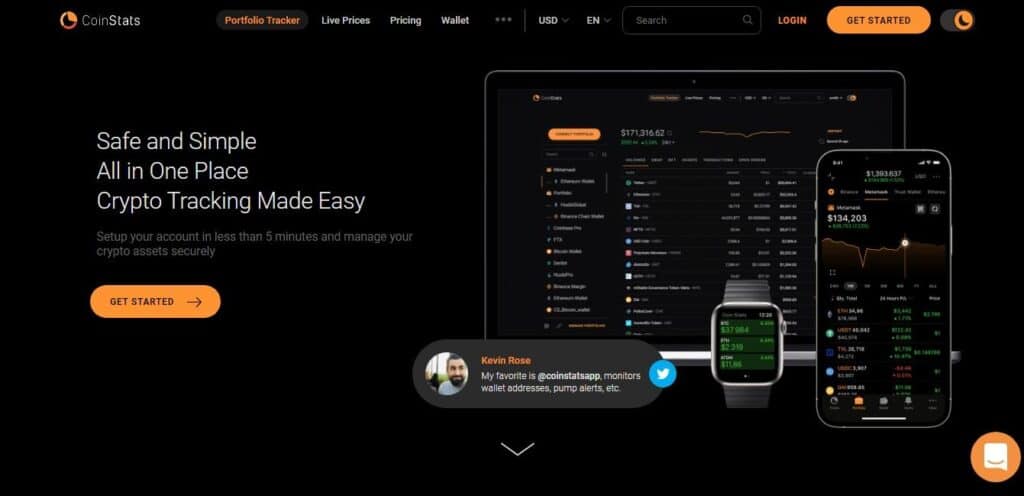 The CoinStats website tracks more than $100 billion worth of cryptocurrencies, having more than 500,000 exchange accounts, 100 million trades and transactions, and more than 1 million users.
In addition to the crypto-support it offers, it provides 26 exchanges, 34 wallets, and over 8000 cryptocurrencies.
Transaction details can also be viewed, along with detailed analytics, for previous transactions.
Using charts, users can predict and gain insights into crypto price movements in the future.
Features:
Supported devices include Apple Watch, Apple TV, Google Chrome extension, iPad app, iOS, Android, web, and Mac desktop.
Users can personalize their cryptocurrency news feed through this application. News is compiled from 40 sources.
API connections and wallet additions for Metamask, Ethereum, Ledger, Binance, Trust, and 30 more authorities are supported
Withdrawals are not permitted
Trading crypto is possible on this platform
https://coinstats.app/portfolio/
6. LUNCH MONEY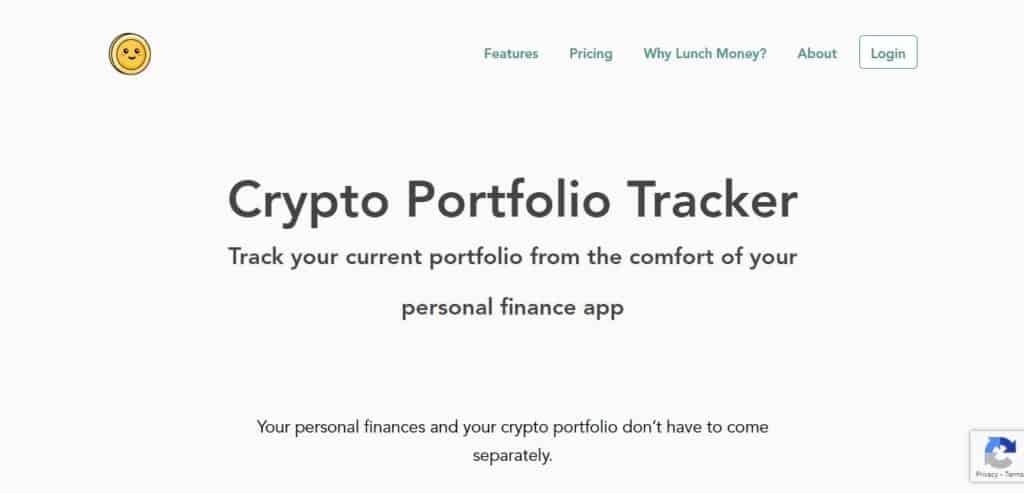 Besides cryptocurrencies, Lunch Money can track, manage, and budget other assets like bank accounts, brokerage accounts, and credit accounts.
Even simple expenses like groceries can be accounted for in total budgeting.
Net worth calculators allow you to measure your net worth over time.
Various reports and transactions can be integrated, including credit cards, checking and savings accounts, mortgages, loans, and investments.
Bank CSV forms can be imported into the app, banks, and apps.
APIs can link transaction sources, and files can be attached from apps or websites.
Fiat and crypto transactions can also be tracked this way.
Features:
Web-based only, not compatible with Android or iOS
CSVs and APIs are available for Import
Through integration with Zabo, all major cryptocurrency exchanges are supported
https://lunchmoney.app/features/crypto-portfolio-tracker
7. Altpocket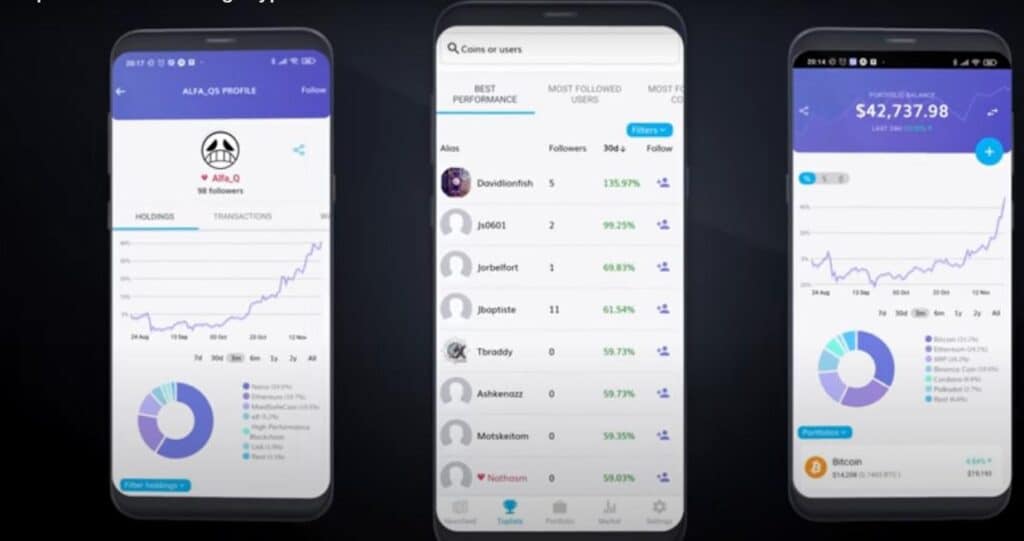 Altpocket's portfolio management and investment tracking platform also offer users a social component to communicate with other investment and trading professionals.
Users can view each other's profiles and receive notifications when they enter a trade so they can follow them.
In addition, it helps users add their wallets from other exchanges with ease and syncs with the most popular deals.
Over 100,000 crypto enthusiasts use the tracker.
Features:
In addition to incorporating a social feed similar to what you'll find on Facebook and Twitter, there is a heavy emphasis on cryptocurrency
Get an overview of the crypto community by seeing feeds from the people you follow. Likewise, you will find out about news and buzz about the coins you are interested in. The leaderboard can be narrowed down by using filters
Platforms include Android, iOS, and Web
https://play.google.com/store/apps/details?id=io.altpocket.app&hl=en_IN&gl=US
8. CryptoCompare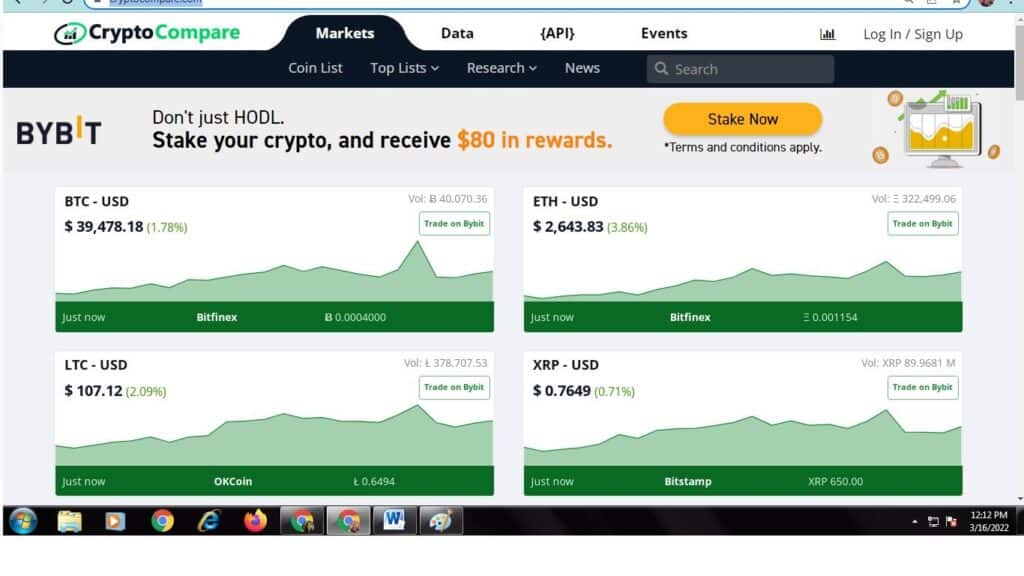 Crypto Compare offers content, a cryptocurrency guide, a price aggregator, and widgets for websites.
The tracker lets you track the value of any holdings you may have and access the live prices of over 5,000 crypto and coins.
A trader can also access market insights directly from the app of different exchanges and cryptocurrencies.
Using the app, you can receive all the latest news as soon as it comes in and track how it affects the prices of any coin.
In addition, charts and graphs are provided in the app for traders.
Regardless of whether you hold cash or not, the app allows you to follow it.
Features:
A web platform and mobile apps are also available
https://www.cryptocompare.com/
9. CoinMarketCap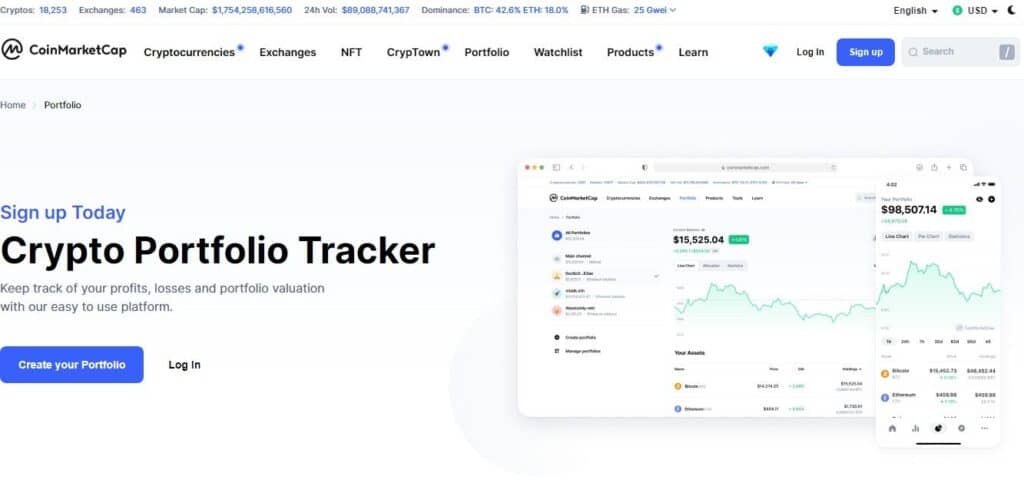 Featuring over 11,000 cryptocurrencies, CoinMarketCap is a very competitive crypto price tracker.
Add the number of coins you own, sell, or buy, as well as the time of your purchase, sale, or receipt, to the list.
The app and the website both show you almost everything.
Additional performance data is provided for individual coins on different exchanges, including 24-hour volumes and market cap over different timeframes.
In addition to displaying the value and gain/loss of your holdings, the app offers competitive charting and data tools that help you anticipate future market price movements and make informed purchases and sales.
CoinMarketCap lists over 300 crypto exchanges on its website from which the app downloads its data.
Watch lists can be created, price notifications can be set, and you can even learn about crypto.
You can keep track of important ICOs using the ICO calendar and ICO notifications features.
Features:
Web-based and mobile apps are available
By comparing charts, you can compare any two coins' market performance. Comparisons are available between their price, volume, and market cap over different time frames
Direct access to news from reputable crypto websites and news outlets
You can view the value of your crypto holdings in 90+ fiat currencies in real-time.
https://coinmarketcap.com/portfolio-tracker/
10. Cryptowatch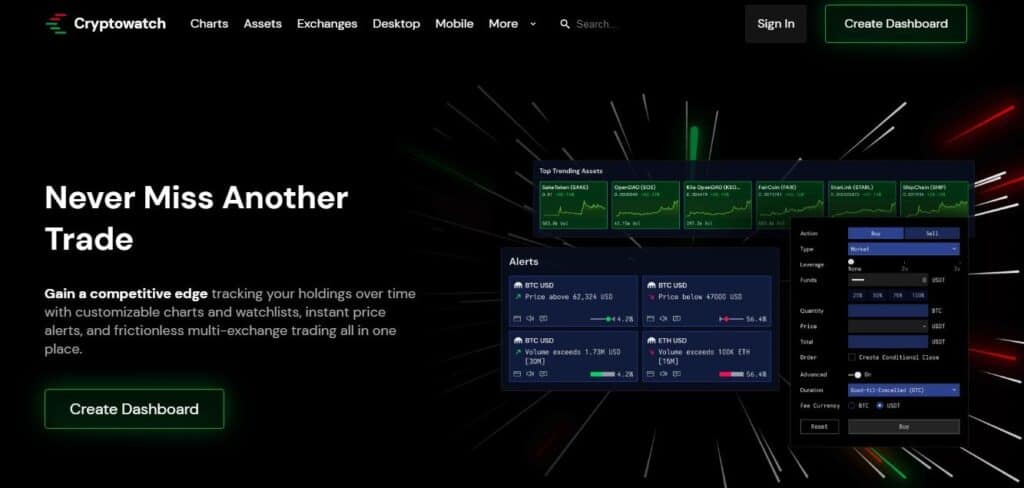 Kraken's Cryptowatch app lets users track their crypto holdings and prices for the close to 1000 cryptos the app supports from within the app.
In addition, this app provides APIs for adding crypto wallets for value tracking.
Once APIs are added to this app, this app can connect to any exchange or wallet that supports crypto and trade any crypto-backed.
In addition to Bitstamp, Binance, Coinbase Pro, Bitifinex, Kraken, Poloniex, Kraken Futures, FTX, etc., it tracks all the main exchanges.
It also displays the amount of orders for a certain cryptocurrency throughout all tracked deals that are within 1% of the best bid.
Unlike manipulated statistics like market cap, this can tell us the actual demand for particular crypto.
Furthermore, Cryptowatch offers customisation tools, including price prediction and charting.
Features:
Due to its web-based nature, the program is compatible with Linux, macOS, Windows, Android, and iOS. The desktop app is also available
Supports cryptocurrency trading in the app
Analyse the correlation between the prices of two or more cryptocurrencies
Interaction between users is possible with Chatbox
In-app news is unavailable
11. Blox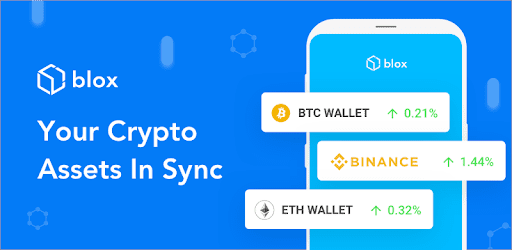 Blox's crypto portfolio tracking system is integrated into powerful platforms such as TenX, eToro, 0X, etc.
Additionally, it includes cryptocurrencies from Binance, Bittrex, and Coinbase.
The platform provides both B2C and B2B services.
It incorporates accounting, tracking, and management features to make tracking portfolios more flexible.
It is possible for companies to work with data from wallets, multiple blockchains, and exchanges using their web and app platforms.
In addition, there aren't yet any tax solutions, and some features aren't entirely appropriate for amateurs.
Features:
Having access to both a CSV export and daily snapshots offers users a complete overview of their accounts.
Xero, Quickbooks, Google Sheets, and Excel are all compatible with Import.
Provides support for more than 30 cryptocurrencies.
Trading is available within the app. Managing and selling or buying crypto can be handled through one app instead of several.
Crypto can be purchased with Euro on Blox.
12. Crypto Pro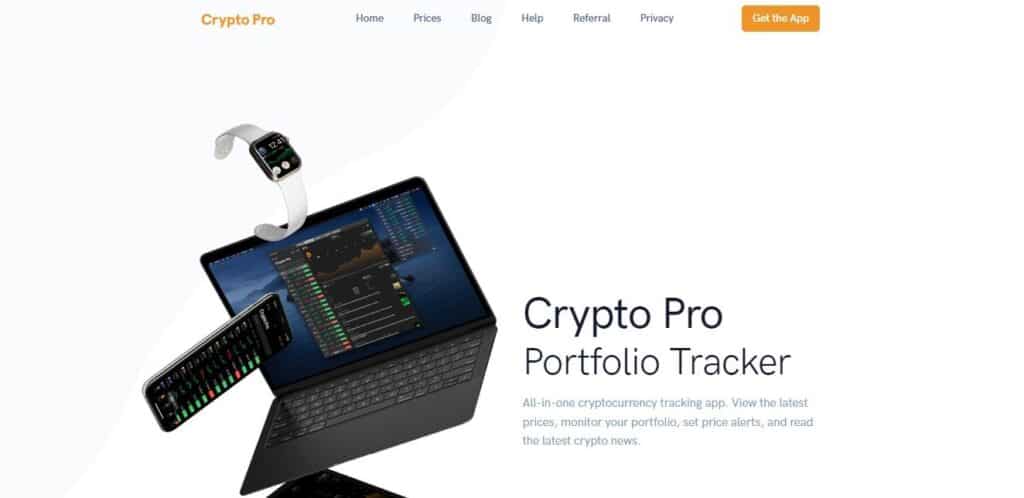 The Crypto Pro platform is an excellent choice since it lets you track over 5000 cryptocurrencies, anything you own from them, on over 120 exchanges.
Additionally to the traditional value and price tracking per coin, you can use our in-depth charting tools to decide when, where, and how to trade.
Syncing is possible on other exchanges and APIs.
It also offers extra storage iCloud and Dropbox syncing features.
Moreover, users can access the latest cryptocurrency news.
As of now, it supports iPad, iPhone, Apple & MacWatch, and Mac OS devices and does not offer an Android or web version.
Features:
Crypto Pro has identified touch and Face ID locks.
Thirty thousand ratings indicate that Users highly rate Crypto Pro.
Statistics concerning the portfolio – perhaps diversification and gains/losses over time – in addition to the prices and charts.
13. Investing.com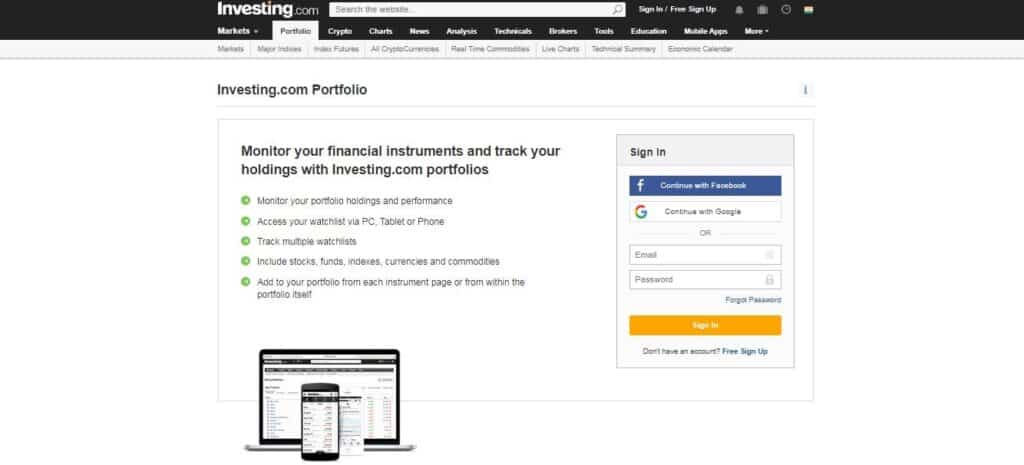 Investing.com due to its popularity among users, and its features that make it competitive, has a chance of taking the top spot.
Having almost a perfect 5/5 rating on app stores, you expect nothing less than greatness.
It is an app that allows you to view stock quotes, commodities, global indices, exchange-traded funds, bonds, and cryptocurrencies to track the ownership value of fiat money throughout the world.
In addition, stocks, indices, and foreign exchange markets are listed in the app.
Features:
The exchange lists roughly 30 different cryptocurrencies. Watchlists can be customised on the app.
Updates on the market.
Market forecasting tools and technical indicators.
Compatible with PCs, tablets, iOS, and Android phones.
Streamline your trading with the app.
https://in.investing.com/portfolio/
14. CoinTracker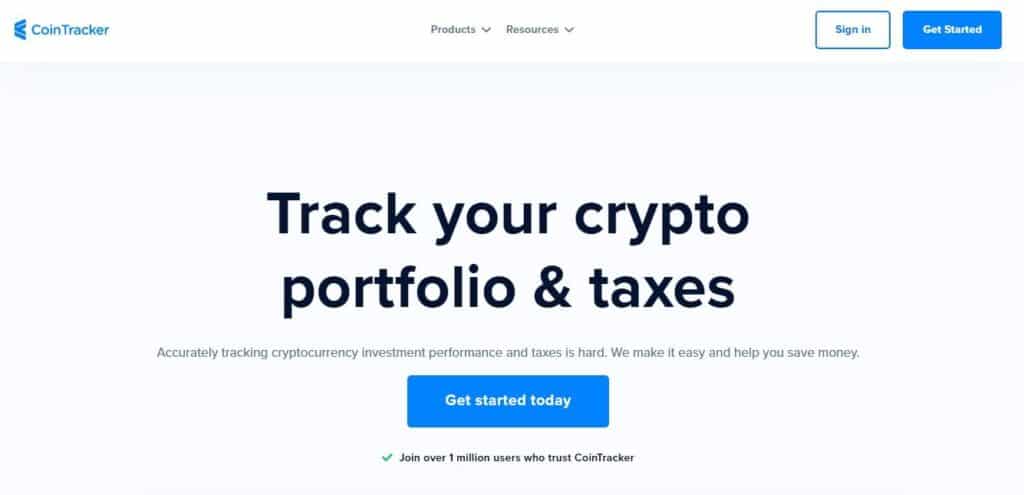 Using this app, you can analyse how your portfolio has performed over a given period, and you can benchmark performance by cryptocurrency or currency.
Tax-loss harvesting can also be utilised.
This application connects your wallets, including Ledger and Trezor and over 300 crypto exchanges, such as Binance and Coinbase and eToro, and generates real-time data related to the assets.
Taxes are automatically calculated with this application.
Over 8000 cryptocurrencies are also supported.
Users have effectively tracked $20 billion in gains and volume and claimed $600 million in capital losses by using the service.
Features:
Versions for Android and iOS are available on the web and mobile devices.
Quickly and easily generate tax reports. Complete tax returns each year. Compile tax information for reporting.
Portfolio management can be done by exporting CSV files from exchanges.
15. Altrady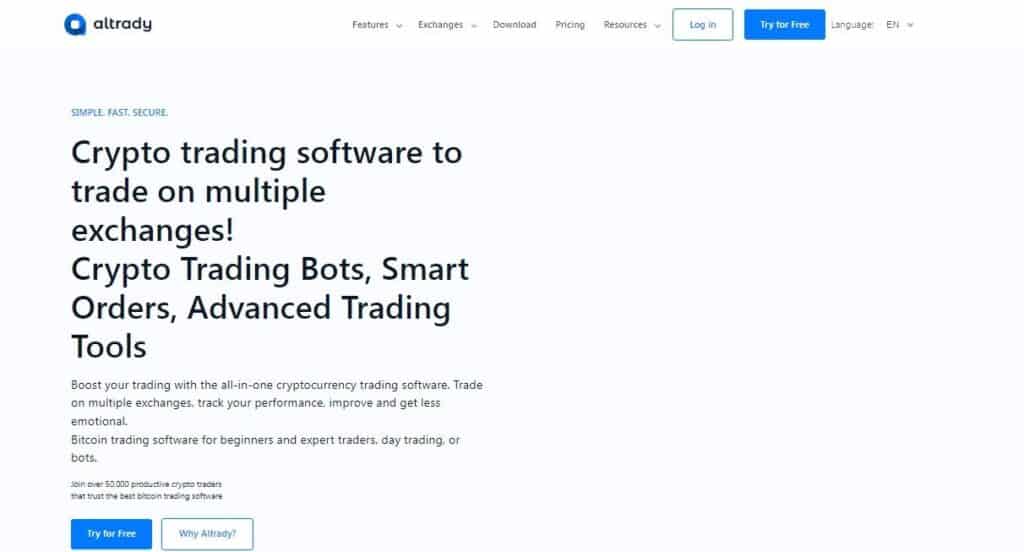 The Altrady platform provides users with access to a variety of crypto assets across a variety of exchanges such as Kraken, Binance, Binance Futures, BitMEX, Coinbase Pro, Bittrex, KuCoin, Poloniex, OKEx, Binance US, Huobi, and HitBTC.
Features:
Charting platform features include different types of trading orders, real-time alerts, break-even calculations, and portfolio tracking.
16. Kubera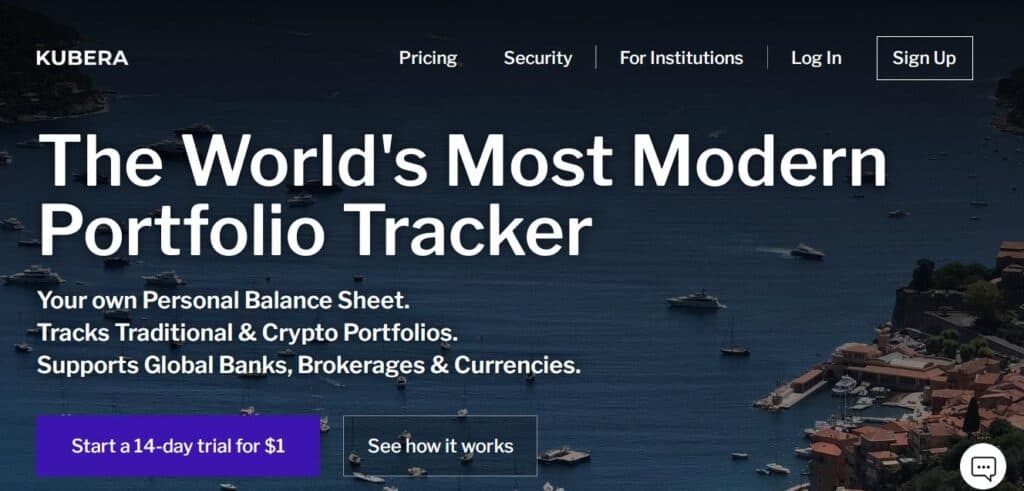 The Kubera cryptocurrency portfolio tracking platform lets you view cryptocurrencies alongside stocks, ETFs, and other traditional financial instruments.
Features:
Wallets and exchanges must support multiple currencies. For example, thousands of different banks are supported by over 20,000 wallets.
Similar Posts: