Non-fungible Tokens (NFT) are a buzzword in the crypto Twitter community. At first, it will strike you that Twitter users are using wird monkey profiles, and the biggest players on Crypto Twitter brag about their NFT purchases by changing their profile pictures.
Twitter is where the most current and relevant news about NFT and crypto gets shared first, and mainstream media follows later. NFT's real action would start on Twitter, as almost all famous artists, collectors, and builders shared updates on the company's creations.
Thousands of NFT projects are launched every day, and finding a legitimate NFT project is becoming more difficult. NFT popularity has also increased the number of NFT scams.
Invest in a good profitable NFT project if you wish to learn more about NFT, finding a legit NFT project. Next, you need to expose people to the valuable NFT information that only gets shared on Twitter.
The following are some of the best Twitter accounts that regularly share excellent information on NFT projects. Some of those Twitter accounts mentioned here will help you teach NFT, others will provide great NFT projects, and others will assist you in collecting NFT.
Below are the 40 Best NFT Twitter Account to Follow:
1. Matty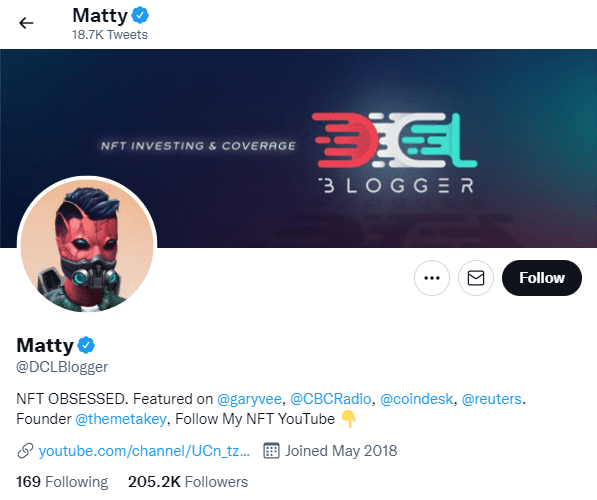 Matty regularly shares educational content in tweets, blogs, and YouTube videos. He is one of the people who post valuable content on NFT on Twitter.
In addition to founding MetaKey, he owns a channel on Youtube where he constantly updates what is going on in the world of NFT. Matty has appeared on Coindesk, Garyvee, and Reuters.
https://twitter.com/DCLBlogger
2. 6529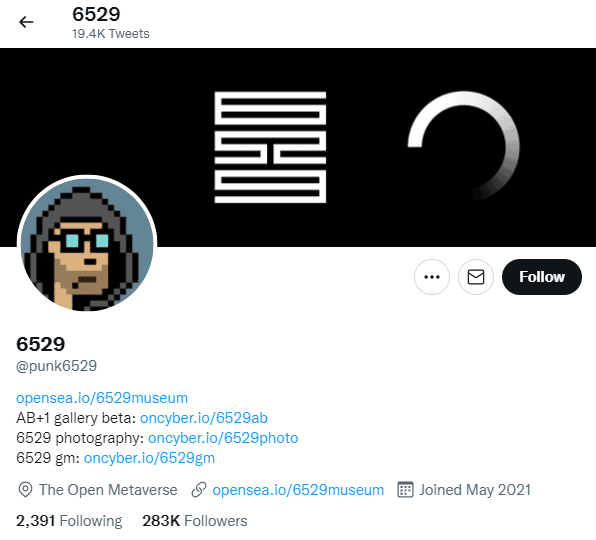 6529 is followed by about 200k Twitter users. 6529 collects NFT Crypto art, and he owns more than 1.4K digital NFTs in Opensea. You can view all the photos, NFTs, and artworks he has created.
3. Deeze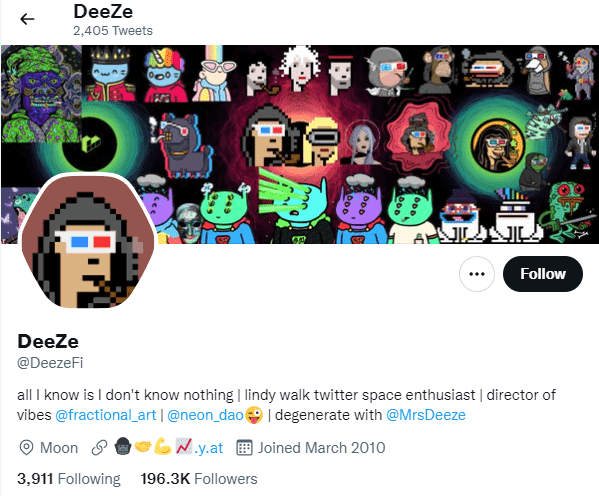 Deeze is part of Fractional.art, where you could purchase, sell, and mint fractions of NFTs and NEONDAO that contributes to building the metaverse.
There are more than 130K followers of Deeze on Twitter, making him one of the most sought-after members of the NFT community.
4. Wil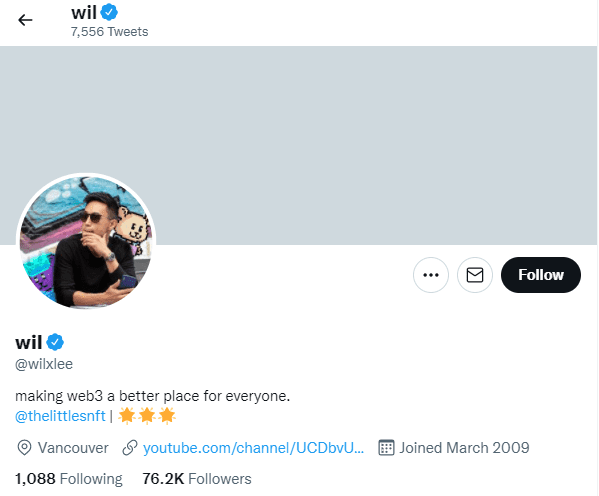 LittleNFT founder Wilson K Lee created a tweeter thread on how to create a successful NFT series that went viral amongst NFT followers.
Wil has started his own successful NFT series from the ground up with less than a few followers on Twitter. Will continually shares his knowledge on his Youtube channel, entirely dedicated to NFTs. Wil has 52K Twitter followers.
5. Brett Malinowski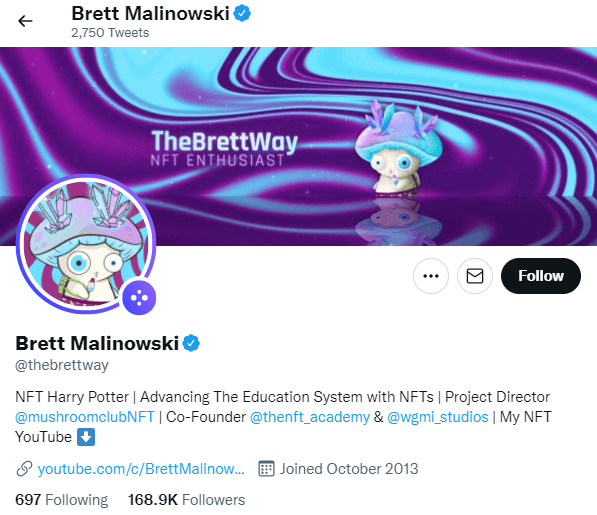 Brett Malinowski created content that focuses on NFT, and he has a dedicated Youtube channel where he discusses NFT strategies and how certain NFT projects exceeded expectations. Brett is the founder and project director of mushroomclubNFT.
His tweets are mostly about NFT and his NFT strategy.
https://twitter.com/thebrettway
6. Beeple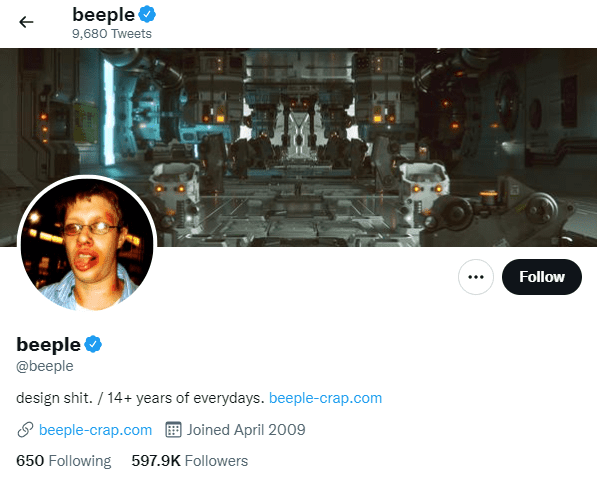 Mike Winkelmann is a digital artist and filmmaker specializing in short films, AR/VR works and other digital artworks. Upon selling his NFT for $69 million, he became extremely popular, increasing the hype for crypto art and NFTs.
Beeple has consistently shared his artwork on Twitter for over 14 years. He has more than 550K followers.
7. Cantino.eth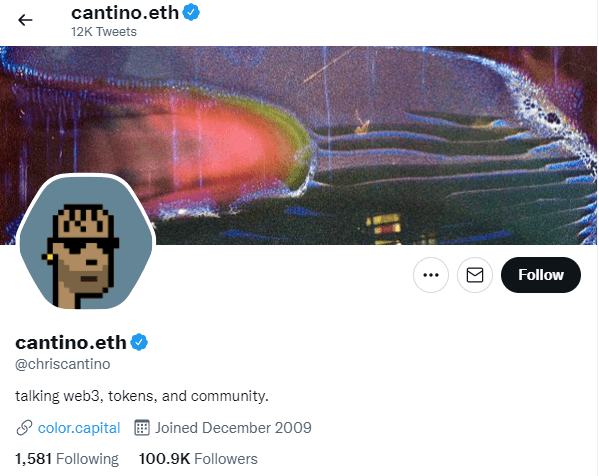 Chris Cantino co-founded color Capital, and the fund is fully owned, with no outside capital. He has specialized in consumer goods and emerging commerce platforms, particularly NFT and web3. Most of his tweets related to web3 and NFTs.
https://twitter.com/chriscantino
8. Farokh.eth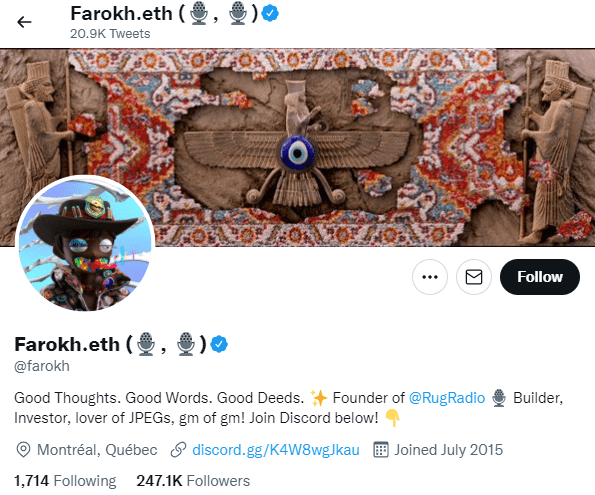 Farokh Sarmad is the CEO and founder of Goodlife Media and has amassed over 2.5 million followers to his @goodlife Instagram page. He is the founder of Rug Radio, a community builder, and a collector of cool cats and crypto punks.
Farokh has more than 141k Twitter followers. Farokh has been putting in a lot of effort to provide value to his fans. He has developed a community through hosting Twitter spaces with other leaders in this field.
Rug Radio, a decentralized Web3 media company, founded by Farokh, is pushing the boundaries of the NFT realm.
9. Beanie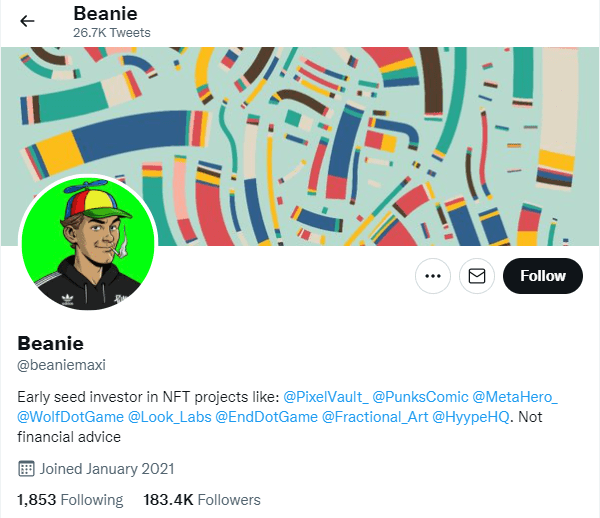 Beanie is one of the partners at Gm Capital, which is currently investing in NFT and DEFI projects. In addition, he invests in Web3 native protocol.
You can learn what's going on in NFT and DAO by following him. Beanie collects NFTs such as Crypto Punks and Cool Cats.
https://twitter.com/beaniemaxi
10. Gary Vaynerchuk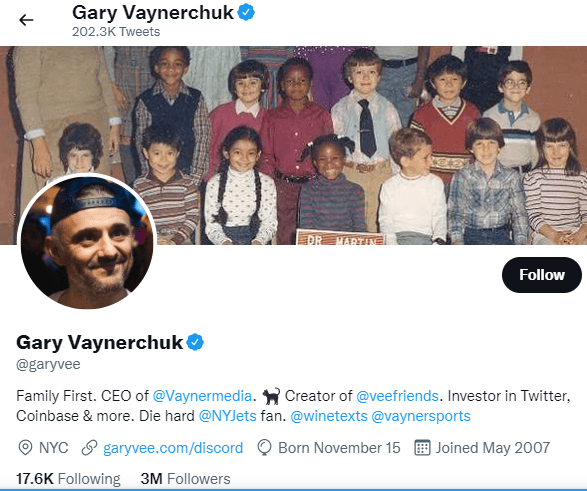 Gary Vaynerchuk is responsible for massive growth in the NFT ecosystem. Gary Vaynerchuck is the CEO of Vaynermedia, and he has more than 2.7 million followers. In less than 90 days, he made more than 90 million with his NFT collection VeeFriends.
Linkedin, Instagram, Youtube, and Tiktok are among the other social media sites where you can catch up. Many people, including Mr Beast and Logan Pual, purchased their NFT because of Gary Vee. Gary Vee influenced people to get involved with the NFT ecosystem.
GaryVee allows you to consume all media content on NFT, including audio, tweets, and video.
11. Cdixon.eth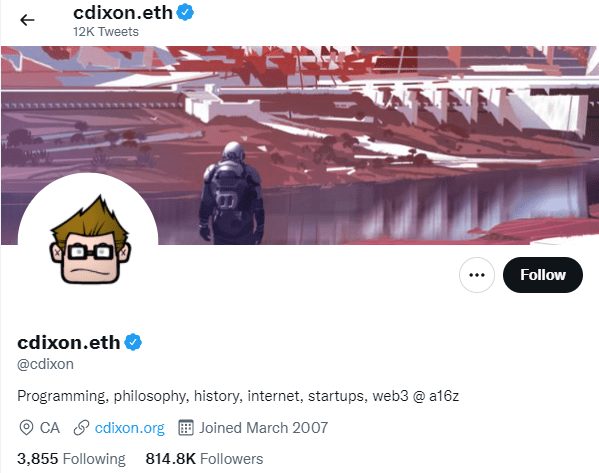 Chris Dixon, partner at A16Z, tweets exclusively about Web3, Crypto, and NFT. You will get a glimpse of the entire crypto and NFT industries by following Chris.
He has more than 763K followers on Twitter, and his tweet on Web3 has more than 30.1k likes and is retweeted more than 11.1 times.
12. Packy McCormick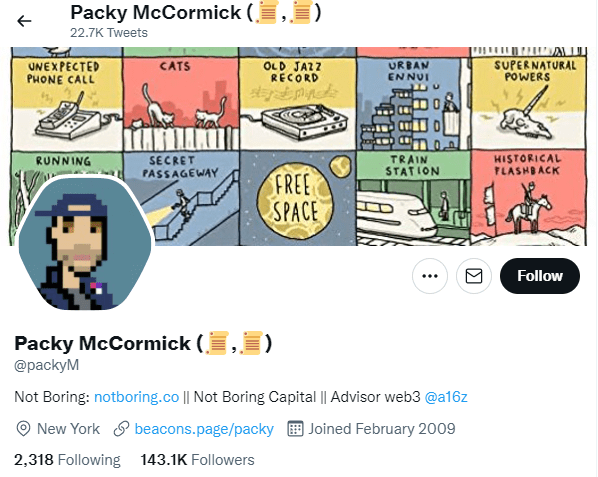 Founder of notboring.co, Packy McCormick analyzes the potential of companies and industries, and more than 94K people read it. Packy is a firm believer in crypto, network economy, web technology, and creator economy.
Take a look at his comprehensive analysis of Solana and NFT. He is the advisor for web3 at a16z. Over 120k people follow Packy on Twitter.
13. Naval Ravikant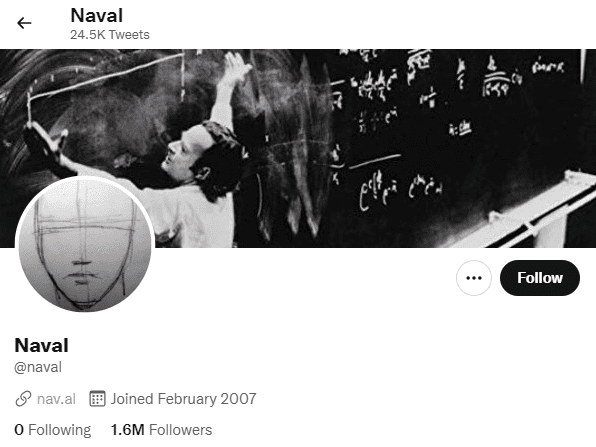 He is a supporter of Web3, Crypto, and NFT communities and founded AngelList. Naval is an innovator in Silicon Valley. His "How to Get Rich" tweet went viral with more than 180K likes and 66.5K retweets. Besides Web3 and crypto, you can follow his philosophical approach to life as well.
14. RealMissNFT
On her website Realmissnft.xyz, RealMissNFT covers upcoming artists and has more than 110 K followers. The site features 2 artists every week and tells the stories of artists and upcoming projects. Every day, she tweets about upcoming NFT projects that show great promise, and she shares many updates about them.
https://twitter.com/RealmissNFT
15. MEV Collector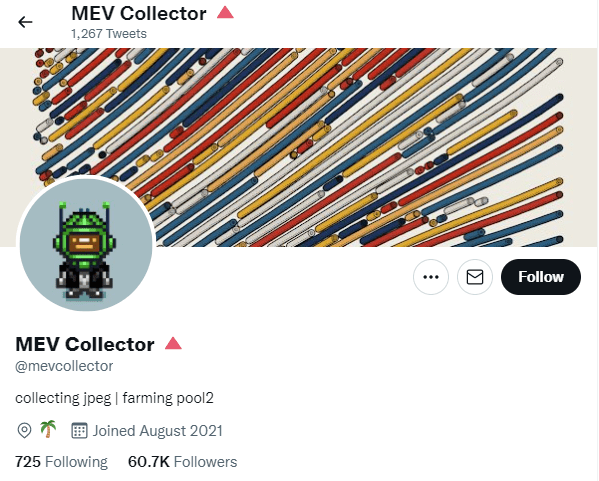 One of the most renowned NFT collectors is MEV. He tweeted about NFT Flipping, and it went semi-viral among NFT Twitter users. On OpenSea, he has accumulated more than 9,700 items. In 33 days, he had made more than 862 ETH flipping NFTs and was an expert at it.
https://twitter.com/mevcollector
16. Adam McBride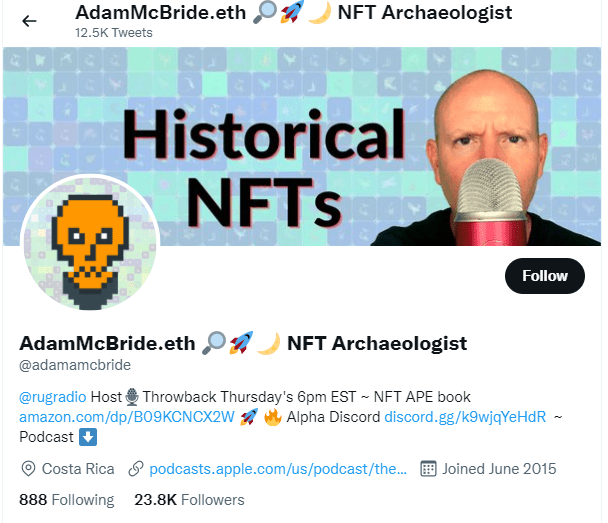 Adam McBride is an NFT archaeologist who combs through historical blockchain transactions in quest of long-forgotten projectsCurio Cards, CryptoArte, and The CryptoCards are just a handful of his initiatives. He also has a Discord group and a podcast.
It's difficult to choose just one account to rank first. Still, Adam regularly connects with his Discord members and offers a podcast that gives additional content to assist educate others about NFTs, making him a strong contender.
https://twitter.com/adamamcbride
17. BanklessHQ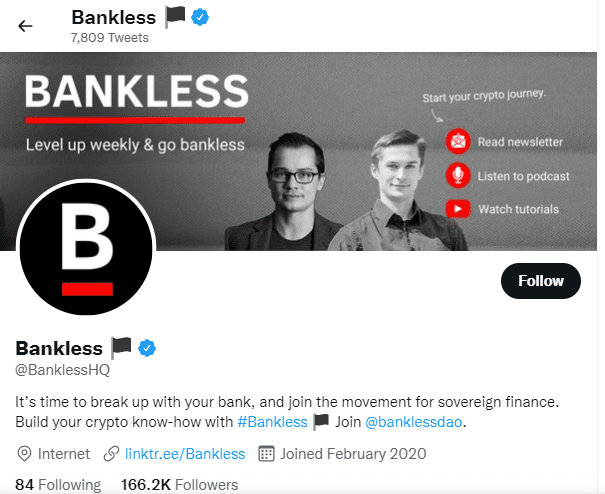 Bankless is a cryptocurrency education portal that provides introductions to various crypto sectors. They have Substack containing news and explainers about the week's events in crypto.
They also have a curated crypto job board where anyone may apply to jobs that Bankless has hand-picked.
https://twitter.com/BanklessHQ
18. Chrisdixon.eth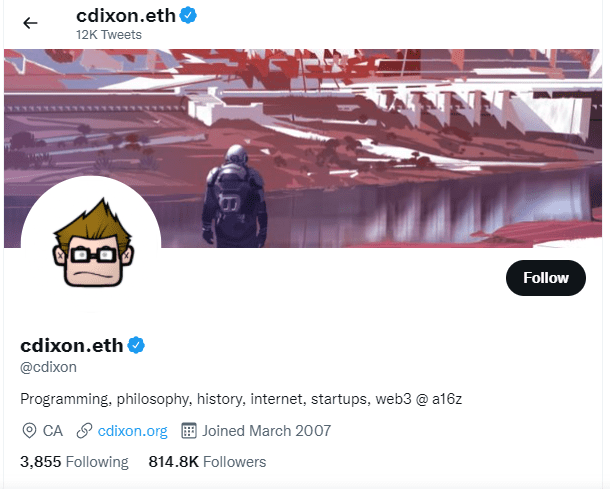 If you're seeking an expert's opinion on the long-term path of crypto, Chris Dixon is a wonderful person to follow.
He's been working on the internet since the early 1990s and has seen user experiences change over time. He disseminates his knowledge through Twitter threads and posts on his website.
19. Cooopahtroopa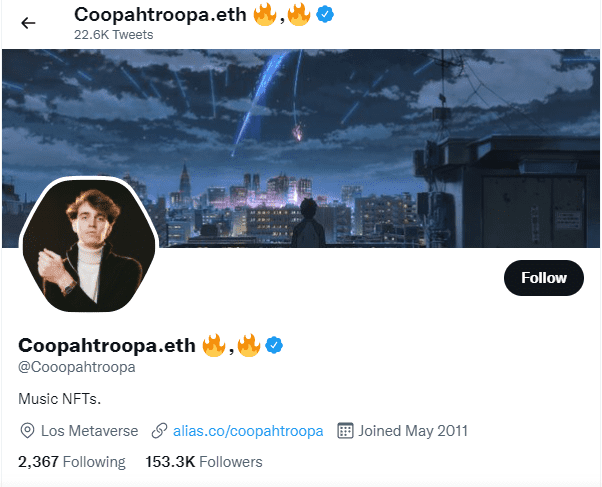 CoopahTroopa is a fantastic web3 content curator and poster. With a recent concentration on music NFTs and DAOs, you're sure to find things you can utilize to stay up to date with a space you're interested in if you navigate through the account.
https://twitter.com/Cooopahtroopa
20. Linda Xie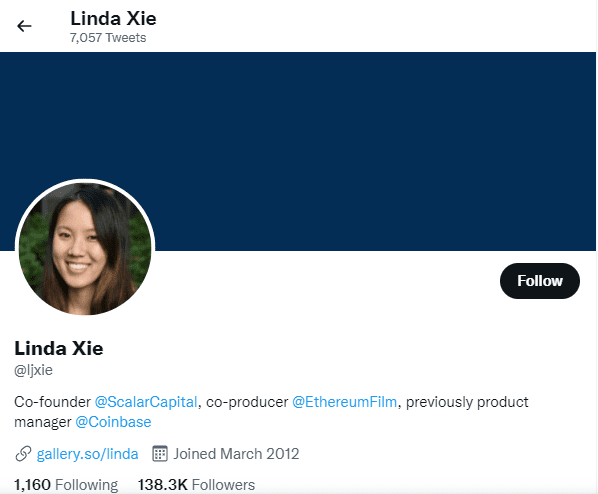 Linda is currently a former Coinbase Product Manager and co-founder of Scalar Capital, a crypto investment firm.
She's developed beginner's instructions for NFTs, DAOs, Social Tokens, and DeFi. She tweets great content and is one of our favourites because her entire career revolves around web3. Because of this, she can provide more in-depth analysis and is well worth following.
21. danielgothits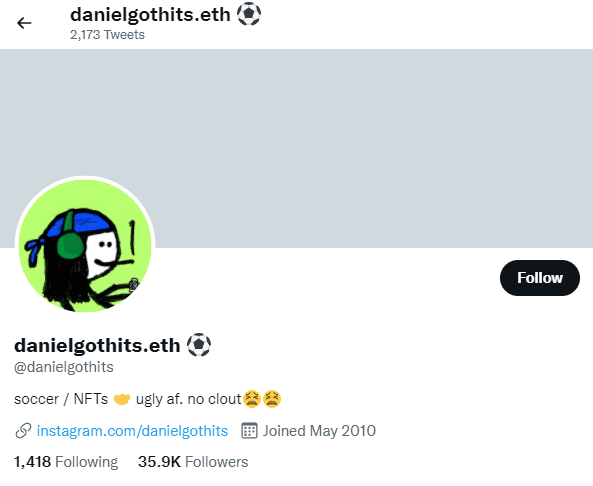 Daniel began his social media career by sharing soccer videos on Instagram, where he amassed over 350,000 followers. He found NFTs in early 2021 and has been posting articles about them since, including identifying a few historical projects such as Curio Cards and Rare Pepes.
He also makes videos regarding patterns in the NFT industry that are useful to listen to if you're looking for a short-term market downturn.
One of our favourite things about Daniel is that he's upfront about what he owns and that you should never trust an influencer, including himself. He's incredibly open and spends a lot of time communicating with his fans.
https://twitter.com/danielgothits
22. GaryVee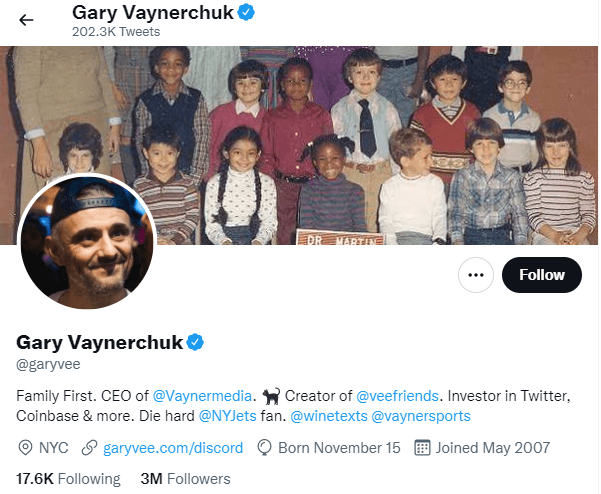 GaryVee is the founder and CEO of VaynerMedia, a media company that caters to Fortune 100 organizations.
GaryVee has a habit of jumping on tech trends early, having launched the first Wine eCommerce site in 1996, one of the first YouTube shows with WineLibraryTV in 2006, and one of the first Intellectual Property NFT initiatives with VeeFriends in early 2021.
Gary is one of our favourite people because he recognizes, supports, and promotes talent he believes in.
23. Kevin Rose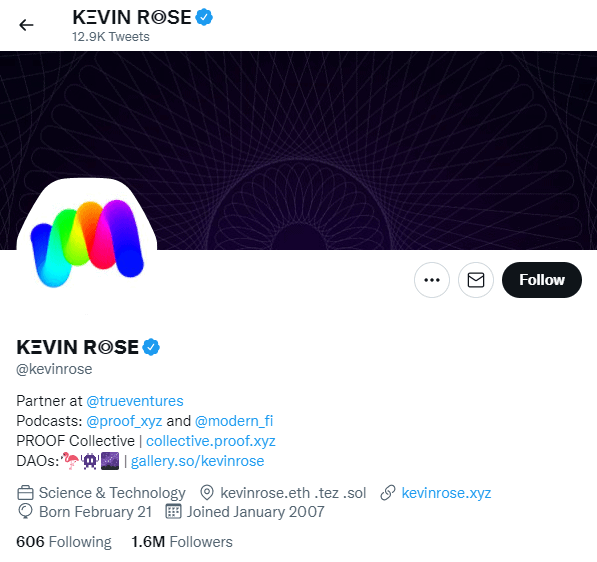 Kevin Rose appears to have spent his whole professional career ahead of the technological curve. He started his first podcast in 2003, bought Bitcoin in 2012, and CryptoPunks in February 2021.
Besides tweets his insights about cryptocurrencies, Kevin also hosts two excellent crypto podcasts, Modern Finance and PROOF.
24. Cozomo De' Medici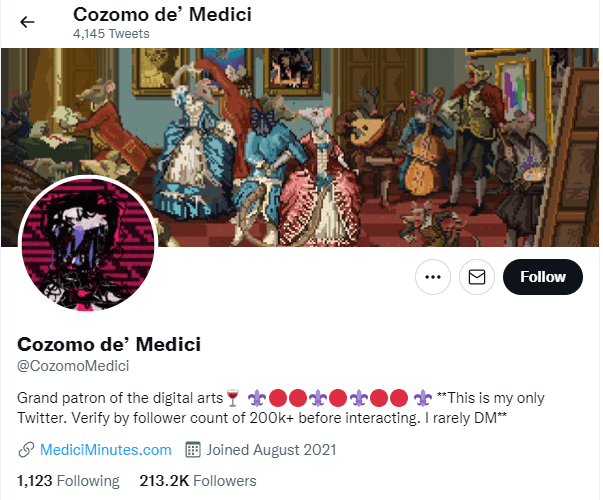 Cozomo is a crypto whale and a prolific NFT collector. In the 1/1 art space, people explain why they collect specific artists and topics. They've worked with Snoop Dogg several times and have one of the world's largest NFT art collections. The adage "follow the wise money" holds when it comes to Twitter.
https://twitter.com/CozomoMedici
25. NFTsgirl.eth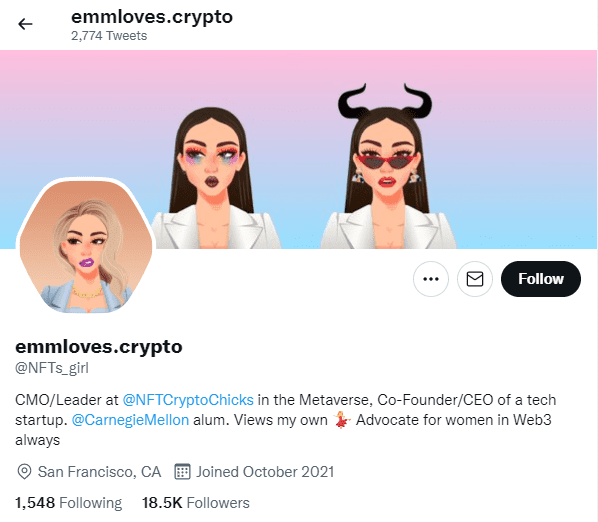 NFTsgirl.eth is the Chief Marketing Officer at Crypto Chicks and the founder and CEO of a digital startup. Her experience running a business shines through in her tweets, as she explains how an NFT project works.
As many of you invest in initiatives, assessing a team's structure and long-term ability to run the project is crucial. It's always beneficial when someone is in charge of an NFT project. NFTsgirl.eth has that experience and can teach you a lot.
26. Andrew Wang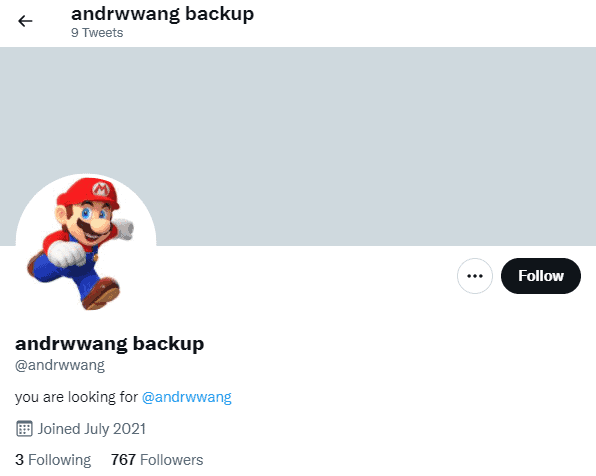 Andrew Wang is a writer for The Verge, ONE37pm, Time Magazine, Insider, The Washington Post, and other publications. Wang recently had a Twitter conversation with Seneca, the chief artist for Bored Ape Yacht Club, and even showed early designs from the company.
27. SeedPhrase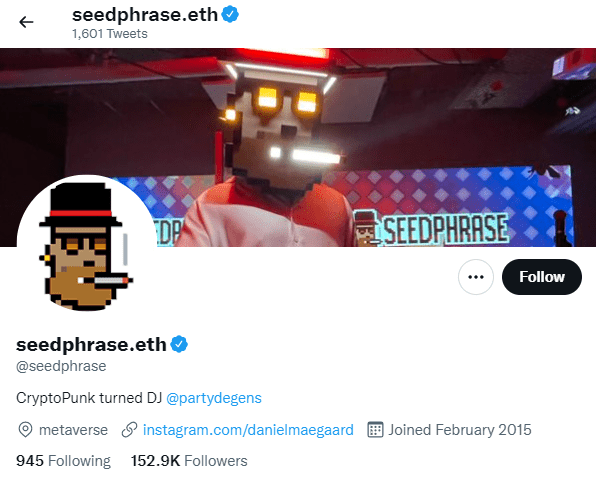 SeedPhrase is the founder of the Party Degenerates NFT project and an OG CryptoPunks holder. He is well-versed in Web3 and NFTs, and he adheres to the and not or model. It's not the Bored Ape Yacht Club or CryptoPunks, for example.
It's CryptoPunks and the Bored Ape Yacht Club. SeedPhrase is a DJ, and holders of his Party Degenerates project gain backstage access to all of his gigs, according to his Twitter account. He also tweeted that Discord and Twitter have helped many of people in achieving financial independence.
https://twitter.com/seedphrase
28. Mayor Of Matic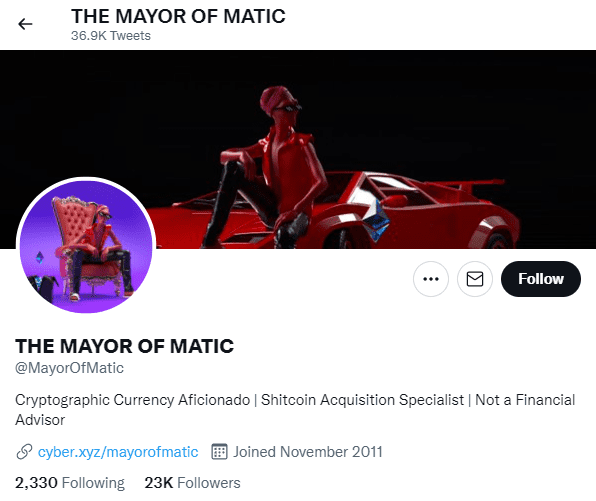 A Twitter user nominated Mayor of Matic, and his tweets cover NFT projects, Matic analyses, and other blockchains. Matic is also a regular Tweeter, so you'll always get new information to assist you in staying on top of the market.
https://twitter.com/MayorOfMatic
29. Herb Castillo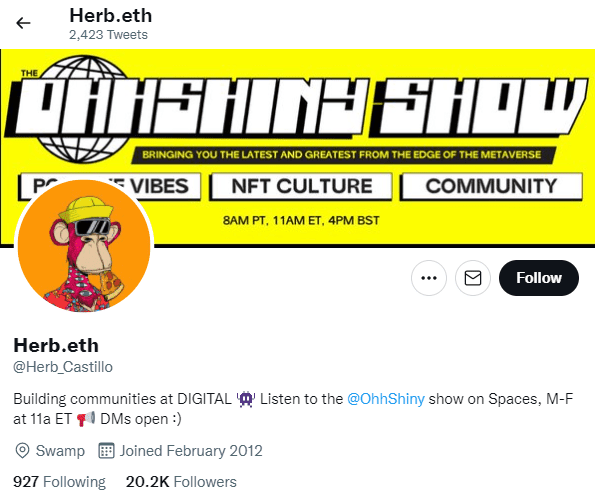 A Twitter user also recommended Herb Castillo, and his profile states that "DMs are open." It's crucial not to expect others to do your work for you, but if you thoughtfully engage with any of the content creators on this list, you might create a new relationship.
Herb is one of the co-hosts of the Ohhshiny show, which promotes happy feelings, NFT Culture, and community.
https://twitter.com/Herb_Castillo
30. Matt Medved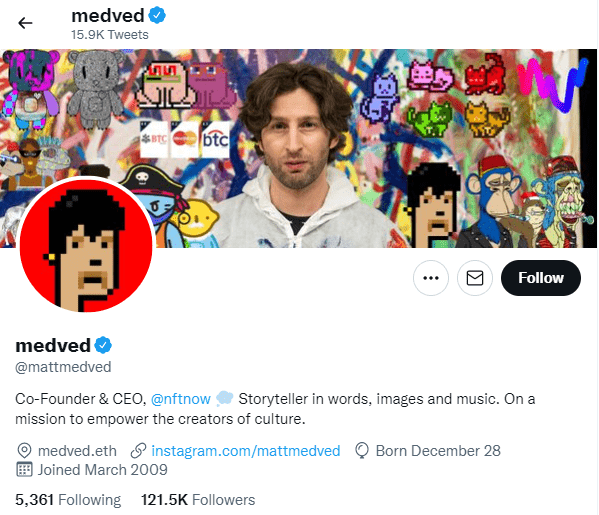 Matt Medved is the CEO and co-founder of nft now, a news and commentary site for the NFT. Matt is a writer, singer, investor, and counsellor on a mission to help creative succeed. Matt has written a profile for Fewocious and has promoted artists.
Matt is a perfect example of an account that wants to bring the community together and contribute to the future of our place.
https://twitter.com/mattmedved
31. GMoney.eth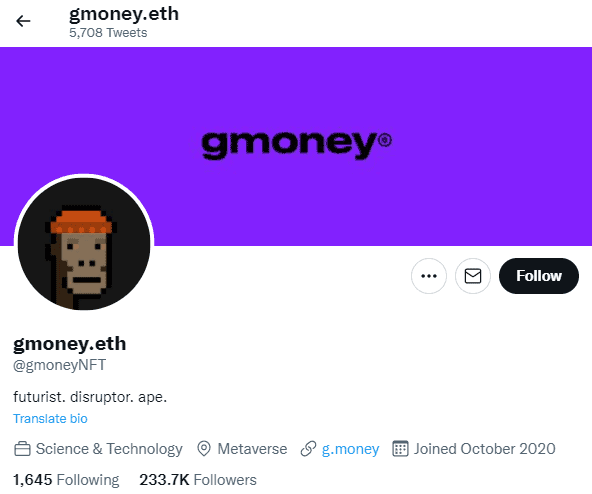 GMoney set a new record by spending 140 ETH and then tweeting about it. That thread alone secures a spot on this list, but GMoney is the place to go if you want to gain an intuition about the market and the why behind the behaviours you're seeing.
32. DCLBlogger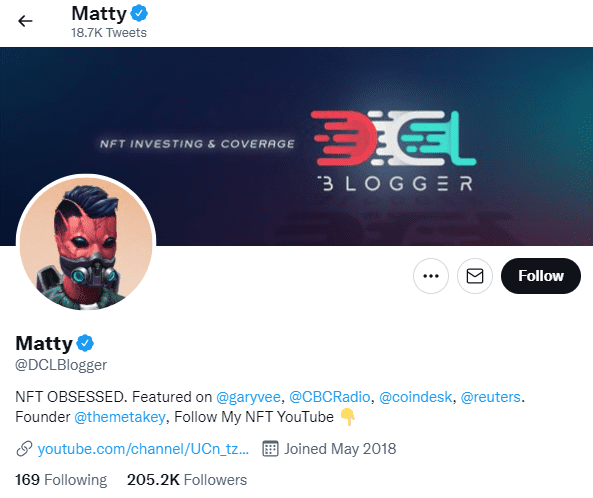 DCLBlogger has been a constant YouTuber for the past three years, providing content concerning NFTs. When the NFT craze began, many new people began making content, and their lack of knowledge was evident.
DCLBlogger has been around for a while, long before the space became popular. He's appeared on Reuters, CBC Radio, Coindesk and has an NFT project called MetaKey that unlocks premium content.
In September 2020, he was tweeting about NFTs being popular and disrupting sectors. He weaves together strong threads of wisdom and is well worth your time.
https://twitter.com/DCLBlogger
33. CryptoAddict86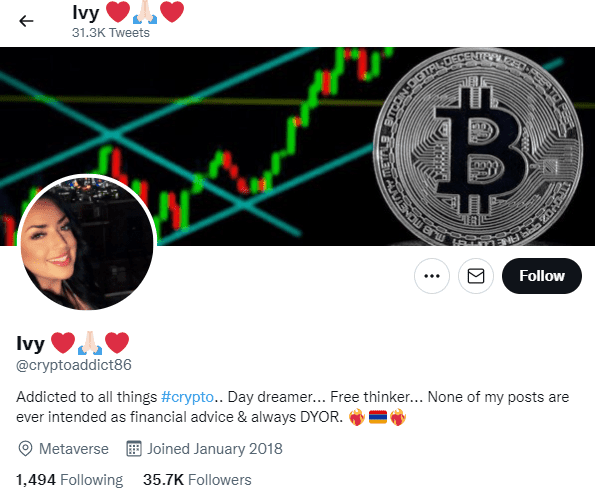 Since at least 2018, Ivy is another account that has been tweeting about NFTs. We've been having a lot of success with original accounts because you can't fake an experience.
You'll be inundated with information from people looking for a quick buck, but you should listen to at least a few people who have been in this business for a while.
https://twitter.com/cryptoaddict86
34. Li Jin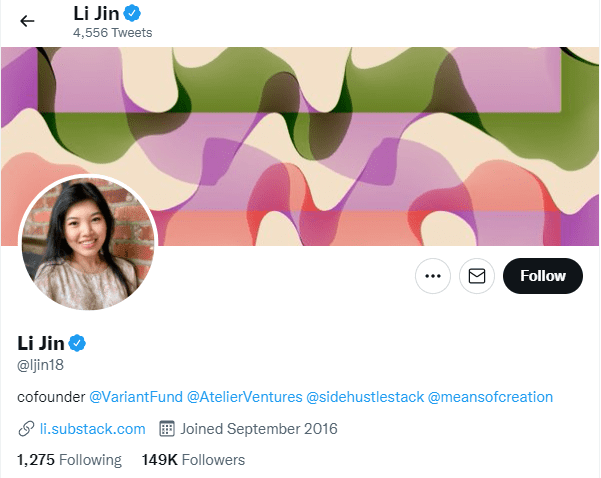 Li Jin is a co-founder of a few cryptocurrency investment firms and specialty in consumer culture, technology, and the future. Li has been dubbed a "guru" for online creators by the New York Times.
Her recent Tweets have prompted a more in-depth examination of NFT initiatives and groups. Jin will have you thinking more thoughtfully about the way you analyze and interpret an NFT project and its community.
Similar to Gary V's warning that when the Chicago Bulls were playing well in the 1990s, there was a great community of fans, but after the era ended, the community wasn't as strong, Jin will have you thinking more thoughtfully about the way you analyze and interpret an NFT project and its community.
35. iamDCinvestor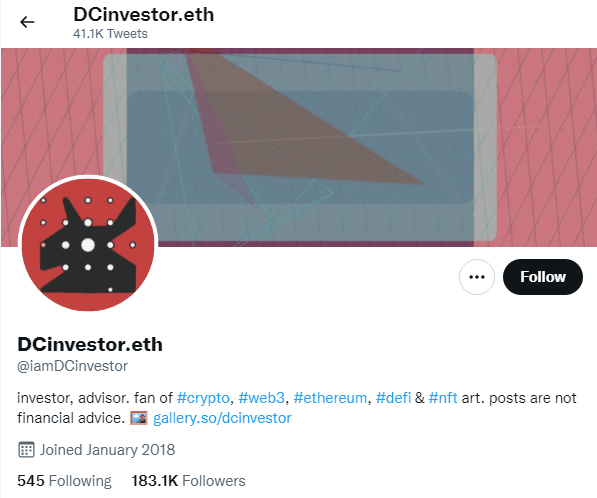 In the crypto arena, DCInvestor tweets many dense, high-level thoughts. This is a fantastic account to use to see where your crypto knowledge stands.
If you comprehend what they're saying, you've progressed from beginner to intermediate/expert level in the crypto world.
https://twitter.com/iamDCinvestor
36. Leonidas.ETH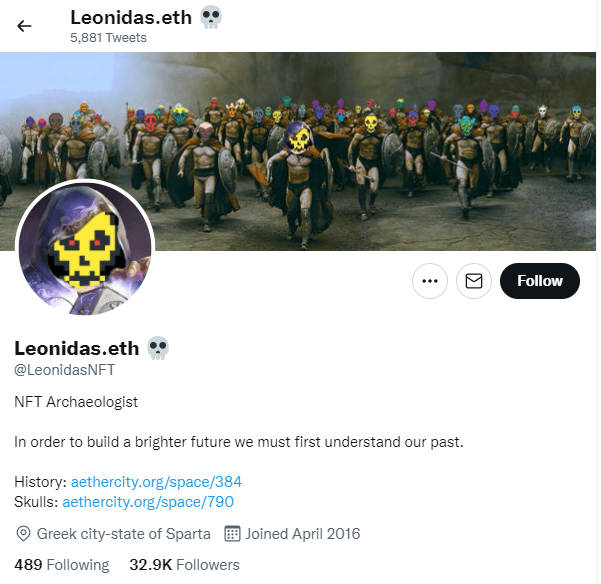 Leonidas.ETH is another NFT archaeologist who assisted in creating ONE37pm's definitive timeline of previous NFT initiatives. This is a fantastic account to follow if you're interested in historical NFTs and the concept of NFT archaeology.
Even if you don't acquire historical NFTs, understanding the history of the space will benefit you in the future.
https://twitter.com/LeonidasNFT
37. Maria Shen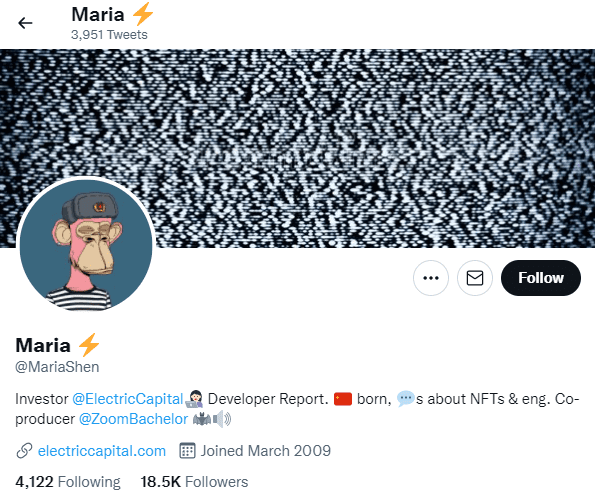 Maria's tweet discussed the NFT resurgence and her future projections. Maria offered important stuff, but she was also a forerunner in the NFT movement.
She is also a partner at Electric Capital, a venture capital firm specializing in cryptocurrency, fintech, blockchain, and marketplaces.
38. SpencerNoon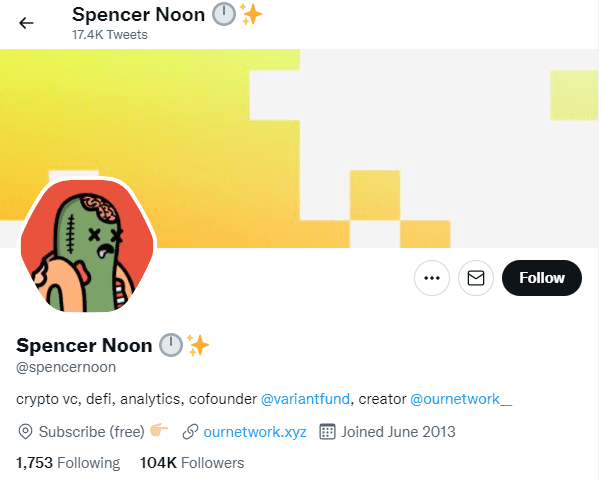 SpencerNoon is interested in cryptocurrency market trends, DeFi, Layer 2s, and NFTs. They publish excellent discussions with suggestions for how this rapidly changing technology will affect the globe in the future.
https://twitter.com/spencernoon
39. OhhShiny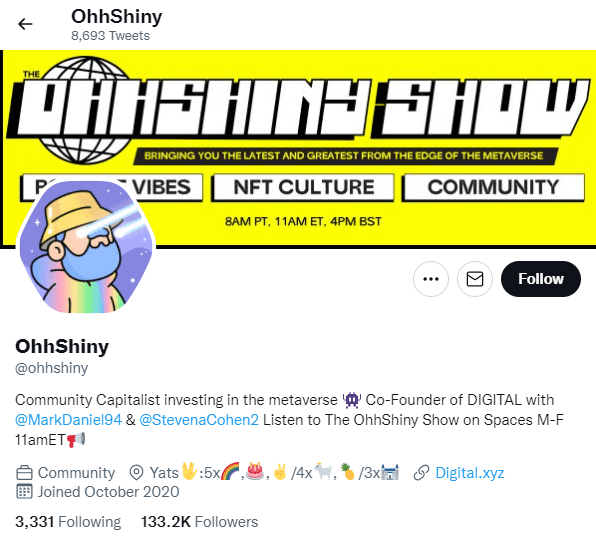 OhhShiny is the vibrant and talented host of the OhhShiny Show. By holding a programme on Twitter Spaces and inviting the best and brightest thinkers in the NFT realm to speak, the OhhShiny show brings together the freshest and greatest from the edge of the metaverse.
OhhShiny tweets daily words of wisdom and motivation, and is always searching for ways to give voice to people in the space that need it the most. OhhShiny's "Community Office Hours" show airs every Friday at 11 a.m. ET, is a terrific example of helping others.
40. J1mmy.eth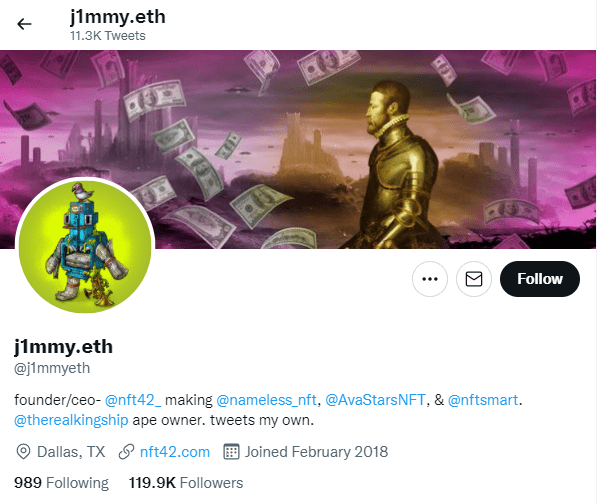 J1mmy.eth is the founder and CEO of nft42. Jim previously created Dito, a company that specialises in enterprise cloud solutions and is a leader in on-chain NFTs and the metaverse.
"NFTs have returned the imaginative element of childhood to an entire generation of adults," according to J1mmy. eth's feed. Magic has resurfaced. "Take advantage of this opportunity."
Similar Posts: