On August 23, 2022, Andrew Tate published a "Final message" to his Rumble followers from his personal account, saying that many of his statements, which have been extensively condemned for being sexist, were "taken out of context."
Tate's video is one hour and thirteen minutes long of himself talking in front of a camera.
It comes after he was banned from Instagram, Facebook, TikTok, and YouTube for breaking the networks' hate speech standards.
Andrew Tate is a British-American kickboxer and internet celebrity who was born on December 14, 1986.
He had more than 4.5 million Instagram followers and 600,000 YouTube subscribers until he was banned from social media sites for his "Tate Speech" videos.
More than 14 billion TikTok videos using his hashtag were seen by viewers.
Andrew Tate Rumble Username, Profile & Discussion
Andrew Tate Rumble username is @TateSpeech.
You can access Andrew Tate Rumble profile directly from this url: https://rumble.com/TateSpeech
He has a lot of his older Instagram & YouTube videos published on Rumble.
On Rumble, he now has over 300,000 subscribers.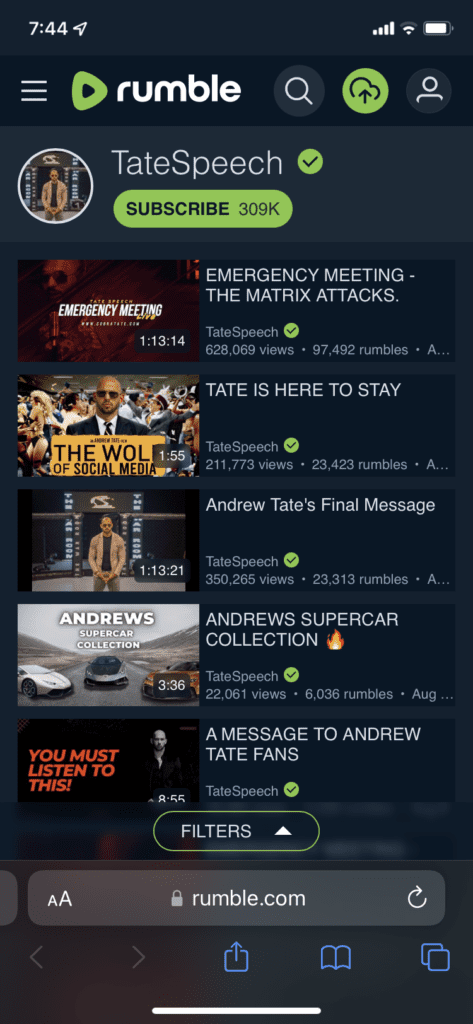 Rumble CEO @chrispavlovski defends his decision to give Andrew Tate a platform after the influencer was blanket banned from social media.
When Andrew Tate uploaded one hour and thirteen minutes video "Andrew Tate Final Message" on Rumble and then Rumble shared on their twitter handle.
Top of this tweet Rumble CEO replied,
"I can confirm, this Andrew Tate Rumble account is official.
Providing a platform for people to speak freely is essential.
We are going to do whatever it takes to hold the line for free speech, whether we agree or disagree with what's said."
Also, after that Rumble downloads sky rocketed and Rumble CEO tweeted,
"This is incredible… Rumble is becoming a household name across many audience segments now, we just broke outside of politics. Its actually happening."
"Rumble will hold the line for free speech, whether we agree or disagree with whats said. If you need earmuffs, there are other platforms for that."
Tate recently spoke about Big Tech deplatforming him on Tucker Carlson Today, and he praised Rumble for letting him upload information without censorship.
"I know for a fact my young fans will come with me (to Rumble)" … "This is just the beginning of a mass exodus (to Rumble away from Big Tech)" — Andrew Tate on Tucker Carlson
Tate said, "You lose your Facebook, then your Instagram, then your Gmail, then your Discord, then your website hosting, then your domain name, then your payment processor, then your bank."
"One of the reasons I've moved to Rumb is because I've had long conversations with senior management there and they've promised that I can make jokes without being destroyed and annihilated which is quite refreshing."
"So I very much look forward to continuing my…legacy and continuing my work on Rumble rumble.com/tatespeech."
"And I know for a fact that my young fans will come with me."
"And this is just the beginning of a…mass exodus away from the influence of control by tech companies."
Similar Posts: