GETTR is a brand new social media platform founded on the principles of free speech, independent thought and rejecting political censorship and "cancel culture".
GETTR offers the voice of freedom to its users, allowing for unfiltered discourse and sharing of information, news, and thoughts with your friends, family, and those around the world!
Break away from Big Tech and join an inspiring, uplifting, positive social media platform for all!
GETTR wants to bring enjoyment back to your social media experience by supporting freedom of independent thought and rejecting political censorship.
Andrew Tate is a British-American kickboxer and internet celebrity who was born on December 14, 1986.
He had more than 4.5 million Instagram followers and 600,000 YouTube subscribers until he was banned from social media sites for his "Tate Speech" videos.
More than 14 billion TikTok videos using his hashtag were seen by viewers.
Andrew Tate GETTR Username, Profile
Andrew Tate GETTR username is @cobratate.
You can access Andrew Tate GETTR profile directly from this url: https://gettr.com/user/cobratate
He has a lot of his older Instagram & YouTube videos published on GETTR.
On GETTR, he now has over 75000 followers.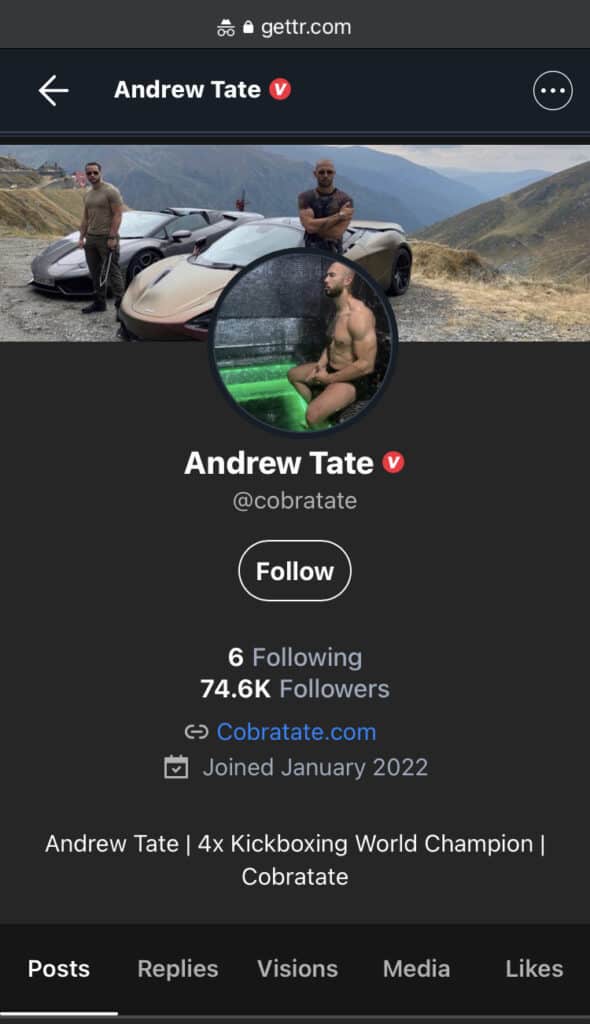 "I have the power, and most importantly the charisma, to give RUMBLE and GETTR the two things they desperately need: youth and energy; not boomer politics bullshit." – The TOP G, Andrew Tate said.
"Watch Andrew Tate live on GETTR, TATE IS HERE TO STAY"
Also Read:
Andrew Tate GETTR Quotes
"I have so much love in my life.
So many people are amazed by my tenacity and success.
So many people genuinely adore me and want the absolute best for me.
It's a win win, as I have never once disappointed somebody who cares about me.
I am truly blessed."
"From the second I was born, I was raised to be happy via personal achievement and exceptionalism.
Competition and combat.
You were raised to be happy via entertainment and distraction from reality.
Cartoons and TV.
This is why you fail in comparison."
"Imagine being a young man and not taking risks.
Not only are you missing the chance for monumental improvement – but you're wasting a chance to hone a very important masculine skill.
The unaided negotiation of difficulty.
Risk more."
"Never let yourself become a hater.    It's the most pathetic existence possible.    If someone bothers you – forget they exist.    Pouring energy and emotion into someone who thinks of you never is a losing game.    You will feel pathetic.    You will look pathetic."
"I don't like fancy chess boards.
They distract from your ability to analyze the board.
Amateurs enjoy the aesthetics of ornate chess boards.
Professionals enjoy the aesthetics of basic pieces executing decisive victory.
The game's brutality is already beautiful."
"Life is chess.    Think ahead.    Construct a clear plan and utilize the most efficient execution.   You don't need to hide your intention.    You need to be solid and impervious to counter attack – so they can't STOP your plan.    Even when they see it."
Similar Posts: