Instagram has reached almost every corner of the world, allowing its users to connect seamlessly with each other.
As its popularity grows, it also raises concerns regarding its use amongst children.
Children often connect using Instagram without fully understanding its security implications and policies.
This may lead to children connecting to unknown dangerous people online, or they may share their personal information, which results in harm to them or their families.
Therefore to keep a check on the involvement of children on Instagram has, introduced the policy requirement of minimum age for every Instagram user.
This is Instagram's initiative to make sure that underaged kids are either using the account under parental guidance and if not, then the access to there should be taken away.
Further, Instagram has also introduced the option of reporting.
Herein if you come across any account which you firmly believe is operated and owned by an underaged child who is impersonating to be an adult, then you can report such account.
After reporting such an account their access will be taken away till the time they provide authorized proof of their age.
What Does "You May Not Be Old Enough To Use Instagram" Mean?
"You May Not Be Old Enough To Use Instagram" mean you must be at least 13 years old to have an Instagram account.The minimum age to use Instagram is 13 years.
If you below age 13, you can't use Instagram.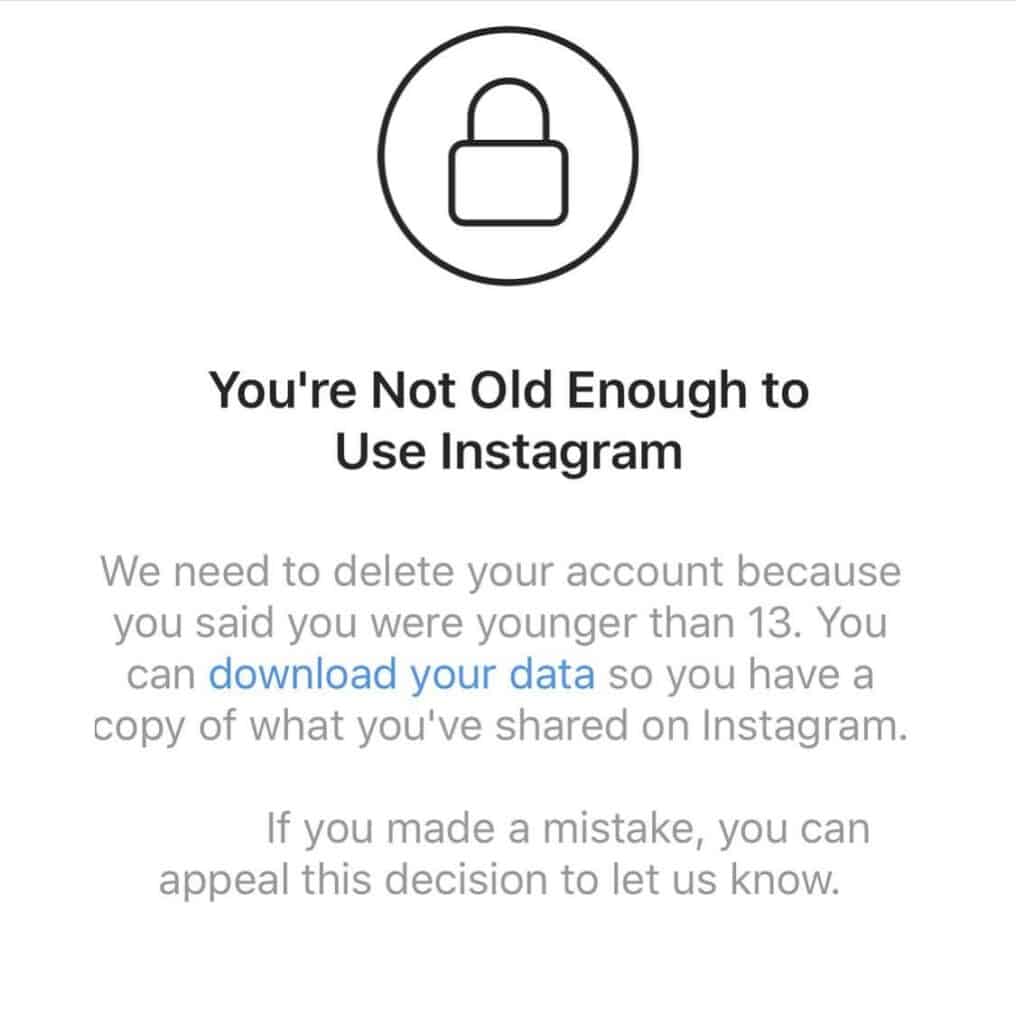 Instagram has introduced a policy wherein it has put up a minimum age requirement for its users.
If you don't prove that you are above the required age, then you won't be allowed to use Instagram further, and your account will be deactivated.
Therefore, you see the message "you may not be old enough to use Instagram".
The minimum age is set at 13 years old.
Therefore any person who makes an Instagram account needs to prove that they are 13 years and above and are allowed to use Instagram.
This step is taken in order to comply with the various laws applicable globally, which lay down the guidelines for monitoring the behavior and activities of underage children while completely prohibiting certain websites.
In order to make Instagram safe for children and teenagers, this underage policy was introduced, which filtered out people below 13 years of age from making and operating an Instagram account.
If by any means it has come to the notice of Instagram that the person operating the account is an underage child, then the Instagram user receives a message while logging in to their account.
The message reads that your account has been blocked as you may not be old enough to use Instagram.
This message will disable your account for 30 days, and if the account user wants, they can apply for an appeal to Instagram to reconsider its case and allow them access to the account.
Further, if the appeal is not made or accepted, then the account will not be recoverable after 30 days.
How To Fix "You May Not Be Old Enough To Use Instagram"?
Fix 1: Through Instagram Account
If you have ever received the "You may not be old enough to use Instagram " message, then the below-written process will come to your rescue and will guide you on how to deal with this problem.
Step 1: Log In Into Instagram Account
After opening the Instagram app, enter your user name and password to open and access your account.
Step 2: The Error Will Appear On Your Screen
The error reads that you are not old enough to use Instagram.
Your account has been disabled for 30 days and will be deleted permanently if not resolved within the given time.
Step 3: Tap On Appeal
When you get the error message on the feed, you will see the option of Appeal to Instagram at the bottom of the page.
Select that so that you can proceed.
Step 4: Open Help Us Verify Your Age
After proceeding to appeal to Instagram, a "help us verify your age" form will open.
This form should be filled out accurately so that you can present your proof of age to Instagram.
Step 5: Tap Send
After filling out the form, select send along with proof to ensure that this issue is resolved.
Step 6: Verify Your Age
After sending out your verify your age form with the identity proof, you need to wait for a few days to receive a reply from the Instagram team. Usually, they reply between 3-7 days.
Fix 2: Filling Out The "Help Us Verify Your Age"
Step 1: Go To Verify Age On Instagram Page
Search in google "Verify Age on Instagram".
After that click on first link.
A form will open.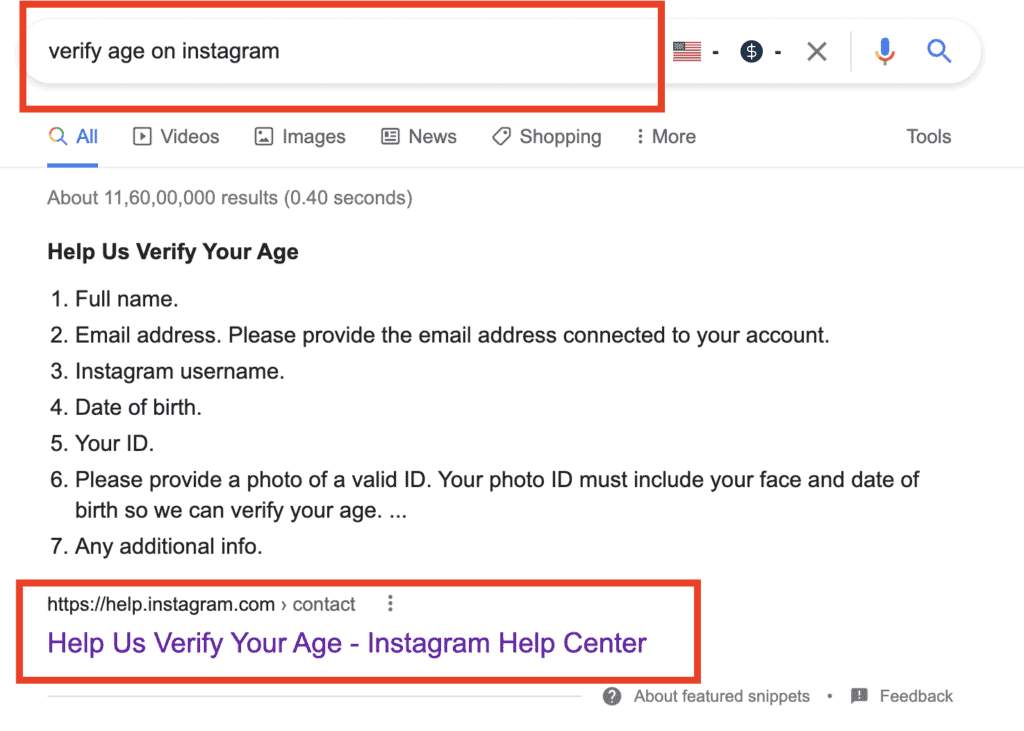 Step 2: Fill Out The Information
After opening the form, fill out the information like your full name, email id, username chosen for Instagram, and most importantly, your Date of birth.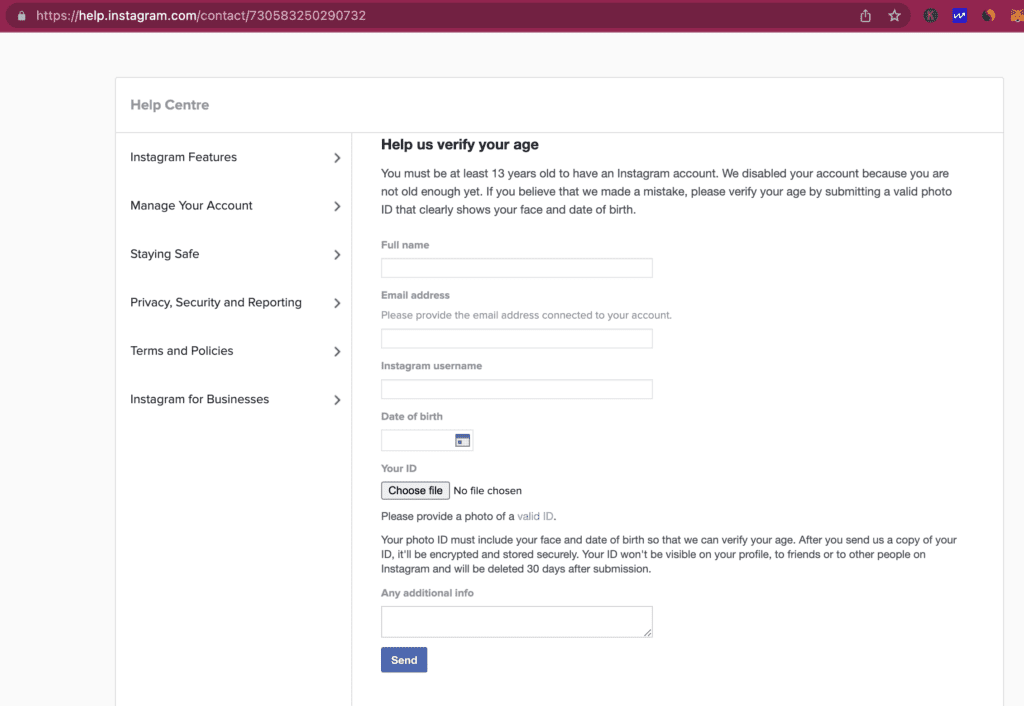 Step 3: Attach Proof
As you will fill out the information, you will see it is asking for identity proof which is labeled as a valid ID. the Id that qualifies as a valid ID is the one that consists of your photo and date of birth.
Step 4: Attach ID
Select the Id which is described as valid by their terms and attach a digital copy of the same with them.
Step 5: Select Send
After attaching the valid ID, select Send to submit the form and begin the procedure of appeal.
It should be understood that the identity proof asked by Instagram is encrypted and won't be shared with anyone either over the internet or on Instagram.
Further, it is also assured that the submitted ID will automatically be deleted within 30 days of submission.
Also Read: How To See Recently Deleted on Instagram ?
We Need To Delete Your Account Because You Said You Were Younger Than 13
The new Instagram feature is asking everyone their birthday, which allows them to record their age data and filter out the young and underaged children who are restricted from using Instagram according to its age limit policies.
So when you enter your birthday and you are under 13 years, it will show you a pop-up stating that your account has been disabled as you are below the required age set by Instagram.
In case you think it's a mistake, you can apply for an appeal to Instagram.
After seeing the notice of your account being disabled due to the minimum age policy, you can accept it if you are in reality underaged, or you can make an appeal to them with the steps mentioned above so that you can recover your account.
Recently many cases were reported wherein people mistakenly entered the date of birth of professional accounts they were managing.
For example, if they started their company six years back, they entered the age as six years.
Due to this confusion, many accounts have been disabled, and they have to go through the trouble of putting up an appeal with Instagram.
Another reason why your Instagram account is disabled, stating that you might be underage, is when any other user reports your account stating the reason that it is run or operated by a child.
In this case, the account holder is pretending to be an elder but is reported by another user who has this suspicion.
If your account is reported for such activity, then you will also be given a chance to apply for an appeal to Instagram.
The process for starting an appeal to Instagram remains the same.
You will have to provide them with a valid ID proof which has your photo and age with correct authority verifications.
If your verification goes through, then you will receive a mail on your registered mail id stating that they allowed you access to your account, and you can resume all your normal activities.
If your verification doesn't go through, then your account will be disabled and cannot be recovered after 30 days from such disablement.
How Long Does An Instagram Age Appeal Take?
After filling out the appeal form with the required valid ID, it may take around 3 to 7 days for them to revert back to you.
Due to numerous complaints and issues being raised all over the world, sometimes the replies to your appeals and query may be delayed.
The reply from Instagram is usually received on the email id you have mentioned in your account while setting up the Instagram profile.
All the formal communications are received on this email, so keep a check on it in case you miss the mail.
Also Read: How To Unrestrict Someone On Instagram ?
Conclusion
The introduction of the age limit policy by Instagram is a safety move.
However, it leads to many accounts facing serious problems.
When the policy was introduced, instructions were not laid out properly, which resulted in many accounts filling out the wrong age and facing the issue of their account being disabled.
To overcome this problem, Instagram allowed the procedure of appeal wherein people are required to put up their valid ID cards to be uploaded on the Instagram page, which will be taken into account to understand whether you have breached the age limit violation or not.
If you are found to be in breach of the policy, then your account will be disabled and cannot be recovered.
Else you will be given access to your account back.
Similar Posts: