Roblox is super popular worldwide, with millions having fun making, sharing, and playing games in its virtual world.
But, like any website, Roblox can have glitches that mess up the fun.
One problem, Roblox error code 1001, is causing worries about community attacks.
The full error message reads: "Possible Raid Warning We have detected another Device in your house, in case you are alone, call 911 quickly (Error Code:1001)"
We're going to explain in this article what this error is, figure out why it happens, and give you tips on what to do if you run into it.
What Is Roblox Error Code 1001?
The Roblox error code 1001 is an error that displays the message: "We have detected another device in your house, in case you are alone, call 911 quickly."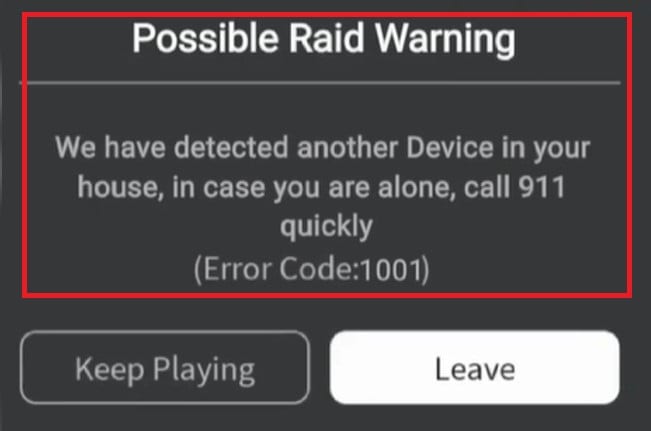 This error caught the attention of many Roblox users after being reported by TikTok users.
Many users claim that this error is a hoax, while others suggest that if you encounter this error, you should call 911, which is the official number to contact the police in the United States.
However, there hasn't been an official statement from the Roblox team regarding this error, nor has any evidence been found to confirm its authenticity.
What To Do If You Get Roblox Error Code 1001?
There players have reported encountering an alleged error code known as Roblox Error Code 1001 while playing Roblox.
Those reports are most likely being used by the user to prank or as memes as there is no evidence found that this error is real.
If you encounter this error on Roblox, it could be occurring due to a technical issue or server problem.

If you still encounter this error, please contact Roblox support.
Similar Posts: