YouTube has provided video creators with a crucial tool.
Creators of YouTube content can publish videos exclusively visible to their subscribers.
Simply put, YouTube offers premium membership features with exclusive benefits for users.
Benefits like emoticons, badges, and many other things are available in these members-only videos.
This feature can only be configured for the desktop. Nevertheless, it may vary based on whether the video is brand-new or old.
Sometimes when you try to watch a video on a channel, you discover that the streaming is only accessible to members.
In simple terms, you have to join the membership on channel to view it.
Can One Watch Members-Only Videos On YouTube For Free?
No, There is no legal way to watch YouTube's members-only videos for free.
However, some youtube channels provide a few days of trial for members-only videos but they might not provide access to old videos in a free trial which are members-only.
Also, there are some workarounds which you can try like if you have some friends who took members-only subscriptions, they can share details with you.
You can either join some telegram channel which are providing those members only videos
How To Watch Youtube's Members-Only Videos For Free?
Method 1: Take Member Only Subscription Trail
Particular 7 days video trial provided by owners, but you can't watch old videos.
Also, only Few YouTubers provide this trail feature. So first check whether members-only videos are available for trials or not.
Method 2: Join Some Telegram Channel Or WhatsApp
You may also find some Telegram Channels that provide members-only YouTube videos.
Mainly these channels belong to people who are members of YouTube channels. 
Note: This is no legal way…. We don't recommend this way.
Method 3: Join The YouTube Channel Member (Not Free)
The best way to access members-only videos on YouTube is joining the channels directly. But you will have to pay for it.
Some, YouTube creator provide some discount for first month.
For that you have check individual channels.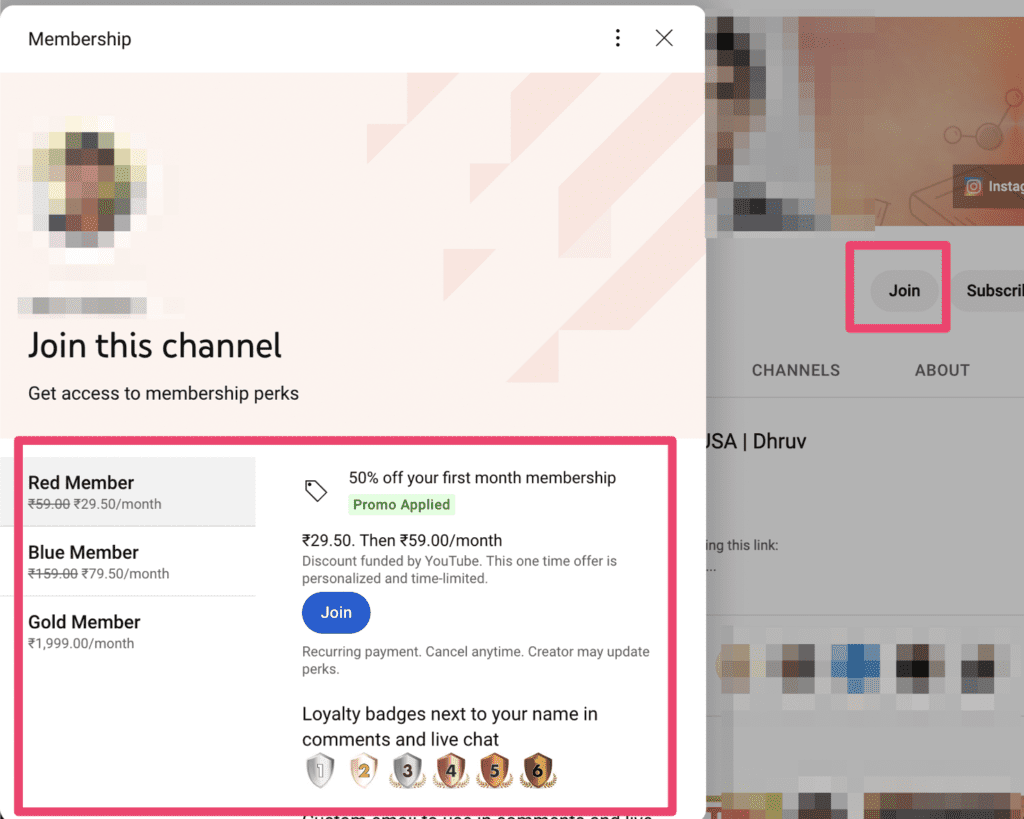 How To Watch Members-Only Videos On YouTube?
In the above methods, we have discussed three different ways to watch YouTube premium videos for free.
Still, not all are legal and reliable solutions.
Therefore, here is a legal and reliable way for those who wish to watch Members-Only Videos on YouTube but do not want to pay using their hard earned money.
Technically, this tactic provides you with a Google-supported and authentic way to get money to pay for joining YouTube channels.
You need to use the Google Opinion Rewards mobile application.
Through this app, Google pays the users for an opinion they share about the services.
So, you only need to answer some survey questions on this app, collect money and use it to pay for YouTube Membership.
Follow these steps to watch members-only YouTube videos:
Step 1: To begin, open the App Store or Google Play Store and download the "Google Opinion Rewards" application.
Step 2: Sign in to the app with the same email address or Google account you use on YouTube.
Step 3: The app will notify you of Google Opinion Reward survey questions whenever available. Take these surveys, answer the questions, and collect Google Play credit.
Step 4: You can join a YouTube member channel when you collect a suitable amount. For this, you need to choose the "Google Play credit" payment option in the payment window.
Step 5: And you are complete with the process. Now you can watch your favorite members-only YouTube videos for free.
Additionally, using Google Opinion Rewards will get you free access to YouTube Premium.
The Google Play credit is transferable to any Google product, including YouTube.
Similar Posts: