Bank Mini Statement is a shortened version of your bank account statement that shows you the last transactions in your account. The mini bank statement gives you details of the account transaction of five recent transactions made through a debit/credit card, NEFT, RTGS, IMPS, UPI, etc.    
What is the Union Bank Of India Mini Statement?    
The Union Bank of India is a leading public sector bank in India. Some of the best banking services are accessible through Union Bank of India (UBI) online banking services. 
Union Bank offers the finest banking services to its customers 24*7. Union Bank's customers could access their bank account with online banking services; they save a lot of time in the process. Banking services include a balance inquiry, mini statement, fund transfer, and much more are available on the go for account holders. Missed call facility, SMS Banking, Union net banking, and mobile banking are some of the ways customers can conveniently produce bank account statements and Union Bank of India Mini Statements from their bank accounts.
How to get a Union Bank Of India Mini Statement?
With this digital technology, you may get your bank mini statement on your smartphone in only a few taps. 
1. Get Union Bank Mini Statement By Using Missed Call
Customers must register their mobile phone number with the bank to use this service.
Steps To Get Union Bank Mini Statement by using Missed Call:
Just make a missed call on 09223008586 through a registered SIM number. 
Soon after the call gets disconnected, you receive an SMS. 
You can view your recent account transaction information.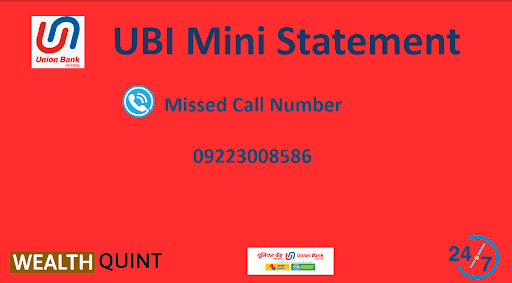 2. Get Union Bank Mini Statement By Using SMS
Steps To Get Union Bank Mini Statement by using SMS:
1. Send a text message to 09223008486 with a verified SIM number.
2. Include the text "UMNS" in the message for a balance inquiry.
3. If you want to check other account statements, type UMNS <space> Account Number sent to 09223008486.  
4. You will receive an SMS containing the necessary details.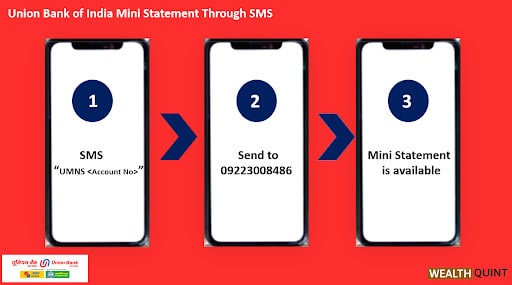 3. Get Union Bank Mini Statement By Using Mobile Banking
"U-Mobile'' is a free app with an easy-to-use Menu system. The app has become one of the easiest ways to check account details.
Steps To Get Union Bank Mini Statement by using Mobile banking:
Install the "U-Mobile" app on your smartphone and start using it to access mobile banking services. Both Android and iOS smartphones can use the app.
You must first register on the app with your registered phone number.
To confirm, the registered mobile number will produce an OTP on your registered number.
You can complete the signup procedure and then login with your new password. Otherwise, you can login from your unique Mobile Banking ID and password. 
You may view your bank mini-statement by clicking on "mpassbook."
4. Get Union Bank Mini Statement By Using Internet Banking:
Account-holders who have signed up for the Union Bank of India online banking service can use their login credentials to access the website.
Steps To Get Union Bank Mini Statement by using Internet Banking:
Browse to https://www.unionbankofindia.co.in
Enter your user ID and password to log in.
On the main page, you will see alternatives for checking your balance, transactions, and so on.
Select the "m-passbook" option.
There will be an m-passbook for each account.
5. Get Union Bank Mini Statement by Visiting ATM
Union Bank also offers the ability to obtain a Mini Statement through an ATM. 
Insert the Union Bank of India Debit Card into the ATM. 
You should choose your preferred language.
Enter your 4 digits pin number.
Choose the "mini statement" option from the screen.
Select the type of account "saving or current" account.
You will get a printed receipt out of the machine which is your mini statement.  
6. Get Union Bank Mini Statement By Visiting bank Branch
Visit a Union bank branch.
Give your bank passbook so they may print the most recent transactions.
On your passbook, you may view all transactions and balance-related inquiries.
How to register the mobile number for Union bank mini statement?
To use the Union Bank of India Mini statement service, the account holders must link their mobile number to the bank account. Generally done when the account is opened or afterward by filling out an application form.
Once the number has registered, users may register for these services in two ways: 
Calling to Customer Care – Call the Union Bank of India Customer Care (24-hour helpdesk) at the following numbers to speak with a representative: 
               • All India Toll-Free Number 1800 2222 44/1800 208 2244
               • Toll number 080-61817110
Customers may register for the Union Bank Mini Statement service by visiting their local branch and submitting an application form. To get a Union Bank Mini Statement, clients must first register their SIM number for this service. 
Benefits of Union Bank Of India mini statement
Viewing the mini statement on time is highly suggested since it allows checking all of the account's withdrawals and deposits. Aside from that, there are numerous more benefits of having a Union Bank Mini Statement, which is listed below:
Customers may view their account information 24*7
Customers do not need to stand in line
Some of these services are free of charges
Recommended:
Union Bank of India Timings & Working Hours
Frequently Asked Questions
Is it needed for my Union Bank of India mobile number to be registered?
You must register your mobile phone to get Union bank mini statements via Union bank missed call and SMS service. They can use their registered name and phone number to activate the Missed Call Banking Service by sending an SMS or making a missed call.

How can I register for the facility?
Customers can fill out an application form at a nearby local branch. In addition, the application form is available on the website and ATM sites.

Can I change my contact information and still use these services?
Yes, you must notify your branch about the new contact number. 

How to download the Union Bank mini statement?
Log in to Union Bank of India Net Banking to download the mini statement.

Is it possible to have two bank account numbers registered with the same name and phone number?
Yes, the account holders can use the same mobile number to access two bank accounts.