Kotak Mahindra was founded in 2003, making it one of the youngest banks in India. However, this bank has managed to gain elite status in the Banking Industry with surprising swiftness. They have impressed everyone by their tight integration of technology and a focus on the luxury class customers. 
The customer base of this bank expects a service nothing short of extraordinary, and they have delivered in spades. This article will help you locate one CDM in your vicinity and tell you its features. 
Kotak Bank cash Deposit Machine Near Me
Steps to find Kotak Mahindra Bank Cash Deposit Machine Near Me:
Step 1: Visit the official Kotak Mahindra Website.
Step 2: Log in to your net banking account by filling in the username and password.
Step 3: On your customer account page, find the customer relationship manager assigned to you.
Step 4: You can call them directly or message them with the request to find a Cash Deposit Machine near you.
Note– A Customer Relationship Manager is a dedicated Kotak Mahindra employee who will help you with your banking needs.
You can also click on this link to locate a CDM machine near you. Just select city from the drop-down it will show all cash deposit machines in that particular city.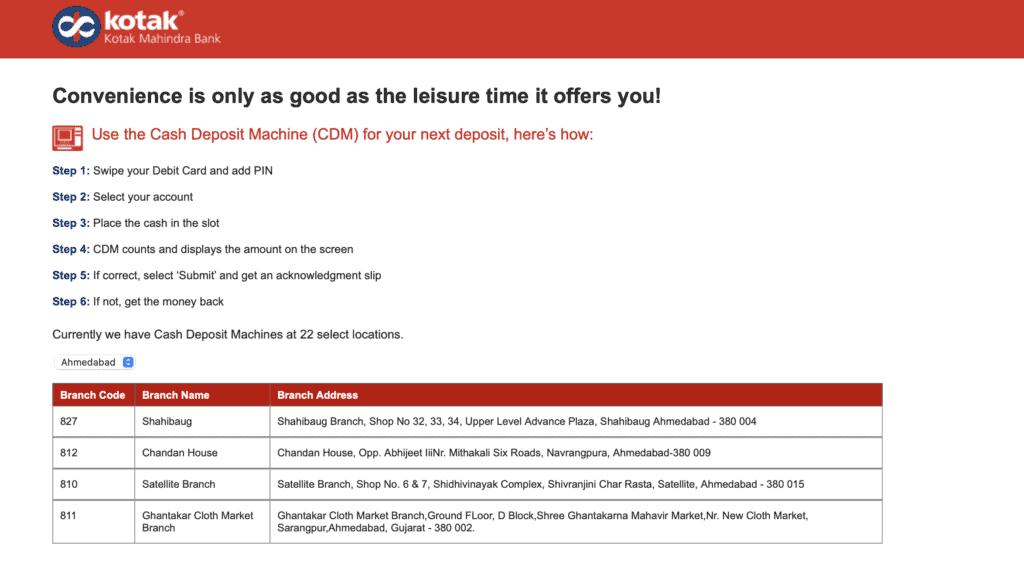 Kotak Mahindra Bank CDM Deposit Limit
There are two types of Deposit limits depending on the account type you have
For Prima/Maxima members: There are no charges up to 10 transactions, or the limit of Rs 5 lakh is exceeded in the month. Once you go above the limit, you will be charged 4.5 Rs for every 1000 deposited. A minimum of 150 can be set for going above the limits.    
Optima: This is a higher tier account level with the same transaction limit but a higher monthly deposit of up to 15 Lakh. Once you hit the monthly limit, your service charges are roughly the same.
Kotak Mahindra Bank CDM Charges
In Kotak Bank, there are no charges for the prima/maxima customers until ten transactions or a deposit of ₹5 lakh per month. After free limits, the Bank will deduct charges of ₹4.5 per thousand with a minimum of ₹150 per transaction.
For the optima customers, there are no charges until ten transactions or a deposit of ₹15 lakh per month. After free limits, the Bank will deduct charges of ₹4.5 per thousand with a minimum of ₹150.
For the insignia customers, the Bank will not deduct any CDM charges.
How many Kotak Mahindra branches have CDM facilities?
There are more than 22 locations across the country with CDM machines. 
What are the Cash Deposit Machine features unique to the Kotak Mahindra Bank?
They are one of the few banks that provide the service of withdrawing cash from CDM facilities. Kotak Mahindra has the highest cash deposit capacity with the most relaxed charges compared to other banks.
Kotak Mahindra's CDM locations might be limited, but they provide the highest quality service period. They essentially serve all the major metropolitan cities and are continuing to grow as we speak. If you are a medium to prominent-sized businessman, then Kotak Bank is the perfect match.
Recommended:
Kotak Mahindra Bank Balance Check Number
Is Kotak Securities Safe & Trustworthy?
What is CRN & How to find CRN Number in Kotak Mahindra Bank?
Kotak Mahindra Bank Mini Statement
Kotak Mahindra Bank Timings & Working Hours