The routing number for Indian banks is usually different for the different branches.
So, in this article, you will learn about finding the routing number of Indian Banks.
By the end of this article, you will understand the basic use of this routing transit number and the way to find the RTN of any bank.
Let's start from the beginning with what exactly the Routing number is?
What Is An Indian Bank Routing Number?
An Indian Bank routing number is a nine-digit number that identifies the transaction source of not only the Indian bank but any other financial institution.
It is used before making payments.
A routing number is often called an RTN (Routing Transit Number).
It is a 9-digit code used in the identification of financial institutions or banks while making payments. 
The routine numbers are usually used in wire transfer and ACH (Automated Clearing House) payments.
Some banks have multiple routing numbers used for different purposes, branches, and geographical areas.
So, if you are doing a money transfer, it is very important to confirm twice the correct RTN before making payment.
How To Find An Indian Bank Routing Number?
The simple way to find the routing number of Indian bank is;
Suppose you are using an Indian bank checkbook. You can easily find it by observing the cheque. It would help if you took your cheque to notice the bottom side of the cheque. You will find the first 9-digit code, which will be your Indian bank routing number.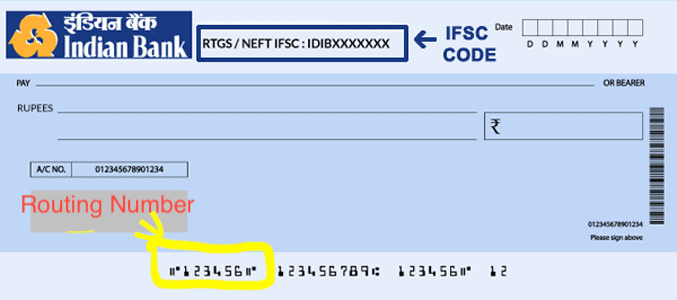 If you are not using the cheque, you can call the bank toll-free number and ask for the routine number by telling your branch. The toll-free number of Indian banks is 180042500000.
You are also open to visiting your nearby branch of Indian Bank to ask for the routing number.
Remember, the routing number of every branch will be different.
And it is a 9-digit code usually mentioned at the bottom of your cheque.
Recommended:
What are Bulk Charges in Indian Bank?
How to Add Email ID in Indian Bank Online?
Similar Posts: