Sweatcoin App Referral Link: https://sweatco.in/i/wealthquint
Sweatcoin is a new kind of step counter and activity tracker, you can turn your steps into money to buy equipment for sports and fitness, services, and experiences.
Sweatcoin tracks your steps and uses their verification technology to validate them.
Your steps are exchanged into sweatcoins.
These sweatcoins can then be used in the app's "spend" section for purchases.
Sweatcoin will monitor your steps as a pacer and distance tracker in the background while using zero power.
In this article, we will discuss how to use Sweatcoin.
How To Use Sweatcoin?
You can use your sweatcoins to:
Purchase items and services from our app's marketplace brands or
Donate sweatcoins to charity causes across the globe of your choosing.
To enter your marketplace and check your spending options, click on the handbag symbol and look around!
Lets go further how you can use Sweatcoin app:
Step 1: Install Sweatcoin On Your Device
First install the Sweatcoin app on your device.
If you are a android user then download from Google play store and if you are iPhone user then down Sweatcoin app from App Store.
You can install the Sweatcoin appp from referral link if you have.
Step 2: Signup Into Sweatcoin App
After installing the Sweatcoin app, Create your account in Sweatcoin app through mobile number and email address.
If you are Android user then you can login through google account.
If you are iPhone user then you directly login through Apple ID.
Step 3: Provide All Necessary Permission
After Signing up in Sweatcoin app, Provide all necessary permission which help Sweatcoin to see total steps your phone detect and verifying the steps data which are real.
Step 4: Start Walking Or Jogging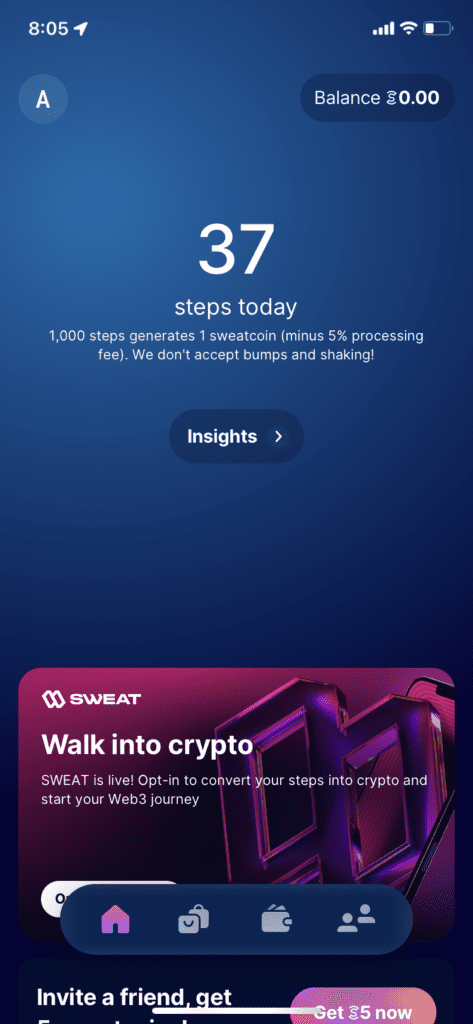 Now, you are ready to use Sweatcoin.
Starrt Walking and Jogging!
The app syncs with your fitness data to calculate the amount of steps and convert it to SWC (Sweatcoins)
Sweatcoin also has its own algorithm that analyzes your steps to decide which are authorized or actual steps.
I'm still not sure how this works, but don't be shocked if your authorized step count is 20% or 25% lower than what Google Fit or Apple Health shows.
Always make sure you phone is with you and in your pocket to for better experience.
Step 5: (Optional) Choose Between Free And Premium Plan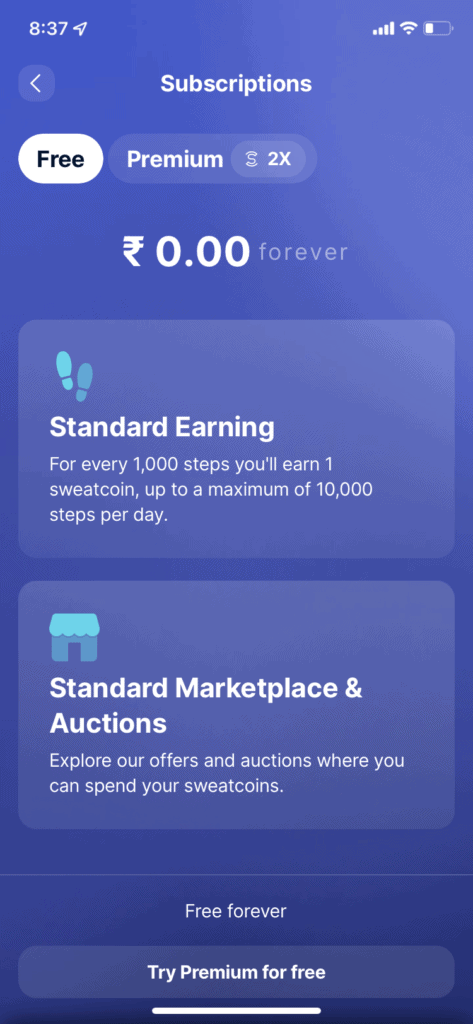 There are 2 simple plan: Free and Premium.
The free plan helps the most number of users to get healthy.
The Premium plan allows you to earn unlimited sweatcoins.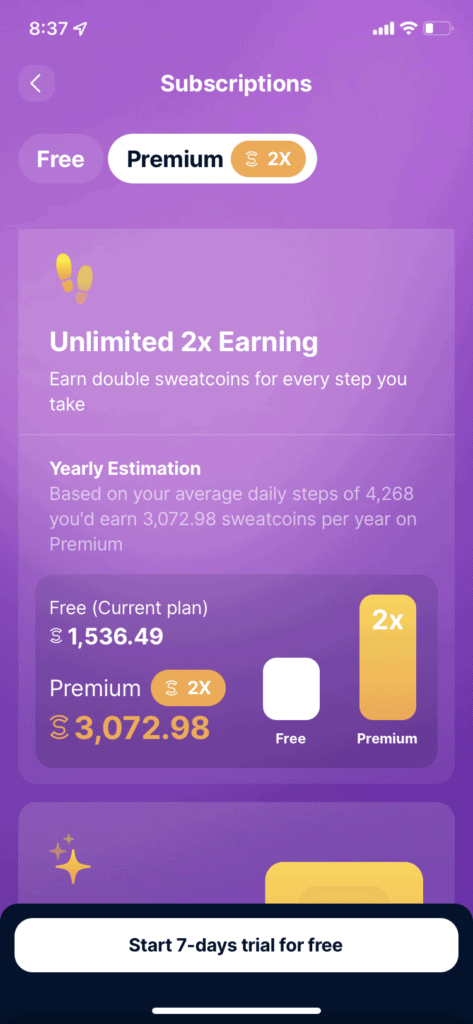 If you are an old user, you will still have access to your Breaker, Quaker, and Troublemaker plans.
(Movers and Shakers are moved to the free plan, where they have a better experience.)
So, if you're interested in the Premium plan, you may try it out risk-free. If you wish to discontinue Premium at any time, you may revert to your prior plan (Breaker, Quaker, or Troublemaker).
If you cancel your Breaker, Quaker, or Troublemaker plan, you will get a free experience in which you may earn 10 sweatcoins every day.
Likewise, the option to re-subscribe to these plans will remain available.
Step 6: Invite Friends To Join Sweatcoin
Sweatcoin App Referral Link: https://sweatco.in/i/wealthquint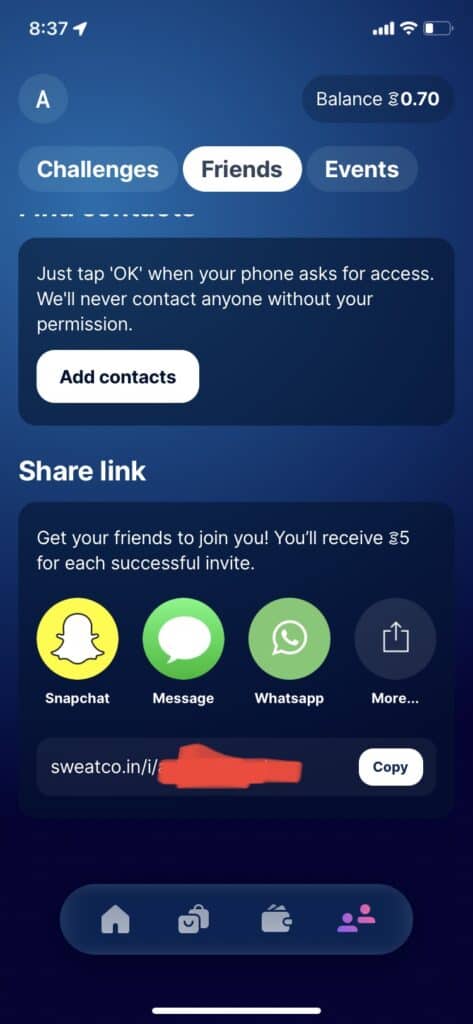 Sweatcoin is more enjoyable when shared with others. However, you will get 5 sweatcoins for each person that joins using your referral link.
To send a friend an invitation with your referral link, go to Sweatcoin's Social section, pick Find and Invite Friends, and then select the person you wish to invite.
Step 7: Become Sweatcoin Influencer
Sweatcoin influencers may earn a limitless quantity of PayPal vouchers and other benefits just by recommending others to Sweatcoin.
Step 8: Complete Daily Activities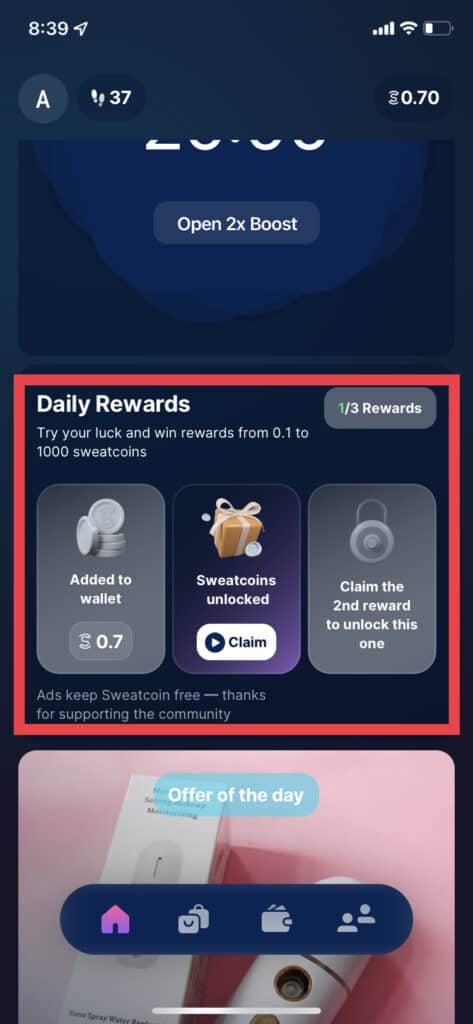 If you watch Ads daily you will earn more Sweatcoins.
Just go to daily bonus section and claim those, you will earn some Sweatcoins.
Try your luck and win rewards from 0.1 to 1000 sweatcoins.
Also Read:
Similar Posts: