A cryptocurrency is a new form of currency in the world and unregulated in many countries. 
A cryptocurrency is a digital form of currency that exchanges goods and services. It is the same as traditional fiat currency. But the technology and format are different.
This form of currency uses blockchain technology. In blockchain technology, online transactions are secured in online ledgers called 'blocks'.  These are visible to all the parties relevant to the transaction.
Blockchain does not require a central authority or server to manage/run it. The transactions on the blockchain are secure and cannot be tampered with. Since there is no intermediary here like the government or the bank, many countries are still skeptical about crypto. 
Is Cryptocurrency The Future?
The short answer – yes. Keep reading below for the long answer about the future of cryptocurrency.
Cryptocurrency at the time of writing is still a volatile currency. By volatile, we mean the value of the cryptocurrency changes with tweets, incidents, and changes in regulations.
But there have been positive signs around the world for the adoption of cryptocurrency and this is good for the future of cryptocurrency. 
Deutsche Bank Report
Deutsche Bank in its report, Imagine 2030, stated that digital currency will replace paper cash someday. It is due to the increasing demand for anonymity and decentralization.
The report predicts that there will be over 200 million users of cryptocurrency by 2030. The report stated that the future of cryptocurrency is that it acts as an addition to the financial system.
Entry Of Institutional Money
Over the last 2-3 years, cryptocurrency has seen investments from big companies.
According to Yahoo Finance, companies such as Microsoft Corporation, Goldman Sachs, Square Inc, Microstrategy Incorporated, PayPal Holdings, etc. have some exposure to crypto either in the form of investments, partnerships, or ventures.
Mastercard and Visa have been vocal about the future of cryptocurrency and its use. Visa has been working on enabling payments through stablecoins built on the Ethereum blockchain. Mastercard announced that their customers will now be able to transact in crypto from sometime in 2021.
PayPal, the company that brought the revolution in digital financial payments has also announced that customers can make transactions with crypto.
The news that caught the Bitcoin world by storm was a $1.5B investment into Bitcoin by Tesla. Elon Musk, the leader of Tesla has been a constant conversation-maker for the future of cryptocurrency.
Government Acceptance
One of the biggest hurdles for a positive future of cryptocurrency so far has been government hurdles. But, there have been positive signs here as well.
El Salvador, a tiny nation, became the first country in the world to issue Bitcoin as a legal tender. The usage of Bitcoin in everyday life is going to set a precedent for other countries to follow.
There have been talks within the Government of India to launch its digital currency. According to reports, this might use a private blockchain. The digital currency may still be in the control of the RBI.
Cryptocurrency exchanges are legal in the United States. The U.S. Commodity Futures Trading Commission and the U.S. Treasury Department's Financial Crimes Enforcement Network play an active role in creating crypto regulations like tax slabs etc.
Also Read: What is Cryptocurrency – Easy to Understand Guide
Growing Demand Among Users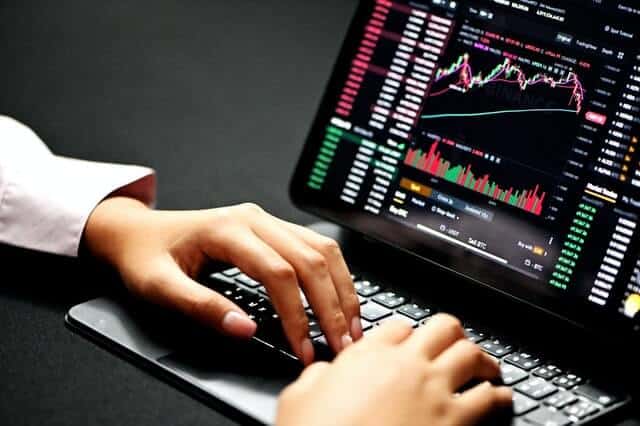 The general public has been adopting cryptocurrency more than ever before. In 2021 itself, the crypto world went through multiple trends in India from Bitcoin to Elon's tweets to Dogecoin.
According to Deutsche Bank forecasts about the future of cryptocurrency, the number of cryptocurrency users has been steadily increasing with the increase in Internet users. By 2030, it predicts around 2B Internet users and roughly 200 Million blockchain wallet users.
There have been optimistic predictions for the future of cryptocurrency from other sources as well. According to Statista, Ethereum, the second most popular cryptocurrency at the time of writing, had 1 million transactions in 2020. Block Social reported that there are more than 300 cryptocurrency exchanges as of 2020.
Binance Research conducted a survey of 60,000 users worldwide to measure their interest in cryptocurrency. 97% of them maintained their faith in the digital assets and the future of cryptocurrency. According to some other reports, the global cryptocurrency market will rise to close to $23.3 billion by 2023.
The future of cryptocurrency seems good for startups as well. There is more than $20 billion raised since 2017 by these startups, according to Coin Telegraph.
Can Cryptocurrency Replace Bank Accounts?
Although no one can accurately predict the future of cryptocurrency, the answer seems to be a no.
Banks are such parts of the financial system that doing away with them is too much at stake for the economy. Since cryptocurrencies are decentralized, many governments will not accept losing complete control over the money that operates within the country.
The central bank of any country typically plays the role of maintaining employment and stable prices of goods and services.  They ensure the safety of the financial system of the nation, stabilize the financial system during a crisis and oversee the payment system of the nation. Doing away with bank accounts would be a compromise for all these functions. 
Central banks have the power to decrease or increase interest rates and destroy or create money. It can also remove money from the nation's economy by making it less available for other banks for borrowing purposes.
One more argument for bank accounts is that they can be used by low-income rural people and families for whom the Internet is still a rarity or a luxury.
The entire concept of accessing money through bank accounts is easy for them to undertake with limited knowledge and exposure. On the other hand, explaining to them about Bitcoin, enabling them to use the Internet to exchange Bitcoin still seems a far-off call right now. 
Therefore, experts and analysts call for the co-existence of both types of currencies and this could in fact be the future of cryptocurrency. They also predict that some governments will exercise some degree of control of cryptocurrency, perhaps, by themselves creating one.
It's a long way for the governments to support cryptocurrency as a legitimate and bring it into the financial system, especially in developing countries. 
Recommended: Top 5 Best Cryptocurrency Apps
The Future Of Cryptocurrency To Invest – An Idea
Although Bitcoin is the most popular future cryptocurrency to invest in, there are plenty of others with great potential. Wondering what is the future of cryptocurrency? Check out the following coins:
Ethereum: The second most popular cryptocurrency in the world, according to market cap. Ethereum supports crypto-smart contracts that replace traditional paper contracts and eliminate the need for middle-men for overseeing the contract.
It has a loyal team that has been consistent in letting out new updates and developments. This coin is expected to be an important part in the future of cryptocurrency.
Litecoin: It is seen as the silver to Bitcoin's gold. Launched in 2011, Litecoin supports a payment network that operates globally without being controlled by any central authority. There have been a steadily increasing number of merchants accepting Litecoin as a form of payment.
Tether: It is one of the first stablecoins, a group of crypto coins whose USP is their stability. These coins are pegged to a currency or another external reference point which reduces its volatile nature. Since it is tied to USD, customers can make payments with tether and convert it back to USD easier and quicker than most other cryptocurrencies.
Ripple: One of the fastest-growing cryptos, it is the third-largest cryptocurrency in the world by cryptocurrency market cap. Ripple is essentially a system of payment through which you can do international financial transactions, seamlessly and quickly.
The transactions done on Ripple take a few seconds compared to days and weeks through the conventional foreign exchanges. It has been backed and used by many big organizations around the world including JP Morgan, American Express, etc. 
Bitcoin: An obvious choice, but note that Bitcoin prices are extremely high compared to other cryptocurrencies (and it is extremely volatile too). The main advantage of Bitcoin is its popularity and accessibility. Almost all crypto exchanges accept Bitcoin as a mode of crypto exchange or investment medium.
Final Thoughts
The future of cryptocurrency is bright. More people have been adopting it due to the ease of usage, and it removes transaction times and cross-border limitations. It could be the right time to gather information and harness more interest in the crypto world.
Disclaimer: The crypto world changes rapidly in terms of prices and popularity. Prices drop and rise within a few minutes. Therefore, plan your investments carefully and have logical strategies before putting your money on them.
There could be other cryptocurrencies that may fare out way better than the above, in the near and long future of cryptocurrency. The best way to take note of the rapidly changing environment in crypto is to consistently follow the news, and connect with crypto enthusiasts and groups. 
Frequently Asked Questions:
Can Cryptocurrencies Be Converted To Traditional Currency And Back?
Yes, you can exchange cryptocurrencies to your nation's currency and back through a cryptocurrency exchange. However, some crypto exchanges support only a few fiat currencies, so check out for the same before depositing your money. 

How To Invest In Cryptocurrencies?
You can buy or invest in different crypto coins by signing up on cryptocurrency exchange platforms. Here, you can deposit your traditional money (also known as fiat currency) and convert its value into any crypto the exchange supports. 

Is Cryptocurrency Legal?
One difficulty with the usage of cryptocurrencies is that many countries do not have regulations for them. While it may remain legal until some degree of regulation is created, the environment may change rapidly in that country depending on what regulations are made. So, keep in touch with the news in this area, constantly. 
Similar Posts: