There are around 19 cryptocurrency exchanges in India. We have shortlisted the top 5 cryptocurrency exchanges in India for you.
All these 5 Indian cryptocurrency exchanges have been shortlisted based on user experiences, their credibility, security, and services they provide. 
The 5 Best Cryptocurrency Apps In India:
WazirX App India
CoinBase App India
Coin DCX App India
CoinSwitch Kuber App India
Zebpay App India
This list is not ranked wise. Every platform mentioned in this list is the best and promising Fintech firm.
WazirX App India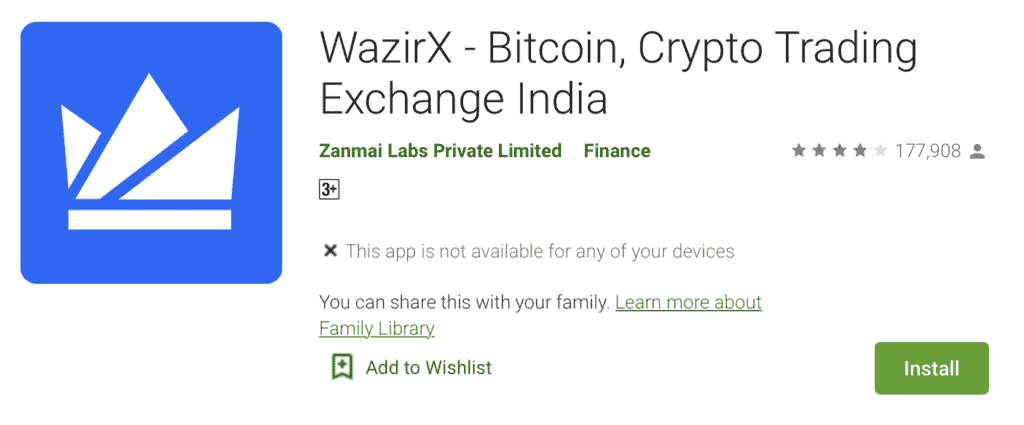 WazirX is a cryptocurrency exchange platform that allows users to invest or trade cryptocurrency or crypto tokens.
You can simply deposit your money from your bank account to your WazirX wallet by NEFT, RTGS, IMPS, or Net Banking.
WazirX was founded by Nischal Shetty in march 2018.
The exchange platform allows only P2P transactions (users can trade with cryptos using money).
WazirX is the pioneer and plays a major role in India's active participation in Cryptocurrency investments.
It charges a small fee of 0.2% on every transaction.
It also charges a fee for depositing or withdrawing money from the app's wallet.
WazirX is backed by the Binance Smart Chain, which increases its credibility as a platform to invest your money.
Indisputably, WazirX is the best cryptocurrency exchange in India with a 1.75 million registered user base.
In April 2021, Binance owned WazirX crossed a daily trade volume of ₹1,400 crores.
WaziX is the best cryptocurrency app in India because WazirX having lots of altcoins listed.
Coin DCX App India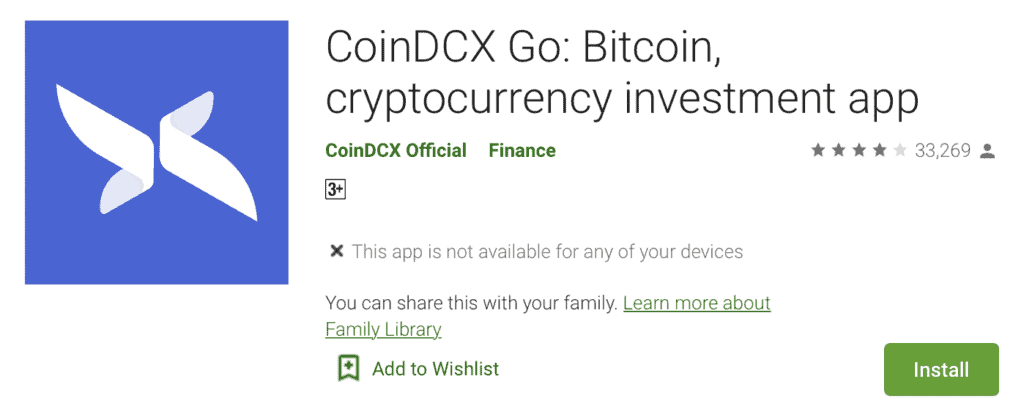 Coin DCX Go is a cryptocurrency exchange platform with a user base of 1,50,000 in India.
Coin DCX deems itself as very promising, fast, and simple (as simple as a click).
The app endorses itself as the fastest, safest, and simplest cryptocurrency exchange in India.
Coin DCX Go was founded by Sumit Gupta in 2018.
They have a price alert feature, whenever the crypto price plunges it notifies the user.
Unlike its competitors, Coin DCX Go charges no fee on withdrawal or deposit of the money.
Inarguably, it is the safest platform and it keeps its almost 98% crypto in cold wallets.
They have the best customer service 24×7.
Indeed this platform is the most innovative and secure platform for crypto exchange.
Its daily trade volume is around ₹50 crores.
CoinDCX is the best cryptocurrency app in India after WazirX in terms of the number of altcoins listed on the app.
CoinBase App India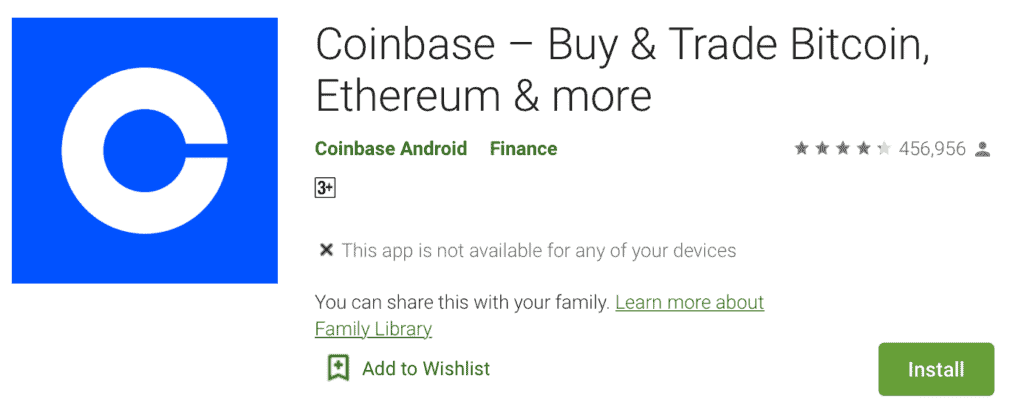 Coin base is a US-based online cryptocurrency exchange platform for trading or investing in cryptocurrency.
Coinbase is one of the most successful fintech companies doing business in almost 100+ countries.
Coinbase was founded in June 2012 by Brian Armstrong and Fred Ehsaam.
Coinbase has listed a variety of cryptocurrencies to diversify your portfolio.
As of 2020, their yearly revenue was ₹10,000 crores.
The best part is that Coinbase has two versions: Coinbase and Coinbase Pro.
Coinbase is for inexperienced and amateur investors. It charges a low fee and has a very simple user interface.
Coinbase Pro is for experienced investors and traders. CB Pro is more technical and professional than Coinbase. It charges a high fee.
It allows both P2P cryptocurrency transactions and also you can buy crypto with money.
It charges a fee of 0.047% to 0.50% maker fee. But its crypto conversion rate is almost 2%. It charges quite a higher fee than the other exchanges.
Coinbase keeps almost 99% of its crypto in offline cold wallets which makes your assets invulnerable to hacking.
Coinbase is one of the best cryptocurrency apps in India for investment. It is listed in the USA.
CoinSwitch Kuber App India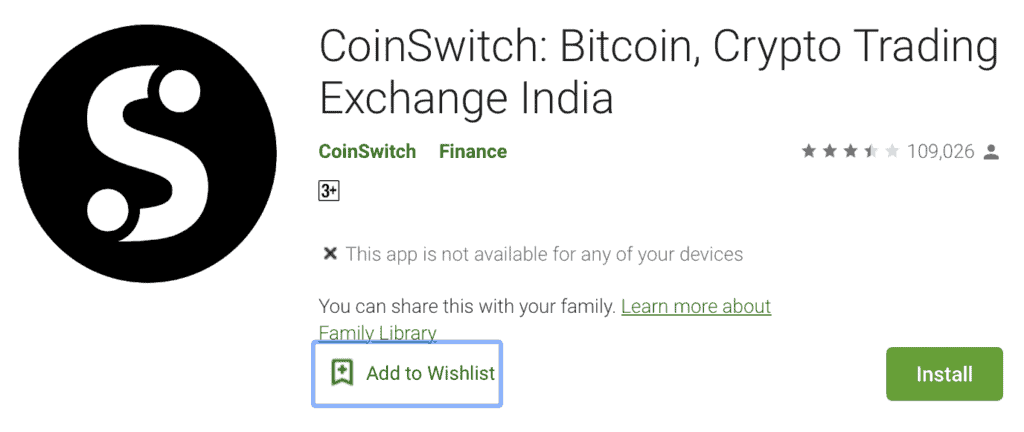 It is an Indian cryptocurrency exchange platform developed by Ashish Singhal, Govind Soni, and Vimal Sagar Tiwari.
CS Kuber was founded on June 17, 2017.
It is a promising Indian Fintech firm, with a large 4.5 million user base.
More than 100 different cryptocurrencies are listed on Coinswitch Kuber.
They charge zero fees on withdrawing and depositing funds but a hidden charge of 2% from the cost of purchase is deducted.
CS Kuber has the most user-friendly interface which makes it easier for the new and inexperienced traders.
Recently, the US-based Tiger Global Brand funded Kuber with ₹189 crores.
It has an annual revenue of ₹ 354 crores.
Coinswitch Kuber is one of the best cryptocurrency apps in term of user interface. It provides a clean neat user interface.
ZebPay App India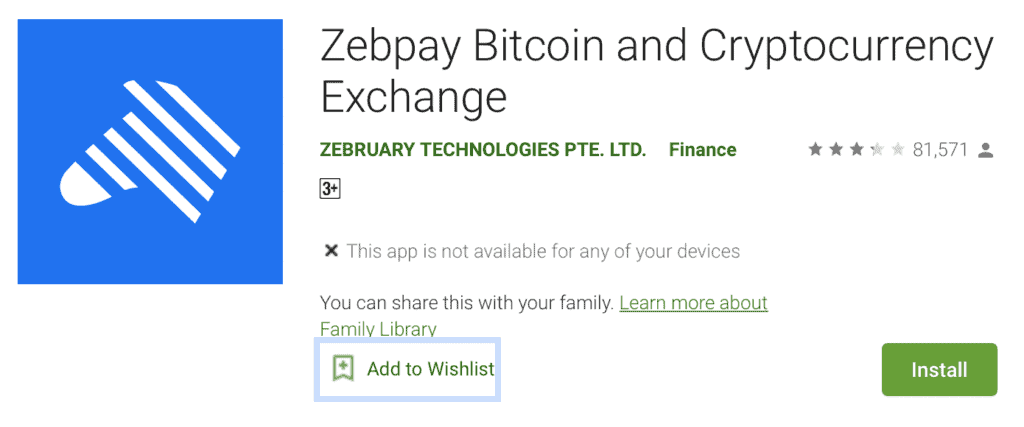 ZebPay is one of the oldest crypto exchanges in India.
It was founded in 2014 by Sandeep Goenka, Mahin Gupta, and Saurabh Agarwal.
Its trading volume is ₹70 crores per day.
With a huge user base of 3.5 million, Zebpay is a popular name in the crypto world.
They charge ₹7 to ₹10 on every withdrawal and deposit.
If the user trades even once a month, he/she won't be charged any membership fee.
They charge a 0.15% maker fee and a 0.25% taker fee.
Zebpay has listed only 35 cryptocurrencies.
Zebpay is available in 162 countries.
In 2020, ZebPay relaunched itself after a two-year ban on cryptocurrencies in India by the Supreme Court.
Zebpay is best cryptocurrency app in terms of less charges when you buy or sell cryptocurency.
Must Read: What Is Cryptocurrency? Here's What You Should Know?
Comparison Of The 5 Best Cryptocurrency Apps In India:
| | | | | | |
| --- | --- | --- | --- | --- | --- |
| Exchange names | WazirX | Coin DCX | CoinBase | CoinSwitch kuber | ZebPay |
| Origin | India | India | USA | India | India |
| Founded in | 2018 | 2018 | 2012 | 2017 | 2014 |
| Founded by | Nischal Shetty | Sumit Gupta | Brian Armstrong, Fred Ehsaam | Ashish Singhal, Govind Soni, Vimal Tiwari | Sandeep Goenka, Mahin Gupta, Saurabh Agarwal |
| Userbase | 1.75 million | 1.5 million | 40 million | 4.5 million | 3.5 million |
| Crypto listed | 60+ | 60+ | 100+ | 100+ | 30+ |
| Fee Charges(On every transaction) | 0.2% | No fee | 0.50 % | No fee | ₹7 – ₹10 |
Comparison of the 5 Best Cryptocurrency Apps:
Pros And Cons Of The 5 Best Cryptocurrency Apps In India:
| | | |
| --- | --- | --- |
| (Contents) | Pros | Cons |
| WazirX | Backed by Binance.The majority of cryptocurrencies are available on the exchange.Easy User Interface. | Sometimes it freezes during peak trading time.No market buy/sell button.Poor customer support. |
| Coin DCX | About 200 cryptocurrencies are listed.Easy to use.Live customer support. | INR is only fiat currency.Freezes during high trading time.Need verifications for higher fiat values. |
| CoinBase | Price alert feature.Two-factor security.Low minimum fund account. | Higher fee than the other changes.Wallet keys are controlled by the platform.Freezes during high trade time. |
| Coinswitch Kuber | Easy interface and fast.No transaction limit.A vast number of currencies are available. | Doesn't accept fiat deposits.Lack of regulation.No fixed trading deposit fee. |
| ZebPay | Easy to use.Fewer charges.Available in web and mobile versions. | Poor customer serviceNo live chat option.Limited no. of cryptocurrencies are available. |
Pros And Cons of the 5 Best Cryptocurrency Apps
Last but not least, You would be advised to trade only on those platforms which follow AML (Anti-Money Laundering) regulations.
Recommended: The Future Of Cryptocurrency Explained
Frequently Asked Questions :
What Is Cryptocurrency? 
Cryptocurrency is virtual money that exists in the form of computer files. It is a cryptographic complex code whose address can not be copied. Every cryptocurrency is digital money but not every digital money is cryptocurrency. 
What Is Cryptocurrency Mining?
Every record of a crypto transaction is recorded in a block after verifying it and later then this block is added to a chain, forming a blockchain. The formation of a secure blockchain is cryptocurrency mining. 
Is My Crypto Prone To Hack?
Not really, cryptocurrency is based on blockchain technology which is very difficult to hack. Chances may be less but not zero. In the future, we may see some loopholes in blockchain technology. 
What Possible Threat It Poses To Governments? 
There are few things that governments are afraid of. As crypto is a decentralized system of money, governments are afraid to lose their monopoly. Other threats it poses are terror funding, money laundering, tax eviction, and other illicit activities. 
Will Cryptocurrency Become The Future Cash Of Earth?
The way its values plunge or surge, it would take some time to achieve that feat. If these things are governed in the future, then there would be more chances. 
Similar Posts: