If you are an avid gamer or carter then you must have heard of Discord, which is a well-known messaging application.
This app will meet all the needs and requirements of gamers and cater. Discord is unique from ordinary messaging applications. 
It will allow you to create a channel with audio and text, with numerous sections. Also, users can set up bots of several categories with varied functionalities.
What if you have trouble uploading the files?
Currently, multiple issues are encountered by Discord app users with the Android app while compressing videos.
If you are also facing the issue, your files are too powerful in Discord and looking for an ideal solution, this article is for you.
Why Is Discord Saying Your Files Are Too Powerful?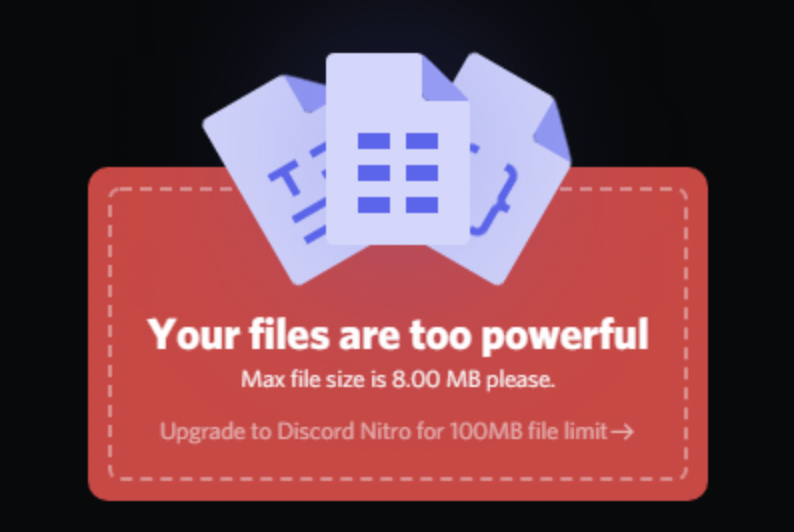 One of the potential reasons Discord is saying your files are too powerful is you are trying to upload file larger than 8 MB
Whenever you are trying to send a video extending the size of 8 MB, a pop-up will appear that states your files are too large.
Well! That's not an issue because your video is exceeding the limit of 8 MB.
The main issue is when people are facing the same issues within the limit or the audio becomes sluggish or not clear after compressing. 
How To Fix "Your Files Are Too Powerful" On Discord?
To Fix "Your Files Are Too Powerful" On Discord, Upload file with size less than or equal to 8 MB.
Because "Your Files Are Too Powerful" error occurred On Discord when you trying to upload file size exceeding 8 MB.
The upload limit has taken all the fun of using Discord. There is a limit on uploading because it requires immense hardware and storage to commence such huge files. 
And there are around 300 million Discord users, so it is very difficult to keep such a workforce and hardware. Here is how you can fix the issue:
Discord offers users the possibility to extend the limit of 8MB to 100 MB with a subscription of $9.99 and 50 MB with a subscription of $4.99; the latter is also known as the Nitro plan.
There are several other methods you can use to bypass the Discord file size limit error. Here they are:
Fix 1: Compress Your Files 
You can use any of the genuine file compressors to make the size of your file meet the limit of Discord.
Also, there are a few free online software that will help you to compress your files without losing quality. 
Fix 2: Discord Nitro Subscription 
A Discord Nitro subscription costs $4.99 and $9.99 and provides you with a sharing limit of around 50 MB and 100 MB.
Fix 3: Join Boosted Servers 
You can look for the Discord Nitro-booked servers and use them as the platform to upload your files.
But here, all the other server users will be able to access your files. 
Fix 4: Use Imgur 
Imgur will allow users to upload files up to 200 MB in size.
You can share the file directly from Imgur to Discord.
First upload the video on Imgur and then share the uploaded file link on Discord.
Users will not need to open any links because Discord will automatically play if it comes from Imgur. 
Similar Posts: